Play Jaguar SuperWays by Yggdrasil Gaming for Free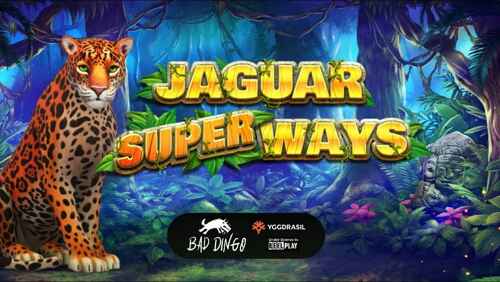 Jaguar SuperWays
Discover the excitement of the Mayan jungle with the Jaguar SuperWays slot. This exciting video slot takes you on a journey deep into the Amazon, where the mighty jaguar roams free, and the potential for big wins awaits. With over 380 million ways to win, each paw print of the jaguar leads to a cascade of thrilling wins that can potentially net you up to €22,457 in free spins - up to €224,570 for the luckiest players.
Featuring high-definition graphics and an animated jaguar that adds to the excitement, Jaguar SuperWays combines cascading and expanding symbols to create a new and unique gaming experience. The reels are packed with exotic characters, including vultures, snakes, frogs, Mayan emeralds, and more, making this slot a true feast for the senses.
Welcome to Jaguar SuperWays

Jaguar SuperWays Base Game

Jaguar SuperWays Activated
Play Jaguar SuperWays at Licensed Online Casinos
24K Casino

125% up to €300 and up to 50 extra spins

Casino-X

200% up to €50 + 200 extra spins

Bitstarz Casino

100% up to €100 and up to 180 extra spins

Stake7 Casino

100% up to €400

GreenSpin Casino

100 Free Spins on Game of the Week

Vulkan Vegas Casino

100% up to €300 and 25 extra spins
Jaguar SuperWays Review
Theme and Graphics
Jaguar Superways is set in the heart of the Amazon jungle, where exotic wildlife and ancient ruins set the stage for an exciting gaming experience. The colorful and animated slot landscape is complemented by the sound effects of howling jaguars and the rustle of leaves, making it an immersive and authentic experience. The graphics are well-designed, with vibrant colors and intricate details that bring the theme to life. The symbols on the reels include a vulture, snake, frog, emerald, Q, J, A, K, 9, and 10, with the jaguar being the highest-paying symbol. Overall, the theme and graphics of Jaguar Superways are engaging, adding to the excitement and thrill of the game.
RTP and Volatility
Jaguar SuperWays boasts a high RTP of 96.25%, low volatility of 44, and an average hit rate of 41.28%. With these numbers, players can expect a steady stream of low-level wins while betting on the luck of the fittest.
Betting Options
This game is excellent for players who love animal slots and arcade-style video slots. With betting stakes ranging from €0.40 to €10, this slot is suitable for casual and high rollers. It is available on both desktop and mobile platforms.
We love that the minimum bet is set at €0.40, and the high average hit rate means you won't go broke playing with low stakes and a reasonable session budget. Additionally, you can play manually with a click to spin or automatically for 10-1000 rounds.
Payouts
Payouts in Jaguar Superways Jaguar Superways features ten regular symbols - vulture, snake, frog, emerald, Q, J, A, K, 9, and 10. Players can win payouts by spinning combinations of 3 to 9 symbols, resulting in a wide range of potential payouts, contributing to the game's high average hit rate of 41%.
In the base game, symbol combinations can yield payouts ranging from x2 to x10 for three symbols and x50 to x300 for nine symbols. The vulture symbol offers the highest payouts, with three symbol combinations paying out x10 coins and nine symbol combinations paying out x300 coins. These payouts are multiplied by the combined value and the coin value of the triggering bet (0.01 to 0.25). As a result, three vultures can pay out between €0.10 and €2.5, and nine vultures can pay out between €3 and €75.
Special Features
Bonuses and Features Jaguar Superways has exciting bonuses and features that make it an engaging and lucrative game.
Cascading Symbols
The jaguar paw print is the key to unlocking cascading wins. Every time you spin a win, the winning symbols are removed, and new symbols take their place. The paw print can also trigger expanding symbols, increasing the size of the game and giving you even more chances to win.
Expanding Symbols
The expanding symbols feature can trigger at any point in the game. When activated, the jaguar paw print expands and fills the entire reel, leading to cascading wins and even more chances to win.
Free Spins
You can trigger the free spins feature by spinning three or more jaguar symbols. Three symbols give you ten free spins, four symbols give you 20 free spins, and five symbols give you 30 free spins. During the free spins, the cascading and expanding symbols features are active, giving you even more chances to win.
Strategy Tips
Strategy Tips Jaguar Superways is a low-volatility game with an impressive average hit rate of over 41 percent, offering great value for money. To maximize your chances of winning, consider the following strategy tips:
Reasonable Betting: Choose a bet that matches your budget to ensure longer gaming sessions.
Autospin Option: Use the auto-spin option to play 10-1000 rounds to increase your chances of unlocking the full power of Superways and Jaguar Free Spins.
Patience: The expanding paylines and activating the Free Spin mode may occur less frequently than basic wins, so be patient and stay consistent.
Consistent Play: Play consistent sessions of a few hundred spins to increase your chances of unlocking hot spin clusters.
Minimum Bet: Casual players can opt for a minimum bet of €0.40 and 100-200 spins per session to ensure a steady stream of low-level wins.
Conclusion
Jaguar Superways offers a wide range of payouts, bonuses, and features. With a high average hit rate of over 41%, players are given many opportunities to win big. The Jaguar Superways feature and Jaguar Free Spins bonus provide even more excitement and the chance to win hefty payouts. The game is designed to be user-friendly, with fully automated features, and players can adjust their bet levels to match their budget. With the ability to activate up to 387,420,489 ways to win, Jaguar Superways is an exciting and engaging slot game that will provide hours of entertainment and the chance to win big.
More Yggdrasil Gaming Games
Jaguar SuperWays FAQ
What is the RTP and variance of Jaguar Superways?
Jaguar Superways has an RTP (Return to Player) of 96.25% and is considered to have moderate volatility. With an average hit rate of 41.28%, the game is designed to offer fair and authentic gameplay, while providing players with the chance to win a variety of payouts, including high maximum payouts.
What is the max win in Jaguar SuperWays?
Jaguar SuperWays offers a maximum win of 22,457 times your total bet per spin. The key to winning big is to increase the number of winning ways to over 387 million.
What are SuperWays in Jaguar SuperWays?
The SuperWays feature is activated when you get a win with a superimposed paw print. The playing field is increased, allowing you to play with 9 reels, 9 rows, and up to 387,420,489 ways to win.
Are there free spins in Jaguar SuperWays slot?
Yes, free spins can be triggered by collecting temple scatter symbols in a single cascade. With up to 20 free spins available, the SuperWays feature can increase the number of your winning opportunities to 387,420,489.
How much can I win playing Jaguar Superways?
Jaguar Superways has 10 symbols that can form winning combinations of 3-9 symbols. The payouts range from 2 to 300 times the coin value, with symbols ordered in descending payout order as vulture, snake, frog, emerald, Q, J, A, K, 9, and 10. The betting range is between 0.40 and 10, offering a theoretical maximum payout of 22,457 times the trigger bet, which ranges from €8,982.8 to €224,570. All wins are determined by chance, so it's always wise to play within your limits and with responsible gambling practices.
What is the best strategy for winning in Jaguar Superways?
Jaguar Superways is a game of chance and no strategy can improve your odds. However, you can play wisely by choosing a spin size that matches your budget and using the same spin value for all your spins. To maximize your chances of high payouts, you should take advantage of the Superways paylines and free spin mode. It's important to only play with money that you can afford to spend on entertainment.
This Jaguar SuperWays review was authored by W.Bergstrom | Last updated on 15 February 2023.