Play Jaguar SuperWays for Free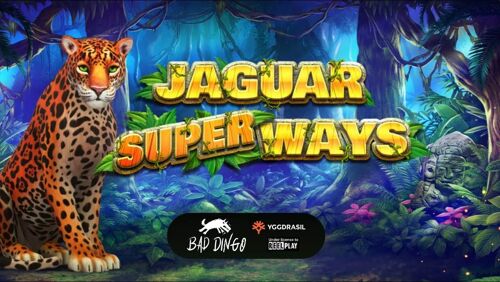 Return to Player
96.25%
Volatility
Medium
Features and Themes
Autoplay
Free spins
Quick spin
Jaguar SuperWays
Jaguar SuperWays is a unique slot machine with over 380 million chances to win. Each paw print can lead to a cascade of more wins, leading to even more cascades and wins.
This is a unique game that uses an unprecedented winning strategy by mixing cascading and expanding symbols, expanding the dimensions of the game and increasing the number of reels and rows. The paw prints of the jaguar will lead you to a unique gaming experience.
Jaguar Superways video slot has a Mayan jungle theme and is led by an animated jaguar. Jaguar Superways offers low volatility, a high hit rate, and up to 387,420,489 ways to win, giving you up to x22,457 and €224,570. Read the full review of Jaguar Superways slot below.
Game Information
| | |
| --- | --- |
| Game provider: | Yggdrasil Gaming |
| Rating: | 4.8 / 5 |
| RTP: | 96.25% |
| Volatility: | Medium |
| Reels: | 5 to 9 |
| Paylines: | 387,420,489 |
| Minimum bet: | 0.40 |
| Maximum bet: | 10.00 |
| Maximum win: | €224,570 |
| Released: | May 2021 |
Play Jaguar SuperWays at Licensed Casinos
Jaguar SuperWays Review
Jaguar Superways slot takes you to the depths of the Amazon jungle - the environment where the jaguar searches for its prey! The slot features vibrant, high-definition graphics with the jaguar ready to attack at the edge of the reels - complete with a careless shake of the head when the spins do not bring any wins. This slot has incredible Superways paylines and an exotic combination of vultures, snakes, frogs, Mayan emeralds and standard slot symbols. The paw print of the jaguar has the power to send you on a trail of cascading wins. You can potentially win up to €22,457 in free spins - up to €224,570 for maximum winners. Jaguar Superways is a revolutionary game from Bad Dingo that introduces new game concepts and more slot dimensions to the Yggdrasil YGS Masters platform.
RTP and Volatility
Jaguar Superways has an RTP of 96.25 percent, a low volatility of 44 and an average hit rate of 41.28 percent. That's a really impressive average hit rate, which usually indicates extensive value for money and a steady stream of low-level wins while you bet on the luck of the fittest.
If you want more volatility, try the Easter Island slot II, which has an average hit rate of 16.3 percent. Jaguar Superways, which is available on both desktop and mobile, is a winner if you like animal slots and arcade-style video slots.
As for the betting settings, Jaguar Superways slot can be spun with stakes ranging from €0.40 to €10, which indicates that the maximum bet is rather low - but more than sufficient for the budget of a regular player with a big budget. The minimum bet is €0.40, but the high average hit rate means that you should not go broke if you play with low stakes and a reasonable session budget.
Jaguar Superways can be played manually with a click to spin - or automatically for 10-1000 rounds.
Payouts
Vulture, snake, frog, emerald, Q, J, A, K, 9 and 10 are the ten regular symbols in Jaguar Superways. You get payouts when you spin combinations of 3-9 symbols, which leads to a wide range of possible payouts. This is why Jaguar Superways video slot has such a high average hit rate of over 41%!
As for the payouts in the base game, symbol combinations can pay out between x2 and x10 for three symbols and x50 and x300 for nine symbols.
So for the highest paying vulture symbol, three coin combinations pay out x10 coins, increasing to x300 coins for nine symbols. All payments are multiplied by the combination value and the triggering coin value (0.01 - 0.25). This means that three vultures pay out between €0.10 and €2.5, and nine vultures pay out between €3 and €75.
Strategy Tips
Jaguar Superways is a low volatility game with one of the highest average hit rates in slots - more than 41 percent! This means that Jaguar Superways offers excellent value for money if you choose a reasonable bet in relation to your budget.
While the game can bring many low wins, unlocking the full power of Superways and Jaguar Free Spins often requires more patience - expanding all paylines and activating the power of Free Spin mode occurs much less frequently than the basic winning frequency.
You can try to play smart to unlock some hot spin clusters by playing consistent sessions of a few hundred spins; use the autospin option to play 10-1000 rounds. Casual players, for example, can choose a minimum bet of €0.40 and 100-200 spins per session.
Bonuses
Jaguar Superways slot has two exciting additional features: Jaguar Superways and Jaguar Free Spins. These features are fully automated, so no input is required from the player. The additional features complement the base game's average hit rate of over 41% and have the ability to take wins to the next level - or even into the realm of big wins for the luckiest players.
The Superways Feature
The Jaguar Superways feature is named after the game. Due to the power of the Pawprint symbol, the Jaguar Superways bonus can generate up to 387,420,489 ways to win. When the giant pawprint appears over a winning symbol on the slotscape, it activates additional reels and symbols. The Mayan Temple symbol remains on the reels to collect and activate the Free Spins feature.
Free Spins
When three or more Temple symbols appear on the reels, the Jaguar Free Spins Feature is activated. The Free Spins Bonus starts with 1024 ways to win and can award up to 20 free spins. Jaguar SuperWays can also be rewarded during the free spins, leading to a flood of wins if you have a hot run. Jaguar Superways can provide wins of up to 22,457 when numerous symbols line up optimally, resulting in payouts between €8982.8 and €224,570.
Jaguar Superways Conclusion
This arcade-style video slot has an incredible average win rate of more than 40%, making it a low-volatility favorite for thousands of players. Jaguar Superways has a great theme if you like the Amazon jungle, big cats and exotic animals, and it's backed up by fantastic sound effects and an animated slot landscape. With expanding reels and free spins, you can get maximum wins of up to 300 coins in the base game if you are lucky. If you hit the jackpot, the cascade of winning symbols can pay you up to 22,457 coins and €224,570 for high rollers! With Jaguar Superways slot you can take a trip on the wild side.
Find More Yggdrasil Gaming Games
Jaguar SuperWays FAQ
What is the RTP and variance of Jaguar Superways?
Jaguar Superways has an RTP (Return to player) of 96.25%, moderate volatility, and a high average hit rate of 41.28%. The game is designed to offer fair and authentic slot gameplay with the possibility of a variety of wins, including high maximum payouts for lucky players.
What is the Jaguar SuperWays max win?
With Jaguar Super Ways you can get top wins of 22,457 x your total bet per spin. The key to winning big is increasing the number of winning ways to over 387 million.
What are SuperWays?
When you get a win with a superimposed paw print, the playing field is increased. With the SuperWays feature you can play with 9 reels, 9 rows and up to 387,420,489 ways to win.
Are there Jaguar SuperWays free spins?
Yes, collect temple scatter symbols in a single cascade to trigger the free spins feature. With up to 20 free spins, the SuperWays can increase the number of your winning opportunities to 387,420,489.
How much can I win playing Jaguar Superways slot?
Jaguar Superways slot has 10 symbols, all of which can form winning combinations of 3-9 symbols. The payout possibilities range from x2 of the coin value to x300 of the coin value. The symbols in descending order are vulture, snake, frog, emerald, Q, J, A, K, 9 and 10 and can provide a lot of variety in the payouts received thanks to the betting range between 0.40 and 10. With the free spins and Jaguar Superways, you can theoretically win up to 22,457 times the trigger bet - giving you a maximum payout range between €8982.8 and €224,570. All wins are based on the random principle, so always play safe and with reasonable limits for the slot session.
What is the best strategy to win on Jaguar Superways slot?
Jaguar Superways is a game of chance, and no technique or expertise can help you improve your odds. However, you can play wisely by choosing a spin size that matches your session limit. To maximize your consistency, you should use the same spin value for all your spins. If you choose a coin size that allows for a high number of spins per session, you can take advantage of the Superways paylines and Free Spin mode, which offer the best chances of high payouts. Jaguar Superways should only be played with money that you can spend on your entertainment.