Play Fast Fruits DoubleMax by Yggdrasil Gaming for Free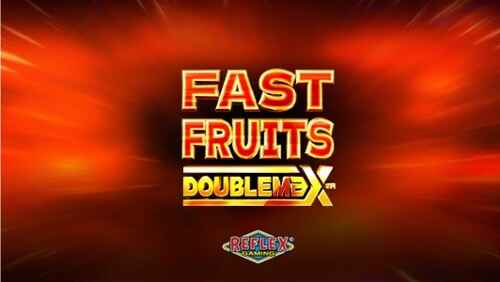 RTP

95.5%
Volatility

High
Provider:

Yggdrasil Gaming

Developer:

Reflex Gaming

Rating:

4.07 / 5

Reels:

5

Paylines:

20

Hit Frequency:

25.83%

Minimum bet:

0.20

Maximum bet:

100.00

Maximum win:

19,996.4x

Released:

20 July 2023
Fast Fruits DoubleMax
Ready to strike it rich with a whopper of an arcade throwback slot game? Look no further! Fast Fruits DoubleMax brims with vivacious fruit-themed symbols, vigorous music, and a nifty 5x3 grid layout. The not-too-shabby RTP of 95.5% balances out its ride-of-your-life volatility. The game's standout features include four unique wild symbols, each bringing a unique flavor to the gameplay. The loaded Golden Bet feature raises the stakes by doubling accessible spin prospects while giving your pocket a bit of a pinch.
Test drive this fruit delicacy with its demo version before committing any dough. Trust us; you're in for refreshing gaming fun across all devices! So buckle up for some old-school charm fused with digital graphics and the high probability of striking gold in Fruitopia!
Fast Fruits DoubleMax - base game

Fast Fruits DoubleMax - gamble for more free spins

Fast Fruits DoubleMax - Free Spins round
Play Fast Fruits DoubleMax at Licensed Online Casinos
Vulkan Vegas Casino

100% up to €300 and 25 extra spins

TrueFlip Casino

100% up to €250

Bitstarz Casino

100% up to €100 and up to 180 extra spins

GreenSpin Casino

100 Free Spins on Game of the Week

24K Casino

125% up to €300 and up to 50 extra spins

Gslot Casino

100% up to €100 and 100 extra spins
Fast Fruits DoubleMax Review
Retro Charm and Digital Graphics
With a nostalgic nod to the arcade games of yesteryears, our game flaunts an old-school retro aesthetic. Think luscious fruits bursting with vibrant color - your primary symbol on the reel! Everything from the visuals to the animations comes together beautifully in high-resolution clarity, creating gameplay that's as smooth and as satisfying as a peach.
Creeping into your ears is a catchy soundtrack concocted with effervescent tunes that keep you in high spirits. Sizzling sound effects add enough seasoning to complement the fruity theme without overwhelming it.
The layout of the playground? A neat 5x3 grid comprising 20 non-negotiable paylines and quadruple wild symbols ready to step into any regular counters' boots. Look for the elusive free spins symbol – your ticket to an explosive bonus round.
Risk, Reward, and Return
Here's where the rubber meets the road, folks! The RTP (Return To Player) hovers at 95.5% and is shy of hitting the universal average marker at 96%. But before you start comparing notes, let us remind you that our game caters to thrill-seekers who love their wins served rare but massive - thanks to its heady volatility!
You'll get lucky about one-fourth of your spins, courtesy of its dab hand hit frequency at approximately 25%. Now in this world where everyone desires something extra, how about a Golden Bet feature? It nudges up your stake by a quarter but doubles your prospects of setting off those tantalizing free spins.
Taking Chances and Collecting Rewards
Delve into 20 concrete paylines that let you place bets anywhere between 0.20 to a whopping 100 for each spin. Holding a modest RTP of 95.5% and high volatility, our game promises walloping wins, stretching up to an incredible 19,996.4 times your wager! How's that for hitting the jackpot, right? Mark your calendars because such epic victories typically feature when you stumble upon DoubleMax GEM and those electrifying free spins.
Guess what? This game spins a winning yarn roughly every fourth try, courtesy of its cool-as-a-cucumber hit frequency of around 25%. Bringing some exciting plot twist is the cascade mechanic - it's like having your personal fruit salad tornado, tossing out victorious symbols, and showering extra wilds on screen!
Intricacies and Surprises
Get ready to meet our quartet of wild symbols wearing different hats (quite literally!). These friendly extras can stand in for any regular character but put their foot down at free spin symbols distinctly:
Ordinary Joe Wild: Your trusty buddy shows up on reels 2, 3, and 4.
Leftie Wild: This guy hangs around reel one and pays in both directions – left to right and vice versa.
Right-Hand-Man Wild: He's more comfortable at reel 5, rewarding from left to right and vice versa.
Star Boy DoubleMax Wild: Catch him stealing the show at reel 3, where he kickstarts the much-touted DoubleMax GEM feature – doubling the win multiplier with each cascade!
Now onto our guest of honor – the mighty free spins feature! Ready to roll when three or more matching free spin symbols grace your screen:
Triple Free Spin Symbols Appearance: Get ready for a whirlwind ride with ten heart-stopping free spins!
Quadruple Free Spin Symbols Sighting: Brings along fifteen nail-biting free spins!
Quintuple Free Spin Symbols Show-Up: Hold tight for twenty thrilling free spins!
The fun doesn't end here! All through these juicy free spins, watch as the win-multiplier sticks around for winning streaks, boosting chances of fatter payouts even further. Plus, they're re-triggerable – so keep those peepers peeled for three or more free spin symbols during this stage.
Our supercharged slot venture "Fast Fruits DoubleMax" lays out classic fruit symbols married perfectly with ultra-modern goodies while serving sky-high potential for windfall gains – thanks to DoubleMax GEM feature paired deliciously with abundant free spins! Geared toward lovers of intense volatility bouts and fruit-themed slots alike, it's chaos in Fruitopia here, folks!
All-Device Compatibility
Unleash the fun of this fruit fest game on any mobile device you own, sure, even desktops too! Designed with a drool-worthy fruit slot theme that spotlights vivid and mouth-watering graphics, this summer fiesta fits perfectly on screens of all sizes. No lags or hiccups – it's all silky smooth performance here. Our user interface? Smartly intuitive, making cruising through the game an absolute breeze.
Test Drive with Free Demo
Head over to our website and buckle up for the free demo version we have up there! It's your sneak peek into the exact vibe and gameplay of the real-deal version, but holding a big "FREE" placard instead. So take her for a spin before you decide to commit actual dough. Tinker around adjusting your bet size, spark off the Golden Bet feature, and get familiarized with the speed-breakers - uh, sorry - paytable and gaming rules!
Wrap Up
Can we say Fast Fruits DoubleMax was an utter blast? Its sky-high win potential left our hearts thudding in our chests, courtesy of its DoubleMax feature that predictably doubles the win multiplier with each cascade.
This ingenious mechanic spices up every victory, making it doubly electrifying! Four wild pals bring their exclusive jazz to amp up gameplay diversity. The anticipation builds with the challenging-to-trigger free spins feature – a tough nut to crack but worth it when it finally hits home runs!
Tailor-made for punters who salivate over high volatility slots cloaked in classically simple mechanics and ageless themes, Fast Fruits DoubleMax is right up your alley. Hailed from the house of Reflex Gaming and Yggdrasil – they've hit bulls-eye serving up a flavorful smorgasbord slot game that checks out for diverse audiences ready to slice 'n' dice those juicy wins!
More Yggdrasil Gaming Games
Fast Fruits DoubleMax FAQ
What is the layout of Fast Fruits DoubleMax?
Fast Fruits DoubleMax flaunts a neat 5x3 grid with 20 fixed paylines and four wild symbols ready to substitute regular symbols.
How do the payouts and volatility work in this game?
Fast Fruits DoubleMax has an RTP of 95.5% and high volatility, implying that while wins may not come around often, they can be very substantial when they do.
What's the bet range in Fast Fruits DoubleMax?
You can place bets ranging from 0.20 to a maximum of 100 for each spin.
How much can I stand to win playing Fast Fruits DoubleMax?
The game promises massive potential wins, stretching to an incredible 19,996.4 times your wager!
What are some features I should look out for in the game?
Fast Fruits DoubleMax hosts feature such as Golden Bet, which doubles your chances of triggering free spins, and four Wild Symbols – Ordinary Joe Wild, Leftie Wild, Right-Hand-Man Wild, and Star Boy Double Max Wild.
Can this game be played on mobile?
Yes! The game is compatible with any device you own, including mobiles and desktops.
Is there any trial version available for Fast Fruits DoubleMax?
Absolutely! A demo version is available on Yggdrasil Gaming's website, where you can sample gameplay without committing real money.
How does the Free Spins feature work?
The Free Spins feature activates when three or more matching free spin symbols appear on your screen. It offers between ten to twenty free spins depending on the number of symbols matched.
Who are the developers behind this game?
Reflex Gaming and Yggdrasil have joined to create this fantastic fruit-themed slot extravaganza.
This Fast Fruits DoubleMax review was authored by W.Bergstrom | Last updated on 23 July 2023.