Play Badger Miners by Yggdrasil Gaming for Free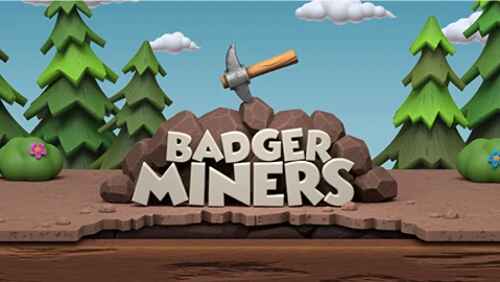 Provider:

Yggdrasil Gaming

Rating:

3.79 / 5

Reels:

5

Hit Frequency:

24.78%

Minimum bet:

0.10

Maximum bet:

50.00

Maximum win:

10,000x

Released:

06 July 2023
Badger Miners
Hold onto your mining helmets, folks! We're diving into Badger Miners by Yggdrasil Gaming. This colorful, badger-packed slot game offers high volatility with impressive returns (RTP at 96%) and the potential to luxuriate in a cool €500,000, thanks to that stellar x10,000 max multiplier during free spins!
And why hold back? Its buy bonus feature supercharges your path to free spin bonuses. Just watch out for a drop in RTP to 65.9%! Handy on mobile & comes with a free demo before you bet away. Eager miners waiting for their fortunes, this betting track is begging for your pickaxes here!
Badger Miners - base game

Badger Miners - 7 free spins

Badger Miners - Free Spins round

Badger Miners - Cash Wilds
Play Badger Miners at Licensed Online Casinos
Stake7 Casino

100% up to €400

Emojino Casino

100% up to €250

CasinoBuck

100% up to €100 and 100 extra spins

24K Casino

125% up to €300 and up to 50 extra spins

Casino-X

200% up to €50 + 200 extra spins

Gslot Casino

100% up to €100 and 100 extra spins
Badger Miners Review
Pump Up the Ambiance: Theme and Graphics
Right, so up for review today is the Badger Miners slot yanked out of Yggdrasil Gaming's expansive game wardrobe. Set your path for an underground roll with a fierce crew of badgers who are itching to hit the jackpot- (read gold). The visuals- our golden-hearted badgers - pack a humorous punch with vibrant colors and an interesting gallery of characters.
The setting? An archetypal mining tunnel loaded with stuff you'd expect, from rusty karts and ominous lanterns to brooding rails and ready-to-explode dynamites. So what relics spin on the reel? The distillment is neat - four gutsy badger characters marked out by their unique style and persona, lower-value card suits for those minor payouts.
For the meatier wins: we've got cash wilds - embossed golden coins showcasing different values and bonus symbols manifested as ruby gems which come with a ticket to free spins fiesta! What about sound? A euphoric melody that sends waves of excitement to match the thrill of this mining exploits.
Weighing Your Odds: RTP and Volatility
Badger Miners proudly announces itself as highly volatile, meaning they're an adrenaline junkie's paradise- massive payouts lurking around but also peppered with a chance of losses. Standard RTP rates swing around 96.0%, just a whisker above what's seen usually in the industry.
Here's where it gets fun, though - they've flung in a 'buy bonus feature' where you get permission to snap up free spinning sessions at the cost of 100x your bet amount. Careful there, mate, cause this pulls your RTP to 65.9%. Now that's something you won't see every day – keep your strategy tight else risk your balance draining like sand through your fingers!
What frequency of grabbing wins? Once every four goes roughly if we turn a blind eye to some decimal points here (24.78% frequency). And wait until you hear about max win – a dazzling €500,000 which ventures into reality when you score a multiplier capped at x10,000 during free spins.
Wagers, Wins, and Wonder: Betting and Payouts
Your minimum entry bet stands at a humble 0.1, soaring to 50.0 tops for those who love the thrill of high stakes. And if Lady Luck is by your side, you can ramp up to €500,000 - courtesy of that stunning max multiplier of x10,000.
Mining symbols run the show here. Prepare for the standard card suits as low-pegging icons (diamonds, clubs, hearts, and spades), doling out x0.5 to x2 of your bet if you bag three to five in alignment. For better stakes, keep an eye peeled for our awesome badgers - blue is cool; green is charming; purple's pretty fetching; but red- that's where the real deal is- pitch in from x1 to x50 times your wager again for 3 to 5 of them.
The wild cash symbol plays a unique game here- it can morph into any symbol except the scatter. Find them on reels 2 through 4 sporting random cash values between x0.1 to substantial x100 times your stake.
Crushing It: Features and Bonuses
Badger Miners isn't just about base play; it offers tantalizing features guaranteed to secure thrilling wins! One crowd-puller is its on-every-spin multiplier. For reels 2 through 4, spot multipliers willing their magic can be anything between x1 and a whopping x5, converging on any winning score that ropes in a symbol from these reels.
Next up - we've got a delightful respin feature triggered by wins involving a wild cash symbol. Have victory in sight? The wild cash grabs all win amount within its reach, then leisurely moves one spot on its reel upwards while other symbols hold steady - setting off a free respin!
Now let's spill the beans on the piece de resistance – the buy bonus feature. Pay up just 100x bet sum, and voila- instant access to free spins mode skipping potential base play blues – bring down RTP though (really down) at 65.9%. Snag this, and you get ten free spins served hot with pumped-up multipliers over middle reels (x2,x3,x5, or even desirable x10). During basic plays, you can also trigger the feature via scatter symbols landing on reels 1,3 and 5.
In free spins mode, the action doesn't stop at red pins with cash wilds - but there's more fun now! Instead of moving upward after each respin rewardingly, they descend downward until vanishing off reel view- meaning a longer avalanche of respins topped with fat multipliers! Get ready, gamers! Badger Miners promise some severe payout potential!
Mobile Magic: Mobile Compatibility
Talking about modern gaming, you can't sidestep mobile compatibility. And that's where Badger Miners swaggers in style - fully poised for action on any of your mobile devices! Tablets, smartphones, laptops, desktops - you name it. This game's hitched a smooth ride across a galaxy of browsers and platforms without a single hiccup.
The day just became brighter – no need to fuss over downloading any extra apps or software! Unleash the underground badger party anywhere, anytime - same stunning graphics, gripping gameplay, and catchy soundtrack. Whether you're lounging at home or on the prowl out in the wild – Badger Miners is always just a screen tap away!
Try Before You Invest: Free Demo
Another appealing chip on our plate is a free demo of Badger Miners stashed away on our website for your gaming pleasure! Learn, experiment, get comfy - all with this neat replica of the real-deal money version of the game.
Try it before buying; risk nothing by sampling the flavors first. Get acquainted – understand what symbols hit gold and which combinations really rake in those coins. The demo is an excellent training ground to sharpen your tactics before heading into the sizzling realm of real bets!
Now For Our Brutally Honest Opinion: Conclusion
We had one absolute romp getting under the skin of Badger Miners, and we're betting stacks - you'll feel similarly! Sure, it has a few corners that may rub raw with some gamers but speaking broadly - it's quite a catch!
So what makes it so peachy?
A theme that's infectiously fun with vibrant visuals and charismatic characters.
Gamble big or go home approach featuring high volatility and RTP balanced at 96%
Jackpot hitting a remarkable max win ceiling of €500,000 combined with top multipliers firing up to x10,000
Introducing Cash Wilds for an innovative winning spree inducing respins
Buy Bonus feature tossed in allowing the outright purchase of free spins laced with multipliers
But every rose has its thorns:
The roller-coaster ride volatility might not resonate with those who want steadier returns.
Some might be coming up short on bonus features variety.
All said and told, we raise a toast to Badger Miners – no hesitation in ranking it among remarkable video slots worth giving more than a once-over. It's engaging fun marinated in rewarding opportunities and downright simplicity wrapped in one neat package.
Intrigued? We suggest you head to Yggdrasil Gaming's corker today – available for test drives and riskier ventures on our site. Your mining adventure awaits!
More Yggdrasil Gaming Games
Badger Miners FAQ
What's unique about Badger Miners Slots?
The whacky theme sets this slot game apart. A standout feature in Badger Miners is their highly volatile Return to Player (RTP), which sits at 96%, allowing for huge wins but smattered with potential losses. Ultimately, the 'Cash Wilds' and 'Buy Bonus' features will capture your attention, granting winning sprees and instant access to free spins.
What's the frequency of winnings?
With a hearty RTP, winning takes place approximately one in every four attempts—a fair shot at scoring substantial payouts!
As a high-volatility game, is it risky?
It depends on your approach to risk. High volatility equates to higher risks due to drastic fluctuations, but it comes packed with massive win possibilities—those jackpot chasers will be in heaven! Be warned; losses could also come thick and fast; it's all part of the fun.
Can you play Badger Miners Slots on mobile devices?
Damn right! This treat believes in keeping up with technology – the platform is optimized flawlessly for use on any mobile device (Tablets, smartphones) along with desktops and laptops too!
Is there any risk-free way to try out this slot?
Indeed we have some beefy news. There's a free demo version available right here on our site!
Does buying into free spins decrease the immediate RTP significantly?
Exactly! You trade for quicker access to riches by boosting your chance of bulky wins, which ultimately brings down your RTP to 65.9%
I am a rookie. How does the betting work?
You can enter from stakes as low as 0.1, scaling up to a bet amount of 50. Remember, keep those nerves steady, kids – take calculated dives!
This Badger Miners review was authored by W.Bergstrom | Last updated on 23 July 2023.