Play Gonzo's Quest for Free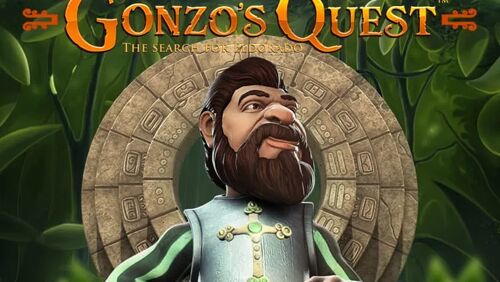 Return to Player
95.97%
Volatility
Mid/High
Features and Themes
Autoplay
Free spins
Quick spin
Configurable paylines
5-Reels
Adventure
Aztecs
Medieval
Gonzo's Quest
Join the Spanish explorer Gonzo on his quest to find the lost golden city of El Dorado and the wealth it contains. The fantastic graphics, smooth animations and interesting features of Gonzo's Quest have helped this slot become one of the most popular online slots in the world!
Gonzo's Quest is a very well-designed slot game from one of the most popular game makers, Swedish company NetEnt, calling it the company's "first platinum video slot game". The game is visually appealing, has smooth and fast animations and offers players the opportunity to win big, especially when the Free Falls feature is triggered with increasing win multiplier.
Read our Gonzo's Quest review and find out everything there is to know about this game.
Game Information
| | |
| --- | --- |
| Game provider: | NetEnt |
| Rating: | 5 / 5 |
| RTP: | 95.97% |
| Volatility: | Mid/High |
| Reels: | 5 |
| Paylines: | 20 |
| Minimum bet: | 0.20 |
| Maximum bet: | 50.00 |
| Maximum win: | 2,500x |
| Released: | November 2011 |
Play Gonzo's Quest at Licensed Casinos
Gonzo's Quest Review
If you want to play Gonzo's Quest, the best advice we can give you is to start with the demo game. This is the best way to learn the rules and the overall gameplay. As you spin the reels, you will immediately get a feel for the fun and entertainment that the slot has to offer. You can use the Avalanche feature and even trigger the Free Falls. You can experiment with the bet levels and coin values to find the best fit for your preferred play style. Do you want to play a lot of spins with small bets? Or do you want to raise the stakes and go for the highest payouts? Since the demo game does not put your own money at risk, it's an excellent way to plan how to properly manage your bankroll when you play with real money. We have provided a free Gonzo's Quest game for you to try out. Have fun!
Graphics and Theme
Gonzo is a hoot in his little conquistador's garb, scratching his beard and whirling his helmet in boredom, dancing and fist-pumping when he wins, and even doing a moonwalk across the screen when he's overjoyed with the payoff.
The screen image is stunning, with an Inca temple in the background, lush flora, and a cascade of water gushing from a stone-carved face. The background noises transport you to a Central American jungle, and when the symbols fall, they sound like real stones dropping.
The Gonzo's Quest slot icons all show a precise, realistic Inca carving of an animal or human face on a square stone. Each symbol is a distinct color: pale blue is the lowest-value symbol, pink is the next highest, tan, purple, gold, green, and lastly, a grayish-blue face with gold trim is the highest-earning symbol.
The Wild emblem is a gray carved stone with a gold question mark and circle surrounding it, but the Free Fall symbol is a solid gold medallion with a face in the center.
Great graphics and smooth animations are undoubtedly among the factors that contribute to the popularity of Gonzo's Quest. The gameplay is fast and fast-paced, which makes the game even more exciting. You can listen to the sounds of the blocks falling on the reels, while hoping that they will form a new winning combination that will trigger another avalanche.
However, there is one problem that many players share. When you use the autoplay feature, the animations are a bit too fast. Many players like to analyze the new symbols that appear on the reels to determine what they need to form another winning combination. This is difficult to do with the autoplay feature. This is unfortunate, because it diminishes the fun that some players have while playing Gonzo's Quest.
Gonzo's Quest RTP and Variance
The RTP (return to player) for Gonzo's Quest is 96%. This means that for every 100 wagered, you can expect to "win" 96. Of course, this value only applies statistically and over a longer period of time, so your results may vary.
In the realm of online slots, an RTP of 96 percent is considered rather typical. That is, there are games that are worse for the player in the long run, but there are also many slots that are far better in terms of RTP.
Gonzo's Quest is a game with a medium variance. This means that the game usually pays out medium sized wins with a medium frequency compared to other video slots.
Gonzo's Quest Bet and Win Sizes
The minimum bet on Gonzo's Quest is €0.2 (0.01 per payline) and the maximum bet is 50 (2.5 per payline). Of course, the maximum and minimum bets are different in casinos that accept other currencies. You can use the "Coin Value" and "Bet Amount" buttons to adjust the amount of your bet.
All winnings in the paytable are shown in multiples of the bet per line. The maximum possible win per line is 2,500 times the bet per line, so $25 on a $0.2 bet and $6,250 on a $50 bet. That's 125 times the total bet, which is not as high as some other slots, but consider the possible multiplier.
The maximum multiplier in the regular game is 5x and increases to 15x during Free Falls. This means that the maximum win per line in the regular game is 625x the total bet (with the 5x multiplier) and 1,875x in Free Falls. The last figure is especially attractive as it means a possible win per line of 93,750 with a 50 bet and 375 with a 0.2 bet.
Also, keep in mind that there are always 20 active paylines and that the Avalanche feature gives you many chances to win in a single game round. Huge wins, like the ones I have described, are of course extremely rare, as with any other video slot game.
Gonzo's Quest Gameplay
The gameplay of Gonzo's Quest stands out from other slot machines. Instead of traditional reels, the game includes an Avalanche element where symbols fall from the top of the reels. Symbols that form a winning combination are destroyed and make way for new blocks of symbols that fall from above.
Thanks to the Avalanche feature, multiple consecutive wins are possible in the same game round. Moreover, the multiplier grows when new symbols are added to the reels. Each spin starts with a multiplier of 1x (except for free spins). The multiplier can then be increased by consecutive wins in the same game round to 2x, 3x and finally 5x, which is the largest multiplier that can be achieved outside of the free spins feature.
There are 5 "reels" with 3 symbols each and a total of 20 paylines. You cannot change the number of active paylines; it is always "locked" at 20. This makes Gonzo's Quest unsuitable for some of my slot methods, but it makes sense because the Avalanche feature, which is one of the highlights of the game, would not work as well with fewer paylines. Winning combinations must appear on a payline from left to right.
There are seven standard symbols in this game. Due to the abstract nature of the game, it is a bit difficult to describe them, so I will provide you with a picture. Apart from the seven standard symbols, there is a Free Fall symbol and a Wild symbol. Three Free Fall symbols on a payline activate ten free spins (or Free Falls, as they are called in Gonzo's Quest). The Wild symbol can substitute for any symbol, including Free Fall symbols.
The Avalanche feature is what has made this game so popular. It is the key component of Gonzo's Quest gameplay that makes the game so much more exciting and thrilling. It can be really exciting to get numerous consecutive wins in a single game round, just to see the multiplier increase and hope for another big win with the combination of old and new symbols that have fallen on the reels.
Gonzo's Quest Slot Features
Gonzo's Quest's main feature is the Avalanche reels. The Avalanche is composed of symbols that cascade down the screen in the manner of falling boulders. When a successful combination of symbols appears on a payline, they explode and are replaced by additional descending symbols. The more winning bet lines you obtain, the more avalanches on Gonzo's Quest occur.
Each Avalanche also adds one to the multiplier. This win multiplier increases with each subsequent avalanche and can reach a maximum of 5x. A losing spin resets the multiplier, and you must land additional avalanche wins to re-increase it.
The Free Falls Feature
The Free Falls are the only special features in Gonzo's Quest. Three Free Fall symbols result in ten Free Falls (free spins). However, since the Free Fall symbols do not act as scatter symbols, they must form a winning line from left to right.
This makes it significantly more difficult to hit the Free Falls, but it also opens up the prospect of triggering many more Free Falls at once. Each payline with three Free Fall symbols activates ten Free Falls. So, you can win a lot more Free Spins if you manage to line them up on multiple paylines.
The enhanced multipliers are what make Free Falls stand out. The regular game starts with a 1x multiplier, which can be increased to 2x, 3x or 5x. All of these multipliers are three times higher in Free Falls. That is, each Free Fall starts with 3x and can increase to 6x, 9x and 15x. This means that you can win a lot of money during Free Falls.
The Free Falls feature is very appealing to the player, both in terms of a new experience and the prospect of a big win. However, it can be difficult to land a hit, since the Free Fall symbols, like all other symbols, must form a winning combination on a payline.
This is our main criticism of Gonzo's Quest. There is only one special feature, which is rarely used. There are no other special features or a jackpot. For some players, this could make the game boring, especially after playing some of the newer games with many unique features that can be triggered in each game.
Our Verdict
Gonzo's Quest is an online slot that caters to a wide variety of slot players. With a straightforward idea, the game is simple to pick up. Despite this, it remains enjoyable even when played for extended periods of time, in part because to the fantastic additional features. Today, the game's graphics and animations are still impressive, and it's clear to see why so many players adore Gonzo and his quest for riches. Discover even more of the best video slots to play and choose from our incredible variety.
Gonzo's Quest FAQ
What is the RTP of Gonzo's Quest?
The RTP of Gonzo's Quest slot is 95.97%, which is just below the average of 96%. The hit rate is 41.1%, which means you will not have to wait long for a winning combination.
What is the maximum win in Gonzo's Quest?
You can win a maximum of 37,500 times your bet per spin. This can happen in the free spins due to the potential 15x multiplier. On each spin in the base game, you can win up to 2,500 times your bet per spin.
Does Gonzo's Quest have free spins?
Yes. The Free Falls feature can give you up to 20 free spins. The avalanche multiplier starts at 3x and increases up to 15x on consecutive avalanches/wins. This can lead to a win of 37,500x stake on each free spin.
Can I claim Gonzo's Quest free spins without a deposit?
Gonzo's Quest free spins are unlocked when you land three free spins symbols on the first, second and third reel. These symbols unlock ten free spins and the multiplier bonuses are increased.
How does the Avalanche feature work?
In the Avalanche feature, winning symbols are removed and replaced with new symbols. With each avalanche, the multiplier increases. In the free spins it can be up to 15x.
Is there a Gonzo's Quest demo version?
Yes, you can play Gonzo's Quest for free here at Gamblr.live. You can try this popular title on desktop (laptop/mobile) or touch version (mobile or tablet device).