Play Serengeti Kings for Free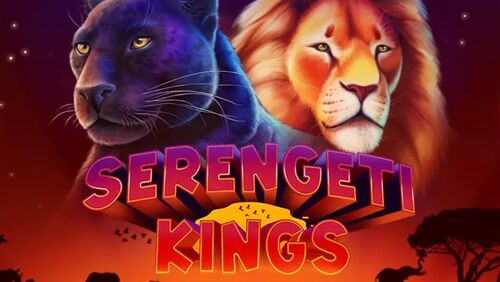 Return to Player
96.20%
Volatility
High
Features and Themes
Autoplay
Free spins
Quick spin
5-Reels
Africa
Animals
Adventure
Serengeti Kings
Serengeti Kings slot is a 5 reel, 4 row, 26 fixed payline game from NetEnt that can be played with a bet of 0.10 to 100 per spin on desktop, mobile and tablet devices. The game is set in Africa and you start in Lion Spins mode, where you collect lion and panther symbols - at the 12. When you land matching symbols in the same positions, the multipliers increase. There is also a free spins feature where all lion/panther symbols are added on your last free spin.
Game Information
| | |
| --- | --- |
| Game provider: | NetEnt |
| Rating: | 3.99 / 5 |
| RTP: | 96.20% |
| Volatility: | High |
| Reels: | 5 |
| Paylines: | 26 |
| Minimum bet: | 0.10 |
| Maximum bet: | 100.00 |
| Maximum win: | 5,000x bet |
| Released: | January 2020 |
Play Serengeti Kings at Licensed Casinos
Serengeti Kings Review
Serengeti Kings is a highly rewarding African adventure slot from NetEnt that will have you dreaming of the bush in no time. Collect panther and lion symbols to activate the lion and panther features that bring you win multipliers and random wilds.
The split sun and moon scatter symbols are the key to unlocking 12 free spins and the game's big payout of 1300x your bet. If you can not wait to get in on the action, you do not have to thanks to NetEnt's Buy Free Spins feature.
Serengeti Kings Theme and Graphics
In this top slot from NetEnt, you'll head to the Serengeti, a natural paradise in the country of Tanzania. As you play the slot, you'll see many of the region's most popular animals and get a glimpse of the vast landscape depicted behind the reels. The sound is great too, so turn up your speakers when you play!
The main symbols are all the animals you'll encounter on the Serengeti, including giraffes, hyenas, and meerkats. However, the lion and the black panther are the most important symbols on the reels. The lower paying symbols are the playing card values. They do not look fantastic and add nothing to the slot's appeal, but that's only a minor complaint.
Betting options
Those who want to play with low stakes will be very happy with Serengeti Kings slot. Indeed, it is possible to spin the reels for as little as $0.10. At the other end of the scale, players who want to spend a lot of money can play for $100 per spin. Many other slots have higher maximum bets, but $100 should be enough for most players.
To change your bet, simply click on the stack of coins below the reels. Then simply click on the bet you wish to make. There is no way to change the number of paylines, so your bet cannot be increased or decreased in this way.Maximum Wins in Serengeti Kings Slot Whether you decide to play this demo slot for free or with money, the maximum winnings here are variable depending on whether you use your winnings to buy scatters and free spins, as is the case here. The chances of favourable payouts are average, with the RTP at 96.7%. The maximum win is about 5,000 times your bet.
There are several ways to make profits here. In this tutorial, it is clear that the wild is the symbol with the highest payouts here. The special wild, as well as the lion and panther symbols, can provide maximum wins when they appear on a line. The animal symbols that you collect on the side counters also count towards the winnings. Of course, the free spins offer more opportunities for wins and multiplier effects. The presence of wild symbols on 12 free spins and scatter symbols that initiate free spins ensures that the player has enough winning opportunities.
Lion Feature & Panther Feature
The Serengeti Kings slot begins with the Lion Spins mode and then the Panther Spins mode. Both of them last for 12 spins each. During the spins, all Lion and Panther symbols that appear on the reels are collected in the Loin Counter and the Panther Counter respectively.
On the 12th Lion spin, no lion symbols are collected and the Lion Feature is triggered. Here, all lion symbols collected in the lion counter are randomly added to the reels. On the 12th Panther spin, no Panther symbols are collected. Also, the Panther feature is triggered when all collected Panther symbols are randomly added to the reels. Again, the setting changes from night to day.
Now, when a lion symbol is placed on a panther symbol or vice versa, a wild symbol is created. When a lion or panther symbol is placed on the same symbol or a wild, the symbol's multiplier increases by 1. Each payline starts with a multiplier of 1x - each symbol's multipliers are applied and can result in some big multipliers that dramatically affect your winning potential. Once the 12 spins are over in either mode, the multipliers are reset and the process starts all over again.
Free Spins Feature
Serengeti Kings also has a free spins feature - this is triggered when you get 3 or more scatter symbols (half sun/half moon) anywhere on the reels. You will then receive 12 free spins. You can get more symbols in the lion and panther counters if you trigger the feature with more scatters:
3 scatters - you start with 0 symbols in the lion and panther counters
4 scatters - you start with the number of symbols collected so far
5 scatters - 5 more lion and panther symbols are added to the collected symbols in both counters.
Once you are in the game, all lion and panther symbols are collected in their counters as in the base game. On your final free spin, all symbols collected in both counters are randomly added to the reels. This can create wilds and later multipliers.
Buy Free Spins Feature
NetEnt has adapted to the trend of offering a buy option for the feature - the so-called Buy Free Spins feature. You can start the Free Spins feature with 3, 4 or 5 scatters. Not available to players in the UK (due to regulations introduced by the UK Gambling Commission), the different options change with each spin. Expect more than 50x bet for 3 scatters, more than 80x bet for 4 scatters and more than 240x bet for 5 scatters.
Conclusion
The Serengeti Kings slot is well designed and looks like a modern edition of the movie The Lion King! Apart from the graphics, it's all about collecting lion and panther symbols so that more of them appear on the reels on your 12th spin in both modes. You can get more lion/panther symbols in the free spins feature by triggering the feature with 4 or 5 scatter symbols.
With an RTP of 96.2%, it is an entertaining slot that is quite simple in terms of gameplay. As for the variance, it is in the high range. If you fill the reels with wild symbols, you will win 5,000 times your bet - the probability of this is minimal. The bigger wins come from the multipliers, but the low value symbols make it practically impossible to win more than 1,000 times your bet on any spin or free spin.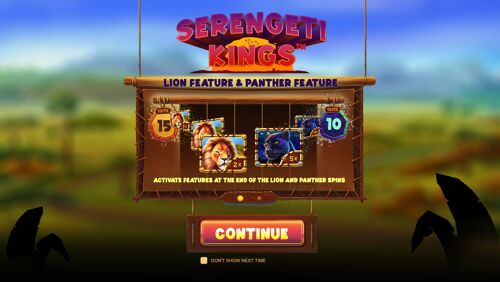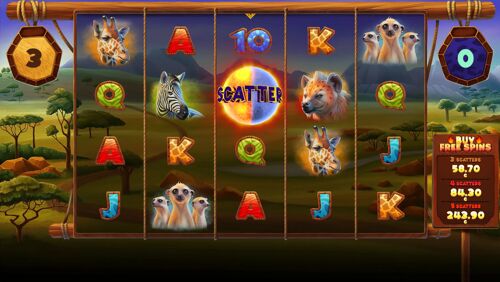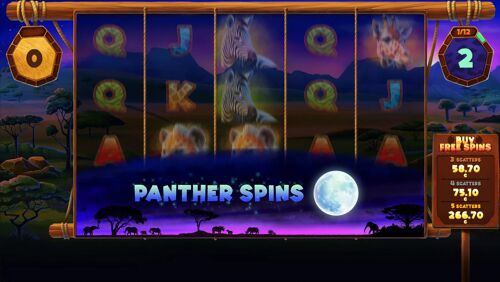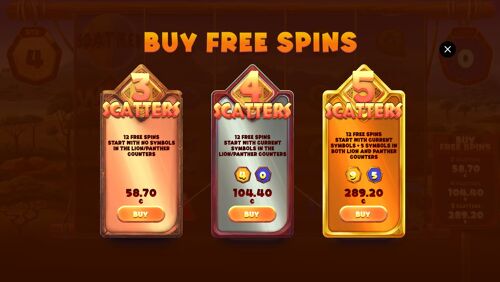 Serengeti Kings FAQ
What is Return To Player (RTP)?
The RTP of a slot machine indicates what percentage of money a slot pays back on average and is calculated over millions of spins. Volatility is a term that describes how regularly a slot machine pays out - the higher the volatility, the more irregular the payouts, but the bigger they can be when they do arrive.
What is the RTP and volatility of Serengeti Kings Slot?
The RTP of Serengeti Kings is 96.20%, which is pretty good compared to other online slots in casinos. This number means that the game pays back 96.20% of the money wagered, but over an incredibly long period of time. There is no guarantee that you will win back this percentage of your money, because the RTP of Serengeti Kings is just an average value.
How can I play Serengeti Kings online slot for fun?
Players can play this slot online for free. In free mode, you can play for free without downloading, registering or depositing. During this time, you will have access to all the features of the Serengeti Kings slot, the game rules and all other necessary information about the game before parting with your money in real money mode. If you want to play Serengeti Kings slot online for free in a safe online casino, then visit our website. You can play for free without depositing a single cent or registering.
Do you have any tricks to play Serengeti Kings slot for real money?
For players who want to try their luck to win in this game, you should follow these tips:
First of all, Serengeti Kings slot is a very volatile game, which means that it is hard to get wins, but also easy to get big wins within a short period of time. The only thing you need is patience.
Watch out for the lion and panther symbols when you play the Serengeti Kings slot game. Try to get as many of them as possible if you want to get big wins frequently. You can try to stop the reels while spinning if you suspect that one of these symbols will spin next.
It is always advisable to start with a smaller bet and increase it only after you have achieved some wins. This way, you will not lose too much of your hard-earned money.
Can I play Serengeti Kings Slots on my cell phone?
Yes, you can play the game on your mobile and tablet. Thanks to NetEnt Touch, this game looks great on any handheld platform. This slot gives you total freedom to play on the go, and all you need to get started right away is your Android, iOS or Windows device.
Can I win real money while playing Serengeti Kings slot?
To play with real money, you need to register at the online casino and make a deposit.