Play Terminator 2 for Free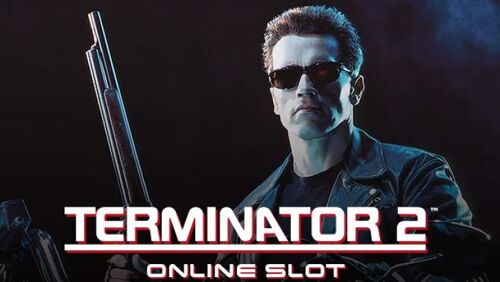 Return to Player
96.62%
Volatility
Medium
Features and Themes
Autoplay
Bonus feature
Free spins
Quick spin
5-Reels
Movie and TV
Technology
Horror
Branded
Terminator 2
The Terminator 2 slot machine is the official game for the 1991 film, and it has 5 reels and 243 ways to win. The original's feature set is retained, including the T-800 Vision feature, which gives cash prizes for all high-value symbols displayed. When you activate the Free Spins feature, you'll receive 10 free spins on an extended 1,024-way-to-win machine featuring a special changing symbol. Find out more in our Terminator 2 review.
Game Information
| | |
| --- | --- |
| Game provider: | Microgaming |
| Rating: | 4.2 / 5 |
| RTP: | 96.62% |
| Volatility: | Medium |
| Reels: | 5 |
| Paylines: | 30 |
| Minimum bet: | 0.10 |
| Maximum bet: | 20.00 |
| Maximum win: | 2,950x |
| Released: | February 2021 |
Play Terminator 2 at Licensed Casinos
Terminator 2 Review
This slot is inspired by the second instalment of the Terminator film series, Terminator 2: Judgement Day. Sarah Connor and her son, John, are persistently followed by T-1000 in James Cameron's 1991 sequel. The T-1000 is a highly advanced, liquid metal Terminator capable of shapeshifting sent on a mission to assassinate John in order to prevent him from becoming the head of the human resistance against machines. Arnold Schwarzenegger, as a less-advanced Terminator, is sent back in time to defend the youngster.
Terminator 2 has 243 ways to win, up to 1,024 ways during the Free Spins phase. This five-reel slot has a wild, a scatter, a Hot Mode to increase payouts, and two primary bonus features that include free spins and multipliers. While there is no progressive jackpot, there are plenty of ways to enhance winnings to the next level, ensuring that players exclaim.
What follows is nothing short of action-packed sci-fi that has garnered multiple awards, acclaim for being the first in its industry for such astounding visual effects, and a positive response from fans. The Terminator franchise's memorable, distinct nature lingers on, making this slot a perfect option to revisit that classic nostalgia.
Theme, Graphics and Sound in Terminator 2
The gameplay takes place against a black and dark blue backdrop. The reels are a lighter blue overlay with text written in an authoritative-looking narrow font. The game has a metallic, robotic vibe as a result of this. The credits, autoplay button, two arrows to adjust your stake in increments, your win, and the red-tinted spin button are located at the bottom.
The symbols are a combination of 3D symbols, explosive animations, and real-life character photos from the film. There is a cinematic soundtrack to accompany your gaming to finish off the looks.
We believe the graphics are not only of high quality, but also wonderfully compliment the soundtrack in representing and bringing to life everything we love about the film. This is a captivating and atmospheric slot that highlights the finest of what Microgaming slots have to offer.
RTP and Volatility
The return to play (RTP) is around the respectable 96.62%. The slot seems to have a medium variance and volatility, so wins are not necessarily too frequent, but there is a good potential for bigger payouts. This slot does require a bit of patience, but there are enticing wins to be had.
How to Play
Paylines are fixed and cannot be changed. To play, simply choose a coin size and the number of coins you want to bet before pressing the spin button. The coin size varies from 0.01 to 0.1, with a minimum bet of 0.30 and a maximum bet of 30 each spin. You can also select autoplay for a predetermined amount of spins, after which you can click to stop whenever you want.
The traditional card suits are represented by the classic card suits: hearts, clubs, diamonds, and spades. The Terminator, John Connor, Sarah Connor, T-800, and T-1000 are among the other symbols.
Lightning strikes across an industrial-looking background indicate the scatter, resulting in an orb appearance animated with the word'scatter' across the center. This will assist you in completing winning scatter combinations; but, three or more of these across your reels will activate the Free Spins bonus. The scatter symbol is also the most valuable, as five of these on your reels will result in a 3,000x multiplier on your bet.
T2 is the wild symbol, and several T2s on any line transform symbols into a winning combination. This is also a good earner, as five of these on your reels will pay out 1,500x your investment.
RTP And Volatility
The Return To Player is 96.62%. It appears to have medium volatility, so wins are not likely to be frequent, but there is a decent chance of larger payouts. While this slot may need some patience, there are some enticing payouts to be had.
Winning combinations of symbols in the main game can result in a variety of prizes, with the T2 and scatter being the most lucrative if five appear on a line.
The scatter and intriguing extra features provide numerous opportunities to win. The Free Spins round has the most potential for big prizes, especially when there's a jackpot of 2,950x your bet up for grabs.
Bonus Features
The Free Spins bonus round and the T-800 Vision function are the two main bonus features in this game.
Free Spins Feature
To activate the Free Spins feature, you must land three or more scatter symbols - the lightning orbs - in the regular game. When you're in the T-800 Vision round, only one orb symbol is required to activate the Free Spins bonus.
You will receive 10 free spins throughout this free spins round. The reels will also be 5x4 rather than 5x3, bringing the total number of chances to win to 1,024. The bets will be frozen so that they remain the same as they were during the spin that initiated the bonus game.
The Hot Mode can be activated at any time for more frequent and numerous winning opportunities. Furthermore, landing the T-1000 during the Free Spins bonus completes the most lucrative reward for that spin.
The Free Spins round is likely to produce the most generous payout, with up to 2,950x your bet on the line. We recommend that you check the paytable before playing for real money to see what payouts are available.
T-800 Vision Bonus
This bonus is triggered at random following any spin that does not result in a win. You will see the world through the Terminator's eyes as he searches for predetermined targets, such as the higher paying symbols of John and Sarah Connor, T-1000, T900, and the Terminator. You'll gain an additional victory if you find any during this round, but that's not all. The Free Spins game will be launched if you get one scatter during this bonus.
Play Terminator 2 for Free at Gamblr
We take pleasure in bringing engaging gameplay to your house without charging you a dime. Because no money is exchanged, you can play risk-free, making this a great method to try out the game before deciding whether to play for real money at an online casino.
Terminator 2 Conclusion
With its spectacular animations, machine-like graphics, epic soundtrack, and opportunities to win large, this game is a blockbuster. We really like the multipliers and free spins for delivering decent payouts, as well as the novel T-800 Vision round, which gives game a distinct edge. The artwork and animations were quite appealing to us, and they worked well with the movie-style soundtrack to provide an exciting, atmospheric feel to the slot.
Although the paylines are not customizable, a minimum wager of 0.30 is appropriate for casual players and those looking to keep their expenses low; meanwhile, a maximum stake of 30 is very realistic for those feeling more generous and looking to win big.
Fans of the Terminator franchise should be pleased with what this game has to offer in terms of recreating some of the film's classic elements, from the beloved characters to the robotic, metallic edge of the graphics. Meanwhile, lovers of high-quality slots should be pleased with the free spins, jackpots, and features on offer. Given its medium volatility, a little patience may be required, but we believe it pays off in terms of winning potential and levels of fun.
About Microgaming
Microgaming has paved the way for online gaming since its humble beginnings in 1994. Today, the company is one of the largest providers of innovative, creative games in the online casino industry. More than 300 online casinos rely on Microgaming. Microgaming takes security, graphics, performance, and usability very seriously, resulting in smooth, engaging, and high-quality gameplay.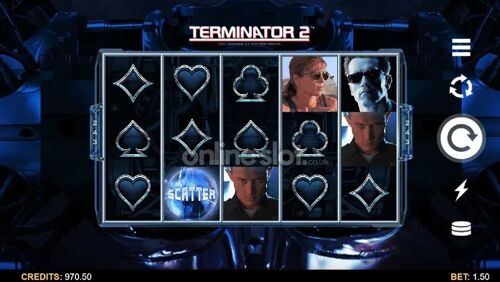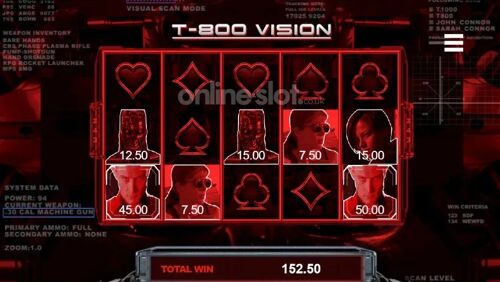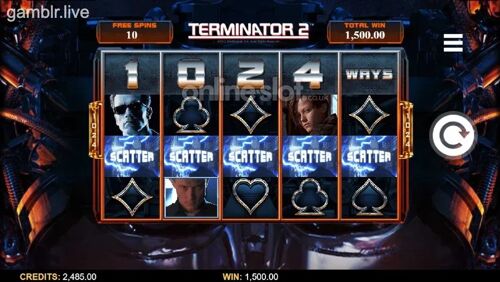 Find More Microgaming Games
Terminator 2 FAQ
What is the Terminator 2 RTP?
Terminator 2's return on investment is 96.62%. With medium variance, you will often get winning combinations, because the hit rate is 43.67%, which means that almost half of the spins will result in a win.
What is the maximum win in Terminator 2?
When you play Terminator 2 online, you can win a maximum of 2,952 times your total bet per spin. This win can be achieved in the free spins, as there is an additional row and 1,024 ways to win.
Is there a Terminator 2 free spins feature?
Yes, the free spins feature rewards you with 10 free spins. The action plays out with 1,024 ways to win (an extra row), which significantly increases your winning potential. The T-1000 symbol transforms into a high-value character symbol, providing greater chances of winning.
What is the T-800 Vision feature?
In Terminator 2, there is the T-800 Vision game that is randomly activated after an unsuccessful spin on the reels. This puts the slot into robo-vision and each character is targeted and scored before being assigned a bonus win.
Is Terminator 2 an official slot machine?
Yes. The slot is based on the movie Terminator 2: Judgment Day and was developed in cooperation with Universal and contains real movie clips.
Can I play Terminator 2 slots for free?
Yes. Playing Terminator 2 at Gamblr is absolutely free. No cash is exchanged and we recommend playing for free for a risk-free experience, especially since it's a great way to get a feel for the slot before deciding if you want to play for real money.
Can I win real money while playing Terminator 2?
No real money is deposited or won when playing for free on our website, so you can play without risk. If you want to pay for this slot, you can win real money. We recommend that you check with the casino before playing to see what offers and winning opportunities are available.
Do you have any Terminator 2 tips or cheats?
A random number generator (RNG) ensures that all spins are random to ensure fair, genuine play. Therefore, the results cannot be predicted or manipulated in any way, so no tips or cheats are possible.