Play Thunderstruck 2 by Microgaming for Free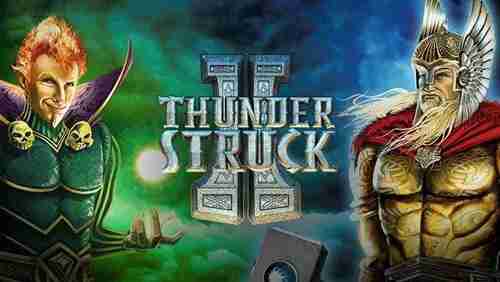 RTP

96.65
Volatility

Medium
Game provider:

Microgaming

Rating:

4.7 / 5

Reels:

5

Paylines:

243

Minimum bet:

0.30

Maximum bet:

60.00

Maximum win:

8000x

Released:

May 2010
Features & Themes
Autoplay
Bonus feature
Free spins
Quick spin
Thunderstruck 2
Thunderstruck II is a classic online slot game developed by Microgaming that was revolutionary when it was first released. With its 5 reels, 3 rows, and 243 ways to win, players only need to place three or more matching symbols in succession from left to right on any row to win. This format may not seem extraordinary today, but it was groundbreaking when Thunderstruck II was first released, and it's one of the reasons why the game is so popular. The game's graphics, while not overly flashy, are still well-designed and offer a small thematic frame that adds to the game's overall appeal.
Thunderstruck 2: Welcome Screen

Thunderstruck 2 Base Game

Thunderstruck 2 Big Win
Play Thunderstruck 2 at Licensed Online Casinos
Vegas Slot Casino

100% up to €100

Stake7 Casino

100% up to €400

Yukon Gold Casino

125 extra spins on Immortal Creatures

Gslot Casino

100% up to €100 and 100 extra spins

Casino-X

200% up to €50 + 200 extra spins

CasinoBuck

100% up to €100 and 100 extra spins
Thunderstruck 2 Review
The game quickly gained a reputation as a legendary game due to its impressive aesthetic solutions and attractive bonuses. It's easy to see why - Thunderstruck 2 is not only beautifully presented, but it also offers high payouts and exciting bonuses. The game is heavily influenced by Norse mythology, which is one of the most fascinating mythologies out there. It's no surprise that Microgaming was inspired to adopt Norse characters for the Thunderstruck sequel. The original game was released six years before its sequel, but Thunderstruck 2 quickly surpassed its predecessor in popularity thanks to its improved graphics and gameplay.
Theme and Graphics
Thunderstruck II boasts top-notch graphics and amazing aesthetics, a hallmark of Microgaming's game development. The game's developers have done an excellent job of blending fast-paced action with new bonus features and stunning colors and music. The game's graphics are even more spectacular than its predecessor, and the theme is more complex. As expected, the game features Norse gods such as Thor, Odin, Valkyrie, and Loki on the reels.
In addition to the Norse gods, other symbols associated with the game's theme include Viking ships, Thor's hammer, Thor's house, and regular playing cards, which serve as the game's lower symbols. The game's reels are designed to look as if they are carved into huge slabs of stone, and the background features a stone pattern in different shades of blue and gray. To tie everything together, the game's creator has included an epic mythological soundtrack that plays in the background, adding to the game's immersive experience.
RTP and Volatility
Thunderstruck II has a respectable RTP (return to player) of 96.65%. This means that for every $100 wagered, the game will pay out an average of $96.65 in winnings. This RTP rate is considered to be slightly above average for online slots and is considered to be a fair return for players.
The game is also considered to have medium volatility, which means that the game pays out moderate-sized prizes on a regular basis, rather than infrequent large payouts. This makes the game suitable for players who are looking for a balance of consistent payouts and the potential for big wins.
The medium volatility level of Thunderstruck II also makes it a suitable choice for players with different types of bankrolls. High rollers can enjoy the potential for bigger payouts, while players with smaller bankrolls can still enjoy the game with a more moderate betting strategy.
Special Features
Free Spins
Thunderstruck II offers a variety of free spins options for players to choose from. The Great Hall of Spins feature is triggered when players land three or more bonus hammer symbols anywhere on the reels. If players are lucky enough to activate the Great Hall of Spins feature five times, they will receive a new free spin option to choose from in future free spins rounds. All scatter and bonus wins are multiplied by the player's total bet, and all wins from the free spins are calculated based on the player's original bet from the main game.
The Valkyrie Bonus Game
This is the first of four free spins options and is the only one available initially. Players will receive 10 free spins in the Valkyrie game. During the free spins game, three or more Bonus Hammer symbols anywhere on the reels can trigger additional free spins. Each win during the Valkyrie game is increased by five, offering a lot of winning potential for players.
The Loki Bonus Game
After players have triggered the free spins round five times, they can access the second free spin option. Once this game is unlocked, players can choose between the free spins with Valkyrie and Loki. The Loki game offers a total of 15 free spins, which is five more than the Valkyrie game. However, unlike the Valkyrie game, this game does not have a multiplier. Instead, the Loki game features the Wild Magic emblem. On random spins, this symbol appears on the center reel, and if players are lucky enough to land it, up to 14 regular symbols will also become wilds, leading to huge payouts. The Wild Magic symbol pays out the same as the base game's Wild symbol, but without the base game's multiplier. Players can retrigger the free spins by landing two or more Bonus Hammer symbols on the reels.
The Odin Bonus Game
This is the third free spins option that players can unlock after 10 visits to the Great Hall of Spins. Once unlocked, players can choose between the Valkyrie, Loki, and Odin bonus games when they trigger a free spins round. The Odin game offers 20 free spins and features the Wild Raven symbol, which randomly transforms symbols into wild multipliers. If players win a spin, they will receive a 6x multiplier that can lead to incredible wins. Unlike other free spins options, the Odin game does not allow players to retrigger the free spins.
The Thor Bonus Game
The Thor game is the fourth and final free spins option that players can unlock after 15 visits to the Great Hall of Spins. The Thor game offers an amazing 25 free spins bonus and features the unique Rolling Reels feature. When a winning combination is formed, all the winning symbols are cleared, and the symbols above them move down to fill the gaps. This process is repeated when players earn more winning combinations, leading to big wins and more chances to top up their balance. Each rolling reel earned during the Thor game will give players a multiplier that increases by one with each additional win, up to a maximum of 5x. The multiplier returns to 1x for the next spin when the Rolling Reel feature ends and no more wins have been earned. Players cannot retrigger the free spins when playing the Thor game.
Wild Storm Bonus
In addition to the Great Hall of Spins, Thunderstruck II also offers a randomly appearing extra feature called the Wild Storm bonus game. This feature can appear on any spin, adding an element of surprise and excitement to the game. The entire screen darkens and dramatic storm clouds appear over the reels, signaling the start of the special feature.
When the feature starts, the words "Wild Storm" appear at the top of the screen, and up to five reels turn into special wild reels. The number of reels affected varies and is randomly selected. This feature can lead to big wins, especially if players are lucky and several reels turn wild at the same time.
During the Wild Storm feature, neither the scatter nor the standard wild symbols are displayed, so players will not be able to trigger any free spins or get any bet multipliers. However, the potential for big wins from the wild reels more than makes up for this. The Wild Storm feature adds an extra layer of excitement to the game and keeps players on the edge of their seats, waiting for the next appearance of this thrilling bonus round.
Strategy Tips
For novice players looking to try Thunderstruck II, a good strategy would be to first familiarize themselves with the game's features and paytable. This will give them a better understanding of the game's symbols, winning combinations, and potential payouts.
Once they have a good understanding of the game, they should start with a small bet and gradually increase it as they become more comfortable with the game. It's also important to keep an eye out for the Wild Storm bonus, as it can offer a huge potential for big wins at any given moment.
Another strategy for novice players is to take advantage of the Great Hall of Spins feature and try out each of the free spins options, starting with the Valkyrie game. This will give them a good idea of the different features and potential payouts of each option, allowing them to choose the one that best suits their style of play.
Lastly, they should always be mindful of their bankroll and set a budget for themselves. It's important to know when to stop and not chase losses. With these strategies in mind, novice players will be well on their way to enjoying and potentially winning big on Thunderstruck II.
Conclusion
In conclusion, it's easy to see why Thunderstruck II is one of the most popular online slots of all time. Microgaming has successfully reinvented the slot machine genre with this game, making it a true classic in the world of online gambling. The game's visuals, animation, music, and overall cinematic quality appeal to the senses, and despite being a little dated, it still holds up against newer, younger competitors.
The gameplay is also a major factor in the game's success. Microgaming's concept of 243 ways to win was a game-changer, and Thunderstruck II was one of the first games to take full advantage of this concept. The game's features, such as the Wild Storm bonus, add to the game's entertainment and potential for big wins. The way the bonus games are achieved also adds to the game's longevity, making it a rewarding experience for players to stick with Thunderstruck II. Ultimately, personal preference will determine which of the add-on games is the best, as each offers something special. Overall, Thunderstruck II is a must-play for any online casino enthusiast.
Thunderstruck 2 FAQ
What is the RTP and volatility of Thunderstruck II?
Thunderstruck II boasts an impressive RTP (return to player) of 96.65%, which is above the industry average. Additionally, the game has a medium volatility level, meaning that players can expect a balance of moderate-sized payouts and the potential for big wins.
Does Thunderstruck II have a progressive jackpot?
No, Thunderstruck II does not feature a progressive jackpot. However, the game still offers plenty of winning opportunities and has a high potential for big payouts.
Is there a bonus round in Thunderstruck II?
Yes, Thunderstruck II features the Great Hall of Spins bonus round. This is triggered by landing three or more bonus hammer symbols on the reels, and players can choose from four different free spins options, each with their own unique features and potential payouts. As players trigger the free spins, more options become available to them.
Can I play Thunderstruck II for free?
Yes, players can try out Thunderstruck II for free at select online casinos. This is a great way to test out the game and its features without risking any real money.
Where can I play Thunderstruck II for real money?
Before playing Thunderstruck II for real money, it's recommended to try out the demo version. Once you have a good understanding of the game and its features, sign up with a reputable online casino. Make sure to do your research and read reviews before making your final decision. Once you've chosen a casino, you can make a deposit and claim any bonuses offered to start playing for real money.
This Thunderstruck 2 review was authored by W.Bergstrom | Last updated on 19 January 2023.