Play Thunderstruck 2 for Free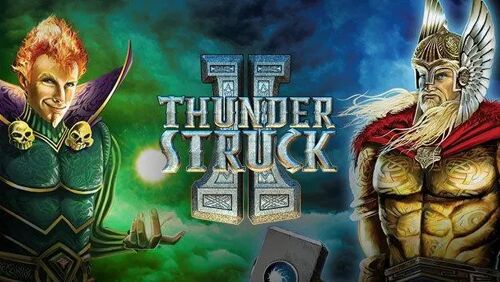 Return to Player
96.65%
Volatility
Medium
Features and Themes
Autoplay
Bonus feature
Free spins
Quick spin
Thunderstruck 2
Thunderstruck II uses a classic Microgaming reel format that was groundbreaking at the time of its release. With 5 reels, 3 rows and 243 ways to win, all you have to do is place three or more matching symbols in succession from left to right on any row to win. This may sound ordinary today, but having so many ways to win was revolutionary at the time and a major reason for the appeal of Thunderstruck II. The same goes for the graphics, which may not be particularly eye-catching at first glance, since the reels only have a small thematic frame.
Game Information
| | |
| --- | --- |
| Game provider: | Microgaming |
| Rating: | 4.7 / 5 |
| RTP: | 96.65% |
| Volatility: | Medium |
| Reels: | 5 |
| Paylines: | 243 |
| Minimum bet: | 0.30 |
| Maximum bet: | 60.00 |
| Maximum win: | 8000x |
| Released: | May 2010 |
Play Thunderstruck 2 at Licensed Casinos
Thunderstruck 2 Review
The game quickly became one of those legendary games due to its amazing esthetic solutions and attractive incentives. This is not unexpected, as Thunderstruck 2 is not only beautifully presented, but also offers attractive bonuses and high payouts. As mentioned earlier, the game is influenced by the rich Norse mythology, so players can expect some fantastic wins. Undoubtedly, Norse mythology is one of the most fascinating, so it is not surprising that Microgaming was inspired to adopt their characters for the Thunderstruck sequel. The original game was released six years before its sequel, which was a huge success. However, with significantly improved graphical solutions, Thunderstruck 2 became even more popular than its predecessor.
Theme and Graphics
The game features top-notch graphics and amazing esthetics, as you would expect from Microgaming. In truth, the developers of the game have done an excellent job. They have skillfully mixed a fast-paced action with new bonus features and stunning colors and music. Thunderstruck 2 has even more spectacular graphics and a more complex theme than its predecessor. The reels of the game are packed with Norse gods like Thor, Odin, Valkyrie and Loki, as predicted.
Other symbols associated with the game's theme include Viking ships, Thor's hammer, Thor's house and regular playing cards, which are the lower symbols of the game. The reels of the game are designed as if they are carved into huge slabs of stone. The background of the game also features a stone pattern in different shades of blue and gray. To tie everything together, the creator of the game has included a mythological epic soundtrack that plays in the background.
Free Spins
There are four free spins in Thunderstruck II. The Great Hall of Spins feature is triggered when you land three or more bonus hammer symbols anywhere on the reels, which in turn are triggered by three or more bonus hammer symbols anywhere on the reels. If you are lucky enough to activate the Great Hall of Spins feature five times, you will receive a new free spin to choose from on future free spins. All scatter and bonus wins are multiplied by your total bet. When you activate the free spins, all wins from the free spins are calculated based on your original bet from the main game.
The Valkyrie bonus game
This is the first of four free spins, and it is the only one available to you initially. The second game is unlocked when you have triggered the free spin five times. You will get 10 free spins in the Valkyrie game. During the free spins game, three or more Bonus Hammer symbols anywhere on the reels can trigger more free spins. During the Valkyrie game, each win is increased by five. As you might expect, this free spin offers a lot of winning potential and if the reels are aligned in your favour, you can win a lot of money.
The Loki bonus game
After you have triggered the free spin five times, you can access the second free spin. Once this game is unlocked, you can choose between the free spins with Valkyrie and Loki.
The Loki game gives you a total of 15 free spins, which is five more than the Valkyrie game. However, unlike Valkyrie, this game does not have a multiplier. Instead, in the Loki game you will see the Wild Magic emblem. On random spins, this unusual symbol appears on reel four, the centre reel. If you are lucky enough to land this unusual symbol, up to 14 regular symbols will also become wilds! This can lead to huge payouts and makes this free spin an extremely profitable game. The Wild Magic symbol pays out the same as the base game's Wild symbol, but without the base game's multiplier. During the Loki feature, you can retrigger the free spins by landing two or more Bonus Hammer symbols on the reels.
You will get an additional free spin if you land two bonus symbols. Two Bonus symbols will give you two extra spins, three will give you three spins and four Hammer symbols will give you four extra free spins with the rare Wild Magic symbol appearing randomly.
The Odin bonus game
This is the third of the free spins that you can unlock after 10 visits to the Great Hall of Spins. When you unlock this game, you can choose between the Valkyrie, Loki and Odin bonus games when you trigger a free spins round. You get 20 free spins when you play the Odin game. The Wild Raven symbol is a unique element in this game. It randomly transforms symbols into wild multipliers. If you win a spin, you will get a 6x multiplier that can help you get incredible wins. Unlike other free spins, Odin does not allow you to retrigger the free spins.
The Thor bonus game
The Thor game is the last, but not the least. Once you have triggered the free spins round 15 times, you can play this game. The Thor game is the fourth free spins game, and once it is unlocked, you can play any of the four games whenever you visit the Great Hall of Free Spins. The Thor slot offers an amazing 25 free spins bonus and a unique Rolling Reels feature. When a winning combination is formed, all the winning symbols are cleared - after you get your win, of course. When the winning combinations are cleared, the symbols above them move down to fill the gaps. The process is repeated when you get more winning combinations. If you are lucky, this can lead to some big wins, and it can really complement the 25 free spins you currently have by giving you more chances to top up your balance.
Each rolling reel you get during the Thor game will give you a multiplier. With each additional win, this multiplier increases by one, up to a maximum of 5x. The multiplier returns to 1x in time for the next spin when the Rolling Reel feature is over and no more wins have been earned.
It is not possible to retrigger the free spins when playing the Thor game, as is the case with the Odin game.
Wild Storm Bonus
Besides the Great Hall of Spins, there is another exciting extra feature that randomly appears during the main game. The Wild Storm bonus game can appear on any spin, so you never know when it will pop up! The entire screen darkens and dramatic storm clouds appear over the reels - a sign that this special feature is about to begin! This is a fascinating feature made that much more interesting by the fact that you never know when it will appear. It can be triggered at any time and makes every game even more exciting.
When the feature starts, the words "Wild Storm" appear at the top of the screen and up to five reels turn into special wild reels. All the reels become wilds and up to five of them - the number of reels affected varies and is randomly selected - turn into massive wilds. This can be a very winning feature, especially if you are lucky and several reels turn wild at the same time.
During the Wild Storm feature, neither the scatter nor the standard wild symbols are displayed, so you will not be able to trigger any free spins or get any bet multipliers.
Thunderstruck II Verdict
It's easy to see why Thunderstruck II is one of the most popular online slots of all time. Not only is it a great improvement over the original, but it's also one of the games that reinvented what slot machines can do. It was an instant success and has a loyal fan base of players old and new.
With Thunderstruck II, Microgaming has hit the bull's eye, and there are several reasons for that. The first is that the visuals, animation, music, and overall cinematic quality appeal to the senses. Sure, it's a little dated these days, but not by much. Thunderstruck II is still a visually appealing slot that can keep up with newer, younger competitors.
Second to that is the gameplay, and that is much more important. When Microgaming came up with the concept of 243 ways to win, they hit another bull's eye, and Thunderstruck II is one of the first games to take full advantage of this concept. And then there are the features that can be both entertaining and lucrative. First of all, Wildstorm keeps the main game alive by offering a huge potential that can strike at any moment.
The way the bonus games are achieved adds to the longevity of the game, making it a rewarding experience to stick with Thunderstruck II. So which of the add-on games is the best? As always, personal preference is the deciding factor, as each has something special to offer.
Find More Microgaming Games
Thunderstruck 2 FAQ
What is the RTP and variance on Thunderstruck II?
Microgaming is known for producing slot machines with high return to player, and Thunderstruck II is one of them. It has an RTP of 96.65, which is above average. The volatility is in the medium range.
Is there a progressive jackpot in Thunderstruck II?
No, that's not how it works. Thunderstruck II does not have a progressive jackpot, but there are plenty of winning opportunities. Usually you need to play a progressive jackpot game to have a good chance of winning big, but Thunderstruck II has great winning potential even though it does not have a progressive jackpot.
Is there a bonus round in Thunderstruck II?
Yes. When you enter the Great Hall of Spins in Thunderstruck II, you can choose which of the four free spins you want to play. Initially, only one of the free spins is available, but as you play and retrigger the free spins, more games become available and you can choose your favorite each time you visit the Great Hall of Spins.
Is it possible to play Thunderstruck II for free?
Yes, of course you can. You can play Thunderstruck II or any of our other fantastic slot games for free at Gamblr. You do not have to provide any personal or card information, and no cash deposits are required. You can play our games for free and for fun at any time. This is a great opportunity to try out new slots, play games you have never seen before, and learn how unique features work without spending any money.
Where to play Thunderstruck II for real money?
Before you play Thunderstruck II for real money, we recommend that you try the demo version. Without risking any money, try out different strategies and combinations. Sign up with a reputable casino once you have gained confidence. Now all you have to do is make a deposit and secure your bonus.