Play Game of Thrones for Free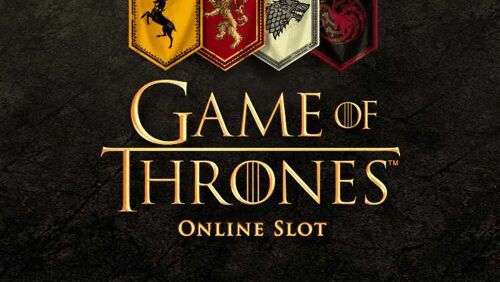 Return to Player
95.5%
Volatility
High
Features and Themes
Autoplay
Free spins
Quick spin
Gamble
5-Reels
Medieval
Movie and TV
Branded
Game of Thrones
"In Game of Thrones, you either win or die," declares Cersei Lannister at the beginning of HBO's famous television series. Losing at the Game of Thrones video slot has less serious consequences. However, it remains a really hard game to beat.
Microgaming has chosen to create this one in the same vein as many other online slots, including 5 reels and 3 rows as its layout. A great part about it though, is that it also incorporates a total of 243 different ways for you to win (there's a 15 payline version available as well). You'll also be able to choose from a good level of bet possibilities, simply by using the plus and minus button on either side of the stake box.
Game Information
| | |
| --- | --- |
| Game provider: | Microgaming |
| Rating: | 4.06 / 5 |
| RTP: | 95.5% |
| Volatility: | High |
| Reels: | 5 |
| Paylines: | 243 |
| Minimum bet: | 0.30 |
| Maximum bet: | 15.00 |
| Maximum win: | 20,250 x stake |
| Released: | October 2014 |
Play Game of Thrones at Licensed Casinos
Game of Thrones Review
The Game of Thrones slot uses the iconography designed for the TV series, with the war of the different houses of Westeros as the main theme, with the option to choose a house during the bonus rounds to determine your possible winning combinations. If you are a lover of the television series or the novels, this could be the perfect time for you. If you have trouble telling your Baratheons from your Lannisters, rest assured that the majority of the characters do.
Animations, Graphics and Sound
Using the artwork from the series, this slot is quite pretty to look at, with notable attention to detail (even the font is stylish).
While you're out and about, the great theme song from the TV series Ramin Djawadi will play on repeat. If you get bored, you can turn off the music, but why would you want to?
The animations, especially the cards and coins in the gamble feature, are well designed. Also, the reels are smooth and have excellent resolution.
Overall, it's one of the most visually appealing slots we've come across in a long time.
RTP and Variance
The RTP (Return to Player) for Game of Thrones 243 Ways is 95.5%. This metric is a payout ratio that indicates how much money is paid out to players for every $100 they wager in the game. If a player bets $100 on a game with an RTP of 95.5 percent, they can expect to win approximately 95.5. Still, it is important for players to understand that this is a theoretical number - some players can win more, while others can win less.
The volatility of Game of Thrones 243 Ways is medium. This means that the game should result in smaller wins on a regular basis, with occasional large wins possible. This adds to the enjoyment of the game and keeps it interesting. The payouts are lower than a slot with high volatility, so players may not get big wins as often on this game. This means that the game is also suitable for people who want to play for free, as they can expect regular action.
Playing the Game
The basic gameplay is a 5-reel game with 243 ways to win, where symbols must appear in any position on adjacent reels to win. The initial symbol must appear on the first reel.
There is also a gamble feature, where you can flip a coin up to four times, betting double or nothing each time. With each win, you move further down the map. It should be noted that this has no effect on your RTP but increases your variance the more you bet.
Additionally, you have the option to choose your bonus when you earn it.
Game of Thrones Bonus Features
Game of Thrones has 5 bonus features. There is a scatter bonus feature where you can win a random cash prize. The other 4 are free spins features based on the 4 main houses of Westeros.
Scatter Bonus Feature
First, there is the scatter bonus feature that is played when you get 2 Game of Thrones scatter symbols. This is a good consolation feature if you missed out on the free spins. This feature is quite simple: you win a cash prize that is a multiple of your bet.
Free Spins
The main attraction is the 4 free spins features, where you have the chance to serve one of the 4 great houses of Westeros (each house has its own free spins feature). This is triggered when you get at least 3 scatter symbols with the Iron Throne. 3, 4 or 5 scatter symbols are rewarded with 1, 20 or 200 times your total bet.
Each house offers a unique number of free spins, a unique multiplier and a unique number of stacked symbols.
Baratheon Free Spins: 8 free spins with a 5x multiplier. You also benefit from seal symbols of the House of Baratheon stacked 3 times high.
Lannister Free Spins: 10 free spins with a 4x multiplier. The House Lannister seal symbol stacks 4 times high.
Stark Free Spins: 14 free spins with a 3x multiplier. The House Stark seal symbols are stacked 5 high.
Targaryen Free Spins: 18 free spins with a 2x multiplier. However, the House Targaryen seal symbol is stacked 6 high.
Tips, Tricks and Strategy
Game of Thrones slot machine is a captivating and exciting game. Due to the numerous bonus features and game options, it's a good idea to play for free first before wagering any money so that you can get a feel for the game and understand how all the features work; this way, you'll have a firm grasp on what to bet and when. Check the facts carefully for the Four Houses Free Spins bonus round, because which house you choose will depend on whether you prefer fewer chances to win big or more chances to win modest amounts.
Verdict
This is a visually appealing Microgaming slot with an entertaining gamble feature and an intriguing bonus selection feature. Although the RTP is slightly lower than the industry norm, we appreciate the high variation. In general, it's a fantastic gambling experience.
Find More Microgaming Games
Game of Thrones FAQ
What is the RTP of Game of Thrones?
Game of the Thrones has an RTP of 94.86%, which is below average for a video slot and lower than the 15 payline version of this game.
What is the volatility of Game of Thrones 243 Ways?
Game of Thrones 243 Ways offers players a medium-high volatility thanks to the Any Ways pay mechanism, which promises players multiple line wins and a higher total maximum prize than the 15 payline version. You also have the option to set the volatility in the Free Spins Bonus itself, which can affect your personal RTP.
What is the biggest win in Game of Thrones?
Game of Thrones offers players a 20,250x multiplier as the top win. This value is significantly higher than the 15-payline version of this game, as multiple wins are possible due to the winning ways mechanism.
Does Game of Thrones offer free spins?
Yes, landing three or more Iron Throne scatter symbols anywhere on the five reels will trigger the free spins bonus round. Players can choose one of the four houses of Westeros, with each house offering a different combination of free spins, multipliers and stacked symbols.
How does the bonus round work in Game of Thrones?
To trigger the free spins bonus, you need to get 3, 4 or 5 bonus symbols of the Iron Throne anywhere on the reels. You will then be taken to the house spins screen, where you can choose between a combination of free spins, multipliers and stacked symbols, ranging from high to low volatility.
Get 2 Iron Throne symbols to win a multiplier of 1x up to 200x. The free spins can be retriggered during this feature.
Can I play Game of Thrones 243 Ways slot for free?