Play Ancient Eclipse for Free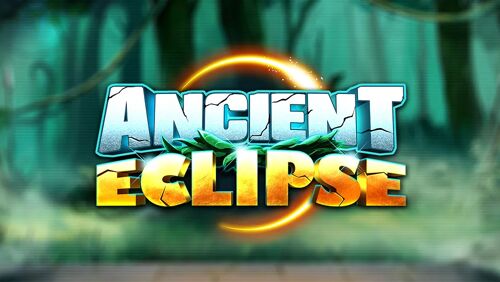 Return to Player
96.64%
Volatility
High
Features and Themes
Autoplay
Free spins
Quick spin
Ancient Eclipse
Solar eclipses were considered significant events in the history of many ancient civilizations, including the Mayans. Ancient Eclipse is an online slot game developed by Yggdrasil and Bang Bang Games that is based on a Mayan ritual performed during a solar eclipse. This online slot's graphics are modern, with detailed icons in bright colors, a set of reels set on carved stones, and a view of a jungle in the background.
Ancient Eclipse is a 5-reel slot with 50 paylines. Aside from four brightly colored playing card suits, there are a few other basic symbols here, including crocodile, jaguar, and bird tablets, as well as two idols. The golden idol is a rambunctious icon that can be used as any basic symbol. Moon symbols can appear at any time during a spin. These symbols will leave behind a Sun Frame wherever they land. These frames will remain in place until you activate the Wild Eclipse by landing a moon symbol on a reel position with a Sun Frame. Following that, all positions with sun frames will become wild. Hitting warrior Scatter icons on the middle three reels, on the other hand, will grant you 10 Free Spins. Collected moon icons that do not result in a wild eclipse will award you one extra free spin.
Game Information
| | |
| --- | --- |
| Game provider: | Yggdrasil Gaming |
| RTP: | 96.64% |
| Volatility: | High |
| Reels: | 0 |
| Paylines: | 50 |
| Minimum bet: | 0.20 |
| Maximum bet: | 100.00 |
| Maximum win: | 587,200€ |
| Released: | April 2021 |
Play Ancient Eclipse at Licensed Casinos
Ancient Eclipse Review
Another world-class online slot has been created by the YG Masters program. This time, Yggdrasil's developers have collaborated with Bang Bang Games to create a magical slot powered by celestial forces. In this Ancient Eclipse slot review, we'll explain how it accomplishes this and why it's a fantastic game that can brighten even the darkest corners of the internet.
A magical moment can occur when the moon crosses the sun and night turns to day. An eclipse's effects are fleeting. They do, however, have the ability to leave a lasting impression, and that is exactly what you will get when you play Ancient Eclipse.
Something truly extraordinary can occur in the few seconds it takes for symbols to cross each other and line up. It could be a bonus prize, a jackpot, or just a sprinkle of slot magic. This game, whatever it is, is all about light, shade, and miraculous moments.
Play Ancient Eclipse Online For Free
Because an eclipse is a rare occurrence, it's a good idea to brush up on your knowledge before you start playing. The free Ancient Eclipse demo slot lets you master the movements of the sun and moon without spending a dime.
Ancient Eclipse Strategy, Bets and RTP
The Ancient Eclipse slot game is a stone monument with five reels and 50 paylines. You must bet at least €0.20 to set the heavens in motion and turn light into darkness. The maximum bet for those with more money to spend is €100.
Whatever amount you spend, the following symbols will appear in sequence each time you press the spin button:
Symbols on playing cards
The head of a crocodile
The head of a tiger
The head of an eagle
The tribal mask in purple
The tribal red mask
The gleaming sun (jackpot and wild symbol)
This game is won by lining up three or more matching symbols. Three card icons are worth 0.2x the value of your bet at the most basic level. At the top of the scale, five golden sun symbols can reveal prizes worth up to ten times your bet. Overall, these prizes contribute to the Ancient Eclipse slot's RTP of 96.53 percent. When this is combined with a volatility score of 105 and a hit frequency of 1 in 3.4, it is clear that this game has a lot of potential payouts. While those stats are impressive, the Ancient Eclipse slots have a few more tricks up their sleeves. Along with standard wins, when the moon crosses the sun, you'll receive a slew of bonuses.
Free Spins
Ancient Eclipse, like other Yggdrasil slots, requires you to line up symbols in order to receive cash prizes and bonuses. The way you do it, however, is what distinguishes this game. To create those magical moments we discussed earlier, certain symbols must cross over each other, much like an eclipse.
One or more moon symbols may appear on any single spin. Once a moon is visible, it will leave a mark that will remain in place for an unknown number of spins. This is referred to as the sun frame because it leaves a golden ring around the location where the moon appears. A total eclipse occurs whenever the moon enters the frame of the sun. As night and day merge, all the sun frames in view become erratic. When that happens, you'll have a lot more options for creating a winning combination.
If that isn't enough magic for you, the Ancient Eclipse free spins round gives you another opportunity to transform nothing into something. The appearance of warrior symbols on reels 2, 3, and 4 will result in ten free spins. Any sun frames visible at this point will remain in place for the duration of the bonus round, while moon symbols will increase your free spin count by one. You could win up to 4,595X your bet if the right symbols and wilds fall into place!
Ancient Eclipse Conclusion
Ancient Eclipse is a magically themed slot machine. This game, which draws inspiration from ancient gods and celestial forces, warns you that something extraordinary can happen at any time. Indeed, with a combination of fixed wins, wild bonuses, and free spins, this Yggdrasil Masters masterpiece has a lot to offer.
Play the Ancient Eclipse slot game at one of our recommended online casinos today.
Find More Yggdrasil Gaming Games