Play Robin - Sherwood Marauders for Free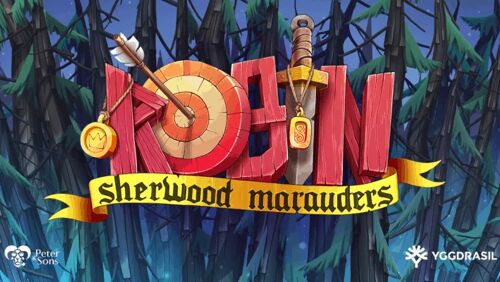 Return to Player
96.10%
Volatility
High
Features and Themes
Autoplay
Bonus feature
Free spins
Win Both Ways
Robin - Sherwood Marauders
Robin, the greatest archer known to man, and his merry band of misfits pursue the rich in order to save the poor. Their story is about to begin in the depths of the Sherwood forest.
In this 6x4 video slot game, you can win up to 5,000 times your bet.
Play with 4,096 paylines that pay All Ways, Avalanche Cascades, increasing prize Multipliers, and expanding Wilds during Free Spins, as well as two bonus games that include Free Spins.
Game Information
| | |
| --- | --- |
| Game provider: | Yggdrasil Gaming |
| RTP: | 96.10% |
| Volatility: | High |
| Reels: | 0 |
| Paylines: | 4,096 |
| Minimum bet: | 0.10 |
| Maximum bet: | 20.00 |
| Maximum win: | €700,000 |
| Released: | April 2021 |
Play Robin - Sherwood Marauders at Licensed Casinos
Robin - Sherwood Marauders Review
Robin Hood was well-known for a few things. His ability to shoot a bow like no one else was one of his best qualities. Another of his fabled characteristics was his desire to take from those who had a lot and give it to those who had a little. Now, we're not saying you should steal anything from anyone without their permission. The concept of transferring wealth from one location to another, on the other hand, is a central theme of the Robin Sherwood Marauders slot game. Of course, in order to access the wealth, you must first plunder the reels.
You'll have a team of marauders by your side as you race through Sherwood Forest in search of jackpots worth 5,000x. Unfortunately, no matter how skilled this band of merry men is, they will not be able to swing the pendulum of fate in your favor. They may be able to assist, but this is not guaranteed. As a result, knowing what you're getting into is essential. This Robin Sherwood Marauders slot review will familiarize you with the game and allow you to try it for free.
A target unlike any other can be found deep within a forest clearing, among the thistles and thicket. The gameboard, made of wooden beams and topped with burning candles, is ready to be hit. However, before you take aim, you pause for a moment to assess your options. There are numerous targets to hit, but you must ensure that you are using the proper ammunition.
You then scroll through the betting options until you find the perfect arrow. You eagerly draw back your bow and release the arrow. A piercing thud echoes throughout the forest, and you take a step back to admire your shot. It's a direct hit, but before you can appreciate your accomplishment, coins rain down from the sky, and you stand tall as the one who defeated the Robin Sherwood Marauders.
Strategy, Bets and RTP
This Yggdrasil slot was created in collaboration with Peter & Sons. It's also powered by GATI, which means you'll get not only a world-class gaming experience but also a slew of extras. However, before you can take aim at any of these marvels, you must first place a wager. You must adjust your stake based on the size of your bow and the ammunition in your quiver.
That's simple, because Robin Sherwood Marauders slots allow you to play for as little as €0.10. For those with more money to spend, you can bet up to €20 per round and win fixed prizes ranging from 2x to 40x your bet. Before we get into the Robin Sherwood Marauders slot symbols, it's important to note that this game has six reels. That means you'll have a lot of opportunities to win. In fact, when you spin the reels, you have 4,096 chances to match the following symbols and win cash prizes:
Card Symbols
A Club
A Lute
A Quiver Filled with Arrows
Crossed Swords
The Tax Man
Robin Hood (jackpot symbol)
You can win prizes by matching three or more symbols in a row. The cascade feature will be triggered by any combination you make. That is, the winning symbols vanish, and new ones appear in their place after the leaves scatter in all directions. Another cascade occurs if the new symbols form a winning combination. This will continue until you run out of prize combinations. As a result, when playing the Robin Sherwood Marauders slot machine, you can turn a single shot into multiple wins.
Super Spins and Free Spins
Scatters are a great way to get more out of Robin Sherwood Marauders. The W symbol serves as a wild card, assisting in the completion of winning combinations. However, if you want to get the most out of this game, you must find some golden chests (aka scatters). When a golden chest appears, a few coins are added to the progress bar at the bottom of the screen. If you roll three or more chests at the same time, the Robin Sherwood Marauders slot free spins round will be unlocked. This round not only provides a random number of free turns, but also 4,096 ways to win, multipliers that increase with each cascade, and expanding wilds.
That's quite impressive. There is, however, more to this story than a single free spin bonus. You'll unlock the Robin Sherwood Marauders super free spins bonus by collecting enough coins and filling up the progress bar. This bonus feature begins with a 5x multiplier. From there, additional symbols allow you to spell out the word WILD. If you can do that, you could win the 5,000x Robin Sherwood Marauders slot jackpot and potentially trigger cascading wins worth up to 35,000x!
Conclusion
When you play Robin Sherwood Marauders, you can't go wrong. This Yggdrasil slot is impressive even without single wins worth up to 5,000x and maximum payouts exceeding 35,000x. Everything about it, from the theme and setting to the way you play, is meant to make you happy.
So, even if you don't find the target, you'll have a good time. Of course, it's always nice to win, and you'll have plenty of opportunities to do so. In fact, there are 4,096 different ways to do it. As a result, if you want to have some fun while playing another great Yggdrasil slot, we recommend taking a look at Robin Sherwood Marauders.
Play the Robin Sherwood Marauders slot game at one of our recommended online casinos!
Find More Yggdrasil Gaming Games