Play Gator Gold Gigablox by Yggdrasil Gaming for Free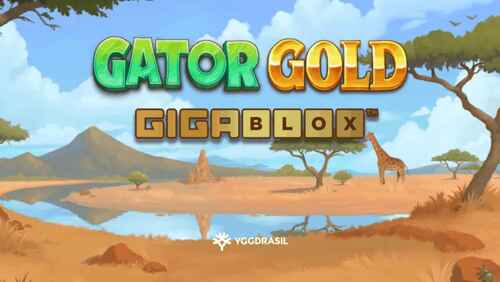 RTP

96.0%
Volatility

High
Provider:

Yggdrasil Gaming

Rating:

4.23 / 5

Reels:

6

Paylines:

4,096

Minimum bet:

0.20

Maximum bet:

60.00

Maximum win:

€1,200,000

Released:

27 May 2021
Features & Themes
Autoplay
Free spins
Quick spin
Megaways
GigaBlox
Gator Gold Gigablox
Gator Gold Gigablox is an online slot developed by Yggdrasil Gaming. Features include colossal symbols, wild multipliers, and free spins with retriggers. The RTP of this high volatility slot is 96%, and the top prize is worth 20,000x.
Before you play for real money at some of the top rated online casinos listed below, try some trial games and read the full Gator Gold slot review.
Gator Gold GigaBlox Base Game

Gator Gold GigaBlox Free Spins Won

Gator Gold GigaBlox Free Spins Round

Gator Gold GigaBlox: Super High Pay Symbol

Gator Gold GigaBlox Super Big Win
Play Gator Gold Gigablox at Licensed Online Casinos
Bitstarz Casino

100% up to €100 and up to 180 extra spins

Casino-X

200% up to €50 + 200 extra spins

Stake7 Casino

100% up to €400

Emojino Casino

100% up to €250

Gslot Casino

100% up to €100 and 100 extra spins

CasinoBuck

100% up to €100 and 100 extra spins
Gator Gold Gigablox Review
The Yggdrasil Gigablox series has some of the most popular themed games in the industry, such as Hades Gigablox, Lucky Neko Gigablox, and Gigarise Atlantis - and now Gator Gold Megaways is closing the gap. Alligators, lionesses, buffaloes, zebras, big cats, and a herd of conventional slot symbols populate the savannah slot landscape, creating an incredible 4096 way to win. The music effects and vivid imagery bring back memories of old arcades and casino slots, making this game a must-play for fans of traditional arcades and casino slots. With the giant Gigablox coming down on every spin, Gator Gold looks fantastic and captivates you with the surprise of the next giant block to hit the screen, ranging in size from 4 to 44! The graphics are vibrant, with an arcade feel and retro aesthetic that, combined with a high hit rate in the base game, provides plenty of action with ordinary luck. Gator Gold Megaways is a fascinating journey that offers the potential to earn up to x20,000!
Theme and Visuals
Yggdrasil's Gigablox series has top-themed games like the Lucky Neko Gigablox slot, Hades Gigablox, and Gigarise Atlantis - now Gator Gold Megaways is nipping at their heels. The sound effects and bright graphics are modeled after animal slot machines from years ago, making this slot a real hit if you crave classic arcade and casino slots. The savannah landscape is peppered with alligators, lionesses, buffalos, zebras, felines, and a herd of traditional slot symbols, making for an epic 4096 way to win.
With the colossal Gigablox dropping onto the screen with every spin, Gator Gold looks superb and constantly entertains you with the surprise of the next giant block coming onto the screen up to a size of 4×4! The graphics are colorful, with a fun arcade atmosphere and retro look, combined with a solid hit rate in the base game, providing plenty of action with average luck.
Volatility and RTP
The RTP (Return to Player Percentage) of "Gator Gold Gigablox" is 96%, meaning that for every $100 wagered, the game will pay an average of $96. This reasonably standard RTP for online slots offers players a reasonable chance of winning.
The volatility of "Gator Gold Gigablox" is medium, meaning players can expect a balance of both small and large payouts. This makes the game a good choice for players who enjoy a bit of risk but want to avoid betting all their money simultaneously.
Betting and Payouts
"Gator Gold Gigablox" offers players a range of betting options, with a minimum bet of $0.20 and a maximum bet of $100 per spin. The game features a standard 5x4 layout with 20 paylines.
The payouts in "Gator Gold Gigablox" are generous, with the highest paying symbol (the gator) offering up to 1,000x your bet. Other high-paying symbols include a raccoon, a beaver, and a snake. Lower-paying symbols include the standard playing card symbols (A, K, Q, J, 10).
Special Features
Gator Gold slots offer players the chance to benefit from the Golden Gator Super High Symbol, Gigablox, and Multiplier Wild Free Spins:
The Golden Gator Super High Pay Symbol
The Golden Gator Super High Pay symbol already pays out on combinations of two of the same character, making it easier to win with this symbol. Also, the Golden Gators symbol has the highest value in the base game, with payouts of x1, x3, x4, x5, and x6 for landing 1-6 characters.
Gigablox
As with previous games in Yggdrasil's Gigablox series, the Golden Gator slot features the familiar giant block mechanic. Each spin includes at least one Gigablox reel, with the possibility of encountering symbols as large as 44. The prominent symbols from Golden Gator Gigablox increase your chances of landing winning combinations and lots of wins on the reels.
Free Spins
The Free Spins feature in Golden Gator is launched by landing at least five Free Spins symbols. If you spin in more Free Spins symbols during the round, you will be awarded an additional bonus game. The number of bonus spins awarded equals the number of matching symbols (e.g., five matching symbols equal five free spins). Any wins made during Golden Gator Gigablox Free Spins are multiplied by x2 or x3.
Strategy Tips
The slot Gator Gold Megaways has a base game hit rate of 23% and moderate volatility, a game concept that should give you plenty of favorable slot sessions. To activate the Gator Gold free spins mode, however, you'll need more luck - the feature randomly appears once every 1-127 spins on average.
While the feature is more accessible to activate than other bonuses, realistically, a high spin volume can be beneficial - aiming for 250-500 spins per session can be a decent option (while maintaining a small bet size to ensure safe play).
Although no technique guarantees you will activate the feature or win big, this Gator Gold slot tip can be helpful.
Free Demo
If you're not quite ready to bet real money on "Gator Gold Gigablox," you'll be happy to know that a demo version of the game is available to play for free. This lets players get a feel for the game before risking their money.
Conclusion
Overall, "Gator Gold Gigablox" is an exciting and visually stunning online slot game that allows players to win big. Its medium volatility, range of betting options, and generous payouts make it an excellent choice for experienced and novice players. The unique Gigablox and Golden Gator features and the free spins bonus excite the game. So why spin it and see if you can strike it lucky with the gator?
More Yggdrasil Gaming Games
Gator Gold Gigablox FAQ
What is the RTP of Gator Gold Gigablox?
Gator Gold Gigablox has a payout percentage of 96% - the same as Hades Gigablox.
How volatile is Gator Gold Gigablox?
This is a very volatile online slot machine. You may not get wins often, but your wins can be generous.
What is the biggest win in Gator Gold Gigablox?
The maximum win you can get in Gator Gigablox is 20,000x - much higher than most other games in the Gigablox series.
Gigablox is symbols that occupy 2x2, 3x3, or 4x4 spaces on the reels. However, they pay out as single symbols. So, if you land a 2x2 Gigablox next to a matching symbol, you will get a payout for a 3-way combination for the three symbols in a row.
Are there any Gator Gold Gigablox free spins?
Yes, the free spins feature can give you unlimited free spins. Wild multiplier symbols add 2x and 3x multipliers to your winning combinations.
Where can I play the Gator Gold slot?
Can I try Gator Gold Gigablox online slot for free?
You can free-play the Gator Gold Gigablox slot without leaving this page. It is part of an extensive collection of free, risk-free games that you can try on Gamblr.
Can I play the Gator Gold slot with strategy?
Although Gator Gold Slot is all about chance, you can approach the game with smart tips to increase the fun. Since the free spins mode is triggered on average every 127 spins, using a relatively high spin volume in a slot session (for example, 250-500 spins) can be helpful. Players can choose a low spin size to achieve a good spin volume while playing safely within their session limit.
Can I play the Gator Gold slot on mobile?
Gator Gold Gigablox slot can be played on all compatible devices. So, you can play the slot on desktop, laptop, pad, and mobile devices. Regardless of your choice, Gator Gold Gigablox runs smoothly and offers you the full range of betting payout features.
This Gator Gold Gigablox review was authored by W.Bergstrom | Last updated on 05 March 2023.