Play 12 Trojan Mysteries for Free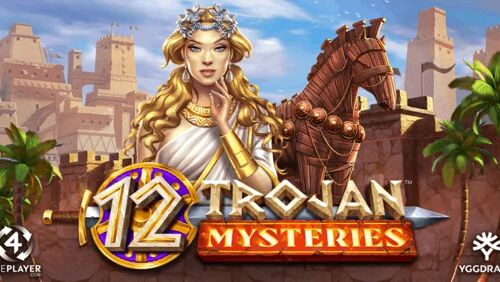 Return to Player
96.50%
Volatility
High
Features and Themes
Autoplay
Free spins
Quick spin
12 Trojan Mysteries
Embark on an epic odyssey and uncover the mysteries of Troy! Discover the face that launched 1,000 ships: find the top paying Helen of Troy to win epic prizes.
Features 4ThePlayer.com's new TOP MYSTERY mechanic, where Trojan Horse symbols can reveal any other paying symbol to create epic wins.
Free Spins introduces the Mystery Symbol Booster meter to improve Trojan Horse symbols throughout the feature, guaranteeing that they will reveal the top symbol if they land on the final spin! Play the Buy Feature mode, which instantly awards Free Spins! This option is disabled in some territories. Fall in love with the epic rewards behind the great walls of Troy!
Game Information
| | |
| --- | --- |
| Game provider: | Yggdrasil Gaming |
| RTP: | 96.50% |
| Volatility: | High |
| Reels: | 0 |
| Paylines: | 4,096 |
| Minimum bet: | 0.10 |
| Maximum bet: | 50.00 |
| Maximum win: | €1,000,000 |
| Released: | July 2021 |
Play 12 Trojan Mysteries at Licensed Casinos
12 Trojan Mysteries Review
You can keep the treasures of battle. You can become the most decorated Trojan warrior in history if you are willing to engage in battle. However, as with all great conflicts, you will not be fighting alone. An army of horses, royal crests and sword-wielding warriors will fly by as you inspect the game board.
At this point, take a look to the left, and there stands the golden horse. Its gilded frame is not only to dazzle the opponent, but also to hide its secrets. You know that inside the mythical Trojan horse there are reinforcements.
Once activated, these extraordinary abilities can help you gain the upper hand and achieve a famous victory. But before you can do that, you'll have to enter the fray. Thus, you'll plunge into the heart of the 12 Trojan mysteries and embark on a quest for eternal glory and ancient riches.
12 Trojan Mysteries strategy, bets and RTP
The 12 Trojan Mysteries slot machine is not your typical casino game. This spinner has six reels instead of five. This means that there are more symbols in play and therefore more chances to create winning combinations.
And to make sure that this army of symbols has enough room on the screen, this slot has 4,096 paylines. Again, more paylines means more opportunities to form winning combinations. Consequently, 12 Trojan Mysteries has the potential to be profitable regardless of the bet.
Of course, in order to take advantage of all this potential, you will need to place a bet. With 12 Trojan Mysteries free slot you can win virtual rewards. If you want to win cash jackpots worth up to 20,000X, you'll have to bet between €0.10 and €50. As a result, the following symbols will appear:
Card Symbols
The Vase
The Bag of Gold
Achilles The Trojan Warrior
Trojan Prince Paris
Helen of Troy (jackpot symbol)
The RTP of the slot 12 Trojan Mysteries is 96.5 percent. You need to combine three or more of the above symbols to win a prize. A golden apple and a Trojan horse will help you on your way. The former serves as a wild symbol and substitutes for all symbols except the horse and the scatter symbol.
The latter is a mysterious emblem with extraordinary abilities. When the Trojan Horse appears, it transforms into any nearby symbol. If there are multiple horses on the field, they all transform into one nominated symbol, which can significantly increase your chances of getting a winning combination.
12 Trojan Mysteries slot bonuses
The shield activates the 12 Trojan Mysteries slot bonus. When three or more of these scatter symbols appear on the reels, a cash payout and a number of free spins are awarded:
3 Scatters = 12 free spins
4 Scatters = 10X prize + 12 free spins
5 Scatters = 100X prize + 12 free spins
6 Scatters = 10,000X prize + 12 free spins
When the 12 Trojan Mysteries free spins bonus begins, each additional scatter symbol that appears will bring you an additional free spin. But wait, there's more! This slot contains a secret counter that kicks into action during the bonus round and helps you win rewards worth 20,000 times your bet.
On each spin, a different symbol lights up on the counter, and when a Trojan Horse appears, it becomes that symbol. As the round progresses, the value of the mysterious symbol increases. So on the last spin you can win prizes worth up to 20,000X!
Play 12 Trojan Mysteries slot online
The 12 Trojan Mysteries online slot offers an epic experience from start to finish. From the moment you put on your metaphorical armour and enter the theatre of war, you will experience a whole spectrum of emotions. This slot is usually fascinating, from high to low, round after round. Then, when you add jackpots of up to 20,000X into the mix, it's easy to see why 12 Trojan Mysteries has become a huge favourite among online casino lovers around the world.
Find More Yggdrasil Gaming Games