Play Wisdom of Athena by Pragmatic Play for Free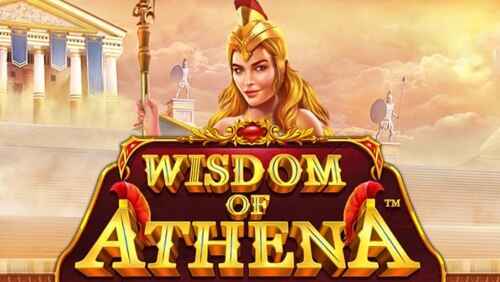 RTP

96.07%
Volatility

High
Provider:

Pragmatic Play

Rating:

4.32 / 5

Reels:

6

Paylines:

Scatter Pays

Minimum bet:

0.20

Maximum bet:

100.00

Maximum win:

5,000x

Released:

26 June 2023
Wisdom of Athena
Engage in the thrill of Greek mythology with the 6-reel slot game Wisdom of Athena by Pragmatic Play. Guaranteeing an above-average RTP ratio of 96.07% and high volatility, this captivating game offers scatter pays, free spins, and multipliers up to 5000x.
Key symbols linked to the goddess Athena are comfortably placed within a beautifully intricate design with fluid animations that captivate any mobile or desktop device. Try out free demos before wagering funds in this highly recommended slot game offering fascinating gameplay.
Keep reading for a comprehensive review with detailed insights about its theme, graphics, RTP, volatility, betting & payouts, special features & bonuses, and much more!
Wisdom of Athena base game

Wisdom of Athena - Free Spins won

Wisdom of Athena - Free Spins round
Play Wisdom of Athena at Licensed Online Casinos
Emojino Casino

100% up to €250

Tsars Casino

100% up to €300 and up to 100 extra spins

TrueFlip Casino

100% up to €250

Stake7 Casino

100% up to €400

PlayFrank Casino

100% up to €100 + 50 Bonus Spins

Bitstarz Casino

100% up to €100 and up to 180 extra spins
Wisdom of Athena Review
Theme and Graphics
The immersive Wisdom of Athena slot borrows its thematic inspiration from Athena, the revered Greek goddess symbolizing war and wisdom. Important symbols linked with the goddess, such as her iconic owl, all-alluring olive tree, and captivating Medusa head, are elegantly portrayed within the game's intricate design and stunning graphics.
Set against the grandeur of Mount Olympus - home to mighty gods - players find themselves in good company with Athena herself standing steadfast beside the reels to safeguard action. As for the symbols, expect everything from shields bearing a Medusa head to helmets, goblets, scrolls, and an array of radiant gemstones in assorted hues. Bolstering its vivid designs are fluid animations that almost seem palpable. Meanwhile, an aptly chosen accompanying soundtrack amplifies each moment's intensity.
RTP and Volatility
Wisdom of Athena guarantees an above-average RTP (return to player) ratio of 96.07%, implying the game repays 96.07% wagered across it in long-term scenarios.
However, it's essential to remember that short-term victories aren't guaranteed, given its high volatility. This indicates less frequent payouts but impressive payoffs when they occur—calling on equal parts patience and courage for those unexpected rewarding experiences brought on by free spins or landing high-value multipliers.
Betting & Payouts
Wisdom of Athena's intriguing matrix shapes around a 6-reel and 5-row fascination patched together by a scatter pays dynamic. Succinctly put: securing even eight identical symbols anywhere on the reels delivers victory instead of lining symbols on specific paylines.
The game accommodates 20 fixed betting levels spanning a spectrum from 0-20 to 100 credits per spin; players may decide to augment their stakes by another quarter using Ante Bet, which adds more scatter symbols onto reels for easier access to enviable free spins.
Packing high volatility with an RTP of just over 96% (even marginally higher with Ante Bet equipped), Wisdom of Athena boasts an enticing maximum win potential: if you manage to hit a full screen covered with top-end symbol ingots accompanied by a whopping 500x multiplier gem during your free-spinning frenzy – you're looking at wins soaring up to 5000x your original bet!
Features & Bonuses
Amidst several enticements rendering Wisdom of Athena irresistible is the free spins feature awaiting activation through at least four scatter symbols appearing out-of-the-blue on reels—the scatter symbol being none other than the regal goddess Athena herself!
The thrill escalates as every successful hit rakes in free spins—15 to be exact—gracing your win with multiplier gems carrying values spanning from a modest x2 up through x3 or even x5 straight up impressively soaring at x500!
Scatter symbolism doesn't end here: hitting another one will not only award additional extra free spins but also let you carry those lucky gems into subsequent spin games, allowing players resiliency amidst their fortune-mining adventures.
This game calls for a well-thought-out strategy backed by patient gameplay, as sizeable gains lie primarily with free spin features, while base games might seem uneventful initially!
Convenience across Devices & Free Demos
Fully mobile-enabled functionality seals the deal for enthusiasts looking for their favorite slot experience across multiple devices like desktops or smartphones without compromising quality or display experience.
For those still skeptical about actual stakes poker-faced action or unfamiliarity worries about gameplay mechanics pricking your adventurous side—we provide free demos indistinguishable from real-money versions! Hone your understanding and plunge fearlessly into unique features; resting assured, you won't risk actual funds but spend them wisely once ready!
Verdict
With immaculately designed graphics reflecting each detail honed perfectly combined over exhilarating gameplay packing surprises at every turn – we wholeheartedly recommend trying out Pragmatic Play's much-venerated slot game offering Wisdom of Athena suited for both experienced players seeking new challenges or novices eager to try their hands at riveting games featuring novelty characters borrowed straight from ancient Greek pantheons! The thrilling game balances intensities seamlessly, pacing action throughout and keeping you hooked. However, some players might argue similarities between features offered compared to other popular games, including Gates of Olympus, which too closely matches this game.
All said – we urge users to give it a whirl unlocking mysterious treasures along the way, getting familiar first via available demo versions before plunging straight into serious gambling jaunts all set against mythical backdrops boosting excitement, unfolding twists offering chances to take home legendary treasures hidden underneath tons of wisdom inherited directly acclaimed Greek deity herself!
More Pragmatic Play Games
Wisdom of Athena FAQ
What is the theme of the Wisdom of Athena slot game?
The Wisdom of Athena slot game theme is based on Greek mythology, focusing specifically on the goddess Athena, renowned for her wisdom and war abilities. The game includes symbols associated with Athena, such as her iconic owl, olive tree, and captivating Medusa head.
What is the RTP and volatility of the Wisdom of Athena?
The RTP (return to player) ratio of Wisdom of Athena is above average at 96.07%. Its high volatility implies less frequent but potentially significant payouts when they occur.
How does the betting and payout system work in this slot game?
Players in Wisdom of Athena can bet across 20 fixed betting levels that range from 0.20 to 100 credits per spin. Wins can be achieved by securing eight or more identical symbols anywhere on the reels instead of specific paylines.
Can you provide more information on the features & bonuses in Wisdom of Athena?
One key feature is the free spins trigger, which gets activated when at least four scatter symbols appear on the reels. The game also offers multiplier gems with values from x2 up to x500.
Is Wisdom of Athena accessible on mobile devices?
Wisdom of Athena is fully optimized for mobile devices, ensuring a seamless gaming experience whether you're playing on a desktop or a smartphone.
Are there any free demos available for players new to the game?
Free demos are provided for players who wish to understand and familiarize themselves with the mechanics before investing real money.
How does this game compare to other Pragmatic Play's games like Gates of Olympus?
While both games have unique attributes, some players argue about similarities between features offered in "Wisdom Of Athena" and those in "Gates Of Olympus."
How often are payouts granted in Wisdom of Athena due to its scatter pay system?
The scatter pay system, coupled with high volatility, equates to less frequent payouts; however, they can be substantial when winnings occur.
Does Wisdom of Athena have any special scatter symbols or bonus features?
Yes, amongst its symbols, the regal goddess Athena herself serves as a scatter symbol that can activate the free spins feature when four or more appear on reels.
How does the Ante Bet feature work in this game, and how does it affect one's chances to win?
In Ante Bet mode, players can increase their stake by another quarter, adding more scatter symbols onto reels, thus increasing the odds of accessing enviable free spins.
Do you recommend this slot game for beginners or only experienced players?
It's suitable for seasoned players seeking new challenges and novices eager to explore engaging games with unique characters borrowed from ancient Greek mythology.
This Wisdom of Athena review was authored by W.Bergstrom | Last updated on 02 July 2023.