Play Word of Thoth by Yggdrasil Gaming for Free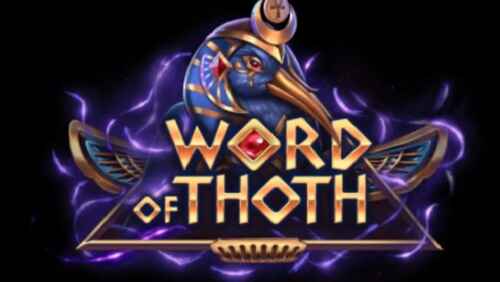 RTP

96.12%
Volatility

High
Game provider:

Yggdrasil Gaming

Rating:

4.14 / 5

Reels:

6

Paylines:

4,096

Minimum bet:

0.20

Maximum bet:

100.00

Maximum win:

€738,400

Released:

May 2021
Features & Themes
Autoplay
Bonus feature
Free spins
Quick spin
Word of Thoth
Word of Thoth, created by Jade Rabbit Studio and in collaboration with Yggdrasil Gaming, is a slot machine with an Egyptian theme. Players have the opportunity to get to know the mighty Thoth and his exciting slot game, which features 6 reels, 4 rows, and 4096 paylines. Players can choose to place bets between 0.20 and 100. The game has a high volatility and an RTP of 96.12%. The maximum win that can be achieved during spins is 7384 times the bet.
Word of Thoth Base Game

Word of Thoth Bonus Buy

Word of Thoth: Free Spins Mega Win
Play Word of Thoth at Licensed Online Casinos
JoyCasino

150% up to €300 and up to 200 extra spins

Gslot Casino

100% up to €100 and 100 extra spins

CasinoBuck

100% up to €100 and 100 extra spins

TrueFlip Casino

100% up to €250

Vulkan Vegas Casino

100% up to €300 and 25 extra spins

24K Casino

125% up to €300 and up to 50 extra spins
Word of Thoth Review
If you're a fan of ancient Egypt, you'll appreciate the legendary Words of Thoth that serve as the theme for this exciting new slot on the YGS Masters platform. Thoth, the Egyptian god of writing, magic, wisdom, and the moon, plays a central role in this slot's story set during the Golden Age of Khem.
Theme and Graphics
The theme of Word of Thoth centers around the ancient Egyptian deity, Thoth. Known for his residence in the city of Hermopolis, he was considered a deity of science, hieroglyphics, magic, art, wisdom, and more. The game takes place in this setting, but the approach is unique compared to other Egyptian-themed games. The game exudes mystery and evil, with stunning graphics and sound to match. Symbols include ankhs, pendants, relics, the Eye of Horus, and Thoth himself. The lower paying symbols are the Kings A, K, Q, J, 10 and 9, while the single W serves as the wild symbol.
RTP and Volatility
Word of Thoth has a high level of volatility and an RTP of 96.12%, which is above average.
Payouts
Thoth pays out for two to six symbol combinations, while all other symbols pay out for three to five symbol combinations. Winning spins can pay out between x0.2 and x25 the triggering bet. This results in a win range of €0.04 to €20 on the least bet and €20 to €2500 on the maximum stake. Bonus features have the potential to provide winnings of up to x7384 the value of the triggering spin, corresponding to real-world returns of between €1476.8 and €738400.
Special Features
The Word of Thoth slot machine has a single Free Spin mode bonus and the option to buy the bonus for immediate access to the game's most powerful feature.
Free Spins
The Free Spin mode in Word of Thoth can be activated in two ways from the base game. Each player is assigned a meter on the slotscape that must be filled with five or more points to activate the Free Spins. Alternatively, three or more scatter symbols will activate the Free Spins feature. The Free Spin mode begins with ten or more free rounds, with an additional two or more rounds added for each additional slot completed during the cascade-triggering basic game. The meter result obtained during the bonus game raises the multiplier applied to the free spins/cascades and gives additional free spins. If no wins occur during the Free Spins, the round continues until a win occurs.
Bonus Buy
Word of Thoth also offers the Bonus Buy feature for x50 the initial investment. However, this feature should be used sparingly. If purchased, players will receive 10 Free Spins with a high chance of receiving multiplier prizes, which have the ability to result in the game's largest payouts if a player is extremely lucky. While there are no guarantees of large wins, the bonus mode ensures that you will win at least once.
Strategy Tips
The Word of Thoth slot machine features a 20.88% base game hit rate, ensuring that the average session will be filled with action. To increase your chances of activating the Free Spin mode, aim for a high volume spin approach with a consistent and budget-friendly bet amount.
For low budget players, set your wager to the lowest or almost lowest spin level to hit hundreds of spins on a safe and modest budget.

Consider playing multiple high volume sessions over a period of time to increase your chances of hitting the Free Spin mode.

Keep an eye out for the scatter symbols, as three or more of these will activate the Free Spin mode.

Keep track of your budget and be mindful of your spending to ensure that you don't overspend.

Take advantage of the Bonus Buy feature if you're feeling lucky and want to access the game's most powerful feature immediately.

take a break if you are in a losing streak, and come back to the game with a fresh mind to increase your chances of winning.

Pay attention to the symbols and paytable to understand what symbols pay the most and how many of them you need to land on a payline to get a win.

Lastly, always play with an established budget, and never chase your losses.
Conclusion
After personally testing and reviewing Word of Thoth, we can confidently say that it is an excellent addition to the world of online slots. The high-quality graphics and Egyptian theme immediately caught our attention, but the game has so much more to offer.
With a favorable RTP and a potential payout of up to 7384 times the triggering bet, Word of Thoth offers players an exciting and potentially lucrative gaming experience. The Bonus Buy feature and Free Spin mode provide additional chances to increase winnings, and the game's compatibility with both mobile and desktop devices makes it convenient for players to enjoy anytime, anywhere.
Jade Rabbit Gaming has truly outdone themselves with this release, and we cannot wait to see what they have in store for us next. In the meantime, we highly recommend checking out the rest of Jade Rabbit Gaming's portfolio and giving Word of Thoth a spin.
More Yggdrasil Gaming Games
Word of Thoth FAQ
What is the RTP of Word of Thoth?
The RTP (Return to Player) of Word of Thoth is 96.12%. This means that on average, players can expect to receive 96.12 cents back for every dollar they wager. The hit rate of 20.88% means that players can expect to win a payout approximately every 5 spins. However, it should be noted that the volatility of this game is high.
What is the maximum payout in Word of Thoth?
The maximum payout in Word of Thoth is 7,384 times the player's total bet on a single spin. Players have the best chance of winning big through the free spins feature, as the multiplier can increase indefinitely.
Does Word of Thoth have free spins?
Yes, the free spins feature can be triggered in 2 ways. Players will start with at least 10 free spins and can increase their multiplier and gain additional free spins by starting a winning cascade.
Is Word of Thoth available on mobile?
Yes, Word of Thoth is available to play on mobile devices such as phones and tablets, as well as on desktop and laptop computers. A demo version of the game is also available on any device.
Where can I play Word of Thoth?
Word of Thoth can be played at top rated online casinos and slot sites with stakes ranging from 0.20 to 100. A demo version of the game is also available to play for free. To play for real money, players can visit Word of Thoth slot sites that offer free bonus offers through our secure links.
What kind of payouts can I expect in Word of Thoth?
Payouts in Word of Thoth depend on chance, so there are no guarantees. However, with an RTP of 96.12%, the game's 10 symbols can bring payouts between x0.2 and x25 of the activating bet. In the base game, players can expect payouts between 0.04 and 2500, depending on the bet amount. With the bonus multipliers, the game can pay out up to x7384 of the triggering spin value (1476.8 - 738400).
Are there any strategies to increase my chances of winning in Word of Thoth?
To increase the chances of activating the bonus round in Word of Thoth, players can try using a high spin volume and a reasonable spin value. Another option is to purchase the bonus for 50 times the regular bet, which will give players at least 10 free spins and a guaranteed win. It's important to remember to always play responsibly and use a strict budget.
This Word of Thoth review was authored by W.Bergstrom | Last updated on 11 January 2023.