Play Ocean's Treasure for Free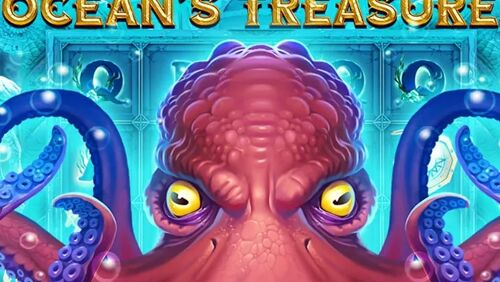 Return to Player
95.99%
Volatility
Mid/High
Features and Themes
Autoplay
Free spins
Quick spin
Ocean's Treasure
This NetEnt game offers great graphics and fast-paced gameplay. With the 12x multiplier, you can win up to 1,200 per spin, which means you can win a lot of money. You can play the slot with five reels and three rows, and it has 15 paylines. The presentation is entertaining while you try your luck! The music is also very interesting.
Game Information
| | |
| --- | --- |
| Game provider: | NetEnt |
| Rating: | 3.8 / 5 |
| RTP: | 95.99% |
| Volatility: | Mid/High |
| Reels: | 5 |
| Paylines: | 15 |
| Minimum bet: | 0.15 |
| Maximum bet: | 30.00 |
| Maximum win: | 18,000x bet |
| Released: | February 2020 |
Play Ocean's Treasure at Licensed Casinos
Ocean's Treasure Review
This new 5 reel, 3 row video slot offers you a number of bonuses. Stacked Wilds, Free Spins with an ever-increasing level multiplier and stunning Atlantis-themed graphics The fearsome octopus guards the treasure of the ocean hidden deep underwater. To get there, you need to collect three scatter symbols and activate the 5-level Free Spins feature. For every wild that appears on the reels, you get additional spins. You'll advance further into the ocean, unlocking new levels and increasing the level multiplier up to x12. Adventurers who reach level 5 will receive a substantial prize from Kraken in the form of a bonus win of 1500 coins. Ocean's Treasure is a dynamic game that will captivate players with a penchant for high-risk, high-volatility slots. The maximum number of additional free spins reaches a whopping 102!
Theme and Graphics
The underwater world of Ocean's Treasure deserves praise, as it's like reliving the Hollywood blockbuster Aquaman. The visual fidelity shines with dazzling blues scattered in a kaleidoscope of colours, capturing the essence of Atlantis in all its glory. Free spins with up to 12x multipliers and stacked wild symbols will entice you to hit the spin button immediately. Ocean's Treasure is a medium volatility slot with 15 paylines and five reels, with a jackpot of 1,200x your investment.
The reel set is against the backdrop of a land in the sea. It is full of statues, sea grass and gardens, as well as fantastic monsters like sea nymphs and Nereids. The octopus can be seen above the rollers. We can not call it an octopus because it is so big.
RTP and Volatility
The RTP of Ocean's Treasure is 95.99%, which is only slightly lower than some other online games. The volatility of Ocean's Treasure is rated as medium, which makes for a more exciting and atmospheric game.
Betting
Ocean's Treasure is a dynamic game that will attract players with a penchant for high-risk, high-volatility slots! The standard minimum and maximum bet is €0.15/300, and the minimum value for a free spin is €0.01. There is a wide range of betting limits to suit all types of players. The average return to player is 95.99%. The average hit rate is 26.62%.
Bonus Features
Ocean's Treasure is a simple slot game. There are no extras worth mentioning. If you just want to play slots with no frills, this is the game for you.
So what additional features can you expect from Ocean's Treasure?
Wilds
As you might guess, there are wilds in Ocean's Treasure, and they play an important role in the game. They appear as Nereids, a mythical underwater monster in this game, and can substitute for any other winning symbol.
Scatter Symbol
One of the additional features of Ocean Treasure are scatter symbols that can award free spins. They appear in this game as treasure chests, which is a nice thematic touch. They appear on the first, third and fifth reel and can bring up to ten free spins.
Free Spins
There are numerous ways to win Ocean's Treasure free spins at this casino. You will get 10 free spins if you get three scatter symbols. You also have the option to increase the number of your free spins.
You can play through the five levels of the free spins feature to get even more free spins. When you reach level 5, you will receive a bonus of 100x your bet.
Bonus Round
If you can complete the free spins level of the Ocean's Treasure online slot game, you will be rewarded handsomely. Here, you have up to 102 free spins and a 21x win multiplier at your disposal. You will need the 11 trident wild to complete the game, as it will fill up your level meter. When you complete the game, you get the win multiplier.
Our Verdict
Ocean's Treasure is a pretty standard slot machine. It is a simple, straightforward game that moves quickly. It also looks excellent, has a powerful soundtrack and offers a lot of potential. It may not be as explosive as some hardcore gamers would expect, but it can still make for exciting action. Ocean's Treasure is not exactly groundbreaking, but it is not off-putting in any way either.
If you compare the two slots, Ocean's Treasure has bigger multipliers and higher total payouts, while Steam Tower is the most addictive game. While the design team has done a great job of portraying an underwater world, Steam Tower is simply better in terms of atmosphere. Regardless, Ocean's Treasure is an entertaining slot. It has a higher volatility and thanks to the 12x multiplier, you can win up to 1,200 times your bet on a single spin. Which slot you prefer will ultimately depend on your personal preferences, but there is one very important thing to keep in mind: RTP. Ocean's Treasure has an RTP of 95.99 percent, while Steam Tower has a much higher value of 97.04 percent.
All in all, Ocean's Treasure is a good game with a good build quality and a good selection of features. The base game is not particularly exciting, but stacked wilds can be helpful when they appear. If you have not already, we recommend you check out Steam Tower. It may not be as volatile, but it is mathematically superior due to its much higher RTP.
Focus on the Game
NetEnt invites you to submerge into a new adventure for a chance to find the hidden Ocean's Treasure. This new 5-reel, 3-row addition to our collection of video slots boasts a number of awesome features Stacked Wilds, Free Spins with an increasing Level Multiplier and gorgeous Atlantis-inspired graphics. The Ocean's Treasure is buried deep underwater, guarded by the ominous Kraken. To get to it, you need to collect 3 Scatter symbols and enter 5-level Free Spins. With each Wild that appears on the reels, you are awarded with additional spins and advance deeper into the ocean, unlocking new levels and increasing the Level Multiplier up to x12. A generous reward from Kraken awaits those adventurers who manage to reach Level 5 as they get a Bonus win of 1500 coins. With the maximum number of possible additional Free Spins reaching a whopping 102, Ocean's Treasure is a dynamic game that is sure to attract players with an appetite for risk and high-volatility slots!
Game Rules
Player and casino operators can set the following play limits: Bet & loss per session, day, week or month. Block all play for a specified period of time. Restrict session play length in minutes. Playing for real is restricted by player account funds (i.e. cannot play for credit).
You can play 15 fixed bet lines at different bet levels and coin values. AUTOPLAY automatically plays the game for the selected number of rounds (alternatively, click the AUTO button).
Winning combinations and payouts are made according to the Paytable. Bet level is the number of coins bet per bet line. A bet line win in coins is equal to the value shown in the Paytable multiplied by the bet level. A bet line win in currency is equal to the win in coins multiplied by the coin value.
Bet line wins pay if in succession from the leftmost reel to the righmost reel. Only the highest win per active bet line from both ways is paid.
Betting limits
Ocean's Treasure is a dynamic game that is sure to attract players with an appetite for risk and high-volatility slots! The default minimum and maximum bet is €0.15/300. Minimum Free Round value is €0.01. There is a wide range of betting limits that cater to all types of players.  Average return to player is 95.99%. Average hit frequency is 26.62%.
NetEnt games run plenty of fantastic casino bonuses at a number of industry-leading casinos. Find an offer that works for you by visiting our casino bonus page.
Features:
Wild & Stacked Wild
The regular Wild symbol appears in the main game and in Free Spins, while the Stacked Wild symbol appears only in the main game.
Free Spins
3 Scatter symbols appearing anywhere on reels 1, 3, and 5 in the main game activate 10 Free Spins. There are 5 Levels in Free Spins, each with its own Level Multiplier, and all bet line wins are multiplied by the Level Multiplier. Free Spins start with Level 1 and a x3 Level Multiplier. Each time one or more Wild symbols appear anywhere on the reels during a Free Spin, 2 additional Free Spins are awarded and the Level Meter is filled by half. When the Level Meter becomes full, the next Level is unlocked until the player reaches Level 5. Advancing to Level 5 is rewarded with a Bonus win of 1500 coins. The maximum number of Free Spins is 102.
Symbols
The highest-paying symbols is the mountain of gold nuggets and diamonds.
Followed by the message in a bottle, the brass compass and the ocean key.
The next level of symbols are the card royal suits… ocean-ified! The A, K, Q and J.
All symbols are beautifully illustrated and rendered by our teams of talented digital artists!
The stacked wild symbol is the queen of the underwater realm, armed with a golden trident… which is also the symbol of the Wild.
Graphics
You'll want to take up scuba diving after playing this slot! It's a magical under-the-sea adventure complete with a terrifying sea monster… the kraken! The kraken appears in the last level of Free Spins and awards a coin win… so he's not altogether bad. Our digital artists have really outdone themselves to create the fascinating water world this game is set in. You start off in an Atlantis-inspired city, but as you progress into Free Spins you shift through the water and explore the space around you. Being under the water is always an immersive experience… but it's never quite as entertaining as this!
Soundtrack
We took the sounds of the sea and turned them into a symphony! Sound effects sound muffled in a very watery sort of way. But these water world sounds are juxtaposed with a triumphant tune that you would expect to hear in an Atlantean city in its prime.
Compatibility
Ocean's Treasure delivers a fantastic mobile version of the game. It offers the same fantastic experience as the desktop version. Its UI has been expertly adapted to fit the mobile screen. The spin wheel disappears from view when the reels are spinning. Settings and options likewise are filed away in a separate submenu. This economical and clever use of space keeps the display clear and clutter free, while not sacrificing any of the game's functionality (all options that can be found in the desktop version are also in the mobile version). None of the entertainment has been sacrificed.
The mobile version is compatible with iOS and Android. As long as your device is running an updated OS, you should have no problems playing the game on virtually any smartphone or tablet. Go ahead and give the game a try!
Is Ocean's Treasure safe?
NetEnt are among the leading casino game providers worldwide. Over decades, the company has developed a brand that is trusted by players all over the world. All its games are certified and licensed by independent regulatory authorities that ensure that the games are provably fair and work as advertised, and Ocean's Treasure is no exception!
Conclusion
Take the plunge into a world beyond your wildest dreams. Treasure hunting is about to get wet and wild!