Play Take Olympus by Betsoft for Free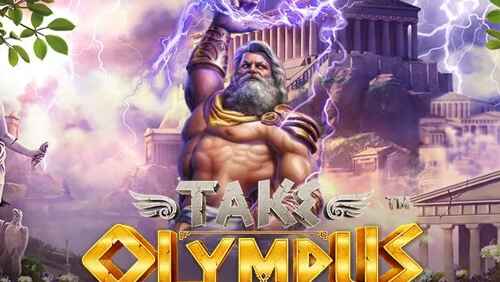 RTP

95.49%%
Volatility

Mid/High
Game provider:

Betsoft

Rating:

4.3 / 5

Reels:

5

Paylines:

50

Minimum bet:

0.10

Maximum bet:

40.00

Maximum win:

€93120 (2328 x bet)

Released:

February 2021
Features & Themes
Autoplay
Re-spins
Quick spin
Take Olympus
Take Olympus is a video slot game made by Betsoft. It has 5 reels and 4 rows with a total of 50 paylines. You can place bets ranging from 0.10 to 40 coins per spin. The game's return to player (RTP) rate is 95.49%, and it has 5 special features that can be activated during gameplay. These features alter the game in different ways.
Take Olympus welcome screen

Take Olympus base game

The Gods' Cycle Every ten spins, the cycle repeats again, and a new God takes control of the reels. Each God's specific power grows during the length of their cycle, culminating in a powerful GOD EVENT at the end. Gods are picked at random, and no God will appear more than once.

Each God has unique abilities that influence gameplay! The specific symbols of each God will be marked on the reels during the Gods cycle. These locations will be noted throughout the whole 10 spins of the APPOLO and APHRODITE cycles. While the special symbols on POSEIDON'S cycle contribute to a counter increase of 1, the special symbols on HADES' cycle contribute to a multiplier increase of 1.

Zeus is capable of wielding the gods' abilities! Wilds, Mysteries, Abundance, and Chaos of Zeus has 5+ WILDS, 5+ mystery symbols, big multipliers, and a random number of additional FREE SPINS, based on the governing God!
Play Take Olympus at Licensed Online Casinos
Emojino Casino

100% up to €250

Gslot Casino

100% up to €100 and 100 extra spins

Tsars Casino

100% up to €300 and up to 100 extra spins

24K Casino

125% up to €300 and up to 50 extra spins

Bet It All Casino

100% up to €10

Trada Casino

100% up to €100 and 50 free spins
Take Olympus Review
Take Olympus is a video slot game inspired by Ancient Greek mythology and the legends of Mount Olympus, where the Greek gods are believed to live. In this game, created by BetSoft, players have the chance to climb the mountain and potentially earn rewards from the gods, including Zeus.
Graphics and Theme
The graphics and theme of Take Olympus are centered around Mount Olympus and Ancient Greek mythology. The game's background features a beautifully designed garden with flowers, statues, and intricate patterns. The visuals of the game are rich and detailed, immersing players in the mythical world of Mount Olympus.
RTP and Volatility
Take Olympus has a high level of volatility, which means that the game has the potential for larger, but less frequent, wins. The maximum win on a single spin is 2,328 times your bet, which may seem low compared to the game's high volatility.
The default return to player (RTP) rate for Take Olympus is 95.49%, but it may vary depending on the online casino you are playing at. It's important to check with the specific online casino to determine the RTP rate for Take Olympus at that location.
Betting Options
Take Olympus has a 5-reel, 4-row layout with 50 paylines that are active by default. However, the number of paylines can be adjusted. The minimum bet per spin is 0.10 credits, while the maximum bet per spin is 40 credits. In this review, we will provide a detailed analysis of all the features and aspects of the game.
Bonus Features
Take Olympus has several bonus features that are based on five different Greek gods. Each god is active for 10 spins at a time, and their powers increase as you play. The gods are randomly selected, but you cannot have the same god more than a few times in a row. The gods and their corresponding features are:
Apollo: When the Apollo cycle is active, all symbols on the reels that depict Bows or Apollo become "marked." On the 10th spin (the final spin of the cycle), a wild symbol appears in all of the marked spots, increasing the chances of winning combinations.

Aphrodite: Landing Leaf of Aphrodite symbols marks the reels. On the 10th spin, all of the marked spots become Mystery Boxes, and once the spin is complete, all of these mystery symbols will turn into identical symbols.

Poseidon: Any time the Poseidon or Trident symbols appear, a counter for this deity is increased by one. At the end of the cycle, you will receive a number of re-spins equal to the number of notches on the counter.

Hades: Each time you land one of the indicated symbols during this cycle, a +1 is added to the multiplier trail. If a win is produced on the final spin of the cycle, the accumulated multiplier is applied to the win.

Zeus: To trigger the primary free spins bonus, you must land all four Zeus symbols on the same reel. This will give you 10 extra spins. Zeus can also borrow the traits from the other four gods, making him the "ultimate" god and the cycle you should aim for the most.
Strategy Tips
It is important to note that all slot games are based on random chance, so it is not possible to guarantee wins. However, there are a few strategies that players may find helpful when playing Take Olympus or any other slot game:
Set a budget and stick to it: It is important to determine how much money you are willing to spend on a slot game and stick to that budget. This will help you avoid overspending and stay within your means.

Manage your bet size: Consider adjusting your bet size based on your budget and the amount of time you want to play. Betting smaller amounts may allow you to play longer, while betting larger amounts may increase the chances of hitting a larger payout.

Take advantage of bonuses and features: Pay attention to the bonus features and symbols in the game and try to trigger them as often as possible. These features can often provide additional chances to win or increase the size of your payout.

Understand the game's RTP: The return to player (RTP) rate is the percentage of money that is returned to players over the long run. Games with a higher RTP tend to pay out more frequently, so consider seeking out games with a high RTP.

Don't chase losses: It is important to remember that slot games are based on luck and it is not uncommon to experience a losing streak. Avoid the temptation to chase losses by continuing to bet after a losing spin. It is better to set a loss limit and walk away when you reach it.
Conclusion
Take Olympus is a popular game developed by Betsoft that can now be found at many online casinos. This shows the software provider's growing popularity and reputation as a respected game developer.
We personally tested Take Olympus and were pleasantly surprised by its high quality. In the past, Betsoft has sometimes had issues with the quality of their games, but Take Olympus impressed us with its clear HD graphics, smooth animations, and well-designed sound effects. The game performs well on all devices.
We enjoyed the variety of bonuses and features in Take Olympus, as it adds excitement and anticipation to the gameplay. The game also has a relatively high hit rate of one in three, meaning that wins are not too far apart and keep the action going. Overall, we found Take Olympus to be an enjoyable and potentially rewarding slot game to play.
Take Olympus FAQ
What is the RTP for Take Olympus
The return to player (RTP) for Take Olympus varies depending on the online casino you are playing at. However, the default RTP for the game is 95.49%. This is slightly below the average RTP for video slots, but it is still considered acceptable and should provide a decent length of playtime.
What are the betting limits in Take Olympus?
Take Olympus is designed to accommodate players with different budgets. The minimum bet is 0.10 credits, and the maximum bet is 40 credits per spin. This means that there is a wide range of betting options available, so you can choose a stake that meets your personal tastes and budget.
What kind of extras and features can I expect to see in Take Olympus?
Take Olympus has a lot of perks and features to offer. The game is played in 10-spin cycles, each with its own set of unique reel modifiers and bonuses. There are also free spins available in the game.
Where can I play Take Olympus for free?
If you want to try Take Olympus without risking any of your own money, you can play the game for free at Gamblr. No account or registration is required, and you can play the game as often as you like with free demo credits. If you prefer to play for real money, our team of online gambling experts can recommend the best online casinos where you can play Take Olympus for real money. These casinos are regulated and secure, so you can play with confidence.
What is the maximum win on a single spin in Take Olympus?
The maximum win on a single spin in Take Olympus is 2,328 times your bet. This may seem low compared to the game's high volatility, but it is still a potentially large win.
This Take Olympus review was authored by W.Bergstrom | Last updated on 07 January 2023.