Play The Slotfather: Part II for Free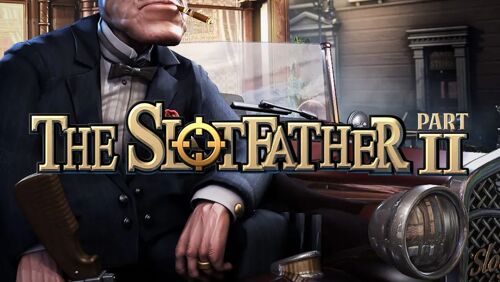 Return to Player
96.60%
Volatility
Medium
Features and Themes
Autoplay
Bonus feature
Free spins
Re-spins
Gamble
5-Reels
Crime
Movie and TV
The Slotfather: Part II
The Slotfather Part 2 is the highly anticipated sequel to Betsoft's enormously popular Slotfather. It's a five-reel slot with 243 ways to win, where you have to save the "family" and win some lucrative bonuses in the process. This game is available for free here, along with the original Slotfather and a number of other movie-themed games, all optimized for PCs, laptops, mobiles and tablets.
Game Information
| | |
| --- | --- |
| Game provider: | Betsoft |
| Rating: | 4.6 / 5 |
| RTP: | 96.60% |
| Volatility: | Medium |
| Reels: | 5 |
| Paylines: | 243 |
| Minimum bet: | 0.25 |
| Maximum bet: | 125.00 |
| Maximum win: | 1693500 coins |
| Released: | March 2017 |
Play The Slotfather: Part II at Licensed Casinos
The Slotfather: Part II Review
Sequels are usually entertaining, especially if you enjoyed the original. Betsoft Gaming developed the online slot game The Slotfather and decided to release The Slotfather Part II after the original was a hit with players. This game brings the gangster theme to life in a 3D environment for players to enjoy even more. As the mafia theme runs its course, players will find comedy and drama on the reels of this high RTP game. Characters from the original slot appear on the reels, allowing players to score big wins when the symbols match.
Theme and Graphics
Slotfather was such a hit with players that Betsoft had to release a sequel. It has a mafia theme. Many of the characters from the first slot are back, but they have been updated and are now more detailed and beautiful. The artistic qualities of the company are way above average, which makes this slot an incredible gaming experience. There are three main characters in this slot, each with their own set of names and payouts. The background of the slot is the Don's office, where he conducts his business. While you are dealing with the mafia leaders, there is also a soundtrack that will give you goosebumps. It will also encourage you to keep playing the game. The graphics are beautifully designed, so you can enjoy this game without interruption. This game can be played on a variety of devices, including cell phones and desktop PCs. You do not need to download any software to play this game, since it can be played directly in your web browser. This slot is ideal for players who are looking for an entertaining slot. It is a medium volatility slot, which means that the payouts are constant from spin to spin.
RTP, Volatility and Paylines
Slotfather Part II has a Return to Player (RTP) of 96.60, which is on the higher end of the spectrum. This means that when you play The Slotfather, you will win more (on average) than in other slot games.
This game also has a medium volatility. This means that you will have a good balance between the frequency and the amount of wins.
In SlotFather II there are 243 ways to win. On each spin you will have many chances to form winning combinations. To get a payout, you need to combine at least three symbols from left to right on the slot.
The mafia boss is the best symbol in SlotFather II, so keep your eyes open. You can win up to 1,500 coins when you combine 5 of these symbols.
How to Play
Betsoft has made sure that players can enjoy their games by making sure that they have the best features and storylines. As SlotFather 2 proves, there are no exceptions to this rule. A mafia boss, playing cards, a pile of cash, a cigar, a butcher knife and the leaning tower are among the features of the slot. These are the standard symbols of the slot, with a high payout of up to 1,500 coins for five matching symbols. If three of these symbols match, you will also receive a minimum reward of up to ten coins. Before you start, you need to learn how to play this game. Before you can claim the prizes in this slot, you must first place a bet. Players can change the number of coins per line and the coin value to make a bet. Slotfather 2 lets you choose between a coin value of 0.02 and 1 and a number of coins per line from 1 to 5.
Bonus Features
While the main game is exciting, you will be overwhelmed by the bonus features in this slot. Free spins, scatter symbols, bonus rounds and much more are available to enhance your gaming experience. When you get three or more scatter symbols, the free spins mode begins. In free spins mode, you can increase the number of free spins by landing two or more scatter symbols. If you get 2 to 5 scatter symbols, you will get 250 to 1,250 coins and up to 20 free spins. You will get a special Bigg Boss Bonus instant credit after playing the free spins mode. The Gangster Bonus, which is activated by the big gangster symbols, is also available. A match of 5 of these symbols can result in a payout of up to 175 coins, while a match of 3 of these symbols can result in a payout of up to 25 coins. A respin is awarded when two identical Gangster symbols appear in full size on the reels. During this mode, the triggering Gangster symbol stays in position and gives you a chance to activate the extra round. If two different characters fill two reels, the re-spin is granted to only one of them, with Frankie, Fat Tony and Snake Eyes Sammy taking priority. The gangster feature is triggered when three or more gangster symbols appear on the screen. Gangster mode is a second-screen game in which players must collect a share of the city's businesses. They are given a series of folders, each of which contains a gift. The collection icon is displayed in one of the folders, so you can keep selecting folders until the collection icon appears. The three crooks will receive different amounts of money. Fat Tony is a patient man who is always collecting. Frankie gets carried away with his work and does not always pay, but when he does it's a considerable payment, while Snake Eye Sammy is a calculated risk taker who is neither too careful nor too reckless. Finally, there is a gamble element associated with the winnings from the base game. The Double Up button at the bottom of the slot will light up when you win, and you will have to activate the feature manually. This game is played like a heads or tails game, and you have to pick the right side to double your winnings. If you guess wrong, you will lose your winnings.
Our Take
The Slotfather 2 is an excellent choice if you are looking for a high quality 3D slot machine with the best features and graphics. The Slotfather 2, available at BetOnline Casino, is a solid sequel to the original online slot game, with all your favorite characters and even more ways to win!
To enter the bonus round, find three or more criminals on the reels in groups of three or more. If you get three or more of the scatter symbols, you get free spins. Spin the reels a few times to see what this game has to offer!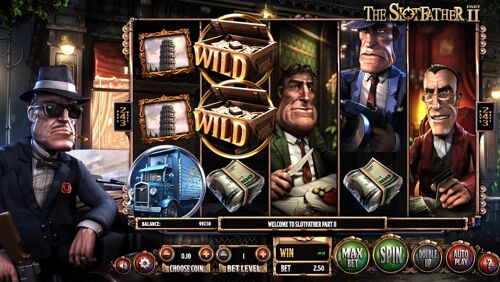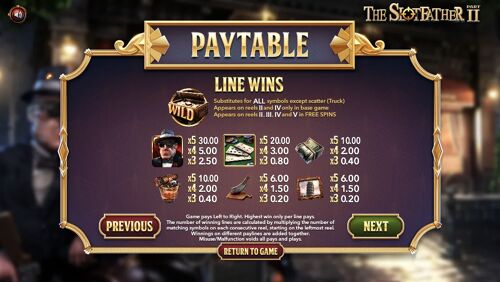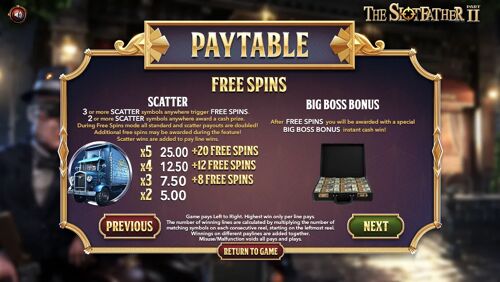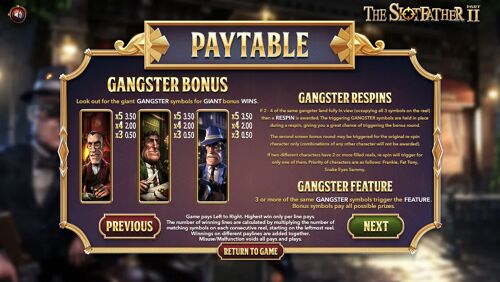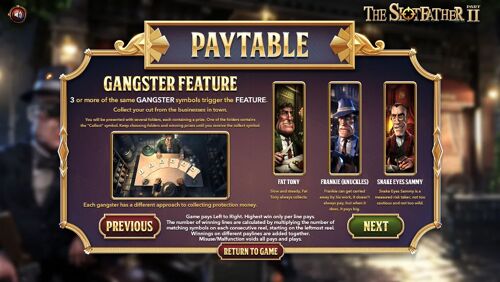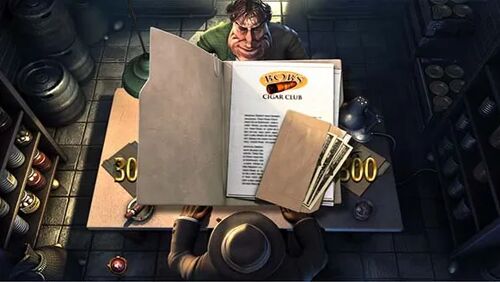 The Slotfather: Part II FAQ
What is the Return to Player (RTP) of The Slotfather Part II?
The Slotfather Part II has an RTP rate of 96.6%. The game has a medium volatility. This means that you will have a good balance between the frequency and the amount of wins.
Do I need to make a deposit to play this game?
No, you do not have to make a deposit to play the game. It is available in free spins mode.
Which is the most valuable symbol?
The wild and the scatter symbol are the most valuable symbols. The scatter symbol triggers the free spins feature and wild symbols substitute for all regular paying symbols.
Can I win real cash prizes in The Slotfather Part II?
Yes, you can win real cash prizes in The Slotfather Part II. It has 243 paylines and additional features to help you do so.
Can I play The Slotfather Part 2 slot machine on a cell phone?
Yes, this slot is optimized for cell phones and can be played on any device.