Play Mystic Hive by Betsoft for Free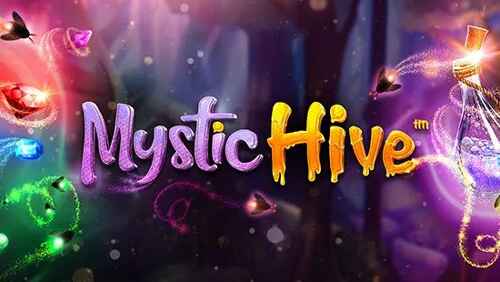 RTP

96.13%
Volatility

Low
Provider:

Betsoft

Rating:

4.6 / 5

Reels:

5

Paylines:

30

Hit Frequency:

48.71%

Minimum bet:

0.10

Maximum bet:

80.00

Maximum win:

x243.00 bet

Released:

20 August 2020
Features & Themes
Autoplay
Bonus feature
Free spins
Mystic Hive
Mystic Hive is a captivating video slot from Betsoft that features a hexagonal grid, three types of fireflies, a nectar meter, and spreading wilds. You can play this game for free or real money at various online casinos and enjoy its stunning graphics, soothing soundtrack, and rewarding gameplay.
Betsoft released this slot in August 2020, quickly becoming one of their most popular titles. This review will explore this enchanting game's features, mechanics, and payouts and tell you why you should try it.
Mystic Hive is designed with a 3-4-5-4-3 layout, which offers a unique and distinct gameplay experience.

The GREEN FIREFLY summons more fireflies, the RED FIREFLY increases the nectar meter for FREE SPINS, and the YELLOW FIREFLIES multiply winning paylines

The RED FIREFLY fills the nectar meter in Mystic Hive, with each fly increasing the meter by one level. When the meter is full, you get 5 free spins with up to 3 initial spreading wilds that move across the grid.
Play Mystic Hive at Licensed Online Casinos
Emojino Casino

100% up to €250

Bet It All Casino

100% up to €10

SlotJoint Casino

200% up to €40

Trada Casino

100% up to €100 and 50 free spins

TrueFlip Casino

100% up to €250

Vulkan Vegas Casino

100% up to €300 and 25 extra spins
Mystic Hive Review
Theme and Graphics
Mystic Hive has a unique theme that combines nature and fantasy elements. The game is set in a dark forest where fireflies of different colors surround a giant honeycomb-shaped grid. The symbols on the grid include various gems, mushrooms, flowers, and a honey pot that acts as the wild. The fireflies move around the grid with every spin and emit different sounds depending on their type. The game has stunning 3D graphics that create a realistic and immersive atmosphere. The soundtrack is soothing and relaxing, featuring soft piano music and ambient noises of the forest.
RTP and Volatility
Mystic Hive has a low volatility rating, meaning you can expect frequent but small wins in this game. The RTP (return to player) percentage is 96.13%, slightly above average for online slots. For every $100 you wager on this game, you can expect to get back $96.13 on average in the long run. However, this does not guarantee that you will win or lose any specific amount in any session.
Betting and Payouts
Mystic Hive offers a wide betting range that caters to all kinds of players. Depending on your preference and bankroll, you can bet from as low as 0.10 to as high as 80.0 per spin. The game also has an auto-play feature that allows you to set up to 100 spins with your desired bet size and stop conditions.
The game has 30 paylines and a cluster pays mechanic, meaning you need to land at least five matching symbols adjacent to each other to form a winning combination. The symbols on the reels have different values, with the gemstones being the lowest-paying ones and the honey pots being the highest-paying ones. The honey pots can pay up to 10x your stake for a cluster of 18 or more symbols.
The game also has a maximum payout of 243x your stake, which can be achieved by filling up the entire grid with honey pots or triggering the free spins feature with multipliers. However, this is unlikely, as the game has low to medium volatility and offers little payouts.
Features and Bonuses
Mystic Hive has a unique layout that consists of a 3-4-5-4-3 grid of honeycomb cells. 30 paylines pay from left to right and right to left. The symbols include colorful gems, mushrooms, fireflies, and a wild honey jar. The wild symbol can substitute for any other symbol except the fireflies.
The fireflies are the critical feature of this game, as they can trigger different effects depending on their color. They appear randomly on every spin and move clockwise around the grid. There are three types of fireflies: green, red, and yellow.
The red fireflies can apply multipliers of up to 10x to your wins every time they land on the grid.

The green firefly can summon more fireflies of any color to join the hive. The red firefly can fill up the nectar meter by one level. The nectar meter is located on the right side of the screen and has 19 levels. When it is complete, you will get five free spins with up to 3 spreading wilds.

The yellow firefly can apply a multiplier to any winning payline that it is aligned with. The multiplier can be 1x, 2x, or 3x—the more yellow fireflies you have on the grid, the higher the multiplier.
The free spins feature is activated when the nectar meter is full. One, two, or three nectar burst symbols will appear on the grid during free spins. These special wild symbols can spread to adjacent cells after every spin. They will continue to spread until the free spins end, creating more chances to win big.
How to Play
Mystic Hive is easy to play, as it has a simple and user-friendly interface. You can adjust your bet size by clicking the plus and minus buttons at the bottom of the screen. The minimum bet is 0.10, and the maximum bet is 90 per spin.
You can also activate the autoplay feature, which will spin the reels automatically several times that you can set. You can also customize the autoplay settings to stop on certain conditions, such as a win or a loss limit.
To start playing, click the spin button and watch the fireflies fly around the hive. You will win if you land three or more matching symbols on a payline, starting from either end of the grid.
You can also view the paytable by clicking on the "i" button at the screen's bottom left corner. Here you can see all the symbols and their values, as well as the paylines and the rules of the game.
Free Demo Play
You can enjoy this game's features and bonuses without any limitations. If you want to experience Mystic Hive without risking money, you can play it free at Gamblr. We offer a free demo version of Mystic Hive that you can play with virtual credits.
Playing for free is a great way to learn how Mystic Hive works and see if you like it before you decide to play for real money. You can also compare it with other video slots by Betsoft or other providers and find your favorite one.
Mobile Compatibility
One of the advantages of Mystic Hive is that it is designed to work smoothly on any mobile device, whether a smartphone or a tablet. You don't need to download any app or software to play this game, as it is accessible through your web browser. The game adapts to any screen size and orientation so that you can enjoy it in landscape or portrait mode. The graphics and animations are crisp and clear, and the sound effects are immersive and realistic. You can also adjust the game settings to suit your preferences, such as the bet size, the sound volume, and the speed of the spins.
Conclusion
Mystic Hive is a charming and captivating slot game that will appeal to anyone who loves nature and fantasy themes. The game's unique hexagonal grid layout creates different ways to win. The game also features three types of fireflies that can enhance your gameplay by summoning more fireflies, filling up your nectar meter, or applying multipliers to your wins. The nectar meter is the key to triggering the free spins feature, where you can get up to three spreading wilds that move around the grid with every spin. The free spins feature can be advantageous, especially if you land multiple wilds on adjacent cells.
If you want to try Mystic Hive, you can play it for free or real money at any Betsoft casino. You can also play the free demo version of the game on Betsoft's website or other online platforms offering free demo play. Playing the free demo will familiarize you with the game mechanics and features before you risk any money. You can also compare Mystic Hive with other Betsoft slots and see which suits your taste and budget.
Mystic Hive is a delightful and enchanting slot game that will keep you entertained and engaged for hours. The game has low volatility, meaning you can expect frequent but small wins. The game also has a high RTP of 96.13%, which means you have a good chance of getting a return on your investment. The game has a wide betting range, from 0.10 to 80 credits per spin, so you can choose how much you want to wager according to your bankroll.
Mystic Hive is a slot game that combines stunning visuals, soothing sounds, and exciting features to create a memorable gaming experience. If you are ready to enter the magical world of Mystic Hive and collect some nectar from the fireflies, then head over to your favorite Betsoft casino and start spinning today!
Mystic Hive FAQ
Mystic Hive is a casino slot game that takes you on a magical journey through a beautiful forest filled with sparkling jewels, colorful insects, and hidden treasures. The game features stunning graphics, immersive gameplay, and a host of bonus features that offer the chance to win big prizes.
How do I play Mystic Hive?
Playing Mystic Hive is easy. Find the game at a reputable online casino or gaming platform, create an account and deposit, and then select Mystic Hive from the library of slot games. From there, you can adjust your bet size and number of paylines, then spin the reels to see what luck brings.
What are the symbols in Mystic Hive?
The symbols in Mystic Hive include a variety of colorful insects, as well as gemstones, honeycombs, and the game's logo. Different combinations of these symbols can create winning combinations on active paylines.
What is the RTP and volatility of Mystic Hive?
Mystic Hive has an RTP of 96.13% and low volatility, which means it pays out frequently but in smaller amounts.
Is Mystic Hive fair and trustworthy?
Mystic Hive is a reputable and trustworthy slot game developed by a respected developer. However, it's always a good idea to choose a reputable and reliable online casino or gaming platform to play the game. Look for a venue with a good reputation, secure banking options, and a valid license from a reputable regulatory body. This will help ensure that you have a fair and enjoyable gaming experience.
What are the special features of Mystic Hive?
Mystic Hive has three types of fireflies that can appear randomly on any spin and move around the grid clockwise. The green firefly summons more fireflies, the red firefly fills up the nectar meter, and the yellow firefly applies a multiplier to winning paylines. When the nectar meter is full, you get five free spins with up to 3 spreading wilds that move along the grid.
This Mystic Hive review was authored by W.Bergstrom | Last updated on 11 April 2023.