Play Country Farming by Pragmatic Play for Free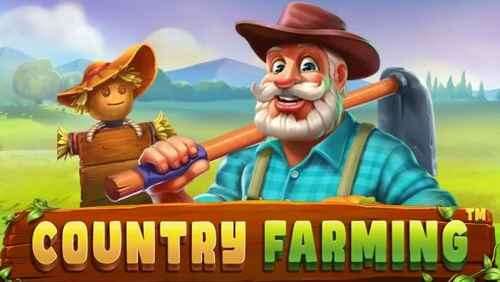 RTP

96.07%
Volatility

High
Provider:

Pragmatic Play

Rating:

4.17 / 5

Reels:

5

Paylines:

20

Minimum bet:

0.20

Maximum bet:

100.00

Maximum win:

10,000x

Released:

12 June 2023
Country Farming
If you're craving a chillaxing game that merges the charm of rural life with heart-thumping spins, well, cowboy, you oughta give Country Farming slot by Pragmatic Play a whirl! This charming 5-reel and 3-row video slot – boasting 20 fixed paylines – comes chock-full of features primed to plump up your winnings. In this piece, we're gonna get down and dirty, closely inspecting what makes Country Farming rise and shine in the cornucopia of farm-themed slots.
Country Farming - base game

Country Farming - bonus buy

Country Farming - Free Spins triggered

Country Farming - bonus round
Play Country Farming at Licensed Online Casinos
JoyCasino

150% up to €300 and up to 200 extra spins

Casino-X

200% up to €50 + 200 extra spins

SlotJoint Casino

200% up to €40

PlayFrank Casino

100% up to €100 + 50 Bonus Spins

TrueFlip Casino

100% up to €250

Gslot Casino

100% up to €100 and 100 extra spins
Country Farming Review
A Treat for the Eyes: Theme and Graphics
Country Farming yanks you into its offbeat farmyard adventure set amongst lush green pastures, a backdrop of cloudless blue skies, and a down-home country barn. The leggy reels angled between wood planks and hay bales are crammed with an eccentric cast of farm animals and vibrant veggies - befriending everyone from clucky chickens to crunchy carrots!
Don't forget our straw-hatted farmer strutting as the wild card who steps in for all symbols except one – the scatter symbol depicted by a hunky tractor. These beautifully animated elements inject an evocative rustic charm into this bright, anime-style landscape that will keep you grinning while swirling those reels.
With realistic animations veiling every frame and immersive sound effects echoing authentic rural sounds from tweets to tractor engines playing on every spin – Country Farming is topped off impeccably by upbeat melodies that'll surely get your feet stompin'.
Cold Hard Cash in Hay Bales: RTP and Volatility
Our spunky slot offers an RTP (return to player) at a superior 96.07%, inching its betting advantage slightly above the industry average of 96%. This staggers towards an opportunity for punters like you to recover 96.07% of your stakes over time. Yet remember, amigo, your short-term wins promise no guarantees, with Country Farming's high volatility index waving its red flag in caution.
Rolling the Dice with Volatility
If you're a rookie to the slot world, don't panic! Volatility is another term for how frequently and voluminously a slot game shells out. A slot with high volatility, just like our dear Country Farming here, might play hard-to-get, doling out wins sparsely - but when it does, they're real whoppers! Conversely, lower volatility slots churn out winnings more frequently – yet they usually carry smaller payloads.
Playing Country Farming means that you could be riding a rollercoaster of "dry spell" periods before you strike gold and bask in peppy pig-sized wins. Still, if Lady Luck's grinning at you from her tractor and you've got patience in spades, then hefty winnings – as compelling as 10,000x your original stake – could be yours!
Gearing Up for Game Time
To dive right into your farm adventure on Country Farming, set your betting range between 0.20 to 100 coins per spin. There's the handy autoplay feature, too, where you can preset up to 100 spins, within which you can set up automatic pauses such as 'stop on loss limit' or 'stop on win limit.' This hands-off approach gives seasoned high-rollers more chillaxing gameplay without missing any thrills.
Navigating this game couldn't be more straightforward thanks to its user-friendly interface, with clear-cut display bars for your balance, bet size, and win amount. So saddle up your tractor seat for reel-spinning fun; it's time to plow those shiny slots and enjoy this energetic sojourn into the fertile fields of Country Farming!
Putting Your Chips on the Table: Betting and Winning Big
Our payout silo is brimming with ten regular symbols, neatly stacked into high-paying and low-paying. The cheeky vegetables flaunting themselves as low-payers are the farm-fresh carrots, tomatoes, corn, and pumpkins. The big hitters are the animated farm creatures such as our moo-ing cow, oinking pig, baa-ing sheep, and clucking chicken, with the beefy cow being the primo payout king – offering up to 50x your bet if five graze upon your payline.
Don't overlook our grinning farmer brandishing his trusty pitchfork as the wild symbol who'll happily stand in for any other symbols- bearing scatter and bonus. This wild chap can shovel out up to 100x your bet when you land five on a payline.
Wheel of Fortune: Features and Bonuses
Country Farming isn't just your run-of-the-mill farm slot! It's peppered with edgy features and bonuses that'll keep those reels spinning and earnings rocketing higher than a rooster's morning call!
First, our Free Spins round is triggered by landing three or more scatter symbols anywhere on the grid – these are easily spotted, embodying a barn etched with "Free Spins." Starting with ten free spins, these can be recurrently triggered by ensnaring more scatters in this bountiful feature.
Watch out for Expanding Wilds during your Free Spins round too! Whenever our wild farmer crashes onto reels 2, 3, or 4, he'll sprawl across the whole reel remaining planted for all your free spins – potentially awarding up to three fully 'wild' reels on every spin - that's pretty wild indeed!
Next up is our Bonus Game! This exciting feature bursts onto the screen when you bag three or more bonus symbols (personified by a tractor with "Bonus" boldly inked) sequentially from left to right. You'll be transported to four verdant fields with golden crops ripe for picking! Choose wisely because hiding below these precious plants are cash rewards ready to bump up your total winnings - continue plucking until you reveal a 'Collect' sign ending this bumper crop bonus round.
If that doesn't get your adrenaline pumping, wait until you get wind of our progressive jackpot feature enticing you with Mini, Minor, Major, or Grand jackpots! These delightful dollar amounts sit atop the reels, adjusting according to your bet size – to stake your claim, uncover three matching jackpot symbols from under the crop fields within this ecstatic bonus game.
The Grand jackpot sits proudly on its throne, awaiting those max bet players looking for that juicy return of up to 1000x their bet. Now if that's not enough to lasso you into this fun-filled farming frenzy, I don't know what will!
Playing Anytime, Anywhere: Mobile Compatibility
One of the crowning joys of Country Farming is its nifty mobile compatibility. No matter where you saddle up – smartphone, tablet, or desktop, this game's got your back! Flaunting fluid adaptation to any screen size and resolution, you won't miss out on any tantalizing detail or functionality. As long as you've got a sturdy internet connection, rest assured of an incredible gaming experience, with every spin as buttery smooth and every graphic as vibrant on any device!
Try Before You Buy: Free Demo
A prime reason to buckle into Country Farming on Gamblr is our free demo offering. Yep, that's right – no registration hoops to jump through or need to deposit a single coin. The demo mirrors the real-money version to a tee, so you'll get the unfiltered taste of all the luxurious features and bonuses - sans any dent in your wallet. So leverage this risk-free opportunity before letting the greenbacks free for some serious winnings!
In A Nutshell: Conclusion
Steeping itself in farmyards is familiar for Pragmatic Play. After their heart-thumping Rabbit Garden online slot, Country Farming farms out a more old-school, authentic slot vibe. If you're a fan of analogies, Rabbit Garden was like conjuring up lab-grown 'meat' using plant proteins in an ultra-modern space lab. On the other hand, Country Farming is simply sowing seeds into the good ol' earth and letting Mother Nature work her magic.
Gone are complex clusters and coin symbols, yet, there're times when Country Farming's base game can resemble watching grass grow. The recurring Mystery symbol drop may seem pompous but often ends up being all show and no substance - all bark and no bite.
Landing full-screen wins via this enigmatic symbol is definitely in the equation. However, jackpot symbols aren't as generous in the base game or during free spins, so potential scatter wins aren't as explosive compared to games like 9 Masks of Fire.
It could be that we hit a dry patch during our gameplay testing, or maybe Country Farming intentionally slows its roll-on launching Jackpot scatter wins. Will this be a bane for players yearning for confetti-shower style wins frequently? Or would this unconventional pace be the exact cuppa tea needed for others?
It's not all tumbleweeds and squawking hens! Where Country Farming genuinely shines is its jackpot prizes – especially that hearty 10,000x top prize grab that'll have you grinning from ear to ear! So if you're seeking a fun scattering prize-styled game that leans more towards whopper winnings over frequent drops set within feel-good farm surroundings, buddy, you might have struck gold with Country Farming!
More Pragmatic Play Games
Country Farming FAQ
What is the theme of the Country Farming slot?
Country Farming is a farmyard-themed slot game that features an eccentric cast of farm animals and vibrant veggies against a backdrop of lush green pastures and cloudless blue skies, creating an authentic rural charm.
What are the RTP and volatility levels of this game?
Country Farming offers an RTP (return to player) of 96.07%, slightly above the industry average. It also has a high volatility index, meaning it may pay out less frequently, but the wins can be substantial when it does.
Can you explain the betting range in the Country Farming slot?
Sure! The betting range on Country Farming runs from 0.20 to 100 coins per spin. An autoplay feature allows you to preset up to 100 spins and includes automatic pauses such as 'stop on loss limit' or 'stop on win limit.'
What symbols can I expect to see while playing?
In Country Farming, low-paying symbols are represented by colorful vegetables like carrots, tomatoes, corn, and pumpkins. High-paying symbols are animated farm creatures, including cows, pigs, sheep, and chickens. The farmer is the wild symbol that substitutes for all other symbols except the scatter and bonus symbols.
What special features does the Country Farming game offer?
Country Farming has several special features. These include a Free Spins round triggered by three or more scatter symbols, an Expanding Wilds feature during free spins where wild symbols cover entire reels, a Bonus Game that offers cash rewards, and even a progressive jackpot feature with four different jackpots.
Is Country Farming compatible with mobile devices?
Yes, indeed! You can play Country Farming on a smartphone, tablet, or desktop with the assurance of fluid adaptation to any screen size and resolution.
Does Gamblr offer a free demo version of 'Country Farming'?
Absolutely! Gamblr offers a free demo version of Country Farming that mirrors the real money version. It doesn't require registration or deposit.
How much can I potentially win from this slot game?
Thanks to its jackpot prizes, players can win up to 10,000 times their original stake when playing Country Farming.
This Country Farming review was authored by W.Bergstrom | Last updated on 06 September 2023.