Play Honey Rush 100 by Play'n GO for Free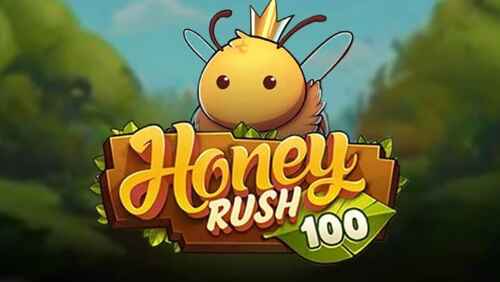 RTP

96.20%
Volatility

High
Provider:

Play'n GO

Rating:

3.48 / 5

Reels:

7

Paylines:

Cluster pays

Minimum bet:

0.10

Maximum bet:

50.00

Maximum win:

50,000x

Released:

17 August 2023
Honey Rush 100
Welcome to your quick rundown of the sweet sequel, Honey Rush 100, from Play'n GO! This slot game invites you to a lovely bee colony with immense design detail and captivating animations. It boasts an infectious soundtrack and effervescent colors set on a hexagonal grid mimicking a hive. This high-volatility game has a generous RTP of 96.20% plus a massive 50,000x your stake win potential.
Still on the fence? No problem! Try the free demo version we've lined up on our website. It's identical to the real-money game but uses virtual credits, letting you grasp the gameplay without touching your wallet!
Want to immerse yourself further in this nectar-filled adventure? Continue reading below for a comprehensive review of graphics, gameplay mechanics, bonus rounds, and more.
Honey Rush 100 - base game

Honey Rush - drone colony

Honey Rush - paytable
Play Honey Rush 100 at Licensed Online Casinos
SlotJoint Casino

200% up to €40

Vulkan Vegas Casino

100% up to €300 and 25 extra spins

TrueFlip Casino

100% up to €250

Bet It All Casino

100% up to €10

Trada Casino

100% up to €100 and 50 free spins

PlayFrank Casino

100% up to €100 + 50 Bonus Spins
Honey Rush 100 Review
Diving into the Design
Welcome to Honey Rush 100! Think of it as a sweet sequel to its older sibling, the Honey Rush slot from Play'n GO, that first graced our screens in 2019. Picture yourself in the heart of a buzzing bee colony, where dripping honeycomb clusters pave your path to tasty rewards. From the warm embrace of glowing orange and yellow hues to meticulously crafted animations and oh-so-tantalizing symbols, this game will tantalize your taste buds and all your senses.
The playing field is set on a unique hexagonal grid mimicking a hive adorned with shiny diamonds, gleaming coins, and colorful floral symbols. All these are accompanied by an infectious soundtrack that completes the vibrant ambiance.
Crunching the Numbers
To note, Honey Rush 100 plays in the high-volatility league. Put plainly, brace yourself for possible hefty payouts at the end of potentially longer dry spells. It rocks a pretty decent RTP (Return To Player) score of 96.20%, which nudges past the norm in the industry by just a bit. However, where it undoubtedly stands out is boasting an eye-popping win potential maxed at a whopping 50,000x your stake! Pretty spectacular for a game plying its trade in the cluster pays arena.
Stakes and Rewards
Let's chat about what puts the 'cluster' into cluster pays when talking about Honey Rush 100. To bag a win, you will have to bring together at least five matching symbols so they sit right next to each other horizontally or vertically--diagonals don't count here! The betting bracket starts from as low as just 0.10 and rises to 50.00 per spin, so it's flexible enough for most tastes and bankrolls.
To keep you interested, eight regular symbols are split equally between high and low-value. The diamond symbol comes at the top, which can fatten up your bankroll by up to 2,500 times if you crowd at least 37 on your board. Straight after come gold coins paying up to 1k times your stake, silvers doing half that at 500, and bronzes adding up to 250 times. Floral symbols sprinkle around more modest wins varying between 150 and as low as 50 for equivalent cluster combinations.
Meanwhile, watch for the game's wild symbol, ready to switch sides with any other character on your grid, helping you cherry-pick those winning clusters that much easier!
Exploring the Extras
Game-creators Play'n GO have sprinkled this sweet offering, the Honey Rush 100 slot, with an array of exciting extras that promise to keep you hooked. Let's take a closer look:
Cluster Pays: This game is about staying close and huddled. Scoop yourself a win each time you spin at least five matching symbols into a tight little group. Symbols clinch connection both horizontally and vertically, not diagonally, though. Remember, size does matter when it comes to clusters—the larger ones bring in the bigger bounties!

Cascading Reels: Score one for winning clusters as they evaporate right off the grid, making room for fresh ones dripping from above like nectar from honeycombs. These newborn clusters have every potential to form brand-new wins that, in turn, trigger cascading replacements. This chain keeps rolling until you hit a spin with no lucky clusters.

Rush Meter: Look to the right of your grid, and you'll see your dedicated meter that fills up drip by drip with each winning symbol falling into place. This meter levels up with every accomplishment:

Drone Colony (30 symbols): This bonus buzz leads to at least seven symbols flocking together on the grid, securing you a guaranteed win.
Worker Colony (60 symbols): Boost that cluster to between 10 and 15 members, and you're looking at a bigger scoop.
Queen Colony (90 symbols): The ultimate colony swarm swells to anything between 20 and 37! Add them to your grid, and you're grinning at an epic win.

Overcharge Meter: When your Rush Meter is flush with more than 90 symbols, it morphs into an Overcharge Meter. This intuitive tool transforms your central symbol till it takes on its most valuable form—the diamond. Cash in all the unused symbols in the meter for an extra +3 multiplier bouncing up your total win.

Sticky Wilds: Keep an eye out for sticky wild moments via honey pot symbols substituting any other icon on the grid. Sticky Wilds grace your gameplay randomly during cascading reels and cling onto the board until they're part of a profitable cluster. Brush against the bottom row, and they'll drip their way down into the honey pot multiplier enhancer below, which increases every win by +1. The Workers Colony or Queen Colony stages see it burgeon to +2 or +3 boosts, respectively.
Tapping into Mobile Gaming
Good news, gamers, Honey Rush 100 isn't just tied to your desktop. It's designed to adapt and mold itself to any device - smartphone, tablet, and of course, your good old computer. Regardless of varying screen sizes or orientations, be assured of a seamless gaming experience that doesn't compromise on fun.
So, wherever you embark on your sweet-filled exploits: at home on your laptop or out and about on your phone, the honey-drenched rewards of Honey Rush 100 are never more than a tap away.
Let's Get Hands-On with a Free Demo!
Still, trying to decide whether to bet real money? Don't sweat it! Why not first romance Honey Rush 100 through its free demo version here on our website?
With gameplay identical to its real-money counterpart (you play with virtual credits instead of cash), the demo offers you a no-strings-attached taster. It's an excellent avenue for getting the hang of the rules, bonus features, and payout rhythm without dipping into your budget. Are you lucky enough to switch gears and play for actual money? Easy peasy! Flip over to the real-money mode whenever you're raring to go.
Closing Thoughts
To put a lid on it, Honey Rush 100 delivers exhilarating gameplay wrapped up in a captivating grid slot game brimming with opportunities for quenching wins. Its standout feature is an innovative hexagonal grid waiting for you to clear symbol clusters – activate cascades and supercharge that Rush Meter! This meter unlocks various 'Colony' features, crafting large clusters while powering up the central symbol – oh, and let's not forget those sticky wilds jackpotting your global multiplier reserves!
Tagged as high volatility with an impressive RTP value of 96.20%, Honey Rush 100 holds tons of potential for season-defining payouts if luck swings your way! Admire its highly immersive aesthetics down to beautiful animations that pull you into sweet, nectary landscapes buzzing with industrious bees.
Brought to us by Play'n GO—a trailblazer in the online casino sphere—Honey Rush 100 is a worthy sequel to its original, just as beloved game. So, if you crave a vibrant gambling ride doused in sugary motifs (and rewards!), don't think twice about trying Honey Rush 100 – it's unbelievably good!
Honey Rush 100 FAQ
What is the concept behind Honey Rush 100?
Honey Rush 100 is a captivating online slot game that transports you to a vibrant bee colony. The game embraces an enchanting honey and bees theme crafted with exceptional design details and animations. By playing, you get the chance to rake in some sweet rewards!
How does Honey Rush 100's payout structure work?
Unlike traditional slots, Honey Rush 100 follows a 'cluster pays' structure. For a win, you must score at least five matching symbols located vertically or horizontally next to one another. No diagonals count here, so be sure to plan your moves strategically!
What are some unique features of Honey Rush 100?
The game stands out with its exciting bonus features such as Cluster Pays, Cascading Reels, and special meters like the Rush Meter and Overcharge Meter. Moreover, it also includes Sticky Wilds, which can significantly increase your winnings.
Can I play Honey Rush 100 on my mobile device?
Yes, indeed! Honey Rush 100 adapts seamlessly to your desktop computer, tablet, or smartphone. This flexibility ensures a smooth gaming experience devoid of fun compromise.
Can I try out Honey Rush 100 without staking real money?
Absolutely! Our website offers a free demo version of Honey Rush 100, where you can play with virtual credits instead of cash. You'll still experience identical gameplay as the real-money version - enabling you to familiarize yourself with all the features before betting any real money.
Are there different levels in Honey Rush 100's gameplay?
Dealing with the bonus features of this game takes you through three different stages: Drone Colony (30 symbols), Worker Colony (60 symbols), and Queen Colony (90 symbols). Each level secures higher wins by creating increasingly larger clusters of symbols on your grid.
What does high volatility in Honey Rush 100 mean for players?
High volatility indicates that while wins might not occur very often, they tend to be substantial when they do hit. Hence, Honey Rush 100 can offer massive payouts and longer stretches without a significant win.
This Honey Rush 100 review was authored by W.Bergstrom | Last updated on 19 August 2023.