Play Rascal Riches by Play'n GO for Free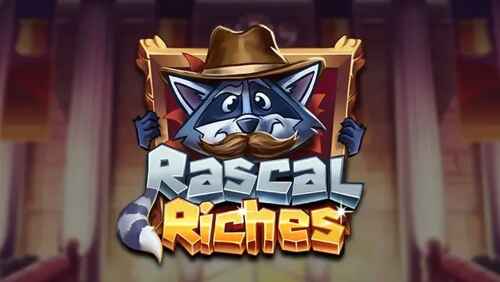 RTP

96.0%
Volatility

Mid/High
Provider:

Play'n GO

Rating:

3.8 / 5

Reels:

5

Paylines:

243 - 3,888

Minimum bet:

0.10

Maximum bet:

100.00

Maximum win:

9,000x

Released:

22 June 2023
Rascal Riches
Get a broad grin and hold on tight - it's time to hop aboard the whirlwind journey that is Rascal Riches by Play'n GO. This plucky video slot game packs punch, featuring a daring trio of raccoons on a tireless quest toward the Golden Trashcan; sounds nutty, right? However, this isn't just any scrap of garbage but a powerful artifact that could lead you to mega cash-outs. Now, buckle up as we embark on an in-depth rundown of everything Rascal Riches offers, from its captivating theme and bedazzling graphics to its RTP and volatility.
Rascal Riches - base game

Rascal Riches - free spins awarded

Rascal Riches - Free Spins round
Play Rascal Riches at Licensed Online Casinos
GreenSpin Casino

100 Free Spins on Game of the Week

Casino-X

200% up to €50 + 200 extra spins

JoyCasino

150% up to €300 and up to 200 extra spins

SlotJoint Casino

200% up to €40

Gslot Casino

100% up to €100 and 100 extra spins

Bitstarz Casino

100% up to €100 and up to 180 extra spins
Rascal Riches Review
Theme and Graphics: Daredevil Racoon Fun
Strap in for a 5-reel, 3-row madcap rollercoaster packed with an unbelievable 243 winning ways just baselining. Feel ready to have your socks knocked off at the heist-inspired animal-themed visuals inspired by your favorite crime cartoons. Our three raccoon bandits are armed with nifty equipment to power their Golden Trashcan hunt, creating incredible action right before your eyes! You're guaranteed eye-candy galore with lively animation and immersive sound effects while symbols run the gamut from card royals through '10' to 'A,' plus our sneaky raccoons and their mecha-toys.
Ever heard of Symbol Splitting? Don't worry if you haven't, because it will blow your slots-loving mind! Jump from 243 ways to 3,888 winning combinations thanks to this randomly activated feature during any spin. This slash-and-win trick splits apart symbols into two or three mini-versions giving them extra oomph and boosting lucrative combos.
Also, keep tabs on our mystical wild symbol: The Golden Trashcan, which possesses magical substitution powers! Flicking its wand, it can become any symbol barring the scatter – picture that as Rascal Riches' logo.
RTP and Volatility: High Risk = High Reward
With an advantageous RTP clocking in at 96.00%, Rascal Riches lets you call the shots when expecting those dollars back into your pocket over time. But remember to strap in for high volatility rollercoaster - where payout size and frequency can toss you about with giddy ups and downs like an escaped kangaroo! Meaning you may have lean patches before hitting jackpot glory. Still, it's all worth it when you get the smell of seriously bulky wins—upwards of 9,000x times your punt—on a spin.
Betting and Payouts: Big Spends, Bigger Wins
Perfectly configured with 5-reels and 3-rows, Rascal Riches offers an enticing prospect - up to 243 ways to win in its base game. Take your pick and place bets ranging from 0.10 to a daring 100 per spin to suit your moods and pockets. Remember though, high volatility means getting comfy with potentially long lulls between genuinely epic wins. Let's not forget its RTP stands at an impressive 96.0%, an encouraging notch above the industry average – in other words, space for rewarding returns.
There are ten standard symbols divided into two—low and high-paying batches. At the lower end, we have shiny card deck suits, while at the upper echelon stand gimmick-laden raccoon gadgets like the magnet through rocket, with the last offering dynamite of 10x your bet if you land 5 (go grab it!).
On top of these lay two special symbols—the Wild symbol (Golden Trashcan), standing tall, substituting any symbol (barring scatter). In contrast, a Scatter symbol uses the Rascal Riches logo, unleashing Free Spin features!
Features and Bonuses: More Fun, More Money
Packed to the brim with innovative features and irresistible bonuses, Rascal Riches boosts your gaming thrills and fattens your wallets! First up is Splitting Symbols—a feature that randomly wakes up during normal or free spins mode. Once alive, it splits one or more reel symbols into identical twins or triplets—broadening your win path to a staggering 3,888 ways.
Next comes Free Spins triggered by landing three+ scatter symbols, sending you spinning TEN times for free with an option to trigger more during free spins—and adding icing on the cake—an escalating multiplier starting at 1x escalating by every winning whirl up to dizzying heights of 10x!
The third cherry atop our riches pile is the Rascal Challenge brought alive by banking five wilds during free spins play—transporting onto a new screen featuring three raccoons holding different ingenious tools—you choose one, unlocking either a crunchy cash amount or bonus free spin accompanied by the guaranteed win.
Mobile Compatibility: Play Anywhere, Anytime
The beauty of Rascal Riches lies in its full-throttle mobile compatibility! So whether you're cozying up with your tablet or catching some slot magic on your smartphone during a quiet lunch break—you've got this game right at your fingertips. PC or laptop? Rascal Riches is down for that too!
Free Demo: No Risk, Just Fun
Still, sitting on the fence mulling over risking some cash on Rascal Riches? How about taking it for a test drive with zilch risk linked first. Take advantage of the free demo version Play'n GO generously dishes out on their site; enjoy real gaming feels with virtual credits sans risking a dime.
Thanks to this demo, experience every thrilling twist and feature boost this slot offers in its real-cash version. It lets you tweak bet sizes and autoplay settings to suit your style.
Play purely for fun or sharpen your strategies ahead of real-money play; either way, it's a riot of cartoon charm no slots enthusiast should miss!
Conclusion: It's Time To Let Some Rascals Out
With an irresistible charm oscillating between delight and just a pinch of frustration, Rascal Riches shifts gears smoothly throughout gameplay. This slot is a veritable treat for those with a soft spot for quirky anthropomorphic animal-themed slots. Yes, they are raccoons, and while not an everyday mascot for many slots, they definitely leave their distinctive paw prints all over this game.
Breaching beyond the 'domesticated pet or mighty jungle beast' stereotype in slot games, Rascal Riches delightfully salutes the underrepresented urban misfit creatures like our titular raccoons. These characters may not qualify for your "pet them wishlist," but their elusive wild allure will captivate you.
Nothing about Rascal Riches screams feral threat; on the contrary, it's a delightful playground inhabited by three lovable rogues with a heart of gold concealed beneath their high-energy antics. The game persistently dials up the 'unabashed fun' quotient from the moment its eye-candy opening animation bursts onto your screen until triggering bonuses through a Wild stack of roguish raccoons.
If you're hunting for a visual treat loaded with fluffy lawbreakers and generous financial returns – well, my friend, you're in the right slot! It wouldn't be called Rascal Riches if it didn't have a juicy top potential win soaring as high as 9,000x your bet.
You might initially feel thrown off, thinking there's little meat on the bone here. But trust me when I say this game can spin wins out of thin air by stacking up winning ways and generously sprinkling multipliers. Even its most minor flashy feature—the Mystery Symbol—is better than getting caught in some naughty critter's spray!
In sum, Rascal Riches bestows an enticing gaming experience, albeit teasingly chasing its own tail at times. Despite tiny hints of age etched onto the interface, there's undoubtedly more to this slot than meets the eye—hidden beneath those seemingly aimless loops lies quite an enticing sting in terms of solid entertainment and tempting windfalls. Buckle up for this cute-criminal-loaded joy ride because when our rascally raccoons get cracking—you are definitely in for some serious thrills!
Rascal Riches FAQ
What's the RTP of the Rascal Riches slot game?
Rascal Riches has a strong Return to Player (RTP) rate clocking in at approximately 96.00%. With that said, remember to stay buckled in for its high volatility nature, where you might face some light-winning streaks before hitting the big time.
What's the Symbol Splitting feature in Rascal Riches?
The Symbol Splitting feature is like adding another shot of adrenaline to your slot experience! This randomly activated feature splits apart symbols into mini-versions, boosting your winning combinations from 243 ways to a stunning 3,888 combinations. Talk about a win-win.
Can I play Rascal Riches on mobile?
Absolutely! Rascal Riches is ready to rock and roll on all your devices—whether tucked in with your tablet or sneaking in a quick game on your smartphone, this game is compatible with your lifestyle.
What are the bonus features in Rascal Riches?
Rascal Riches loves shaking things up with innovative bonuses like the Splitting Symbols feature and the Free Spins bonus, which can be triggered by landing three or more scatter symbols. You'll also get access to the unique Rascal Challenge activated when you score five wilds during free spins play!
Is there a demo version for Rascal Riches available?
Yes! If you want to try out none other than our mischievous raccoon trio without risking actual money, Play'n GO offers a free demo version on their site.
What can trigger the Free Spins in this game?
Landing three or more scatter symbols anywhere across the reels triggers our fabulous free spins mode – and we guarantee these freebies aren't just pocket change - they can multiply winnings substantially!
What is High Volatility, and how does it affect my gameplay in Rascal Riches?
High Volatility refers to larger yet less frequent payouts over time – like opposites poles of magnets attracting each other only occasionally but with vital energy.
So though you'll possibly experience periods without wins (a.k.a lean patches), the wait will be worth it when lady luck rewardingly says, "Howdy!"
This Rascal Riches review was authored by W.Bergstrom | Last updated on 30 June 2023.