Play Merlin: Journey of Flame by Play'n GO for Free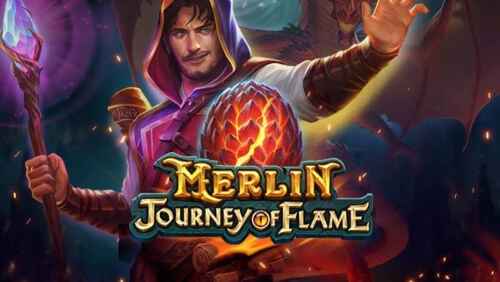 RTP

96.28%
Volatility

High
Provider:

Play'n GO

Rating:

4.03 / 5

Reels:

5

Paylines:

10

Minimum bet:

0.10

Maximum bet:

100.00

Maximum win:

7,500x

Released:

13 July 2023
Merlin: Journey of Flame
Roll up, roll up, folks! Let's delve into the mystical realms of 'Merlin: Journey of Flame,' a video slot extravaganza from the wizards at Play'n GO. It's an enchanting escapade with our favorite young sorcerer Merlin, who happens upon a rare dragon's egg in a soggy, swamp-ridden locale and is hellbent on conjuring it to life. The visuals are eyeball-popping impressive - we're talking premium quality animations that effortlessly inject life into this fantasy adventure.
Merlin: Journey of Flame - base game

Merlin: Journey of Flame - gamble feature

Merlin: Journey of Flame - Free Spins round
Play Merlin: Journey of Flame at Licensed Online Casinos
Gslot Casino

100% up to €100 and 100 extra spins

Vulkan Vegas Casino

100% up to €300 and 25 extra spins

Casino-X

200% up to €50 + 200 extra spins

Trada Casino

100% up to €100 and 50 free spins

GreenSpin Casino

100 Free Spins on Game of the Week

Emojino Casino

100% up to €250
Merlin: Journey of Flame Review
Theme and Graphics
Reel images include our man Merlin, his trusty staff - no hired help, but his magical wooden mate - his ultra-secret potion ingredients, his spell book with annals of sorcery beyond belief, and four mysteriously colored runes. Wilder than a rodeo bull on the hot sauce, the coveted dragon egg swaps out for any symbol barring the scatter that features as the hatching whelp. The latter will crack open your free spins feature for you! Now toss into the mix an expanding symbol so unique it can drape over the entire reel in free-spinning action — chances of pocketing some serious coin get bumped up whoppingly.
RTP and Volatility
Now here's your crucial data, folks. Merlin: Journey of Flame sports an RTP (Return to Player for those not fluent in gambler's logo) punching in at a respectable 96.28% - ideal if you're hoping for an excellent steady return on your wagers long-term.
And be prepared to sit tight because this game also flaunts high volatility; a slower pace but potentially stouter payouts are its game; think tortoise rather than a hare! A perfect choice for thrill-chasers eager to take risks in exchange for possible ginormous payoffs. But bear in mind, slow and steady wins the race here...change doesn't happen overnight...and other suitable clichés about waiting for good things to come!
The Wagering Wonders
In 'Merlin: Journey of Flame,' there's a 5-reel, 3-row game grid where you're working with ten fixed paylines. With the option to play from the humblest amounts of 0.10 right up to the high-roller highs of a whopping 100 coins per spin, this game caters to all!
The keyword here is volatility, and we're talking Mount Everest; huge winning potential lurking beyond lengthy dry spells - sound like a rollercoaster? That's because it is! It could be just your cuppa tea if you've got an adventurous spirit that thrives on some calculated risk!
You're kicking things off from the leftmost part of your reels and aiming for matches on adjacent ones -- simple stuff, right? But hold on, the Expanding Symbol doesn't play by these rules, but we'll fly into those details in a bit.
We want to highlight our paytable's humble beginnings, where you'll find beautifully inscribed runic stones glowing green, icy blue, ravishing red, outstandingly orange, and boldly yellow. Ascending our symbol hierarchy comes a mystical bottle concoction, an ancient spell book(likely crammed with secrets!), a magical staff (no wizardry is complete without one!), and finally, our leading man, Merlin himself, presiding as prime premium symbols.
Land five matching symbols of the low-paying group in a row. Expect winnings ranging from 10 to a respectable 12.5 times your bet! Getting luckier by landing five identical premium higher-value symbols dramatically ups the payout potential between 50 and 500 times your original stake. We told you this was getting interesting!
But now -- let's crank this excitement up to eleven! Along prances our elusive sixth reel. Land six match-ups using low-pay symbols and watch as rewarding windfalls from 15 to 20 times your bet rain down upon you. Get lucky enough to land six high-pay symbols in line? Now that's the money shot – giving you a reason to celebrate hauls multiplying your wager between glorious heights of 100 through to a show-stopping 750 times over!
Feature Magic & Bonus Bonanza
Dare you to brave the mighty dragon's lair? Roam where these mythical creatures sleep and discover what magic lies within!
Magic Runes
Once that enchanting Book of Spells creaks open, it becomes a game of matching. With three or more of those dazzlingly colored Rune symbols on your reels, expect celebratory fanfare as prizes start dropping! Merlin doesn't strut around in wizard robes for anything – he represents an all-important high-paying character. The fabled Dragon Egg acts as your wildcard while its freshly cracked version arrives donned as your ready-to-hatch scatter symbol.
Free Spins
Merlin rollicking in three or more scatters (that adorable Hatched Dragon Egg) brings up to eight rip-roaring free spins onto your playing field. And wait - a sixth reel explodes out of nowhere, ensuring even more fantastical fun!
Expanding Symbols
Before setting off the sparklers with free spin commencement, one Special Expanding Symbol bursts into play, drawn randomly from the game's deal. On snatching themselves a prime spot in a winning set-up, this chosen symbol will inflate like a balloon across the grid!
For activation of this sizzling feature, lock eyes with Merlin, his trusty Staff, Potion mix, or perhaps the mysterious Spell Book appearing on at least two reels if they're classed as high-payers; for our nimble rainbow-colored Rune symbols blinking into action across at least three reels is mandatory.
The Gamble Spell
When Merlin reels in wins tipping less than 2,500 coins – it's gamble time! Choosing correctly from two color alternatives during an enthralling dice-roll challenge can potentially double his winnings!
But caution, friends! Magical academia reminds us every spell carries an inherent risk – use too hastily, and the remaining coin count might plummet disastrously. Usage cap officiates at five consecutive attempts, and max winnings halt once they hit 2,500 coins. Wisely wield magical prowess to secure well-deserved riches without leaning too heavily on sorcery!
Magic in Your Pocket
Long commutes are deadly dull, suitable? A mobile-friendly game can save the day! Let's talk 'Merlin: Journey of Flame'; it's a video slot game you can cozy up with on any device. Whether rocking a smartphone or tablet or keeping it classic with desktop play, you're good to go as long as your Wi-Fi's not having a meltdown. This game is digital yoga, bending and stretching itself perfectly to accommodate any screen size or resolution. No squinting to catch those stunning animations - it's all there in perfect detail!
Try Before You Buy
I wouldn't say I like splashing out the dosh just yet. As luck would have it, we've got a non-risk version of Merlin: Journey of Flame that doesn't cost you a dime here on our site! You'll be playing for laughs rather than payout with virtual money – no fresh! Take this cheeky teaser for a spin and get fully familiarized without risk to your bankroll.
The Final Reel...
We held nothing back from taking Merlin: Journey of Flame for its test run and were pretty stoked with the results! Play'n GO has added another winner to their much-loved Merlin franchise – highly volatile but intensely engaging gameplay topped off with sleek RPG-style graphics and atmospheric sound-work that'll suck you into Merlin's world.
But every coin has two sides. Some players may find this theme too gloomy or too 'been there done that' given how many wizard-magic-based slots are batting around out there already.
Only some slots suit every type of player. If getting tangled up in bonus rounds is your jam, or if innovative special symbols tickle your fancy, this might leave you wanting more variety. As a high-volatility ride, 'Merlin: Journey of Flame' can be heavy on the wallet, so inexperienced rollers, beware!
Though, 'Merlin: Journey of Flame' strikes some severe heat as an absorbing slot adventure worth giving a bash. Its magic-dragon theme brings something unique that fans of prior Play'n GO titles and genre newcomers should enjoy. Go ahead and warm up without parting pennies using our free demo version. Then, when ready, you're welcome to step up to spinning for some real rewards right here at our site, where we host more quality games from Play'n GO plus stashes from other ace providers!
Merlin: Journey of Flame FAQ
What can I expect from the symbols of Merlin: Journey of Flame?
Merlin: Journey of Flame has a variety of symbols, including Merlin himself, a staff, potion ingredients, spell books, and colored runes as reel images. The Dragon Egg functions as your wild card and can swap out for any symbol except the scatter symbol.
What is the RTP and volatility like in the game?
The game spots a Return to Player (RTP) rate of 96.28%, indicating an excellent chance for steady returns long-term. It also has high volatility, which could mean slower but potentially more significant payouts.
How does betting work in this game?
You play on a 5-reel, 3-row grid with ten fixed paylines. You have flexibility with bet amounts, from 0.10 coins up to 100 coins per spin.
What are some interesting features of the symbols in this game?
The game's free spins feature further heats up with unique expanding symbols which cover an entire reel during free spins. Landing five matching symbols begets anywhere from 10 to 12.5 times your stake depending upon whether you've landed lower-value or premium characters.
What type of bonuses can I look forward to?
Merlin: Journey of Flame offers Free Spins, activated by landing three or more scatter symbols (Hatched Dragon Egg) on your reels, getting you up to eight free spins and introducing the sixth reel for extra fun! Also, prepare for expanding symbols that dramatically increase wins and chances at cashing in big!
Is there a gambling feature in Merlin: Journey of Flame?
Yes! The Gamble Spell activates when players haul in wins less than 2,500 coins; choosing correctly between two colors get another chance to double their winnings.
Can I play remotely on my smartphone or tablet?
Absolutely! Merlin: Journey family is fully mobile-friendly; it easily adapts perfectly to any screen size/resolution ensuring great animations and gameplay quality irrespective of where you play!
Is there an option for me to try before I start betting money?
Yes! Our site offers a non-risk version where you can play with virtual money just for kicks!
Who will likely enjoy playing 'Merlin: Journey of Flame'?
Anyone who enjoys high volatility games that promise high payout potentials but expect patient gameplay might find Merlin: Journey of Flame suitable; if you cherish magic-dragon themes coupled with innovative bonus rounds/special symbols, you would love playing.
Remember:'Merlin: Journey of Flame' may be demanding on wallets due to its high-volatility nature!"
This Merlin: Journey of Flame review was authored by W.Bergstrom | Last updated on 23 July 2023.