Play Sweet Alchemy 100 by Play'n GO for Free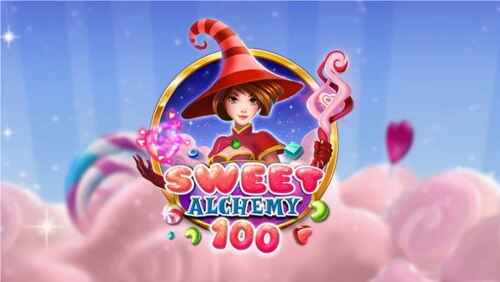 RTP

96.20%
Volatility

High
Provider:

Play'n GO

Reels:

5

Paylines:

Cluster pays

Minimum bet:

0.20

Maximum bet:

100.00

Maximum win:

15,000x

Released:

27 July 2023
Sweet Alchemy 100
Step into Sweet Alchemy 100's candy-filled wonderland, a slot game with vibrant graphics, catchy sound effects, and magical gameplay! Delight in unique features like witch-casting powers & challenging cluster payouts on a shimmering 5x5 grid. Although the high volatility setup can be unpredictable, the RTP of 96.20% reassures plenty of rewarding surprises, including hefty wins. It doesn't skimp on accessibility either - play via mobile or desktop and try it for free before splurging real cash.
Discover a world brimming with sugary delights and rich potential winnings! Go ahead…dare yourself to keep reading the full review!
Sweet Alchemy 100 - base game

Sweet Alchemy 100 - pick a witch

Sweet Alchemy 100 - Free Spins round
Play Sweet Alchemy 100 at Licensed Online Casinos
Emojino Casino

100% up to €250

GreenSpin Casino

100 Free Spins on Game of the Week

JoyCasino

150% up to €300 and up to 200 extra spins

Vulkan Vegas Casino

100% up to €300 and 25 extra spins

PlayFrank Casino

100% up to €100 + 50 Bonus Spins

CasinoBuck

100% up to €100 and 100 extra spins
Sweet Alchemy 100 Review
Theme and Graphics - A Sugar-Coated Wonderland!
Oh boy! Once you step into the fantastical world of Sweet Alchemy 100, leaving would be harder than quitting sugar cold turkey. The game is infused with all things whimsy, presenting a palate-pleasing kaleidoscope of candy amidst a backdrop hinting at spells and bewitchments. Picture this - a dazzling 5x5 grid overflowing with an assortment of delectable imagery, including heart-shaped candies, sugar cubes that look almost too perfect to consume, multi-hued beans, and drool-worthy donuts; you get the drift. Complementing this visual extravaganza are an array of fluid animations set amidst vibrant graphics and adorable sound effects that add another layer to your sensory pleasure.
Let's remember our enchanting protagonists - Candy and her sisters Cherry, Berry & Apple; our lovely trio of witches equipped to work their charm (read: magic) & guide you toward crafting winning moves on the grid.
RTP and Volatility - Come for the Candy, Stay for the Riches
If you're wondering if this magical ride comes packed with fulfilling rewards, you're spot on! Boasting an RTP (return to player) hovering at 96.20%, Sweet Alchemy 100 triumphs over your average online slot games by nailing those extra few percentage points. Its distinct high volatility promises hefty wins, but let's remember that lady luck has her whims too - though rewards can be substantial, they can also be less frequent than lower volatility games offer.
Betting and Payouts - Candyland Rulebook
The cluster pays function gets you a win when you land four symbols of the same kind in a cluster. There's ample room to move with bet ranges from 0.20 all the way up to a whopping 100 credits per spin.
There are eight regular symbols to match in the scramble for sugar-coated wins. Four of these have lower pay grades (the donut, heart, bean, and sugar cube), while the other four (the nut, heart, star, and pastille) rake in higher points. Now here's where it gets even more interesting- spotting the star symbol could secure up to 30x your initial bet if you land a cluster featuring 16 or more of them!
The reels also feature Cherry, Berry, and Apple, our delightful wild symbols trio who can play stand-ins for any other symbol. They offer different rewards and effects to shake up your grid game.
Every winning cluster notches up your multiplier by one during each spin. Even though this resets at the end of every round, triggering the free spins feature helps bypass the rules allowing for an increased payday! A completely clear board crowns you with a coveted clear grid prize – cut through that candy maze, and you bag yourself 50 times your bet!
Features and Bonuses – Witchy Rewards
Where's the fun without some magic? Sweet Alchemy 100 amps its enchantments with features that make gameplay not just captivating but lucrative as well. Enter Witch Powers – triggered during non-winning rounds giving your game experience some mystic boosts:
Cherry (our red witch casting scarlet spells) waves her wand over one low-paying symbol, morphing it completely into another.
Blue witch Berry dabbles in water-based magic, adding one or two random symbols to your grid; leading you closer to triggering free spins
Earth Witch Apple flaunts emerald enchantments by removing two types of lower-paying symbols from your lineup.
Another intriguing offering is the trinity feature – activated when racking up high-pay wins flooding your trinity meter. Landed at least 38 tokens in total? Brace yourself for this surprise: one round on the house where witch powers are whipped out sequentially!
Upon clearing out all tokens, your trinity meter springs out an invigorating free-spin feature. Got to pick one witch, though, as this will determine what bonus will be tossed into play with each non-winning spin:
Cherry conjures up five free spins paired with her magical power.
Berry will secure seven complimentary spins suffused with her symbol addition trickery.
Opting for Apple dishes out nine free spins filled with Apple-flavored removal antics.
In true rebellious fashion, during free spins rounds, that lousy boy win-multiplier ceases to reset between turns - skyrocketing up to 100x! The clear-grid-prize remains in play, too, during this flurry.
Ride aboard Sweet Alchemy 100's magic carpet through candy skies dotted with big wins! Its charismatic mix of clustered payouts and cascading reels beckon gamers that savor such unique gaming mechanisms. So what're you waiting for? Time to sprinkle some fun onto those humdrum days—get spinning!
Mobile Compatibility - Candy On-the-Go
Sweet Alchemy 100 doesn't stop at just being a non-stop roller-coaster ride of a game; it also brings you all the fun, no matter where you are. That's right! This sugary delight is fully mobile-compatible. Treat yourself to a sugar rush whether you are on an Android or iOS phone, tablet, or even if you prefer the big-old trusty desktop computers! The game's adaptive design respects your device's screen size and orientation, promising high-quality, immersive gameplay across devices.
Out and about? Don't worry about fiddly tiny controls. Sweet Alchemy 100 boasts a user-friendly interface with strikingly distinct buttons and menus. Bet adjustments, previewing paytables, or firing up the autoplay function are now hassle-free!
Free Demo - Try Before You Buy
Does giving Sweet Alchemy 100 a test drive before committing hard-earned cash sound tempting? We've got that covered! Our platform hosts a free demo version of the game. This lets you test the water with virtual credits while experiencing all in-game features without losing real cash.
It's perfect for acquainting myself with the mechanics of symbol interactions and payouts. Plus, it lets me pivot strategies on the fly and catch a glimpse at how often that bonus feature hit does come around!
Wrap Up
Abracadabra! My time playing Sweet Alchemy 100 was magical - packed with candy-coated excitement & genuinely enjoyable grid action riddled with cluster pays & cascading symbols. Witches blessing my spins, leading to winning streaks, kept my adrenaline pumping. The 'Trinity feature' and 'Free Spins round' proved super rewarding, especially when I cleared that grid to have that coveted 50x multiplier sprinkle its magic onto my winnings!
Falling in love with the game was easy – it is a whimsical theme, and vibrant settings bolstered by peppy music created an irresistibly enchanting gaming atmosphere. However, approach cautiously; because of its high volatility, Sweet Alchemy 100 can be pretty unpredictable – risk is at the core of slot games, after all! So remember: set self-imposed betting limits, as dry spells can occur before hitting those sweet spots.
Sweet Alchemy 100 unquestionably adds sparkles to Play'n GO's innovative collection of online slots. With newer features and even more characters in play than its original title, it is an upgraded sequel full of fun-filled action! If a magical sugar-spun adventure sits well with your gaming cravings - this one's unmissable!
Sweet Alchemy 100 FAQ
What's the betting range in Sweet Alchemy 100?
In Sweet Alchemy 100, you have a wide betting range stretching from as low as 0.20 to a robust 100 credits per spin.
Does Sweet Alchemy offer any special win features?
Yes, it does! The game includes Witch Powers and a trinity feature. Witch Powers are triggered during non-winning rounds, giving your game some exciting boosts like magically altering symbols and adding extra ones. The trinity feature prompts one free round where all Witch Powers are sequentially activated!
How does the free spins feature work in this game?
You can earn free spins when you fill up your trinity meter by scoring high-pay wins. However, note that you must pick one witch; she will determine what bonuses you get with each non-winning spin during the free rounds.
Can I try out Sweet Alchemy 100 for free before committing real money?
Absolutely! A free demo version of the game on our platform allows you to play using virtual credits without any real money loss.
Can I play Sweet Alchemy 100 on my mobile device?
Yes, indeed! Sweet Alchemy 100 is fully mobile-compatible and promises an immersive gaming experience regardless of whether you use an Android, iOS device, tablet, or desktop computer.
What's the volatility like in Sweet Alchemy 100?
The game has high volatility; hefty wins can be realized but may be less frequent than lower volatility games. Despite potential dry spells between winning clusters, bountiful rewards await with patience.
This Sweet Alchemy 100 review was authored by W.Bergstrom | Last updated on 31 July 2023.