Play Boat Bonanza Colossal Catch by Play'n GO for Free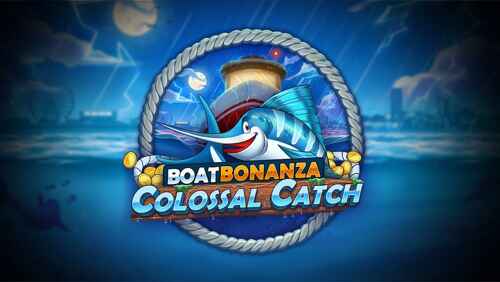 RTP

96.20%
Volatility

Medium
Provider:

Play'n GO

Rating:

3.87 / 5

Reels:

5

Paylines:

12

Minimum bet:

0.10

Maximum bet:

50.00

Maximum win:

3,000x

Released:

24 August 2023
Boat Bonanza Colossal Catch
Boat Bonanza Colossal Catch offers a vibrant maritime adventure with a coast backdrop, boats ready for fishing, and the deep blue sea. This slot game has medium volatility and an RTP of 96.20%. It allows you to place bets from a modest 0.10 credits to an ambitious 50 credits per spin across 12 fixed paylines.
Would you like to find more details about the gameplay or compare it with Boat Bonanza? Sail through our full review below or reel in a firsthand experience using our free demo! Dive into this unchartered water without any hits to your bankroll and decide if you want to cast your nets for true-blue exploration!
Boat Bonanza Colossal Catch - base game

Boat Bonanza Colossal Catch - the Free Spins round

Boat Bonanza Colossal Catch - the Catch feature
Play Boat Bonanza Colossal Catch at Licensed Online Casinos
CasinoBuck

100% up to €100 and 100 extra spins

Trada Casino

100% up to €100 and 50 free spins

PlayFrank Casino

100% up to €100 + 50 Bonus Spins

TrueFlip Casino

100% up to €250

Casino-X

200% up to €50 + 200 extra spins

GreenSpin Casino

100 Free Spins on Game of the Week
Boat Bonanza Colossal Catch Review
A Fresh Breath of Sea Air - Themes and Graphics
Deep-dive into a world of vibrant colors, where our inspirational backdrop to this escapade is a blissful day at the coast — two fishing boats ready to trawl the waters for some salty treasures. The reels, as clear as a quiet sea bay on a breezy afternoon, frame the deep blue of the ocean and a distant urban skyline.
In this grand adventure, you'll spin through card royals – diamonds, clubs, hearts, spades – taking up the lower ranks of pay values, all depicted in maritime fashion. Your higher-paying symbols include seagulls, harpoons, anchors, and our game logo. Special symbols lurk in these waters, too. Watch out for scatter compasses instant win fish symbols (featuring crabby crabs, starfish, octopuses, and sharks). Let's not leave out our swordfish playing an exclusive cameo during free spins.
This splashy visual scene is harmonized with an upbeat soundtrack that captures the lively ambiance of fishing expeditions.
RTP and Volatility
The Return to Player (RTP) value varies by market. Its default RTP clocks in at a decent 96.20%, but it can dip down to as low as 84.2% in some cases. Navigate smartly around these waters and check the RTP offered in your gaming market!
The game now falls into the medium volatility bracket with a 5 out of 10 rating. But be careful!
Placing Bets and Making Bank!
With 12 fixed paylines holding fast in these waters - players are afforded the flexibility to change coin values & bet levels suiting their voyage budgets. Each spin can go from costing a modest 0.10 credits to the ambitious high-roller level at 50 credits per spin.
A thoughtful paytable illustrates what each symbol combo would mean for your wallet based on your stake size. The payouts then multiply by your bet level, resulting in eventual winnings!
Boat Bonanza Colossal Catch doesn't hold back when adding variety to your reel-spinning adventure! 9 regular symbols are swimming around in its paytable seascape, each with a unique flavor to spice up your gameplay.
Setting sail in lower-value waters, we've got the familiar crew of card ranks (9 through Ace). They're as loyal as any old salts and can line your pockets with a handy 10x the bet windfall if you rope in five of the same symbols in a winning line.
Upping the ante, pull in premium rewards when you net the high-value symbols - an anchor, a spear gun, a surprisingly appealing can of worms, and a brave seagull. Hook five of these on a single line to reel in bountiful rewards between 50-200 times your bet!
Don't look for Wilds swirling in these reels; Boat Bonanza Colossal Catch decided to give them a miss. But don't let that disappointment sink your spirits, my friend. There's more treasure aboard this ship, with extra-special symbols ready to join forces and hook some impressive prizes just around the corner. Stay tuned!
Reeling in Excitement with Features and Bonuses
Arguably, the most eager fishers in this game would have to be our Fishing Boats, always bobbing up randomly above the reels, ready to net any Instant Win Fish symbols that land below them. Each fish reeled in carries unique values that seamlessly convert into instant cash prizes for you. With both boats coincidentally anchoring on the same reel, be prepared for the surge of excitement when they trigger the Colossal Catch feature. Watch in awe as they throw their vast nets, catching every Instant Win Fish symbol on the reels, adding their values directly to your total win!
The tide turns in your favor with the Free Spins round. Activated by landing three or more elusive Scatter symbols anywhere on your reels — get ready to reel in the good times with ten complimentary spins. Fear not; our trusty Fishing Boats stay on duty during these free spins, netting more Instant Win Fish symbols for extra rewards. To boost your exhilaration, if both fishing vessels land on the same reel during free spins, wave hello to another round of lucrative Colossal Catch features!
As we discuss arguably the most exhilarating part of this maritime adventure, your adrenaline levels will rise — the exclusive Colossal Catch Multiplier during free spins. Keep an eye out for a striking meter, appearing above your reels and incrementing every time one of our Fishing Boats successfully snares a Swordfish symbol. These rare creatures bring gifts beyond their weight in gold—multipliers and spare free spins! Securing up to a maximum of 10x multiplier and 20 free spins is possible through these elusive treasures underwater. However, if skill or fortune allows you to corner a Swordfish with both boats simultaneously — prepare for a downpour of riches with the colossal offering - Colossal Catch Jackpot, skyrocketing your winnings to an astronomic 3,000x your stake!
Seamless Fun Across All Devices
Boat Bonanza Colossal Catch casts a wide net to capture fun across all devices - your gaming thrills sail smoothly from desktops to small screens. Favored by a 5x4 reel layout and 12 paylines, this game adapts like an enthusiastic chameleon — flexing easily to fit different screen sizes and orientations.
Please don't worry- the high-seas adventure on your smartphone or tablet mirrors the vibrant graphics, engaging features, and exciting gameplay you'd expect on your desktop.
Get a Taste of Adventure with Free Demo
Fishing for some samples before going all in? Please take advantage of our free demo of Boat Bonanza Colossal Catch. This non-committal mode on our website mimics the real-money version down to a tee, except for real cash transforming into virtual credits. Test-drive the game's features, experience its volatility first-hand or observe the payout trends without dicing up your bankrolls.
The Verdict is Out!
Here we are, sounding our foghorn as we berth at the docks of Boat Bonanza Colossal Catch. Charting Play'n GO's course from their preceding launch, Boat Bonanza, we find ourselves in a peculiar spirit of déjà vu. There's a familiar air to the gameplay, echoing traces of other slots in the industry, like Big Time Gaming's Golden Catch or stirring memories of Fishin' Frenzy with its simplistic aura. However, the waters ahead seem murky when justifying a sequel to Boat Bonanza.
Oddly enough, Boat Bonanza Colossal Catch seems to take a step back in several ways compared to its forerunner. From its dove-like volatility that may not sit well with thrill-seeking punters to an unexpected dip in max win potential from 5,000x down to 3,000x. Long gone are the exhilarating respins features and a lucrative haul from Catch symbols – factors making this sailing venture seem lackluster.
But fear not! It's not all stormy seas ahead. Boat Bonanza Colossal Catch comes garbed in a bright, jolly outfit that paints the quintessential fishing slot landscape. The excitement over both boats docking on one reel conjures up quite a stir - triggering an exciting Colossal Catch only adds fuel to the fire. Innovative reels such as the collection bar feature might elicit grins from newbies with its promise of landing a fantastic x25 multiplier once you've hit a peak on the Colossal Catch.
Nonetheless, standing shoulder to shoulder with its predecessor, it wouldn't be an overkill to state that similarities outweigh the changes. In essence, Boat Bonanza Colossal Catch fails to accelerate beyond the tracks laid by Boat Bonanza — making it seem somewhat redundant in comparison.
Play'n GO is no small fish in the vast ocean of online gaming. Yet, Boat Bonanza Colossal Catch, with its complacency and diminishing charm, sounds alarm bells concerning their voyage into mediocrity.
Boat Bonanza Colossal Catch FAQ
What are the main rewards in Boat Bonanza Colossal Catch?
Nine regular symbols can yield various prizes. Card ranks (9 through Ace) can fetch up to 10 times your bet, while high-value symbols yield between 50 and 200 times your bet. Moreover, a Colossal Catch Jackpot can reward you with an incredible 3,000 times your stake.
Are special features available?
Yes, there's a range of unique features, including Free Spins, Instant Win Fish Symbols, and a series of collectibles like the Fishing Boats and Swordfish symbols, which give you opportunities for multiplied payouts and additional free spins.
What is the game's volatility?
Boat Bonanza Colossal Catch has a medium volatility rating of 5/10, although careful navigation is needed as its default Return to Player (RTP) value can sometimes dip as low as 84.2%.
Can I play this game on mobile devices?
Absolutely! The game is designed to be player-friendly across all devices, including desktops, smartphones, and tablets.
Yes! Players hesitant to dive into real money play can enjoy a free demo version first to familiarize themselves with the game.
Is there any exclusive feature in free spins mode?
Yes! During the Free Spins round, a meter incrementing every time a Fishing Boat successfully snares a Swordfish symbol. This results in exciting multipliers and spare free spins being rewarded.
This Boat Bonanza Colossal Catch review was authored by W.Bergstrom | Last updated on 26 August 2023.