Play Free Reelin' Joker 1000 by Play'n GO for Free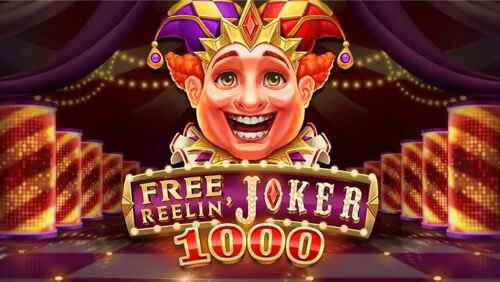 RTP

96.18%
Volatility

Medium
Provider:

Play'n GO

Rating:

3.23 / 5

Reels:

3

Paylines:

1

Minimum bet:

0.10

Maximum bet:

100.00

Maximum win:

200x per single spin

Released:

25 May 2023
Free Reelin' Joker 1000
Get ready for an exciting and captivating gaming experience with Free Reelin' Joker 1000, the much-anticipated follow-up to the widely successful original Free Reelin' Joker slot. Crafted by the well-known software provider Play'n GO, this unique slot game retains its predecessor's trademark expanding reels feature while adding a new twist with a free spin to the base game.
In this review, we'll delve into the theme, graphics, and sound along with the RTP and volatility of this dazzling addition to Play'n GO's already impressive roster of joker-themed slots.
Free Reelin' Joker 1000 base game

Free Reelin' Joker 1000: Chance Spin in progress

Free Reelin' Joker 1000: the Jocker landed

Free Reelin' Joker 1000: Expanding Reels feature

Free Reelin' Joker 1000 Big Win
Play Free Reelin' Joker 1000 at Licensed Online Casinos
GreenSpin Casino

100 Free Spins on Game of the Week

Emojino Casino

100% up to €250

JoyCasino

150% up to €300 and up to 200 extra spins

Bet It All Casino

100% up to €10

Stake7 Casino

100% up to €400

PlayFrank Casino

100% up to €100 + 50 Bonus Spins
Free Reelin' Joker 1000 Review
Theme, Graphics, and Sound
Free Reelin' Joker 1000 immerses you in an atmosphere filled with glitz and glamour as if you were stepping into a real-life circus or casino. The glittering reels stand out against a dreamy stage illuminated by sparkling lights, emanating a contagious exuberant energy. The golden-purple logo at the top gives it a classy touch – a nice contrast to the number-based symbols that replace the classic-style ones from its predecessor.
Regarding graphics, Play'n GO doesn't disappoint – the quality remains top-notch in this sequel. The mischievous Joker character is back with his signature antics and humor, livening up the gameplay even more. The game also boasts high-quality sound effects that enhance your gaming experience, making you feel like you're part of the action whether you're playing on your desktop or mobile device.
RTP and Volatility
Now let's get down to business: numbers! Free Reelin' Joker 1000 has a default RTP (Return to Player) of 96.18%, making it a solid choice for players seeking good potential returns on their bets. However, remember that this RTP can vary depending on which online casino you're playing at – it could go as low as 84.16%, so always check with your chosen casino beforehand.
As for the game's volatility, Free Reelin' Joker 1000 offers low to medium variance. While you might not encounter massive payouts, you can anticipate smaller, more frequent rewards that keep the game engaging and adrenaline-pumping. This balance of risk and reward makes it a perfect choice for players who revel in the thrill of chasing winning combinations but also appreciate some predictability.
Betting Options and Payouts
Free Reelin' Joker 1000 caters to all kinds of players, whether you're a casual gamer or a high roller. Adjust your bet using the + and - symbols surrounding the bet amount, tailoring it to your particular playing style. Wagering options range from as low as 10p/c up to £/€100 per spin, providing plenty of flexibility according to your preference and budget.
The winning symbols in Free Reelin' Joker 1000 work somewhat differently from traditional slot games. Instead of relying on classic symbols, this game uses numerical symbols (except for the Joker symbol) and blank spaces on its reels. For instance, in reel one, you can land numbers like 5, 2, 1, or 0; reel two features numbers such as 2, 1, or 0, while the final reel only has the number 0. These numbers form a unique payout structure that adds an exciting touch to the gameplay. This game's maximum win is 200x per single spin!
Special Features and Bonuses
Free Reelin' Joker 1000 boasts two special features that enhance gameplay and provide more opportunities for big wins:
Chance Spin: This feature is triggered during the base game when three '0' symbols land on the payline. The reels will spin backward once, giving you an extra opportunity to win.

Free Rollin' Bonus: The Free Rollin' Bonus comes into play when a Joker symbol appears on any reels along the payline. Landing a Joker will expand one reel to the left (for up to four reels). You can win up to 1,000 times your bet during this bonus feature.
These special features are engaging and add excitement and anticipation as you spin the reels for various winning combinations. The combination of new and returning features makes Free Reelin' Joker 1000 stand out, keeping players hooked with its dynamic gameplay.
Mobile Compatibility
Mobile compatibility is crucial for any game in today's fast-paced digital world. Free Reelin' Joker 1000 doesn't disappoint in this department, as Play'n GO has optimized the slot for seamless gameplay across various devices, including smartphones and tablets. Whether using an iOS or Android device, you can enjoy the same dazzling graphics, attractive features, and smooth performance on desktop platforms. This flexibility allows you to take the excitement of Free Reelin' Joker 1000 wherever you go.
Free Demo
Before investing your hard-earned money in any slot game, it's always a good idea to try it out risk-free. Fortunately, Free Reelin' Joker 1000 offers a free demo mode that allows you to explore the game's features and mechanics without wagering real cash. This option will enable you to acquaint yourself with the gameplay and gauge your preferences before committing to real-money bets.
Conclusion
Our experience with the Free Reelin' Joker 1000 slot captivated us with its enticing blend of visuals, sound effects, unique payout structure, and thrilling features. While some players prefer a higher volatility or slightly more complex gameplay, this slot strikes an excellent balance of entertainment and potential rewards.
Pros:
Stunning theme with high-quality graphics and sound
Unique-number-based payout system
Engaging special features and bonuses
Mobile compatibility for gaming on-the-go
Cons:
Low-to-medium volatility may not appeal to high-risk players
Lacks more complex bonus features found in some other slots
Play'n GO, the game developer responsible for Free Reelin' Joker 1000, deserves praise for consistently creating thrilling games that cater to various tastes within the online gaming community. Known for their diverse portfolio of innovative games featuring captivating storylines, stunning visuals, and engaging mechanics, Play'n GO has once again delivered a top-notch slot experience with Free Reelin' Joker 1000.
In conclusion, if you're seeking an entertaining and visually impressive game with a twist on traditional payouts and enjoyable bonus features, Free Reelin' Joker 1000 is worth exploring. Spin the reels, let the Joker work his magic, and leave it up to fate to decide your rewards and fortune!
Free Reelin' Joker 1000 FAQ
What is Free Reelin' Joker 1000?
Free Reelin' Joker 1000 is a follow-up to the original Free Reelin' Joker slot game developed by Play'n GO. This sequel offers an engaging 3-reel slot experience with unique numerical symbols and exciting bonus features such as Chance Spin and Free Rollin' Bonus.
What is the RTP of the Free Reelin' Joker 1000 slot?
The default RTP for this game is 96.18%. However, it can vary depending on which online casino you choose to play at, going as low as 84.16%. Always check the specific RTP with your chosen casino before playing.
How volatile is Free Reelin' Joker 1000?
The game features low-to-medium volatility, making it more suited to players who enjoy smaller yet frequent wins rather than sporadic large payouts.
Can I play Free Reelin' Joker 1000 on my mobile device?
Free Reelin' Joker 1000 has been optimized for mobile devices, allowing you to enjoy smooth gameplay on iOS and Android smartphones and tablets.
Is a free demo version of Free Reelin' Joker 1000 available?
A free demo version of the game can be found at various online casinos and gaming platforms that offer Play'n GO games. This allows you to test the game mechanics and features without wagering real money.
What are this game's maximum and minimum bets?
Players can place bets ranging from as low as 10p/c up to £/€100 per spin, accommodating varying budget levels and gaming preferences.
This Free Reelin' Joker 1000 review was authored by W.Bergstrom | Last updated on 27 May 2023.