Play Magic Hot by Wazdan for Free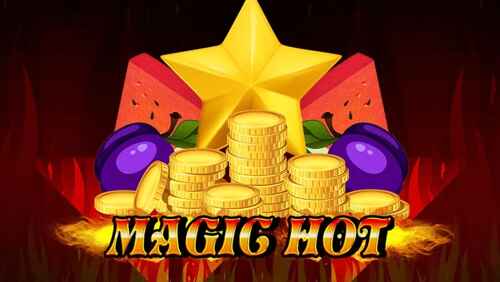 RTP

96.35%
Volatility

High
Game provider:

Wazdan

Rating:

3.78 / 5

Reels:

3

Paylines:

5

Minimum bet:

0.10

Maximum bet:

100.00

Maximum win:

1000x bet

Released:

July 2013
Features & Themes
Autoplay
Quick spin
Gamble
Magic Hot
Are you looking for that illusive vintage vibe? Stop searching and play the Magic Hot online slot! The essence of Magic Hot is a no-frills vintage fruit machine experience, as its simplicity and charm are a wonderful combination for those looking for retro-style games.
Magic Hot focuses on a simple and straightforward slot experience. Everything about Magic Hot pays homage to games that were popular in traditional land-based casinos, from the spins to the win animations to the music effects. To enhance the overall experience, use the large screen mode to enlarge the reels to fill the entire screen and immerse yourself in the mythical realm of Magic Hot.
Play Magic Hot at Licensed Online Casinos
Vulkan Vegas Casino

100% up to €300 and 25 extra spins

Tsars Casino

100% up to €300 and up to 100 extra spins

TrueFlip Casino

100% up to €250

Gslot Casino

100% up to €100 and 100 extra spins

CasinoBuck

100% up to €100 and 100 extra spins

Emojino Casino

100% up to €250
Magic Hot Review
Even though the casino games are getting better and better, there is still a huge demand for titles that replicate retro features that help us connect with our past - just look at the older consoles being made and sold to see that demand for nostalgia is on the rise.
Magic Hot transforms classic slot machines into a work of art! Many players appreciate the retro feel of traditional slots, and this 3-reel casino game will undoubtedly meet your expectations. Spin the Magic Hot reels to reveal cartoon-like retro symbols like delicious fruits - cherries, raspberries, strawberries, plums, pears and watermelons - as well as bell symbols, star symbols and seven symbols, and catch them on 5 paylines. The captivating theme and eye-catching, colorful graphics set Magic Hot apart from other classic slots. The flames blazing around the reels are sure to get you hot! But not as much as scoring a wall of sevens - it's the slot's highest paying symbol, so get ready for big wins!
Theme and Graphics
Wazdan creates the ideal retro mood with a tiny 3x3 matrix surrounded by blazing flames to emphasize how hot this title is. During your games, only nine symbols will appear, none of which have any special meaning other than bringing in money. This game has a lot of the old school, with cherries, raspberries, bells and triple 7s.
The glowing 7s are the tokens that help things heat up with their 100 credits when three of them come together on any of the activated paylines; this is the highest value symbol in the game, while all the others are well below the hundred mark. Apart from how authentic the idea is, we do not get a sense of how magical and hot this is supposed to be.
Although the images are not particularly moving, they have an illustrative aspect that reminds us of a cartoon. This is not a criticism, since it's refreshing to see an unedited game and not a pimped-out title that focuses solely on its visuals. Besides, the actual look is almost identical to that of an offline casino, letting you experience the casino atmosphere without physically being there.
Magic Hot RTP
The RTP of the game is 96.35%. This RTP is high compared to many slot machines. On average, online slots only have an RTP of 94% or 95%.
This means that over a long period of time, the slot pays out about 96% of all winnings to the players. This shows that the way the slot machine is designed makes it a bit easier for players to achieve winning combinations.
A high RTP does not mean that the slot machine pays out 96% of your bet on every spin. It does not work like that. If you lose €100 today, a large part of your €100 would go to other players who are lucky enough to hit the jackpot.
How to play Magic Hot
Before you start, you need to determine how many paylines you want to activate - many older titles leave them fixed if they fall below a certain value, but in this case you can reduce the number to just one if you wish.
In addition to this selection, there is the autoplay feature, which makes all the reels spin in a row and saves you from having to press the spin button. This option may seem worthless at first sight, but it provides a smoother and faster gameplay, so you will not get bored so quickly.
The spin widget, located in the center of the control panel, does not need any explanation; simply select it and the activity will start and the combos will appear. There is nothing more to say about it. Then there's the Max. Bet, which is a bit trickier than it seems, because it only sets your bet value, not the line amount.
When you select this option, some slot machines increase both amounts to their maximum value; however, Magic Hot only increases your bet, and the amount of your bet is determined by the number of paylines you have. If you play with only one, your bet will be 100 credits, with two it will be 50, with three it will be 30, and with four and five it will be only 20 coins. This is undoubtedly the hottest part of the game so far, and it's crucial for making the magic happen.
There are no unique features or extras, so all you can do is watch the jackpot amount in the left corner rise, and even that is not particularly high; at the time of this game it was just over €18.00, which is less than the minimum amount you can bet! However, it is known that the amount can go into the thousands of dollars, so you never know when you will find your luck.
Summary
Magic Hot by Wazdan is a good game, although not a very addictive one - it's not aimed at the general public, but rather serves as a niche activity or at best a filler title while you look for a game that suits you better.
It's entertaining, regardless of what you think of its low variety and low price, and that's all that matters.
Magic Hot FAQ
Can I play Magic Hot for free?
Yes, you can play the game for free via Wazdan games demo. You can also start this game through our website and play for fun. What we offer is the same as the demo of Wazdan. You can not make money with the demo slot, but you can see how the game works. On our website you can play this game without registration. You do not have to give us any personal or financial information to play for fun.
Should I download Magic Hot slot in order to play?
No, you do not need to download the Magic Hot game. The slot is a server-based game, so you can play it without downloading anything. You need to be connected to the Internet before you can play Magic Hot online, and you can play it through your browser. Slots that can be played with real money cannot be downloaded so that the game developers can protect the game from hacking or rooting.
Does Magic Hot slot have free spins?
No, Magic Hot Free Play does not have any free spins. The game is as classic as it gets, albeit with three rows. The online pokie has only five paylines, and you can only win if you wager real money.
Can I win real money when playing Magic Hot Slot?
Yes, you can win real money. You need to play Magic Hot for real money in order to win real money. To do so, choose from our list of safe casinos and register for an account. Next, add your payment method and make a deposit. After you make a deposit, you will have to prove your identity by presenting some documents. You can withdraw your winnings only after your identity has been verified.
This Magic Hot review was authored by W.Bergstrom | Last updated on 03 April 2022.