Play Razor Returns by Push Gaming for Free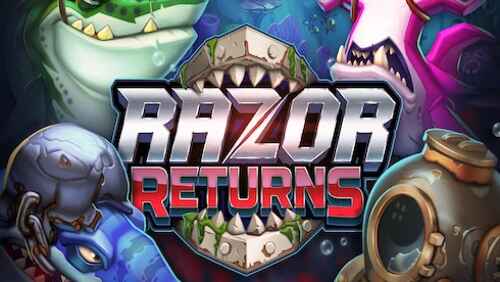 RTP

96.55%
Volatility

High
Provider:

Push Gaming

Rating:

4.98 / 5

Reels:

5

Paylines:

40

Minimum bet:

0.10

Maximum bet:

100.00

Maximum win:

100,000x

Released:

04 July 2023
Razor Returns
Prepare to sail the high seas with Razor Returns, a captivating 5-reel, 40-payline video slot presented by Push Gaming. Encounter cybernetic sharks, anchors, and compasses amidst pulsating electronic beats and immersive graphics.
Offering an above-average RTP of 96.55%, flexible betting range between 0.10 - 100 per spin, plus multiple exciting features (Mystery Symbols, Nudge & Reveal Feature, Razor Reveal Feature) - it's an online casino adventure you don't want to miss. Enjoy seamless gameplay on your mobile device, or take advantage of our free demo at Gamblr before you set sail for real!
Sounds thrilling? Keep reading for a full fun-packed exploration of Razor Returns' underwater treasure hunt!
Razor Returns - base game

Razor Returns - Gamble Feature

Razor Returns - Shark Bonus Triggered

Razor Returns - Free Bonus round

Razor Returns - Razor Reveal feature
Play Razor Returns at Licensed Online Casinos
Casino-X

200% up to €50 + 200 extra spins

CasinoBuck

100% up to €100 and 100 extra spins

TrueFlip Casino

100% up to €250

Emojino Casino

100% up to €250

Vulkan Vegas Casino

100% up to €300 and 25 extra spins

Tsars Casino

100% up to €300 and up to 100 extra spins
Razor Returns Review
Aesthetic Extravaganza - Theme and Graphics
Welcome to the abyss of Razor Returns, a sleek, 5-reel, 40-payline video slot where gaming meets sublime oceanic futurism. In this marine techno-theatre, prepare for an eyeful of glowing coral reefs adorning rock shelves as tech-infused mines float eerily in the blue.
Your quest begins amongst reel symbols rendered as nautical knick-knacks - anchors, compasses, periscopes, and diving helmets. Advance further and meet sharks pimped up with cybernetic bling - sparkling gold grillz, infrared laser eyes, or rocket launchers. A wild shark symbol is your trusty guide, morphing into any symbol (bar scatters) to propel you one step closer to victory.
This game's graphics are enough to knock even Jacques Cousteau's goggles off – ultra-crisp visuals generate immersive realism while inflating imaginations. New wave animations splash excitement as sharks emerge from the reels or when bonus features activate. Moreover, an outstanding sound design beams a balance of tranquil underwater noise with adrenaline-pumping electronic beats.
Odds In Your Favour - RTP and Volatility
Gambler-gents and lady-luck lovers will be wowed by Razor Returns' slightly above-average RTP or Return to Player of 96.55%. For every Benjamin Franklin you drop in the slot (wager), expect an average return of $96.55 over multiple plays. Remember, though, this ain't no fountain of fortune guarantee – high volatility means payouts are rare but equally lavish once they hit home!
Please note: RTPs may vary per casino. The RTP of the game can be found in the user panel and on the game loading screen.
Ready for more significant stakes? Well, then, my thrill-seeking friends activate Push Bet Mode – a game feature that gives your base bet a 10% boost to increase your winning chances through free spins features only available in this mode.
But beware! This ride isn't for faint-hearted fishies; higher potential rewards also mean more significant risks! So set sails only after carefully charting your bankroll capacity!
Stay tuned as we delve deeper into the adventurous gameplay up next!
Billing and Winnings 101
Perfect for budget-conscious beginners and high-rolling sharks alike, Razor Returns offers an expansive scope of play because betting ranges from a modest 0.10 to a dazzling 100 per spin. Prefer high stakes? Well, roll the dice on activating our signature Push Bet feature, which elevates your base bet by a cheeky 10% and gives you an extra helping hand at netting those coveted free spins features.
Wagered earnings hinge on your successful marine matchmaking – reeling in any of the anchors, compasses, periscopes, or diving helmets (our low-value symbols) rewards players with anything from 0.8x to 1x their bet for five similar icons.
To really reel ins some dough boy, land yourself a Great White Jackpot by shoaling together metallic maws and laser-eyed beasts – these mechanical sharks cough up anywhere from 2.5x to 7.5x your stake for five of a kind! Our wild symbol is the King of the Ocean; expect to bag a whopping ten times your initial stake if you can catch five wilds on any one payline. They even substitute for all other icons (except scatter symbols), so that's worth fishing for.
More Fun Stacked Features and Bonuses
Much akin to thrilling book-to-movie transitions, you'll find a line-up of familiar goodies in Razor Returns, boosted with a new-age edge with added features. Unraveling this slots storybook are super cool elements like Mystery symbols, the Nudge & Reveal feature, the Razor Reveal feature, Torpedo Scatter symbols, the attractive Gamble feature, free spins aplenty, and an irresistible bonus buy.
Mystery Symbols - Your Enigmatic Companions
For both the base game or during your extra spin moments, mystery symbols might land on reels stacked five high ready to trigger the fabulous Nudge & Reveal feature at a moment's notice - adding an allure of unpredictability to your ocean quest!
The Magic Touch of the Nudge & Reveal Feature
When triggered, let Mystery symbols unfurl to present pay symbols (your standard game symbols), dynamite Wild Shark symbols, or inviting Golden Shark symbols. If any pay symbols reveal themselves, any matching paylines cough up rewards. As you hit that spin button again, here's the fun part - while other reels whirl as usual, your mystery symbol nudges itself down one position in each turn until it becomes visible.
Making Waves with Razor Reveal Feature
A golden revelation! When Golden Shark icons emerge from beneath Mystery Symbols – it's time for the Razor Reveal feature to take center stage! Each Golden Shark position oscillates between flaunting Instant Prize Symbols, Multiplier Symbols, Collector Symbols, Converter Symbols, Nudge Up Symbols, and Torpedo Scatter Symbols - each offering its unique set of rewards:
Instant Prize Icons: Welcome them as they carry bet multipliers ranging from a minimum of 1x and stretching a dazzling 5k times your wager!
Multiplier Icons: As exciting as their name implies! These charmers amplify values held by Instant Prize Icons and Collector Icons currently visible onscreen anywhere between x2 to x10.
Collector Icon: This one dons the role of magnet drawing in value from all current Instant Price Icons before cleverly morphing itself into an Instant Prize Symbol when your current respin concludes. Post-collection, all collected prize icons vanish... poof!
Converter Icon: Triggers a spin through all visible pay icons; once pay icon lands awaiting within converter symbol—pay icons identical to landed transform into Golden Shark icons invoking another round of Razor Reveals before reverting back once feature concludes.
Nudge Up Icon: Specifically found during the Free Spins feature – it causes Mystery Stacks to reposition one spot upwards.
Torpedo Scatter Icons
Unload treasure when three or more Torpedo scatter icons surface in base play or during Razor Reveal sequences triggering free spin rounds. The number of these triggering babies determines your beginning win multiplier: three scatters kick off free spins backed by x1 multiplier; four nets you x5 while five scatters hand out tantalizing x25 multiplier.
Risk-takers Delight: Gamble Feature
When entering free spins mode, players can gamble their earnings for higher returns. A Gamble Wheel depicts No Prize segments and Free Spin Prizes towering those dished out by our torpedo friends.
The Allure of Extra Spins
During free spins magic hour—reels bearing Number 2 and 4 transform into Mystery symbol expanses cascading down one position each time you enjoy an extra spin—this nifty move bumps up win multipliers by +1 after every succession; this upped win multiplier attach itself onto all wins when every single free ride ends. More Mystery symbols might grace reels while spins continue till there's none left in sight.
Bonus Bounty Hunt
Dazzling you further is not just one but five bonus buy options:
Three Torpedo Free Spins running at 106 times valued bet
Four Torpedo Free Spins clocking around 186 times the layered wager
Five Torpedo Free Spins whopping at 550 times stake
Random Free Spins standing at 200 times the original bet
Savory Razor Reveal making waves at 500 times staked bet
Heads-up: Bet denominations influence RTP values displayed along the bonus buy menu—they also swing due to triggered gamble feature play.
Dive right into Razor Returns' ocean adventure, complete with spectacular visuals, innovative gaming features, good exhilarating entertainment, and potentially bountiful rewards!
Mobile Mastery
Preparing for a deep-sea adventure but tied up? No sweat, amigos! Razor Returns has got you covered with its top-tier mobile compatibility. Enjoy crystal clear and uninterrupted gameplay on any cell phone, tablet, or PC device. Regardless of screen size or resolution, this 5x5 grid slot with 40 paylines leverages the magic of HTML5 tech to deliver an unparalleled gaming experience.
Soak in the sharp visuals and groove to the atmospheric sound effects while adjusting bet sizes, activating Push Bet mode, checking out the paytable, or spinning reels on your mobile device - hunting sea treasures was never this convenient!
Free Preview
Do you want to swim into Razor Returns' high-stake waters? Don't fret; we have a risk-free lifeline just for you -try our free demo here at Gamblr. The free version mimics real money play sans actual cash - so no worries about financial risks! Use it as a testing ground to familiarize yourself with game mechanics, volatility, and payouts—better safe than sorry!
Final Verdict
Razor Returns proved a thrilling ride in our books, earning some solid brownie points for its legacy to Razor Shark's fame. Its concoction of innovative features offers every player a shot at fortunes beyond the wildest dreams—exactly what gambling should be about!
A comparatively high RTP (96.16% default that rockets up to 96.55% with Push Bet) promises lucrative tides ahead, especially if you reel in the generous Free Spins Feature - as thrilling as it gets! Introducing two special symbols – Mystery Symbol and Razor Reveal Symbol – are game-changers. While Mystery Symbols appear randomly on reels during normal play and free spins turn into random symbols, Razor Reveal Symbols only show up during free spins turning into either coin values or scatter symbols when spin ceases.
Finding three scatters during your free rides will regain even more spins, hinting at more treasure chests!
The potential win from coin values revealed stands at 100k times your wager – doubling from Razor Shark's max win cap! But remember, folks – with great rewards comes extraordinary volatility, so ready yourselves for sudden windfalls and longer dry spells.
Offering mirror images of Razor Shark might disappoint those hungry for unprecedented themes. However, Push Gaming's efforts in translating minute enhancements into better graphics and increased win potential show inviting light to both predecessors' fans and rewarding slot lovers.
Their reputation for consistently churning out state-of-the-art gaming hits like Giga Jar, Fat Rabbit, Wild Swarm, and Wheel of Wonders speaks volumes about why they are a trusted name among online gamers worldwide.
Razor Returns FAQ
What is the Return to Player (RTP) of Razor Returns?
The game boasts an above-average RTP or Return to Player of 96.55%. For every $100 wagered, players can expect an average return of $96.55 over multiple plays - although this factor may vary based on your luck and doesn't guarantee continuous wins.
What are the betting ranges for Razor Returns?
The game offers robust betting flexibility catering to budget-conscious beginners and ambitious high-rollers alike, extending from a modest 0.10 to a handsome amount of 100 per spin.
How can I boost my gameplay in Razor Returns?
If you're ready for more thrill-filled gameplay, lift your base bet by activating the Push Bet Mode feature - it gives your base bet a 10% boost while unlocking free spins features exclusive to this mode.
What unique features do Razor Returns offer?
Beyond its striking visuals and immersive soundscape comes a host of exciting features elevating your gaming experience:
Mystery Symbols initiate unpredictable exhilaration.
Nudge & Reveal Feature presents pay symbols or exciting wilds.
Razor Reveal Feature unveils Instant Prize Icons offering bet multipliers.
Torpedo Scatter Icons manage your free spins rounds.
Gamble Feature invites risk-takers for higher returns.
Bonus buy options let players hunt lavish bounties based on chosen denominations.
Can I play Razor Returns on mobile devices?
Absolutely! Inspired by modern mobile-first designs, Razor Returns flaunts top-tier mobile compatibility letting you delve into thrilling adventures regardless of device type or screen size thanks to its firm reliance on HTML5 technology.
Can I try out Razor Returns before spending actual money?
Yes, we at Gamblr understand that familiarity with the game mechanics is vital for a fulfilling gameplay experience. Hence we've got our free version mimicking real money play without any financial risks!
This Razor Returns review was authored by W.Bergstrom | Last updated on 10 July 2023.