Play Slingo Pirate Treasure by Gaming Realms for Free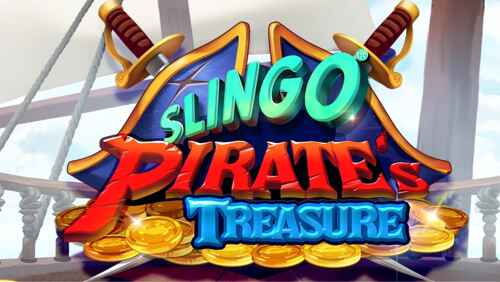 RTP

94.22%
Volatility

Medium
Provider:

Gaming Realms

Rating:

4.15 / 5

Reels:

5

Paylines:

Slingo

Hit Frequency:

35.5%

Minimum bet:

0.20

Maximum bet:

100.00

Maximum win:

240x bet

Released:

27 March 2023
Slingo Pirate Treasure
Welcome aboard, mateys! Prepare to set sail on a quest for gold in this game full of treasure. On every spin, your goal is to land scatter symbols, with three or more triggering the Special Bonus Wheels. These wheels come in three types: Gold, Ruby, and Diamond, with the Diamond wheel offering the chance to multiply your bet by 100x. But that's not all! There's also the Pirate's Booty Feature game, where you'll battle for treasure on the High Seas. Fire your cannons to earn cash every time you hit a ship and even more when you sink one. Arrr! With so much loot up for grabs, it's a swashbuckling adventure you won't want to miss.
Slingo Pirate's Treasure Base Game

Slingo Pirate's Treasure - The Bonus Wheel

Slingo Pirate's Treasure - Double Slingo

Slingo Pirate's Treasure - Pirate's Booty Feature
Slingo Pirate Treasure Review
The game's primary feature is a cannon reel that rotates with each turn. The cannons will remain inactive until the Pirate Captain appears on the screen. Once he lands, all guns in view will fire, allowing him to mark additional positions. You can win cash prizes as you progress up the Slingo ladder by completing three or more Slingos. Additionally, if you complete six or more Slingos, you can play the Pirate's Booty Feature game, where you can fight for treasure on the high seas. As you move up the ladder, the ships you fight become more valuable, and you have more turns to sink them. You can unlock the Pirate's Bonus Wheel by landing three or more Treasure Chest scatter icons.
During the Pirate's Booty Feature game, you can battle for treasure on the high seas! To enter the Bonus Game, complete 6 Slingos or more. Randomly placed ships will move one square at a time on a 5x5 grid. The Pirate Captain will order cannons on the vertical and horizontal reels to fire, hitting the ships. Each hit rewards a prize and weakens the ship. After enough hits, the ship will sink, leading to a bonus win! There are three types of ships: the largest Man-O-War, Frigates, and the least valuable Corvette. The more valuable the boat, the higher the payout for hitting it, the more hits it takes to sink, and the greater the prize for sinking it.
What is Slingo
Slingo is a popular online game that combines slot machines and bingo elements. The game is typically played on a 5x5 grid, each square containing a number. The numbers on the grid are randomly generated, and you must try and match them with numbers on a single reel, resembling a slot machine.