Play Goat Getter by Push Gaming for Free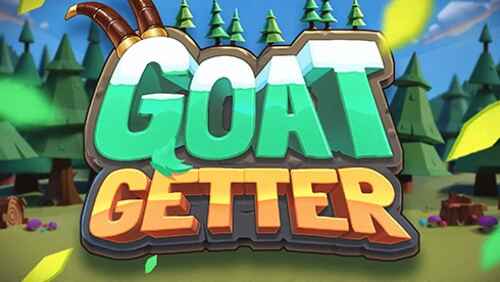 RTP

96.40%
Volatility

Mid/High
Provider:

Push Gaming

Rating:

4.08 / 5

Reels:

5

Paylines:

Scatter Pays

Minimum bet:

0.10

Maximum bet:

100.00

Maximum win:

10,000x

Released:

24 August 2023
Goat Getter
Dive into an alpine-themed slot adventure with Goat Getter, a unique game by Push Gaming. This scatter pay slot has features like wilds, free spins, and bonus buys. The graphics are top-notch, and the game boasts a decent RTP of 96.4% with medium-high volatility.
Betting ranges are as flexible as a mountain goat, spanning from 0.10 to 100 per spin. Special features include the Coin Pot and Coin Drop elements that boost your winning potential significantly. Best of all, you can bag payouts up to 10,000 times your bet!
Intrigued? Please continue reading for our detailed review, or have a go yourself with our free demo version.
Goat Getter - base game

Goat Getter - free spins awarded

Goat Getter - the Free Spins round
Play Goat Getter at Licensed Online Casinos
Tsars Casino

100% up to €300 and up to 100 extra spins

Emojino Casino

100% up to €250

CasinoBuck

100% up to €100 and 100 extra spins

Gslot Casino

100% up to €100 and 100 extra spins

TrueFlip Casino

100% up to €250

JoyCasino

150% up to €300 and up to 200 extra spins
Goat Getter Review
The Goat Getter Theme and Graphics
From the moment you fire Goat Getter, brace yourself for a visual treat. Framed within rustic wooden planks lashed together with rugged rope, every reel comes across as part of an epic mountain adventure.
As for symbols? It's a bleating zoo out there! Ask who's who in the zoo - you've got mountain goats, nanny goats, billy goats, and even baby goats vying for attention. In addition to our hoof-footed friends, alpine-themed icons like backpacks, hats, horns, and cheese garnish the landing area. The graphics are sharp and pop off the screen while animations glide smoothly across your eyes. Sprinkled across the alpine quest are humorous elements - expect goofy goat grins and giggles each time these critters appear on the reels.
Understanding RTP and Volatility
Glancing at Goat Getter's stats, its RTP (Return To Player) sits at 96.4%, a step above the industry average of 96%. Translation: theoretically speaking, you could recover $96.40 from every $100 wagered in a long-term playing scenario. However, this is not solid ground; it's a more pebbly path than a paved trail - thanks to Goat Getter's medium-high volatility level, this means you might encounter drops in action between mountainous wins, but when they happen, they're sure to give you an adrenaline rush.
Betting Ranges and Winning Opportunities
Goat Getter accommodates all players - whether seasoned high-rollers or those fresh on the slots scene - with its flexible betting range extending from as low as 0.10 to 100 per spin.
Here's something interesting: instead of traditional paylines barring your path to wins, Goat Getter makes it easier by allowing payouts for any combination of three or more matching symbols lined up adjacently from left to right. Keep a keen eye out for the grinning mountain goat–nab six-of-a-kind and watch your bet multiply by 50x!
That's not all – there are wilds on this journey! These wild symbols can replace any symbol except scatter symbols. Landing one triggers bonus features that could mount significant rewards.
Activate Goat Getter's pièce de résistance –the free spins feature- by landing three or more scatter symbols anywhere on the adventure map (read reels). The feature grants you ten free spins armed initially with a 1x multiplier. But here's where things get exciting: During these free spins, certain symbols carry extra free spins or multipliers added instantly if they set foot on the sixth reel.
Get lucky during these free spins and land two (or more) scatter symbols on this final reel; congratulations –you've triggered "The Goat Getter Feature!" Receive one spin on this special wheel, which could reward you with four prizes: ten extra free spins sans any multiplier increase; five extra spins paired with a 2x multiplier increase; three additional spins attached with a 3x hike up in multiplier or (and here comes the jackpot!) one extra reel loaded with a whopping 10X multiplier rise! Cash-out up to 100x using this feature!
Special Features and Bonuses
Goat Getter sure knows how to 'up' the fun factor! Packed snugly alongside the key cascade mechanic, it's already boasting; this game is loaded with Coin Pot symbols, a Coin Drop feature, free spins, and bonus buys!
The Coin Pot Feature
A walk (or gamble) on the wild side here introduces you to the quirky Coin Pot symbols. They're striking little designs carrying an Instant Prize value. Should you land six or more Coin Pots, and there are no more wins in sight, get ready – you've just triggered the Coin Drop feature!
Depending on the number of Coin Pots in view, you can earn up to 0.5x, 1x, 2x, or 4x of your bet, corresponding to 6, 7, 8, or 9 pots, respectively. Score ten or more pots? Brilliant! Now, each one activates its embedded Instant Prize values, which are instantly paid out. These values can range from 0.5 to 1,000 times your bet.
Kick off your Coin Drop jaunt by clearing out all symbols other than Coin Pots or Bonus symbols that fall towards the grid bottom—triggered through base play. Enter Mystery Boxes descending from above - uncovering dubious dud symbols or fruitful Coin Pot symbols and bonus Symbols. If stars align, granting you a minimum of three in-view bonus symbols from base game activation - gear up for 'free spins' mode.
Are they triggered during your frolicking free spins? Those Mystery Boxes transform into lottery tickets revealing duds and Coins, Pots, and Goat symbols. Revel in this double whammy event where Goat symbols pop up coinciding with Coin Pots unveiling – Goat then gulps down active Instant Prize values! Any multiplier attached to Goats is factored in before paying out the total win – after this adventure, every Goat gets collected!
Free Spins and Bonus Buys
It's rainin' goats during base play! Landing three Bonus symbols will shower you with six to twelve free spins while rounding up four Bonus Symbols can grant anywhere from ten to sixteen additional free spins. Five bonus symbols? Welcome a hailstorm of fourteen to sixteen spins!
Fancy doubling or nothing? Before free spin rounds initiate, you can gamble for winning extra freebies while risking losing them, too, if luck isn't on your side. Each goat symbol arriving during free spins gobbles up any coinciding Coin Pot values in view. The progression meter collects these Goats when they land; every time five Goats fill it up – levels ascend from one to four—access the following levels -1x through x4, increasing multipliers reaching peaks of x10 correspondingly punctuated by an extra +5 free spin augmentations each time!
In Bonus Buy mode - a selected menu exists for buying free spins, helping trigger either three, four, or five bonus spin options at different costs: 100x for three spins, rising linearly through to 400x price for five bonus symbols; there's even a random buy available at 175x bets!
Gaming on the Go - Mobile Compatibility
Goat Getter isn't just a one-trick pony confined to your desktop screens - it also frolics freely across all mobile devices! Aware of modern punters seeking entertainment at their fingertips, the game dishes out an adaptable design that morphs smoothly to fit multiple screen sizes and orientations. Whether gaming on the go or reclining in repose, Goat Getter ensures consistent top-tier graphics, immersive sounds, and seamless gameplay across all platforms.
Trial Trek – Free Demo
Unsure about walking forthwith onto the mountainous realm of Goat Getter? Visit our website for a free 'try before you place your buy' gaming experience! Access the same game version as those playing with real money; however, you'll be staking numb bucks and gaining mock moolah. It's an excellent way to warm up to the game, tinker around with features, and decide whether it suits your gaming style.
Final Hoot at the Hoofbeat – Conclusion
While Push Gaming has earned its stellar reputation crafting high-octane gaming engines, Goat Getter is glorious proof the studio can as deftly cater to broader tastes and preferences. It's an inviting pasture for players hooked on scatter pay slots—it offers a gameplay feast fit for any slots connoisseur.
Goat Getter ticks a lot of boxes. Its combination of scatter wins and cascade mechanics makes it intriguingly different. Some cascading slots shy away from extending the cascade mechanic too far—Goat Getter does not share that timidness. The cascade effect here doesn't quite reach the absolute mayhem level of Relax Gaming's Cluster Tumble, but it's certainly more generous than most other slots.
There's an enticing draw for scatter pay aficionados with Goat Getter's liberal use of cascades—a savvy stratagem from Push Gaming in a game already brimming with wise decisions. There's also the enticing hook of Goat Getter's instant prize collection feature. Goats don't just collect Cash Pots; they sprinkle an extra layer of drama to the base game and the free spins via the Coin Drop feature. It doesn't just ramp up your wins but bolsters the fun, giving players more bang for their buck.
Free spins see this Coin Drop dance turn even more hectic—it prolongs a bonus round while enabling Goats to collect and be collected in return, guiding you closer to those tantalizingly steep multipliers.
In short, Goat Getter is a slot machine full of brilliant ideas—that 10,000x bet win cap is indeed the cherry atop this multilayered mountain cake! From its playful theme choice and sleek graphics to its grand assortments of unique extras typically unseen in scatter pay slots—Just as goats are known to eat anything and everything, Goat Getter has something incredibly satisfying for gamblers across all stripes.
Goat Getter FAQ
What is the Goat Getter slot game about?
Goat Getter is an alpine-themed slot game developed by Push Gaming. It's about journeying through a mountainous adventure with goats, having a scatter pay system and cascade mechanics to win big.
What are the main features of the Goat Getter slots?
Goat Getter brims with exciting features like wilds, Coin Pots, Coin Drop feature, free spins, bonus buys, and cascading mechanics. There's also an Instant Prize collection feature enhancing your winning chances.
What's the betting range in Goat Getter?
The betting range on Goat Getter ranges from as low as 0.10 per spin to a high stake of 100 per spin. So, it suits both casual punters and high-rollers.
Does Goat Getter have mobile compatibility?
Yes! Thanks to its adaptable design, you can enjoy Goat Getter on all mobile devices, ensuring high-quality graphics and seamless gameplay regardless of device size or orientation.
What is the RTP and volatility of the Goat Getter slot game?
The carded RTP of Goat Getter is 96.4%, slightly above the industry average, while holding a medium-high volatility level—ensuring exciting gameplay with sizeable wins, though they might not occur frequently.
How much can I win in the Goat Getter slot game?
Stand a chance to bag massive winnings with Goat Getter – up to 10,000 times your bet!
Can I try Goat Getter for free before betting real money?
Absolutely! Head to our Gamblr website and navigate to the free demo version of the game, where you can try it before staking real money.
This Goat Getter review was authored by W.Bergstrom | Last updated on 31 August 2023.