Play Here Kitty Kitty by Red Tiger Gaming for Free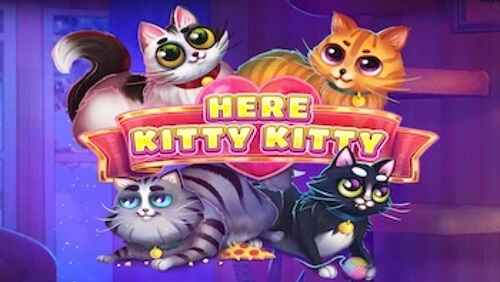 RTP

95.73%
Volatility

Mid/High
Provider:

Red Tiger Gaming

Rating:

3.69 / 5

Reels:

7

Paylines:

Scatter Pays

Minimum bet:

0.20

Maximum bet:

40.00

Maximum win:

2,135x

Released:

03 August 2023
Here Kitty Kitty
Here Kitty Kitty is an attractive online slot game for cat lovers that offers multipliers, modifiers, "Catmageddon," cascades, and more on a 7x7 grid.
The game features medium volatility with a return-to-player rate of 95.73%. You can bet between 0.20 and 40.00 per spin. Its engaging features and bonuses and vibrant design and soundtrack create an entertaining gaming experience. Test the game with our free demo before diving into the real thing. If you're a slot lover with a soft spot for felines, Here Kitty Kitty is your kind of playground.
Keep reading for the full review, and try out the free demo to get a feel of the game before you start spinning for real!
Here Kitty Kitty - base game

Here Kitty Kitty - Catmageddon Feature

Here Kitty Kitty - paytable
Play Here Kitty Kitty at Licensed Online Casinos
Bitstarz Casino

100% up to €100 and up to 180 extra spins

Gslot Casino

100% up to €100 and 100 extra spins

Trada Casino

100% up to €100 and 50 free spins

Casino-X

200% up to €50 + 200 extra spins

CasinoBuck

100% up to €100 and 100 extra spins

Stake7 Casino

100% up to €400
Here Kitty Kitty Review
Theme and Graphics
Get ready for a sneak peek into the perfect paradise of Here Kitty Kitty – a dreamland for any cat lover. We're talking feline fantasy set in a cozy living room overflowing with cuddly toys, fluffy cushions, and endearing portraits. On the grid, you'll spot five distinct cute kitties and four knitted playing card suits - your ticket to kitty coin goodness! The graphics are vividly colorful and cartoonish, while smooth transitions and sound effects add more layers to the fun party.
And oh boy! The pleasant soundtrack is a hoot, matching the feel-good vibes of the theme spot on. The pleasing purrs and playful meows that spring up as felines make their grid arrival do nothing less than turn your smile full wattage.
RTP and Volatility
Here Kitty Kitty sides with medium/high volatility, promising an enticing mix of low-key rewards and whole nine yards winnings. Its RTP lingers at 95.73%, sitting just below the industry standard of 96%. However, don't let that smudge your perspective - this game sports several features that could push your payouts through the ceiling!
Betting and Payouts
Here Kitty Kitty accommodates bets ranging from 0.20 to a whoppin' 40.00 per spin – now that's quite a bet buffet! Land at least 12 identical symbols anywhere on the grid, and payday! Bagging more matches ramps up your payout. Our ginger friend is the big cheese here, delivering up to 300x your stake when you nab 45 or more symbols.
Adding some extra zest is a wild symbol personified as a goldfish chilling in its bowl. Like any wild soldier worth its salt, it stands in for any other symbol to align wins in your favor. And oh - we've got a cascade feature too! Winning symbols hit the dust while fresh ones drop down to fill up vacant spots - setting off a potential avalanche of wins from just one spin!
Features and Bonuses
Picture yourself hanging out with adorable cartoon cats who love playing with a ball of yarn across a 7x7 grid. Besides being cute as a button, these furry friends also make for many thrilling Scatter Pays wins. Just pair up at least 12 same symbols anywhere on the grid, and you're in for some fabulous prizes! The fun doesn't stop here; the winning symbols get swept away by a Cascade, allowing some fresh faces to shuffle in from above.
Oh yes, there's more to come in this feline festivity. This game has enthralling features and delightfully purring bonuses bound to work magic on your winnings. Get ready, and let's dive right into them:
Wild Goldfish: Just chillin' in its bowl, this wild symbol will seamlessly swap any other icon to line up impressive winning combinations. Also, if you snag 45 or more on the grid, it's payday - to 300x your stake!
Yarn Feature: Keep your eyes peeled for this one! Coming out of nowhere on the grid, a pesky little yarn soon unravels into a super surprise – transforming every symbol in its path into an identical match, boosting your odds of racking up some significant rewards.
Progress Bar: Every single Cascade you trigger fills this bar by one segment. Get it chock-full during a single spin and watch one of three game-changing modifiers play out:

Catnip: Adding extra wild goldfish symbols to the grid is like fueling the fire.
Hairball: Sends all the low-rewarding icons packing – you'll have high-paying symbols all around!
Catnap: Tosses in an extra free spin where high-value symbols stick around like they're glued to the grid!

Catmageddon Feature: This is where things genuinely heat up! Land three or more bonus symbols on the grid, and behold...you've got ten free spins featuring colossal 3x3 Catmageddon symbols that can completely blanket your grid, racking up lucrative payouts reaching up to 900x your bet.
There you have it; Kitty Kitty isn't just a great hangout spot for cat lovers but also a jackpot carnival for any slot hustler out there. Whether you want to go on a free walk-through in demo mode at our recommended casinos or are ready to roll and chase big wins with actual cash money – Here Kitty Kitty's got everything in store for everyone. So why wait when these frisky kittens are eager to play!
Mobile Compatibility
Hey slot lovers, got your gadgets handy? Here Kitty Kitty has totally nailed the mobile compatibility game. It's your call to spin the feline reels on a smartphone, cuddle up with a tablet, or sprawl before your desktop computer. This game's got you covered. Fret not about screen size or orientation because the adaptable interface ensures you savor top-notch graphics and fluid gameplay - no matter the device.
And here's the best part – altogether ditch downloading any cumbersome apps or software; this slot runs directly on your web browser.
Free Demo
Before putting some real skin in the game, how about warming up with some free play? Here Kitty Kitty extends an open invite to its free demo right here on our website! Fiddle around the reels with virtual credits and familiarize yourself with all the cat-play features and game functions. Trust us; it's downright identical to the real deal, giving you a legit sneak peek of what expects you when you hit 'Play' with actual stakes.
Final Verdict
Do I hear an echo? Or am I on my third 'adorable' for the day? Pardon my repetition, but the word kept popping up as I played with Here Kitty Kitty. This game might not scratch the itch left by hardcore grid slots or anywhere-pays games. But make no mistake, it's not attempting to! It seems more intent on creating a snug and oh-so-cozy gaming terrain filled with benevolently wide-eyed furry darlings that charm you right out of your screen, ready to plop onto your lap for a lazy catnap while you enjoy some quiet TV time.
However, stay comfortable - remember, Here Kitty Kitty is an online slot instead of a plush cat toy - claws included! This means it won't be purring in sweet contentment always. Its gameplay unfolds reminiscent of Reactoonz-style action (with the pay-anywhere mechanism), where accumulated winning icons lead to feature releases once the Yarn Ball jogs far enough along the progress bar. Even the ultimate game twist - the Catmageddon - has shadowy cues from Gargantoon. All said and done, though, Catmageddon does hold its ground as a unique little creature in this slot universe! Well, as much as one can term an adorable furball with peering eyes as a 'creature.' Pairing symbols to initially placed icons while they grow in size and enhance their multiplier can provide a few good laughs.
But let's face it, even fun has its limitations. With 2,135.45x your wager beaconing as Here Kitty Kitty's maxim, this slot isn't shaping new world order for pay-anywhere slots.
Yet again, it's fair to mention that trailblazing wasn't on Red Tiger's agenda when they set out to design Here Kitty Kitty. Instead of being an all-out tumultuous grid slot combat arena, Here Kitty Kitty takes pride in celebrating everything lovable about cats. A parade of endearing felines adds charm to familiar mechanisms while an intriguing premiere act – the Catmageddon feature – crowns the experience!
More Red Tiger Gaming Games
Here Kitty Kitty FAQ
What is the RTP and Volatility of Here Kitty Kitty?
The RTP (Return to Player) for Here Kitty Kitty sits at 95.73%. The game has medium volatility, offering a balanced mix of regular low payouts and occasional large wins.
What are the minimum and maximum bets in Here Kitty Kitty?
In Here Kitty Kitty, you can place bets ranging from as low as 0.20 to as high as 40.00 per spin.
What are some key features & bonuses of the Here Kitty Kitty slot game?
The game boasts several exciting features, including Wild goldfish symbols, Yarn features, Progress Bar, and a Catmageddon feature that offers free spins and enormous potential winnings.
Does the game offer a demo mode?
Yes, before you play with real money, try the free demo version of Here Kitty Kitty on our website to get accustomed to its rules and features.
Is Here Kitty Kitty mobile compatible?
Absolutely! Here Kitty Kitty is compatible with all devices, including smartphones, tablets, and desktop computers. The game runs smoothly on any web browser without requiring additional apps or software.
Where can I play the real version of Here Kitty Kitty?
Once you're ready to play with real money, you can enjoy Here Kitty Kitty at any of our recommended online casinos featured on Gamblr.
What's the maximum amount I can win in Here Kitty Kitty?
The maximum potential payout in Here Kitty Kitty is 2,135.45 times your wager.
This Here Kitty Kitty review was authored by W.Bergstrom | Last updated on 19 August 2023.