Play It Came From Venus! for Free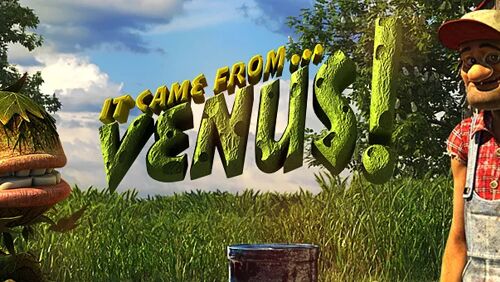 Return to Player
96.5%
Volatility
Medium
Features and Themes
Free spins
Progressive jackpot
Gamble
It Came From Venus!
It Came From Venus is an exciting three-dimensional video slot from Betsoft Gaming. This game takes you to the beautiful farm of farmer Skeeter, which has been devastated by a huge flytrap from Venus. You'll accompany Skeeter and his alien companion as they try to escape the army patrols that are searching the farm for the alien.
It Came From Venus is about a farmer and an alien visitor. This slot has five reels and thirty paylines. If you have always enjoyed Betsoft's graphically impressive games, then this slot is a must play for you. The graphics and cinematic presentation of the game are fantastic and give it a cartoonish atmosphere, which is typical for Betsoft products. There are numerous additional features and fascinating rounds that pay out large amounts of money, which makes the game both entertaining and exciting. Skeeter and the Venus flytrap cavort on the reels and add a humorous touch to the slot.
Game Information
| | |
| --- | --- |
| Game provider: | Betsoft |
| RTP: | 96.5% |
| Volatility: | Medium |
| Minimum bet: | 0.01 |
| Maximum bet: | 1.00 |
Play It Came From Venus! at Licensed Casinos
It Came From Venus! Review
It Came From Venus, a game by the Betsoft company, is another visually impressive game. This project offers players a wide range of possibilities. The main goal of this game is to give the player a pleasant pleasure. A farm in Hill Billy was chosen as the setting for the game. Those who have been playing video games for more than a decade will find the visuals nostalgic. This is somewhat ironic, considering that the founders of the game set out to make the most beautiful game on the Internet. They managed to do that without any difficulties, even when it came to launching it for mobile devices. You can play It Came From Venus on your cell phone, iPad or any other portable device! The fact that beginners can experience this game for free by simply visiting a website where it is advertised is even more crucial. However, this only applies to new players who prefer to wait until the end of the game before wagering any money. Players who are interested in earning real money should register on the developer's website so that they can log in from any device and keep their statistics.
The minimum and maximum coin sizes are 0.02 and 0.50, respectively, and you can bet on all 30 paylines simultaneously, so your maximum coin bet is $15. The maximum prize is $32,500. You can increase your chances of winning by playing wild, scatter and free spin games.
It Came From Venus: How to play it
However, you need to knock on the door to enter this property. It Came From Venus displays the opening sequence with some game basics on how to use the controls if you want to increase or decrease the amount of money you want to wager in the game, as indicated on the door. The designers have done an excellent job. The quality of the signals of these selections will confirm that to you. For example, the "Minus" and "Plus" buttons allow you to set the number of coins bet per line when betting. By selecting the appropriate line, you can select the corresponding betting line. A player can spin the reels only after completing all these steps. But what should you do if you want to get the most out of It Came From Venus but do not have time to wait? Then you can use the "Bet Max Spin" button, which is very useful if you want to bet the highest amount of money on every single line. However, the "Autoplay" feature, which has become increasingly popular in recent years, is not available. The developers did without it because they believe that this game is still quite easy to play on mobile devices. Therefore, they also did not think it was necessary to include features like an automatic betting system. Apart from that, there are so many advantages that you will quickly forget about it.
It Came From Venus: bonus rounds
The special features of this fantastic slot add a lot to its appeal, and they can be extremely lucrative if you play on a lucky day. The random wild symbols have a win multiplier of 2x to 10x, which increases your cash winnings significantly.
When three Food Stack symbols appear on the screen and are devoured by the Venus Fly Trap, the Feed Me Bonus is activated and you get 11 free spins. The Sticky Wild, which is activated when a bag appears on the third reel, is another fantastic feature. In the following spins, the symbol remains wild.
The Double Up bonus is an excellent addition. This feature appears in a number of Betsoft slots, but in this game it gets a delightful twist. Skeeter will throw various objects at his alien friend Venus Flytrap in this round. You have to predict whether he will manage to catch the items. Your reward will be doubled if you guess correctly, or you'll lose everything if you guess wrong. It's worth playing this round just for the great sound effects and images during the game. Only base game wins are eligible for the Double Up feature; bonus or free spins wins are excluded.
When you see three or more helicopter symbols on the screen, the bonus round is activated. In this round, the farmer is on a mission to save his alien friend from a ruthless military officer. The flytrap is taken to the military headquarters, where Skeeter must choose the correct square to release the alien. For each wrong choice you make, you will get points. If you choose the correct box, this round is over. The total amount of the win is paid out. Overall, this round has a lot of potential.
And that's not even the end of it. It Came From Venus now offers stacked wild wins, a unique addition from Betsoft. Stacked Wilds work by filling an entire reel with just one symbol, which then collapses to give you additional wins. The prize is three times the standard payout for that symbol's winning combination. More symbols are added to the collapsed reel, increasing your chances of winning combinations.
Conclusion
This was a gift from the planet Venus! It's obvious that this is a well-designed game. One where attention has been paid not only to the aesthetic design of the game, but also to the relevance of the features to the theme. The farmer and his alien plant have a strange connection as he tries to protect his new friend from the government, which wants to capture him and subject him to a series of anatomical examinations. As a simple click-and-reveal game, the animated works are assigned to the bonus, which sets up this part of the story with elegance. The same goes for the normal spins, as each winning combination jumps off the reels in its own animation sequence, while the pawn and the plant move under the reels. The house edge is a bit higher than we imagined, but the value for money is still not bad, just not outstanding. We would recommend this game because it is entertaining, well designed, well constructed, and good value for money.