Play Triple Juicy Drops for Free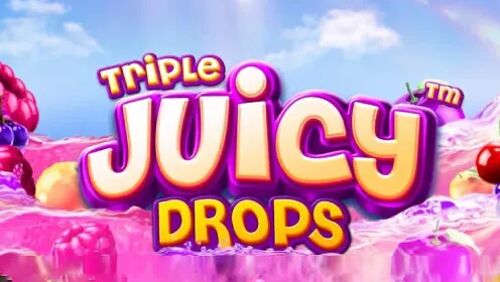 Return to Player
95.73%
Volatility
High
Features and Themes
Autoplay
Bonus feature
Free spins
Quick spin
Triple Juicy Drops
Triple Juicy Drops is an online slot machine developed by Betsoft. It has five reels, five rows, a cluster pay mechanism, an RTP of 95.73 percent and a low to medium variance. This variant of a fruit game features wilds, scatters, prize wheels and free spins.
The player wins 1 spin on each wheel by collecting enough symbols that change every 20 spins. When the required number of symbols has been collected, the Prize Wheel prize is awarded, which can be cash or free spins.
During this exciting bonus round, the free spins mode delivers multiplicative wilds, so players' winnings can be tripled. 3+ scatter symbols activate the free spins mode and take your player on an exciting quest for big prizes!
Game Information
| | |
| --- | --- |
| Game provider: | Betsoft |
| Rating: | 4.8 / 5 |
| RTP: | 95.73% |
| Volatility: | High |
| Reels: | 5 |
| Paylines: | Cluster wins |
| Minimum bet: | 0.30 |
| Maximum bet: | 22.00 |
| Maximum win: | 20534 x Max Bet |
| Released: | January 2022 |
Play Triple Juicy Drops at Licensed Casinos
Triple Juicy Drops Review
Triple Juicy Drops is a slot machine from Betsoft. Its addictive engine and high-quality graphics have made it an instant hit among players. This review summarizes the main features, which together with our free trial mode will give you a good picture of the overall experience. Triple Juicy Drops is a cluster pay slot from Betsoft. Wins in Triple Juicy Drops are achieved on a 5x5 playfield with 3+ symbols. The game revolves around a collection of symbols that must drop out in one spin. When this happens, you get to the bonus wheel and can win cash or free spins. When the required number of scatter symbols appear on the game field, free spins are awarded.
Theme, Graphics and Soundtrack
This is a very pretty game in terms of its appearance. Being a fruit game, it has a great backdrop of pink seas with giant fruits floating gently in the water and a blue sky. Even though it's just a fruit game, it has a great backdrop. The playing field is a simple square with each image in its own cell surrounded by a border. Since there is more text on the screen than in many other games, this does not affect the look. The music in Triple Juicy Drops is not very interesting, but on the whole it's a good design.
Betting and Prizes
The stakes vary from 0.30 to 22 units. One round can pay out up to 20,534 times the bet, though several other features would have to be triggered to get that much.
The only problem we have with Triple Juicy Drops and its payouts is that the RTP is not as high as we would like it to be. Still, at 95.73 percent, it's not far enough from the 96 percent standard to make the slot unusable.
Triple Juicy Drops Features
When three to five symbols are arranged in a row or column, form winning combinations. That's all it takes. You do not have to start on one of the four sides; you can just start in the middle and pay out.
After combinations are formed, the winning symbols are removed. New symbols will appear in these places, bringing more wins and even more drops.
The Triple Juicy Drops method is used extensively in this game. Three random symbols appear on the screen, which you need to collect in order to activate one of the prize wheels (mega, super or mini version). You must collect all of these symbols in a single spin, but you can also achieve this by making numerous drops. To get these Prize Wheels, you need 5, 15 or 25 symbols. After 20 spins, the exact symbols you need will vary.
The Prize Wheel
The Prize Wheel will spin for the player once it is triggered. A single spin can trigger many Prize Wheels.
In addition to the regular symbols, Triple Juicy Drops also contains wild symbols that you can use. These are substitute symbols and when they form combinations alone, they pay the same amount as the top symbol.
After you form a combination of five symbols, the game adds wilds to the reels. If you have a column and a row of 5 symbol combinations at the same time, you can get 2-3 of them with multipliers. If the wins overlap, you can get up to 5 wild symbols, each with a multiplier of up to 3x.
Free Spins
There is a free spins feature that is triggered by 3 to 5 scatters (10 to 15 rounds) or spinning the prize wheel. You can get multiplier wild symbols in this mode, which can increase your winnings up to three times. This mode has some drawbacks, such as the lack of prize wheels and the impossibility to retrigger the free spins.
Cluster wins
Betsoft did not quite stick to tradition when designing Triple Juicy Drops, and nowhere is that more evident than in the winning combinations they offer. While most slot machines offer players the option to win on multiple paylines, Betsoft has completely dispensed with this idea.
Instead, players have the opportunity to win when three or more "clusters" of the same symbol are adjacent to each other - both horizontally and vertically. This is a break from the norm and promises a refreshing new experience for experienced slots players.
Triple Juicy Drops: Our Take
Fruit-themed slot machines tend to stick to the bare essentials; however, Betsoft has made a smart move by incorporating not only the cascading mechanism, but also the reward wheels feature. This makes it even more exciting as you try to collect enough symbols before the counters shift and play continues from the base game. These are all extremely attractive additions.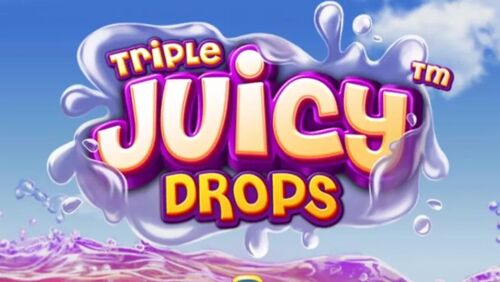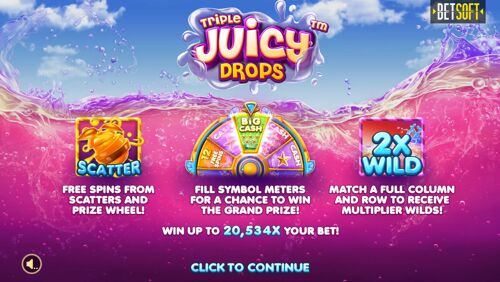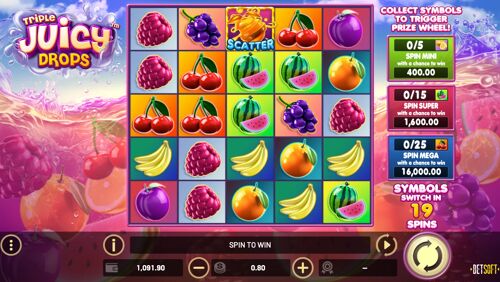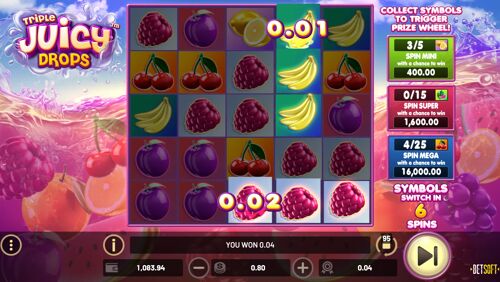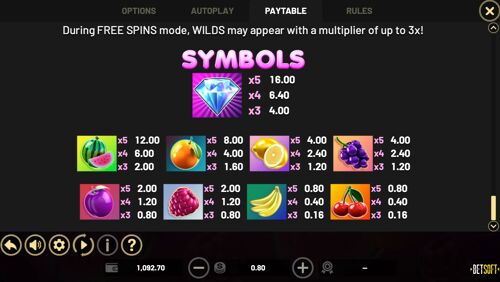 Triple Juicy Drops FAQ
What is the RTP and variance on Triple Juicy Drops?
The RTP is 95.73 percent, which is slightly below average for an online slot. The variance is low to medium, which means that the payouts are low but quite frequent.
What is the maximum payout on Triple Juicy Drops?
The maximum payout is 20,534x. This is a great multiplier.
Is there a winning strategy when playing Triple Juicy Drops?
There is no correlation between one spin and the next, and nothing increases or decreases the probability of a combination occurring. The spins are random and there is no way for the player to influence the outcome of a game.
Are the results of the spins really random?
Yes, the spins are completely random. The combinations are generated by random number generation algorithms, which means that there is no human interference or influence on the results.
Can I play the Triple Juicy Drops slot machine for free?
Yes, at Gamblr you can try Triple Juicy Drops for free without having to sign up. Any gambling site that cooperates with Betsoft also offers free access to the trial mode.
Can I win real money on the Triple Juicy Drops slot?
Yes, a registered account with a casino operator is the only way to play Triple Juicy Drops with real money and get real winnings.
Can I play Triple Juicy Drops slot on a mobile device?
Yes, this slot is mobile friendly and can be loaded on any device.