Play 88 Frenzy Fortune by Betsoft for Free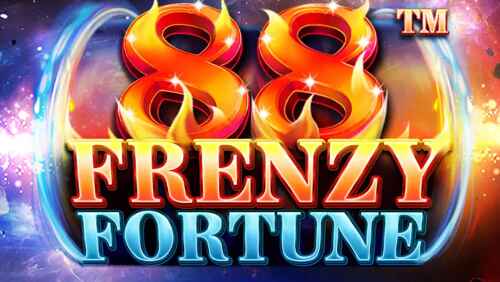 RTP

96.00%
Volatility

Medium
Game provider:

Betsoft

Rating:

4 / 5

Reels:

4

Paylines:

1

Minimum bet:

0.06

Maximum bet:

30.00

Maximum win:

€71040 (2368x bet)

Released:

August 2021
Features & Themes
Autoplay
Free spins
Quick spin
88 Frenzy Fortune
Are you looking for a new online slot game to play? 88 Frenzy Fortune from Betsoft is a great option for those who enjoy classic games with an Asian theme. The game features four reels, with special features triggered on the fourth reel when you win on reels 1-3. With a medium volatility and an average payout percentage of 96%, you have the chance to win up to 18 times your bet or claim up to 5 free re-spins with guaranteed wins.
88 Frenzy Fortune welcome screen

88 Frenzy Fortune main game

Bonus Frenzy 1

Bonus Frenzy 2

Bonus Frenzy 3
Play 88 Frenzy Fortune at Licensed Online Casinos
24K Casino

125% up to €300 and up to 50 extra spins

Emojino Casino

100% up to €250

Bitstarz Casino

100% up to €100 and up to 180 extra spins

Gslot Casino

100% up to €100 and 100 extra spins

PlayFrank Casino

100% up to €100 + 50 Bonus Spins

SlotJoint Casino

200% up to €40
88 Frenzy Fortune Review
Theme and Graphics
88 Frenzy Fortune is sure to be a hit with Chinese players, as it features the lucky number 8 in the title and in some of the symbols. The game's design is also inspired by celestial elements, with a background image filled with purple, red, and orange. The game opens with a space view that takes you on a journey through planets and meteors, with a brightly lit banner featuring the game's logo. The 80s-style electronic music and sound of the spinning reels add to the nostalgia.
The Symbols
The symbols in 88 Frenzy Fortune stay true to the Asian theme, including koi fish and the number 88, which represents luck in Chinese culture. The high-paying symbols include a silver, gold, and "fiery" 88, each worth a different amount for a match of 3. The koi fish is the symbol with the lowest payout, with 3.60 for one fish and 7.60 for two.
Even though the game has only one payline, the winnings are all the higher thanks to the bonuses and prizes. Don't miss out on the chance to experience the Asian culture and win big with 88 Frenzy Fortune.
RTP & Volatility
88 Frenzy Fortune offers a decent return to player percentage of 96%. The provider has not provided any information about the volatility of the slot.
Betting and Payouts
The minimum bet for 88 Frenzy Fortune is $0.06 per spin, with the maximum bet being $30. The game only has 1 active line.
In terms of prizes, players have the chance to hit a top jackpot worth 2,368 times their bet with the slot's various multipliers. While this may not be the most impressive top prize for a slot, the game's volatility is not too high and the RTP is at an acceptable level of 96%. With these odds, players have a good chance of winning big while playing 88 Frenzy Fortune.
Bonus Features
Best 88 Frenzy Fortune bonus feature 88 Frenzy Fortune offers a variety of bonus features that can be activated once a winning combination is formed on the first three reels. The fourth reel includes the following bonus icons: Respin Bonus, Multiplier Bonus, and Instant Cash Prize Bonus.
The Instant Cash Prize Bonus provides a random cash win. The Multiplier Bonus awards a multiplier of 8x or 18x, which is applied to the prize. The Respin Bonus icon triggers a unique event where all four reels will respin. The first three reels will display the initial win, while the fourth reel will show another respin icon or a blank spot. Players can win up to five re-spins with a multiplier of up to 4x for the wins.
Although 88 Frenzy Fortune does not have free spins, the Respins and multipliers make up for it, providing players with the opportunity to win big.
Strategy Tips
When it comes to playing 88 Frenzy Fortune, it's best to have a strategy in place. Before writing a review about the slot machine, we always play it to get a full understanding of how everything works. We played the slot with an average bet of €5.40 per spin. At times, we felt the consequences of the single payline. Our biggest win in the base game was three golden koi fish for €32.40. The Bonus Frenzy bonus was activated, adding an extra reel to the game, bringing the total number of reels to four!
During the Bonus Frenzy bonus, we had a win of two Koi fish along with an 88 symbol and a 5x multiplier, amounting to a total payout of €27.50. We also scored a re-spin, which was great. The best part was when we had two 88 symbols along with a koi fish and an 18x multiplier, resulting in a whopping €250 win!
In conclusion, it's important to keep an eye out for the Bonus Frenzy bonus, and try to aim for the multipliers, as they can greatly increase your chances of winning big.
Gamble Responsibly
As with any online slot game, it's important to play 88 Frenzy Fortune responsibly and within your budget. Before starting to play, make sure to set a budget for yourself and stick to it. This will help you avoid overspending and ensure that you're only playing with money that you can afford to lose.
It's also important to be aware of your own limits when it comes to gambling. If you find that you're losing control or becoming too absorbed in the game, take a break and come back to it later. Remember, playing online slots should be a fun and enjoyable experience, and it's not worth risking your financial well-being or mental health.
Additionally, take advantage of the demo version of the game, it will allow you to get familiar with the game and its features without risking any money. And also, you can play the game on a lower bet per spin and increase it when you feel comfortable and familiar with the game.
In conclusion, 88 Frenzy Fortune is a fun and exciting game with a unique Asian theme and a variety of bonus features. However, it's important to play safely and within your budget to ensure that you have a positive and enjoyable experience.
Conclusion
88 Frenzy Fortune by Betsoft is a unique and exciting online slot game that offers a classic Asian theme with a twist. The bonuses and special features in this game are top-notch and provide players with the chance to win big. The graphics and design are visually pleasing, with the koi fish flying through space and the celestial background. The fun modifiers make the game even more enjoyable.
It's true that triggering the Bonus Frenzy can be challenging, but it's worth the wait. If you're lucky enough to hit the top multiplier of 18x, you'll have a blast playing this game. The game is also available to play for free and on mobile devices, making it accessible to players everywhere.
Overall, if you're a fan of online slots with an Asian theme and a simple reel design, 88 Frenzy Fortune is definitely worth checking out. It's a game that offers an exciting and unique experience with the potential for big wins.
88 Frenzy Fortune FAQ
What is the RTP and volatility of 88 Frenzy Fortune?
The RTP (Return to Player) percentage for 88 Frenzy Fortune is 96%. The volatility of the game, which refers to the level of risk and potential payout, has not been provided by the provider.
How many paylines does 88 Frenzy Fortune slot have?
88 Frenzy Fortune has only one payline, making it easy for players to understand and play.
What is the minimum bet on 88 Frenzy Fortune slot?
The minimum bet on 88 Frenzy Fortune is $0.06, with a maximum bet of $30. This offers players a range of options for different betting styles.
How much can I win with 88 Frenzy Fortune slot?
Players have the potential to win up to 2,368 times their total bet on the 88 Frenzy Fortune slot. This win can be achieved by landing the highest paying symbol with the maximum multiplier of 18x.
What does the 4th reel of 88 Frenzy Fortune slot do?
The 4th reel on 88 Frenzy Fortune contains multipliers or the respins symbol. These symbols, when they appear in a winning combination, provide players with the corresponding multiplier or respins with a guaranteed win.
Is 88 Frenzy Fortune online slot optimized for mobile?
Yes, 88 Frenzy Fortune can be played on mobile devices, including iPhones, iPads, and smartphones or tablets with Android and Windows operating systems. The mobile version of the game offers the same features and gameplay as the desktop version.
This 88 Frenzy Fortune review was authored by W.Bergstrom | Last updated on 12 January 2023.