Play Primal Hunt for Free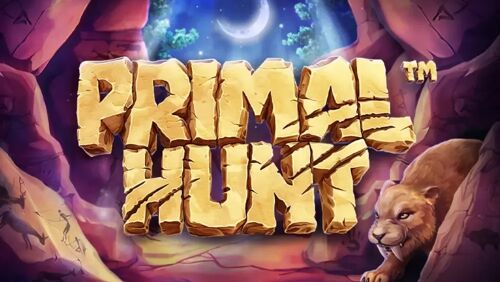 Return to Player
96.10%
Volatility
Mid/High
Features and Themes
Autoplay
Free spins
Quick spin
Primal Hunt
In this Betsoft game you can travel back to the Stone Age and explore the dark and strange caves. Take your weapons and go hunting for the cave lion to enjoy the exciting free spins.
Primal Hunt offers fast-paced slot action with incredible possibilities. The wilds give you a primal extra during the free spins round - they can have 2x or 3x multipliers! Primal Hunt has an impressive 80 paylines that pay out from left to right. Wilds can only occur on reels 2, 3 and 4 and can substitute for all symbols except the big lion!
Go in search of the deadly cave lion to get up to 20 free spins and an instant scatter payout if you are up for an adventure. Do not forget to collect your stone axes, sharpened spears and runes for extra goodies as the lion awaits you in the unknown caves.
Game Information
| | |
| --- | --- |
| Game provider: | Betsoft |
| RTP: | 96.10% |
| Volatility: | Mid/High |
| Minimum bet: | 0.10 |
| Maximum bet: | 22.00 |
Play Primal Hunt at Licensed Casinos
Primal Hunt Review
The prehistoric game Primal Hunt is set in the Stone Age, but there is no Flintstone to be seen. Instead, look out for the long-toothed cave lion that luxuriously sprawls across numerous rows of rocks to dish out the highest prizes.
You do not have to be a palaeontologist to find your way around this cave. Instead, use the spears and axes to slice down the reels until you hit the jackpot.
This game is available for free in demo mode at Gamblr. So familiarise yourself with the game before you decide whether you want to play for real money at an online casino.
Theme, graphics and music
The music of the Stone Age was simple at best, so the soundtrack is probably appropriate. The synthesiser noises and explosions you hear as you rake in wins are not from that era, and would have scared any real caveman out of his animal fur!
The background is a beautifully glowing cave that does not look as menacing as some of the other symbols in the game. Everything is set in stone and accented with a light, creating a cohesive image. The speed with which the reels spin betrays the seemingly clumsy stone structure.
With the exception of the sprawling cave lion, many of the game symbols are carved and painted on stone slabs. It gleams in its fanged glory and looks far fiercer than the usual feline predator.
RTP & Volatility of Primal Hunt
Primal Hunt has an RTP of 96.10% and is an online slot with medium to high volatility. The ratio of losses to wins could be higher, but the RTP suggests that these payments can be quite high.
How to Play
First, click or tap on the I icon at the bottom left to access the game settings, autoplay options, paytable and rules. At the bottom, your balance, bet and win amount will be displayed.

Adjust the amount from 0.20 to 22.00 by clicking or tapping the + and - icons at the bottom centre of the screen.

to activate autoplay, click on the smaller "Play" button in the lower right corner of the screen and change the parameters. The number of spins can be selected from 5 to 100, and the spin fee can range from 0.20 to 22.00.

Toggle the settings for the background music, sound effects and turbo game at the very bottom left. The question mark icon displays the complete set of rules.

To begin, click or tap the larger play button in the lower right corner of the screen.
Paytable & Bet Sizes
The minimum and maximum bets in Primal Hunt are 0.20 and 22, respectively.
The prizes for two (when available), three, four and five matching symbols are as follows:
Cave lion
5x = 2.00
4x = 0.50
3x = 0.10
2x = 0.02
Spear
5x = 1.00
4x = 0.30
3x = 0.16
Flint axe
5x = 0.50
4x = 0.20
3x = 0.14
Elephant slab
5x = 0.30
4x = 0.16
3x = 0.10
Buffalo slab
5x = 0.24
4x = 0.14
3x = 0.08
Horse slab
5x = 0.24
4x = 0.14
3x = 0.08
Deer slab
5x = 0.16
4x = 0.10
3x = 0.06
Ace
5x = 0.10
4x = 0.06
3x = 0.04
King
5x = 0.10
4x = 0.06
3x = 0.04
Queen
5x = 0.10
4x = 0.06
3x = 0.04
Jack
5x = 0.08
4x = 0.04
3x = 0.02
Primal Hunt Bonus Features
Cave lion
The cave lion may seem threatening, but he is a friendly animal. Catch him in any position on the reels to win up to 20 free spins and an instant scatter reward as follows:
5x = 19.20 + 20 free spins
4x = 3.20, plus 12 free spins
3x = 1.60, plus 8 free spins.
Wilds
Wilds increase wins during free spins rounds. If you get a wild symbol during a free spins round, your win will be doubled 2x or 3x.
Primal Hunt Summary
Experienced players should check out Primal Hunt for its multiplier feature, which seems to be very generous and not too hard to activate. The extra row also adds some variety for those looking for something different from the usual three and five formations.
There's not much of a story here, but there were simpler times - at least until Betsoft decided to teleport a reel!
Do not be fooled by the look of the game or the scenario from the past; this is a fast-paced game where you can use your wits. It's almost as if you were transported back in time to avoid the dangers and pitfalls of those monolithic days.