Play 21 Burn Blackjack by Betsoft for Free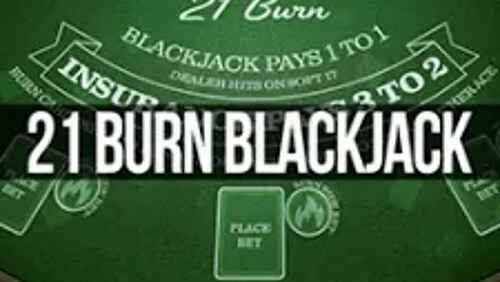 RTP

99.46%
Volatility

Unknown
Provider:

Betsoft

Minimum bet:

1.00

Maximum bet:

500.00
21 Burn Blackjack
21 Burn Blackjack is an entertaining multi-hand blackjack game that allows you to play up to three hands simultaneously and includes a BURN card option.
Each hand competes alone against the dealer (i.e. the bank), with no other players. The game is played with six (6) decks of cards. Your goal as a player is to draw (i.e., "hit") cards until your hand gets as close to 21 as possible without exceeding it. You have a Blackjack if your first two cards total 21.
Play 21 Burn Blackjack at Licensed Online Casinos
Trada Casino

100% up to €100 and 50 free spins

Tsars Casino

100% up to €300 and up to 100 extra spins

PlayFrank Casino

100% up to €100 + 50 Bonus Spins

CasinoBuck

100% up to €100 and 100 extra spins

Bitstarz Casino

100% up to €100 and up to 180 extra spins

SlotJoint Casino

200% up to €40
21 Burn Blackjack Review
21 Burn Blackjack was developed by Betsoft, an online casino software company that provides its platform to hundreds of iGaming operators around the world. 21 Burn Blackjack is a brand-exclusive game that can only be found in online casinos operated by Betsoft with the same name and rules.
The game is similar to any other blackjack game with standard rules, but there is one notable difference. If a player is unhappy with the second card in his hand, he can "burn" it. Burning a card means getting rid of it and replacing it with the next card in the deck - at a certain price, of course.
With the right plan - which we will discuss in more detail below - you can expect an RTP of 99.46%, which equates to a house advantage of 0.54%. You should be aware that the burn option is not used very often in the strategy (50 percent of the original bet) due to its high cost. At the same time, knowing when to burn is crucial for achieving top RTP results.
Let us start with the basics before I get too far ahead of myself...
What is 21 Burn Blackjack and how do I play it?
Apart from the possibility of burning your second card, 21 Burn is a normal blackjack game. (See the "Special Rules" section below for more information).
Burn: You must pay for the additional card to use the burn feature. Half the cost of the original bet. For example, if you bet $2 on the hand, you must spend $1 to replace the second card with a new one. The price for this advantage is a single rule change: a natural blackjack only pays even money.
It is important to know that the cost of burning does not add to your original bet. If you win the hand, you will be paid only the amount you originally bet. However, there is a possibility of winning something back. If the replacement card is an ace, the cost is converted into a burn bet that pays out between 2 and 7 times the bet. I'll get to that in a minute...
Below you will find the 21 Burn Blackjack rules that apply to all Betsoft online casinos:
Decks: 6
Soft 17: Dealer Hits
Doubling: Yes, on any two cards
Splitting: Yes, 1x only
Double after Split: Yes
Resplit Aces: No
Draw to Split Aces: No
Surrender: No
Dealer Checks for Blackjack: Yes
Blackjack Pays: 1 to 1
The cost of burning a card is converted into a burn bet. This bet is lost if the next card is not an Ace. If it is an Ace, you get your money back plus something.
Ace of Spades -- 7 : 1
Any other Ace -- 2 : 1
Any other card (not an Ace) -- Lose
21 Burn Blackjack strategy
When it comes to planning a flawless game for 21 Burn Blackjack, there is a lot to consider. First, you need to determine whether or not it is appropriate to use the Burn option. Then, you need to play the hand that resulted. If you do everything right, you will get an RTP of 99.46 percent.
When should you burn?
Burning a card costs 50 percent of your original bet, so it's rarely the best option. Even with a perfect strategy, there is a negative expectation: you will lose 67.31 percent of the money you spent on Burning. Therefore, you should burn a card only if it increases your chances of winning by (67.31 percent * 50 percent) 33.65 percent.
Strategy for the base game
Once the burn choice has been made, it's time to play out the base game - for better or worse. Hard hands, soft hands, and paired hands are shown in the following three diagrams. Choose a chart that corresponds to your hand type, then scroll down the left column to find your current hand value. Make your choice based on the right column, which corresponds to the dealer's up card.
How to decide a Hard Hand
| Hard total | Correct action |
| --- | --- |
| 8 & Under | Hit |
| 9 | Double against Dealer's 3-6; otherwise Hit |
| 10 | Double against Dealer's 2-9; otherwise Hit |
| 11 | Double |
| 12 | Stand against Dealer's 4-6; otherwise Hit |
| 13-16 | Stand against Dealer's 2-6; otherwise Hit |
| 17-21 | Stand |
How act if you have a Soft Hand?
| Soft total | Correct action |
| --- | --- |
| 13-14 | Double against Dealer's 5-6; otherwise Hit |
| 15-16 | Double against Dealer's 4-6; otherwise Hit |
| 17 | Double against Dealer's 3-6; otherwise Hit |
| 18 | Double against Dealer's 2-6; Hit against 9-A; otherwise Stand |
| 19 | Double against Dealer's 2-6; Hit against 9-A; otherwise Stand |
| 20-21 | Stand |
Splitting Pairs
Splitting allows you to increase the value of a single payout by doubling it. When you receive a pair, whether before or after the burn, this table shows you how to play 21 Burn Blackjack. Note, however, that according to the guidelines, you can only split once. If you are told to split a hand that cannot be split, use the hard/soft hand tables to figure out what to do.
| Pair | Correct action |
| --- | --- |
| Ace-Ace | Split |
| 2-2 | Split against dealer's 2-7; otherwise Hit |
| 3-3 | Split against dealer's 2-7; otherwise Hit |
| 4-4 | Double against dealer's 5-6; otherwise Hit |
| 5-5 | Double against dealer's 2-9; otherwise Hit |
| 6-6 | Split against dealer's 2-6; otherwise Hit |
| 7-7 | Split against dealer's 2-7; otherwise Hit |
| 8-8 | Split against dealer's 2-9; otherwise Hit |
| 9-9 | Split against dealer's 2-6 or 8-9; otherwise Stand |
| 10-10 | Stand |