Play PixiePop by AvatarUX for Free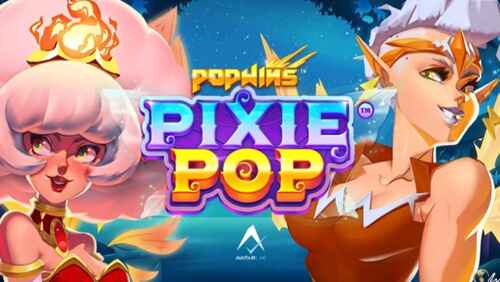 RTP

96.0%
Volatility

High
Provider:

AvatarUX

Rating:

4.49 / 5

Reels:

5

Paylines:

243-65,536

Hit Frequency:

24.81%

Minimum bet:

0.20

Maximum bet:

100.00

Maximum win:

20,000x

Released:

22 June 2023
PixiePop
PixiePop™ by AvatarUX is a magical slot game loaded with the PopWins™ mechanic, nudges, multipliers, wilds, and pay-anywhere symbols that increase your win possibilities.
Packed with high-quality graphics, a delightful fairy theme, and a soothing soundtrack, it offers an immersive gaming experience. The game's high RTP of 96.0% and high volatility promise big payouts for those patient enough. With a betting range from 0.20 to 100 coins per spin and the ability to auto-set up to 100 spins, PixiePop™ caters to all kinds of players.
The bonus round can provide free spins, enhanced with features that make winning big more likely. It's mobile-compatible for gaming on the go, and a free demo version is available for those who want a risk-free trial before playing with real money.
PixiePop: base game

PixiePop: Free Spins round

PixiePop: Arcane Win
PixiePop Review
Alright, buckle up cause this is going to be quite a ride! We've got PixiePop™ in our sights today. This charm of a slot game from AvatarUX is not just your run-of-the-mill spinner. It's the newest member of the enchanting PopWins™ series, meaning it comes loaded with exploding symbols that pave the way for double trouble - two new symbols crash the party every time you bag a win. Add a sprinkle of generous nudges, multipliers galore, elusive wilds, and pay-this-way-or-that symbols, and voila! You've got an awe-inspiring fairy-dusted adventure heading towards that pot of gold at the end of the rainbow.
It's All In The Theme - Dig The Graphics!
The moment you fire up PixiePop™, you're thrown right into an inviting enchanted forest where friendly fairies are batting their eyes charmingly at you with an invitation to romp through their mystical lands. AvatarUX delivers a visual feast with this one: vibrant hues, twinkling effects, and oh-so-cute animations. Symbols? They're four varied fairies, each with a unique color and personality. Let's not forget those classic card suits vying for your attention too! Plus, soothing music floats in the background, ticking all the boxes for an immersive gaming experience.
Don't Ignore Your RTP and Volatility
Betting 'ain't no fairy tale without understanding Return To Player percentage (RTP) and volatility. Packed in PixiePop™ is a decent RTP rate at 96.0%, dishing out a higher-than-average cut-back of bets over time. Though remember, lady luck still holds her reigns over guaranteeing win times. Given its high volatility, brace yourself for nerve-racking stretches of sparse wins generously peppered with bursts of chunky payouts.
Put Your Money Where The Slot Is
Eager to dive straight into the betting goods? You're in luck! PixiePop™ by AvatarUX brings its A-game with a 5-reel, 3-row matrix, but there's a glittering twist. Equipped with the exceptionality of PopWins™ mechanics, this gameplay gets all popping and swapping fun. Winning symbols get marching orders to punctuate your game with double fresh symbols. What does that mean for your winning chances? They skyrocket at every spin! From an initial 243 ways-to-win, buckle up to punch up to a whopping 65,536 ways-to-win if all reels reach their symbolic six-pack.
Maybe you're looking for a mellow cruise or in for white-knuckled betting madness - PixiePop™'s got you covered with a betting range between 0.20 and 100 credits moving at your pace. And guess what? Multitaskers can set it for auto mode sending out up to 100 spins on custom preferences like loss limit, single win limit; you name it.
What is PopWins?
After each win and the wins have been evaluated, each winning symbol "pops" (is removed) and is replaced by 2 symbols, increasing the reel height. This is repeated as long as there are more wins. In the base game, reels can be expanded up to 5x6 symbols column height.
This means that if a reel has reached maximum height, and there are still winning combinations on this reel, the symbol still pops, but it only gets replaced by one symbol since it cannot expand any further.
What Makes PixiePop™ Pop?
The magical glow of PixiePop™ takes on a fantastic hue thanks to cascades of features transforming your gameplay and spiking those winnings:
Nudge Feature: Looking for that golden win-combo or itch to kick-start that bonus round? Look no further! On any spin, watch one, or even more, reels nudged, either way, granting you that winning advantage. And yes! It applies during bonus rounds too.
Bonus Rounds: On sighting three or more bonus tokens across your reels, viola! You've just landed yourself into ten free whirls around this magical carousel. Watch out for one particular fairy symbol stepping into the limelight as an enchanted emblem during bonus rounds. It's getting paid regardless of where it is placed or lounging non-consecutively across reels. Forming a winning combo doesn't hurt.
Multiplier Feature: Seeking some multiplier magic during bonus rounds? Sit tight and let those enchanted symbols lead you to sparkling fortunes as each popped enchantment increases multiplier value starting from '1x'. Keep an eye on random multiplier boosts, which could inflate or even multiply values between '2' and '10'.
Wild Feature: Watch wild symbols mark their untamed territory across reels helping mend broken winning combinations on any given spin. Brace yourself for double surprises as partaking wilds in wins pop open, revealing two new symbols!
In essence, this AvatarUX beauty is different from your everyday slot. Its fantasy-themed fizzy gameplay and electrifying features make everyday magic happen at PixiePop™.
Get Gaming Anywhere, Everywhere
What's fantastic about PixiePop™ is its compatibility with mobile platforms. No need to stick to your desktop to enjoy this slot's magic - any smartphone or tablet does the trick! Credit its responsive design seamlessly adjusts to any screen size and orientation. That means top-notch graphics and gaming experiences are always a tap away, regardless of your device preference.
Access everything from game settings, paytable info, and rules from the menu button at the bottom-left corner. Whether you're killing time during your daily commute or conquering slot lands from your cozy couch, PixiePop™ guarantees a smooth gameplay experience.
Haven't Tried It Yet? Try The Free Demo!
Not sold yet or still toeing the gambling waters? Good news! Try out a complimentary demo of PixiePop™ right here on our website. This demo version mirrors every aspect of its real-money twin. Test the whole caboodle—features, triggering bonus rounds, different bet sizes, payouts—you name it! Nothing beats no-risk fun when you want to sit back and enjoy. Click on 'Try demo' for free access.
Wrapping It Up
Hopefully, we've managed to capture the magic that is PixiePop™ in this review! It delivers a stunning visual treat and features poised to shoot your winnings through the roof. The Nudge might prod you that extra round towards bonus lands or combine those winning odds like never before. Perk up for free spin bonuses sprinkled with Pay-anywhere symbols trading space for money irrespective of their playground position. While these features can inflate your winnings dramatically, Wilds pop up, replacing any symbol around (just ignoring Bonus ones), binding winnings lines much easier.
All said and done, PixiePop's™ got something in store for everyone. Are you looking for calming spins or heart-thumping thrills? Take your pick because this slot caters to both cravings! With high volatility and a 96.0% RTP rate on deck, waiting it out could pay off –literally–with massive prizes if lady luck agrees. Be savvy, though, and strategize your bankroll while picking bets ranging from .20 to 100 credits per round.
Gear up to step into PixiePop's™ mystical forest and rub elbows with its magical creatures guiding you. Make a beeline to our website today and kick-start this fantasy-laden slot adventure, ready to rewrite what joy spinning can bring! Trust us; you won't look back.
PixiePop FAQ
PixiePop™ is an enchanting slot game from AvatarUX that's part of the popular PopWins™ series. It comes loaded with exploding symbols that bring two new symbols every time you win, nudges, multipliers, wilds, and multi-directional symbols.
What is the game's theme?
PixiePop™ transports you to an enchanted forest filled with friendly fairies. The graphics include vibrant colors, twinkling effects, and cute animations. Your symbols are four varied fairies along with traditional card suits.
What are the RTP and volatility of PixiePop™?
PixiePop™ offers a decent RTP rate at 96.0%, which means it will generally give back a higher cut of bets over time than many other games. However, it also has high volatility, meaning wins might happen in sparse bursts, but they'll likely carry hefty payouts.
How does the betting work?
Starting with 5 reels and 3 rows, this game includes a PopWins™ mechanic — each winning symbol, "pops" is replaced by two symbols. This can take 243 ways to win up to an impressive 65,536 if all reels reach their maximum height. The betting range varies between 0.20 to 100 credits.
Can I play on my mobile device?
Absolutely! PixiePop™ is fully compatible with all mobile platforms thanks to its responsive design. You can enjoy top-notch graphics and smooth gameplay regardless of device or screen size.
I'm new to gambling - Can I try this game for free?
Yes, you can! A complimentary demo version of PixiePop™ is available on our website for anyone who wants to test the features, triggering bonus rounds, different bet sizes, and payouts without risking any real money.
What special features does PixiePop™ have?
There's a lot! The Nudge Feature can tilt winning combinations in your favor. The Multiplier Feature inflates your winnings during bonus rounds; each pop increases multiplier value starting from '1x'. Spot Bonus Tokens for ten free spins during Bonus Rounds, where one fairy transforms into a pay-anywhere symbol. Lastly, Wilds may appear, replacing any symbol—except the Bonus ones.
How do I navigate through the game on my mobile device?
You access all game settings, paytable information, and rules from the menu button at your screen's bottom-left corner. It's designed for smooth navigation on touchscreens, just as well as desktop interfaces.
This PixiePop review was authored by W.Bergstrom | Last updated on 01 July 2023.