Play LooneyPop by AvatarUX for Free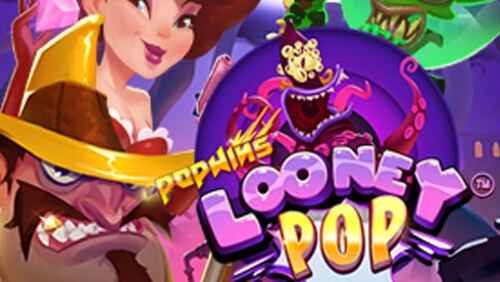 Provider:

AvatarUX

Rating:

4.2 / 5

Reels:

5

Paylines:

486

Minimum bet:

0.20

Maximum bet:

40.00

Maximum win:

50,000x

Released:

22 February 2023
LooneyPop
LooneyPop is a video slot by AvatarUX in which a crazy professor sends all sorts of monsters he created into the world, causing the entire planet into turmoil. You follow the story on a field of 5 reels on which up to 6 symbols can appear in the base game and as many as 9 in one of the bonus features.
The game has a default RTP of 96% and is a highly volatile slot. The maximum win is 50,000x the stake, which can be yours by betting as low as $0.20 or as high as $40 per spin. The game also has a free spins feature that can be triggered by landing three or more scatter symbols.
Welcome to LooneyPop slot

LooneyPop Base Game

LooneyPop Buy Bonus Feature

LooneyPop Gamble Wheel

LooneyPop Free Spins Round
LooneyPop Review
Theme and Graphics
The mad professor is on a mission to bring monsters from nightmares and popular media to life. He creates his abominable creatures in his vile laboratory and sets them loose, causing panic and destruction!
The professor's laboratory is filled with lightning, smoke, chemicals, and eerie ingredients. It perfectly embodies chaos, although the cartoonish graphics give it a somewhat whimsical feel.
The game features a pay table with four high-paying characters, including the mad professor himself, Rocket, Dynamite, and Zapping Gun. There are also A-9 least-worthy royals to round out the roster.
RTP and Volatility
According to AvatarUX, players can expect an average Return to Player (RTP) of 96%. While this may not be the highest RTP available in the market, it's still a fair rate for players to earn back their bets potentially.
Players who enjoy taking risks and chasing big wins will appreciate the high volatility of LooneyPop. However, it's worth noting that LooneyPop is a game with very high volatility, meaning that wins may not come as often, but when they do, they tend to be larger. This translates to a gameplay experience that is more thrilling and can result in potentially huge payouts of up to 50,000x the stake. Check our RTP and Volatility guide for more information about these essential stats.
Betting Options and Payouts
LooneyPop has a dynamic 5-reel game grid, which starts at three rows high but can stretch to a maximum of 6 high in the base game or nine high during free spins.
The game allows players to choose their bets, starting from a minimum of 0.20 to a maximum of 40.0 per spin. The impressive potential payouts make LooneyPop an attractive game for high rollers.
To win in LooneyPop, players must land identical symbols across at least three adjacent reels, starting from either the left or right side of the grid. Since the game pays both ways, players have at least 486 ways to win, which can rise to 118,098 ways during free spins when all nine rows are in play.
The symbols in the game include low-paying royals, ranging from 9 to Ace, and high-paying symbols, including a dynamite bundle, a rocket launcher, a bomb, a glamorous lady, a male gunslinger, a scientist, and an alien. A five-of-a-kind royal win pays between 0.2 to 0.6 times the bet, while the high-paying symbols are worth 1 to 1.5 times the stake. The game does not feature any wilds.
Special Features
LooneyPop offers various special features to keep players engaged and excited. Let's take a closer look at these features:
PopWins
Each winning symbol Pops and is replaced by two symbols increasing the reel height. This is repeated as long as there are more wins. The reels can be expanded to 6 symbols tall in the base game and up to 9 in Free Spins.
ZapReel
One unique feature in the game is the ZapReel. This is an additional horizontal reel located on top of the game grid. It displays special feature rewards on each spin, and players can win big by landing on these rewards.
Buy Bonus MAX
Players also have the option to buy the extended Free Spin Mode through the Buy Bonus MAX feature. This lets players jump straight into the top Free Spins mode with 12 free spins and 3 ZapReel rewards on each spin.
Gamble Wheel
Another exciting feature is the Gamble Wheel. Before entering Free Spins mode, players can spin the wheel to increase the number of free spins they potentially receive. However, losing the gamble will take players back to the base game without playing any free spins.
Free Spins
During Free Spins mode, the game grid starts at six symbols high, and players can increase it to 9 symbols tall. Unlike the base game, the progress of unlocking the reels in Free Spins does not fully reset between each spin. Instead, it only resets down to the shortest reel height.
How to Play
Press the spin button to play the game
Select your bet size on the Bet Level interface
Press the Autoplay icon to open the autoplay settings (if applicable)
Autoplay - Displays the autoplay options
The game panel will display your current bet size, current win, and current balance
Mobile Compatibility
If you're a casino game fan on your mobile device, you'll be pleased to know that LooneyPop is available on both desktop and mobile devices. The game's mobile version features the same excellent graphics and gameplay as the desktop version, and it's optimized for various mobile devices.
It's important to remember, however, that there may be some differences in the gameplay experience between the desktop and mobile versions of the game. For instance, the game's layout and design may differ on a mobile device, and some buttons may be positioned differently. Nevertheless, these discrepancies are minor and should be balanced with your overall gaming enjoyment.
Free Demo
We offer a free game demo if you want to try out the LooneyPop slot before playing for real money. This demo lets players experience the game's features and functions without risking their money. The game's demo version is identical to the real money version, with the same features, graphics, and animations.
To access the free demo of the LooneyPop slot, scroll up to the top of this page and click the Play button. You can play the demo for as long as you like without limitations on the number of spins or time spent playing. Once you've tried the game for free, you can decide whether or not to play for real money.
Conclusion
LooneyPop is a well-executed slot game with a theme reminiscent of the Looney Tunes cartoons. Despite the cartoonish design and bright colors, the game's setting is a mad scientist's laboratory, providing a slightly darker ambiance.
Avatar UX has done an excellent job designing the game and its effects, which synchronize perfectly with the theme. The game is a part of PopWin's collection and features nerve-wracking moments with win both ways, increasing rows, and adding new symbols that make the spins enjoyable.
Despite its unusual charms, LooneyPop delivers a smooth and fun PopWins adventure. One of its distinguishing features is the Zap Reel, which drops in symbol splits, multipliers, and synched reels inspired by Nolimit City's Enhancer Cells concept. LooneyPop may not be the top PopWins game, but its quirky theme, seamless performance, and potential for big wins make it a solid choice. The Zap Reel also gives it an originality factor that differentiates it from other PopWins games.
LooneyPop FAQ
What is the Return to Player (RTP) of LooneyPop, and is the game highly volatile?
According to AvatarUX, the average RTP of LooneyPop is 96%, which is a fair rate for players to earn back their bets potentially. The game is also highly volatile, meaning that wins may come less often but tend to be larger, resulting in a thrilling gameplay experience.
How many ways to win does LooneyPop offer, and what are the game's payouts?
LooneyPop offers at least 486 ways to win, which can rise to 118,098 ways during free spins when all nine rows are in play. The game's payouts range from 0.2 to 0.6 times the bet for five-of-a-kind royal wins and 1 to 1.5 times the stake for high-paying symbols.
Does LooneyPop feature any special features or bonuses?
LooneyPop offers several unique features, including PopWins, ZapReel, Buy Bonus MAX, Gamble Wheel, and Free Spins. PopWins increases the reel height with each winning symbol, while ZapReel displays special feature rewards on each spin. Buy Bonus MAX lets players jump straight into the top Free Spins mode with 12 free spins and 3 ZapReel rewards on each spin. Gamble Wheel allows players to spin the wheel to increase the number of free spins they receive, while Free Spins mode lets players increase the game grid's height to nine symbols.
Is LooneyPop available on mobile devices, and does it offer a free demo?
Yes, LooneyPop is available on desktop and mobile devices, and the mobile version is optimized for various devices. The game also offers a free demo that allows players to experience its features and functions without risking their money.
This LooneyPop review was authored by W.Bergstrom | Last updated on 01 July 2023.