Play Candy Blitz by Pragmatic Play for Free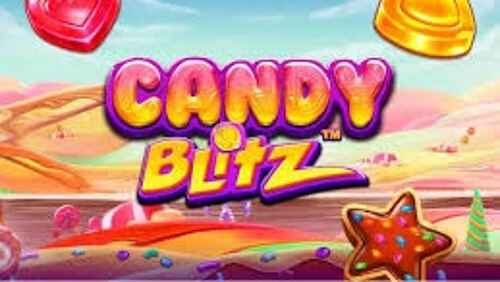 RTP

96.08%
Volatility

High
Provider:

Pragmatic Play

Rating:

4.21 / 5

Reels:

6

Paylines:

Scatter Pays

Minimum bet:

0.20

Maximum bet:

240.00

Maximum win:

10,000x

Released:

31 August 2023
Candy Blitz
Candy Blitz is a visually captivating, candy-themed slot game with an above-average Return to Player (RTP) rate of 96.08%. The game hosts a higher volatility, promising rewarding, albeit less frequent, wins. Though appearing simple in design, the game is brimming with engaging features such as a multiplier reel, free spins, and a unique Buy Free Spins feature.
The flexible betting range, beginning at 0.20 and capping at 240.00 per spin, caters to a broad range of player preferences. Moreover, Candy Blitz's payout mechanism involves forming clusters of matching symbols, creating enticing payout opportunities.
Feel intrigued? Please read for an in-depth review and try the free demo on our website before your game with real money.
Candy Blitz - base game

Candy Blitz - free spins won

Candy Blitz - free spins round
Play Candy Blitz at Licensed Online Casinos
Emojino Casino

100% up to €250

Gslot Casino

100% up to €100 and 100 extra spins

Bet It All Casino

100% up to €10

Trada Casino

100% up to €100 and 50 free spins

Tsars Casino

100% up to €300 and up to 100 extra spins

Stake7 Casino

100% up to €400
Candy Blitz Review
Graphic Design and Theme
Bearing vibrant, candy-centric aesthetics, Candy Blitz captures players' fascination with its vivid backdrop of sugar-coated trees and pastel-colored ice cream hills. The candy symbols come in a range of pleasing shapes and colors - hearts, stars, and triangles, among others. While the graphics lean on the simplistic side, they maintain their charm, made more engaging through smooth, lively animations. Complementing the visual fun is an upbeat, catchy soundtrack, enhancing the gaming atmosphere.
RTP (Return to Player) and Volatility
Candy Blitz boats a higher volatility level, translating to a gaming element where winnings might not frequent your game, but when they do, they tend to hold a higher value.
The game scores a slightly more than average RTP of 96.08%. This implies a theoretical return of 96.08% for every stake wagered over the long run. However, actual results may diverge owing to factors such as luck and the duration of the gameplay session.
Bet Range and Payouts
Offering a flexible betting range - from 0.20 to 240.00 per spin - Candy Blitz adeptly accommodates various spending preferences and player risk profiles. Pay-offs follow a cluster mechanism where wins are rewarded for eight or more identical symbols, their reel locations notwithstanding.
Payout figures correlate directly with the quantity and variety of candy symbols in a cluster, with an added variable being the multiplier value from the wheel. The red heart is the highest paying token, offering up to a whopping 50x the bet for a cluster of 12 or more, while the blue circle trails as the funding symbol, providing returns of up to 0.75x for identical conditions.
Game Mechanics Unwrapped
Unearthing the treats within Candy Blitz's metaphorical pick 'n mix bag reveals a treasure trove of bonus features, including a multiplier reel, free spins, and an intriguing buy free spins feature.
The Magic of the Multiplier Reel
Adjacent to the primary reels sits a dedicated multiplier reel, enhancing your gameplay with a hint of the unexpected. Five randomly selected multiplier tokens fall onto this reel during each spin, with potential values ranging from x1 to a whopping x500. Paradoxically, the blue tokens, devoid of any visible value, denote x1 multipliers. The product of in-game wins and the lowest multiplier visually represented on the reel determines the final win tally. Post each tumble; an intriguing dynamic sees all multiplier values on the reel shift down a notch.
Tryst with Free Spins
Landing 4, 5, or 6 scatter symbols in the base game instantly rewards you with 10, 12, or 14 free spins, respectively. During these spins, the minimum multiplier you can expect is x2. Apart from this intriguing twist, the gameplay remains familiar. Identical combinations of scatter symbols during the feature will grant you an additional 5, 8, or 10 free spins.
Buy Free Spins
Candy Blitz introduces the Buy Free Spins feature by embracing a unique risk-and-reward philosophy. As the name suggests, you can secure an assured free spins round by staking an amount equivalent to 100 times your bet. This inventive provision guarantees the triggering feature for 4, 5, or 6 scatters.
Cross-Platform Compatibility
One of the major advantages of diving into the Candy Blitz experience is its mobile compatibility. This captivating slot is designed for optimum gameplay across various devices, be it mobile or desktop.
The game's fluid design adapts to any screen size or resolution, ensuring a seamless and engaging gaming encounter on the move. Equally accessible on iOS, Android, and Windows platforms, you can launch Candy Blitz directly from your favorite browser and ease into spinning the reels.
Explore the Free Demo
If you prefer testing the waters before diving in, you can sample Candy Blitz for free on our website. We provide a free demo version replicating the real-money version in every detail - features, graphics, and gameplay. Virtual credits allow you to explore the game's volatility, payouts, and bonus rounds without any monetary risks. The free demo is a relaxed playground to familiarize yourself with the game mechanics and enjoy some pressure-less fun.
Final Verdict
Time and again, Pragmatic Play has aced the candy-themed universe, with successful titles like Sweet Bonanza and Sugar Rush under its belt. These successes underscore their expertise in leveraging the candy motif. So, does Candy Blitz have what it takes to rise to the top? Pragmatic Play and its partner Reel Kingdom are known for their tenacious approach - repeatedly experimenting until they hit the sweet spot. Candy Blitz might be their next star player.
What could steer Candy Blitz into the spotlight? Its inherent simplicity and the high-energy gaming environment typical of Pragmatic Play both favor it. The application of multipliers particularly impresses, punctuating your gameplay experience often enough to keep the anticipation alive. In the base game, blue x1 multipliers might seem frustrating, but the game rewards patience with potential high-value multipliers.
The game differentiates itself from its sibling, Sweet PowerNudge, in more ways than one. Its Multiplier Reel omits predictability, injecting a dose of uncertainty that could charm or displease, depending on your perspective. Active multipliers feature in base and bonus games, multiplying excitement and rewards. In terms of maximum payout potential, Candy Blitz surpasses its counterpart, Sweet PowerNudge, promising rewarding experiences up to its maximum cap of 10,000 the bet.
On balance, Candy Blitz stands out among its peers with its charming, candy-themed design and impressive payout potential.
More Pragmatic Play Games
Candy Blitz FAQ
What is the Return to Player (RTP) of Candy Blitz?
The RTP of Candy Blitz is slightly above average at 96.08%. This PRT indicates a theoretical return of 96.08% for every wager over a long period. However, actual results may vary based on luck and the session duration.
What are the bonus features of Candy Blitz?
Candy Blitz offers a wealth of bonus features, including a dedicated multiplier reel, a substantial free spins challenge, and an innovative Buy Free Spins feature that allows players to purchase a guaranteed free spins round.
Can I play Candy Blitz on my mobile device?
Absolutely! Candy Blitz is fully compatible with mobile devices, employing a responsive design that provides seamless gameplay regardless of screen size or resolution. The game is accessible on all prominent platforms, including iOS, Android, and Windows.
What is the betting range in Candy Blitz?
Candy Blitz sports a highly flexible betting range catering to various player budgets. You can stake anywhere from 0.20 to 240.00 per spin.
How does the payout mechanism work in Candy Blitz?
Candy Blitz employs a cluster mechanism for its payouts. Wins are awarded for eight or more identical symbols, regardless of their position on the reels. The final payout depends on the quantity and type of candy symbols in a cluster and the applied multiplier from the wheel.
How can I practice playing Candy Blitz without spending real money?
Stay calm if you're hesitant! You can try our free demo version of Candy Blitz, available on our website. The demo mirrors the real-money version, allowing you to understand its volatility, payouts, and bonus rounds risk-free.
What differentiates Candy Blitz from other slot games by Pragmatic Play
Candy Blitz stands out with its unique features, such as the Multiplier Reel, which adds an element of unpredictability to the game. It also offers a higher maximum payout potential than its sibling, Sweet PowerNudge.
This Candy Blitz review was authored by W.Bergstrom | Last updated on 05 September 2023.