Play Piñata Popper Dream Drop by Relax Gaming for Free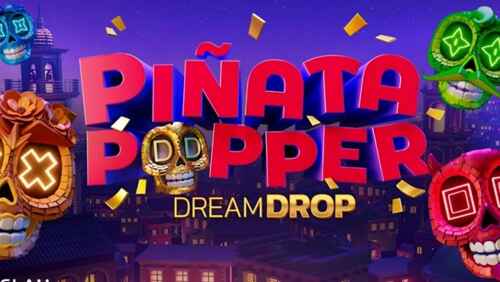 RTP

94.0%
Volatility

High
Provider:

Relax Gaming

Rating:

4.04 / 5

Reels:

7

Paylines:

Cluster pays

Hit Frequency:

20.09%

Minimum bet:

0.20

Maximum bet:

100.00

Maximum win:

10,000x

Released:

22 August 2023
Piñata Popper Dream Drop
Piñata Popper Dream Drop is a festive and thrilling slot game by Relax Gaming. Set against Mexican traditions, it has features such as cluster pays, respins, free spins, symbol transformations, and multipliers over a 7x7 grid. Brace yourself for an adrenaline rush as it offers not one but four progressive jackpots! Although with high volatility, significant wins intersperse long dry spells. Choose to play the standard version with an RTP of 96.15% or the Dream Drop version with an RTP of 94%, but a bonanza of jackpot options awaits you.
Feeling intrigued? That's just the tip of the iceberg. You can continue reading to enjoy a detailed rundown on user experience, game features, betting flexibility, rewards, theme graphics, and insights into each component.
Eager to take the plunge? Swing by our free demo version before you bet real money- tantalizing tacos, flippin' sombreros, and whackable piñatas are all set to get your reels spinning!
Pinata Popper Dream Drop - base game

Pinata Popper Dream Drop - the bonus round

Pinata Popper Dream Drop - respin
Play Piñata Popper Dream Drop at Licensed Online Casinos
Vulkan Vegas Casino

100% up to €300 and 25 extra spins

CasinoBuck

100% up to €100 and 100 extra spins

Bitstarz Casino

100% up to €100 and up to 180 extra spins

Casino-X

200% up to €50 + 200 extra spins

JoyCasino

150% up to €300 and up to 200 extra spins

Gslot Casino

100% up to €100 and 100 extra spins
Piñata Popper Dream Drop Review
Graphics & Theme: Get Ready to Fiesta!
Piñata Popper Dream Drop paints joy on your screen with vibrant splashes of color that pay tribute to Mexican customs and the cherished tradition of piñata popping.
Fancy a journey? You're transported to the rooftops of Mexico City, where festive flags, balloons, and fireworks adorn the backdrop. The grid is peppered with symbols aligning with the fiesta theme-- think tacos, tequila bottles, sombreros, and chili peppers. Its graphics don an amusing and cartoonish style while spirited animations and playful sound effects amp up the merry ambiance.
Bonus: Peep out for different piñata symbols that spring bonus features on your reel for nail-biting suspense!
RTP & Volatility: The Numbers Game
Piñata Popper Dream Drop presents two avatars: the Dream Drop betty and its non-Dream Drop counterpart. Embrace jackpot chasers; the Dream Drop model delivers an RTP (Return to Player) fixed at 94%, just shy of the industry average of 96%. But what it lacks in RTP percentages, it compensates with chances at four progressive jackpots: Mini, Minor, Major, or Grand—feeling more traditional? The non-Dream Drop version might float your boat – featuring a stronger RTP at 96.15%, albeit without any jackpot lure. Regardless of which game suits your fancy – each displays high volatility, which implies big wins just as much as long spans of dry runs.
Betting & Payoffs: Lay Down the Cards
In Piñata Popper Dream Drop's world, cluster pays dictate your destiny — five identical symbols cozied together in a cluster trigger those wins! For those greenhorns, clusters are when symbols sidle up next to one another horizontally or vertically.
Bet realms range from 0.20 to 100 coins per spin, catering to all budget levels and betting styles. For those go-getters amongst us who love multitasking, check out the autoplay feature consisting of up to 1000 spins, complete with robust limit & condition customizations.
Your cash-outs in Piñata Popper Dream Drop hang on cluster size and symbol identity. Small fries are card suits – clubs, spades, diamonds & hearts; whereas ones raking in big bucks are taco, tequila bottle sombrero & chili pepper symbols. Indeed, Chili Pepper tops as queen bee, awarding up to 1000x your bet for clusters bulging with 45 or more of this hot symbol! Special mention: Keep a beady eye for Piñata symbols willing to convert into any symbol or even unlock bonus features!
Up Your Gameplay with Features & Bonuses
Relax Gaming's Piñata Popper Dream Drop, with a vibrant Mexican theme awash with vibrant piñatas, tantalizing tacos, tequila to lift spirits, and foot-tapping mariachi tunes, is more than just any simple video slot game. Building upon a cluster payout mechanic—think five or more matching symbols horizontally or vertically for a win—it's packed with fascinating features and bonuses that can upgrade your gameplay and skyrocket your winning chances.
Get into the Flow with Cascading Reels
Piñata Popper Dream Drop hangs its charm on the Cascading Reels feature. Picture this: every time you strike a winning cluster, the successful symbols vanish as new ones tumble down from above to fill the gap. This action can spark a chain reaction of winning combos, inviting cascades. And it keeps going—the captivating cascading reels don't halt until no further wins pop up.
Amp Up the Ante with the Piñata Popper Feature
The game tosses in another zestful treat — the Piñata Popper feature. It randomly springs to life during any spin and will sprinkle up to 16 piñata symbols across the reels.
There's more! These piñatas can unveil any standard symbol or even a wild symbol versatile enough to sub for any other symbol, barring the scatter. This unique feature nudges you closer to crafting winning clusters and igniting cascades.
Free Spins Feature: Unwrap More Surprises!
Claim center stage in Piñata Popper Dream Drop's bonuses is the magnetic Free Spins feature. Do you want to crack this open? Land three or more scatter symbols (marked by a golden Chichen Itza pyramid) anywhere on the reels.
You'll be showered with ten free spins and a random multiplier ranging from x2 to x10 that will magnify all your free spin winnings. That doesn't end here—the multiplier could nudge up by x1 each time you get a scatter symbol during your free spins—maxing out at an astronomical x100! And if Lady Luck smiles upon you—retriggering the free spins requires another triple or more scatters, netting yet another ten free spins.
Opt into Winning with Dream Drop Feature
The beauty of Piñata Popper Dream Drop is its optional Dream Drop feature that empowers you to dial up your excitement levels anytime during base gameplay or free spins. For a signposted price, buy an extra scatter symbol and boost your odds of triggering those sought-after free spins.
Now, the cost of this extra scatter hinges on your bet size and tally of available scatters already visible on reels. Remember, though—you can snag up to only two added scatters per spin and won't be able to purchase them if three or more scatters are already jazzing up your reels.
Ready for Mobile Fiesta Fun?
Piñata Popper Dream Drop is right up your alley if you're the type who loves to game on the move. Thanks to Relax Gaming's considerate design, this slot game is compatible with many devices—bring out your smartphone tablets or even fall back on your desktop!
The designers have engineered an adaptable layout that gets along exceptionally well with diverse screen sizes and orientations. So tune in anytime, anywhere, and soak in a rich visual treat underpinned by festive tunes erupting right from this mobile-friendly game!
Test-Drive with Free Demo!
Do you want to dive right in? No worries! We've got a free demo version right at your fingertips. With no real money at stake, you can test the waters before taking the plunge. Moreover, our demo mirrors the actual money-spinning version of the game. You get first-hand experience of all the engaging features and riveting bonuses that Piñata Popper Dream Drop packs into its vibrant slot world.
Takeaways: Our Experience & Verdict
Our stint with Piñata Popper Dream Drop was akin to a real Mexican party—tons of fun and surprises! The cluster pay mechanic means exactly five identical symbols lined up horizontally or vertically are all it takes to launch wins. Winning flag removal allows fresh ones to cascade, paving the way for more winner chances.
Adding festive color are the four piñatas showing up on reels, creating room for modifiers like extra spins, symbol upgrades, wilds, or multipliers. The Dream Drop feature plays unpredictable genie—showing up randomly post any spin showering one among four jackpots: Mini, Minor, Major, or Grand—with the Grand jackpot soaring as high as 10,000 times your bet!
Up for some risk? This high-volatility game may offer sporadic wins, but when it does-- it makes it worth your patience! However, keep an eye out—the RTP standing at 94% is a tad lower than typical online slots. Betting ranges are pretty democratic— spanning between 0.20 euros and towering up to 100 euros per whirl.
Flashing bright colors and parading cheerful tunes—thanks to its classic Mexican theme—Piñata Popper Dream Drop urges you to mock whack paper-mache creatures spilling out candies and rewards akin to tradition.
We reveled in playing Piñata Popper Dream Drop—we bet your gaming appetite will be whetted, too. It's a whirlwind mix of exhilarating thrill laced generously with sizable winnings. Savor non-stop interest with exciting features and the randomness lending that edge-of-the-seat unpredictability. Above all else, dream big, as this game offers humongous jackpot potential to jazz up your pursuit.
For all those punters scouting for refreshing additions to their video slot favorites—we urge you not to miss out on exploring Piñata Popper Dream Drop by Relax Gaming. We guarantee—a vivid riot of colors swirling into good times awaits you!
Piñata Popper Dream Drop FAQ
Can I play Piñata Popper Dream Drop on my mobile device?
Absolutely! Relax Gaming has optimized this game for mobile play. You can play it on multiple devices, including smartphones, tablets, and desktops.
What are the significant features in Piñata Popper Dream Drop?
Key features include Cascading Reels, a Cluster Pays mechanism, multiple bonus features that include free spins and multipliers, symbol transformations, and an optional Dream Drop feature to enhance your winning potential.
How many progressive jackpots does Piñata Popper Dream Drop have?
Four progressive jackpots are up for grabs in the game – Mini, Minor, Major, and Grand.
What's the RTP of Piñata Popper Dream Drop?
The RTP varies depending on which version of the game you choose. The non-Dream-Drop version has an RTP of 96.15%, while the Dream-Drop version's RTP is set at 94%.
Can I play a demo version of Piñata Popper Dream Drop before putting in real money?
Yes! We offer a free demo version of the game here on Gamblr to get a taste of the excitement before betting real money.
What's the betting range for Piñata Popper Dream Drop?
You can play across a wide betting range from 0.20 to 100 coins per spin.
How volatile is Piñata Popper Dream Drop?
The game has high volatility, which implies that big wins may often be followed by prolonged dry spell periods.
This Piñata Popper Dream Drop review was authored by W.Bergstrom | Last updated on 23 August 2023.