Play Win-O-Rama XL by Swintt for Free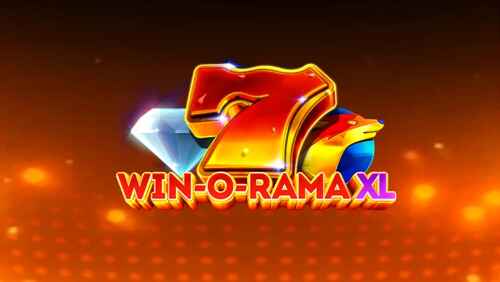 RTP

96.04%
Volatility

Medium
Provider:

Swintt

Rating:

3.52 / 5

Reels:

5

Paylines:

40 or 100

Minimum bet:

0.20

Maximum bet:

100.00

Maximum win:

3,000x

Released:

02 August 2023
Win-O-Rama XL
Take your chance to enjoy Win-O-Rama XL, a slot game that takes you back to the nostalgia of fruit machines, featuring vivid graphics and a humming soundtrack. It has an RTP of 95.04% and comes with medium volatility, allowing for frequent wins across its 100- or 40-line game modes. A special treat awaits in the form of expanding wilds that can balloon across entire reels, increasing your chances for a big win! Do you know if we mentioned it fits any device and doesn't need an app? Plus, there's a free demo to try before you go all in!
Feeling that itch in your thumbs already? Dig into our detailed review below or hit 'play' on our free demo to get the wheels rolling!
Win-O-Rama XL - base game

Win-O-Rama XL - gamble to win

Win-O-Rama XL - paytable
Win-O-Rama XL Review
Vivid Graphics, Energetic Theme
Win-O-Rama XL harks back to those traditional fruit machines we all adore, featuring the good ol' cherries, lemons, oranges, plums, grapes, watermelons, BARs, and everyone's lucky charm - the 7s. With its vivid colors and simple-yet-captivating design, it's sure to grab your attention. Plus, a lively soundtrack plays along that spices up the merriment.
The game comes in two thrilling flavors: 100 lines and 40 lines. Feel free to switch between these modes by tapping those little buttons at the screen's bottom corner. While the iconic symbols hang around in both modes, note that each promises unique payouts.
RTP and Volatility: Rewarding Yet Unpredictable
Win-O-Rama XL sports an RTP (return to player) of 95.04%, dangling just beneath the industry average limbo line of 96%. Translating its variance as a medium suggests frequent but more modest wins are on the table. It's right up your alley if you're one of those folks who fancy steady streams of winnings from longer play sessions.
Now brace yourself! This game has a pulsating jackpot multiplying your bet massively - 3,000 times! Reach for this star by landing five lucky 7s on a payline. And remember our generous expanding wilds stretching across an entire reel to substitute all other symbols barring the scatter.
Betting and Payouts: Flexible and Rewarding
Wander between the lowly realm of 0.01 per line up to the power-packed 1 per line, making your maximum wager a whopping 100, fitting any pocket size.
Dishing out 10 regular symbols, all harking back nostalgically to classic fruit machine icons, this game lines up its icons for rewarding returns. At the lower end of the spectrum sit cherries, lemons, oranges, plums, and grapes, which dangle payout fruits ranging from 5 coins up to a healthy bunch of 100 coins for three to five symbol formation. Then come watermelons, bells, BARs, stars, and our crowd-pleasing lucky 7s serving up a boost in coin count ranging from a base value of ten to peak earnings at a rocking 3K coins for successful trio-quintet play.
Unique Features: Expanding with Enthusiasm
Overshot expectations for free spins or mini-games? Just cool it. Although Win-O-Rama XL might not offer these extras, one powerhouse feature is hell-bent on setting your spinning world ablaze: Expanding wilds!
The wild icon, aptly illustrated as a flashy diamond spanking "wild" across it, will substitute any other symbol and complete your winning combo. An exhilarating twist comes with landing this diamond joker on reels 2,3, or 4 – watch as it struts its stuff by expanding over an entire reel! Now you're cooking with gas as multiple wins explode across diverse paylines pumping up your payout phenomenally.
With every whirl of reels in Win-O-Rama XL, these expanding wilds are the main spice-adding zesty flavor and unpredictability. Who knows when these dazzling wild symbols will drop in for a visit and get all stretchy on you – morphing an otherwise average spin into a mega-win surprise! So gear up, and let's let the good times roll!
Mobile Compatibility: Game On-the-Go!
One of the joys of spinning reels on Win-O-Rama XL is the liberty to partake in its engaging gameplay on any device you fancy! Whether you are a desktop buff, smartphone junkie, or tabletop enthusiast, this game readily caters to your platform preference. It adapts to screen sizes and resolutions, ensuring consistent quality and performance across devices. Hosting Win-O-Rama XL won't burden you with downloading any fussy apps or software; it's comfortable hanging out in most web browsers.
Free Demo: A Taste Before You Buy
On the fence about staking real greenbacks on Win-O-Rama XL? No worries, mate! We're offering you a free mission rehearsal right here on our site. An identical twin to the cash-wagering version, our demo mode delivers you all the thrills sans the risks. Familiarize yourself with the rules, symbol payouts, jaw-dropping features, and general gameplay without touching your wallet—the perfect way to try before you buy!
Conclusion: Classic but Energetic Fruit Slot
Our time with Win-O-Rama XL was nothing short of a blast! This slot embodies an exciting fusion of simplicity and invigoration, brilliantly capturing the nostalgic essence of old-school fruit machines while keeping up with modern accents. Offering flexibility, it lets high-rollers and budget players choose between a 100-line and 40-line thrill.
The expanding wilds are a show stealer, ready to swallow whole reels and dish out generous wins. The uplifting soundtrack and vibrant graphics make every spin an absolute pleasure - these wheels hum to an upbeat tune!
However, keep an eye out-lurking behind its colorful aesthetics and high volatility is a colossal max win multiplier (3k x your stake) capable of unleashing mega dollar showers-your lucky icons could transform into financial rainmakers swiftly!
That said, tread lightly - such giant victories imply high risks and potential unpredictability, calling for astute bankroll management. Also, if extra bells and whistles like free spins, waltzes, or mini-games are your thing, Wolf might feel slightly plain. Still, we firmly recommend Win-O-Rama XL as a fantastic pick for those fruit machine fanatics yearning for straightforward gameplay swirling with big-win potentials.
Proudly brought to life by the promising gaming hub - Swintt, while new in town doesn't mean they're wet behind their ears! With Malta as their base camp, Swintt has been laser-focused on crafting games suited explicitly to targeted markets and audiences. With an attention-grabbing portfolio boasting top-notch slots, table games, plus live dealer goodies, rest assured Swintt brings their undeniable penchant for quality craftsmanship, innovation, and boosting entertainment levels on every roll!
Win-O-Rama XL FAQ
Can I play Win-O-Rama XL for free?
Absolutely! We offer a free demo of Win-O-Rama XL right here on Gamblr so you can get a feel of the game before deciding to wager real money.
How many lines does Win-O-Rama XL have, and can I switch between them?
The game comes in two thrilling flavors: 100 lines and 40 lines. Yes, you can switch between the two by hitting those little buttons at the bottom corner of your screen.
How much is the RTP on Win-O-Rama XL?
Win-O-Rama XL's return-to-player (RTP) is 95.04%, just below the industry average.
What's unique about Win-O-Rama XL?
Take a bow, expanding wilds! This slot may not offer free spins or mini-games like other games, but it boasts an appealing expanding wilds feature. With this, any wild symbol on reels 2, 3, or 4 boosts your win chances by expanding over an entire reel!
Can I play it on mobile devices?
Indeed you can! Win-O-Rama XL is fully optimized for all platforms. So whether you're using a smartphone, tablet, or desktop (or all three), it'll fit your screen perfectly and perform seamlessly.
Is there a jackpot in the game?
Get this – score five lucky 7s symbols on a payline, and you could hit a jackpot of up to 3,000 times your original bet!
This Win-O-Rama XL review was authored by W.Bergstrom | Last updated on 12 August 2023.