Play Cluster Tumble Dream Drop by Reflex Gaming for Free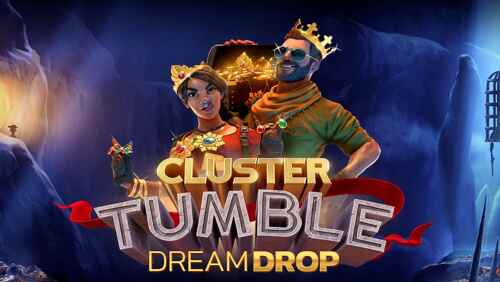 RTP

96.40%
Volatility

High
Provider:

Reflex Gaming

Rating:

3.98 / 5

Reels:

8

Paylines:

Cluster Pay

Minimum bet:

0.10

Maximum bet:

50.00

Maximum win:

20,000x

Released:

22 June 2023
Cluster Tumble Dream Drop
Cluster Tumble Dream Drop by Relax Gaming offers a thrilling gaming experience set in the Himalayan wilderness. With high volatility, an RTP of 96.40%, and loads of features, including free spins, wild symbols, lightning win, and more, you might land massive payouts up to 20k times your bet. Its compatibility across all devices ensures you enjoy seamless gaming on the go.
Intrigued? Keep reading for a detailed review, or why not test drives the game with our free demo on Gamblr - no signup is necessary!
Cluster Tumble Dream Drop - base game

Cluster Tumble Dream Drop - free spins awarded

Cluster Tumble Dream Drop - Free Spins round

Cluster Tumble Dream Drop - Epic Win
Cluster Tumble Dream Drop Review
Theme and Graphics
Picturesque Himalayan wilderness sets the stage for Cluster Tumble Dream Drop, a breathtaking narrative of love and courage as our heroine embarks on a daring rescue mission for her beloved hubby. Fully outfitted in vivid pastels and comical caricatures, this game has symbols like mystical holy men, curious creatures, tropical flowers, and glittering jewels. The auditory aesthetics are equally captivating—with ambiance-enhancing sounds that escalate your sense of adventure.
Eight reels spiral out over six lines of monstrous fun; spill out 48 symbols from this cauldron of chaos and place at least four twins vertically or horizontally for windfall winnings. Vanishing victors make way for fresh faces that tumble into vacant places—a continuous cascade offering multiple shots at hitting the bull's eye!
RTP and Volatility
Cluster Tumble Dream Drop notches up an RTP (return to player) of 96.40%. However, remember there's always room for variance - you're only human! Sway to the rhythm of this game's high volatility—it will be fewer hits but aim right, and you're landing home runs, baby! The tantalizing jackpot bonus has been known to cough up to 20,000 times your bet - can't say we didn't warn you!
Betting and Payouts
Betting ranges span from low-budget lovers (0.10) to swanky spenders (50.0)—there's something for everyone! With eight rows flowing across eight columns chockfull of about 15 active symbols resting atop stone tiles on each spin, there is no shortage of opportunities.
High volatility translates into fewer frequent wins but more significant windfalls when lady luck does shine your way—bereft periods embellished with sudden coups! And here's a cherry on top — the RTP props up around 96.40% during the base game but soars even higher when buying free spins...worth betting your bottom dollar.
Your winnings might explode with six regular symbols on-screen: three low-paying crystals stand side-by-side with high-value icons like an exotic mask, scarab beetle & dragon—the godfather of luck scooping up 2000x your wager if found squatting in clusters of 40 or over. Wild symbols are also hanging around, jazzing things up in winning combinations--a single lifesaver symbol boasts up to five lives before succumbing.
Make it rain at Cluster Tumble Dream Drop—we've set aside just a little some women—waiting for you... a fantastic 20k multiplied times wager plus four progressive jackpots ready to blow through the Dream Drop Bonus feature. Think you got what it takes?
Features and Bonuses
Step aside normies - the Wild symbol is here to take your place! Acting as the ultimate stand-in, it can substitute for all standard symbols.
The Lightning Win transforms gameplay like a bolt from the blue. Upon activation, a special stone block is swapped out for a target symbol plucked from a lot of standard imagery. Once placed in the following cascade, every single instance of that symbol (along with our mighty Wild), regardless of position on the board, strikes up a win.
Feel the heat with the Fire Transform! Igniting upon activation, a special stone block morphs into one of our target symbols. The aftermath? In the next cascade, 1 or 2 types of symbols undergo a total makeover and transform into matches for the targeted symbol.
Free Spins
Grant yourself an enchanting experience with the Free Spins feature—which starts by generously doling out five spins when you flip it on.
Keep things spinning! Each Scatter symbol hitching a ride inside Free Spins bestows an extra spin to stash in your pockets.
Break down those stone barriers during Free Spins and be rewarded with three bonus spins. As bonuses pile up, so does the Multiplier - jacking up by three increments with every successful stone removal (starting at x3, escalating through x6, x9, and beyond...)
Feel that surge? That's your newly amped-up Multiplier, kicking into gear instantly after being secured and hanging in there for subsequent Free Spins.
Bonus Buy
Don't think you can hoard those Buy Feature uses—the main game is their one-and-only playground.
Wonder about your returns? The theoretical RTP (return to player) sits at 96.48% for standard Free Spins and lifts slightly higher to 96.57% for volatile Free Spins.
Standard "Free Spins" sets you back by 100x your initial bet size but launches you straight into a "Free Spins" frenzy replete with five graced spins.
Volatile "Free Spins," though costlier at 200x your reference bet size, unlocks an exhilarating round of 5 "Free Spins" where multipliers are doubled, uprising twice as fast compared to regular free spin rounds—accelerating from x6 onwards...
Mobile Compatibility
Cluster Tumble Dream Drop plays well with others—all smartphones or tablets, regardless of size showcasing crystal clear graphics immolating experience felt within desktop comfort zones...web app downloading whittled down necessity as browsers steadfastly maintain gameplay quality far beyond mere expectations...
Free Demo
Slice exciting features by sampling a tasty free version accessible directly on the website sans signup long-winding commitments—familiarize beloved players embarking upon unknown courses charting payouts designed to appease various tastes without glaring risk burning a gaping hole within pocket!
Conclusion
Lapping Cluster Tumble Dream feels exhilarating —engrossing creative plot entwined most significant potentially dizzying windfalls hidden away delights cluster pays system tumbling reels taking every punt spinning round thrust top thanks modifiers including life-giving wilds multipliers commensurate risqué symbol removal capabilities thriving top-tier progressive jackpot appropriately labeled 'Dream Drop'—all packaged neatly away beneath adventure grid gameplay guaranteed showing relaxing gaming evening!
Cluster Tumble Dreams–all spiel about "money doesn't buy happiness" clearly haven't felt a thrill winning it...Try today –your story awaits, waiting for dreams to come true...
Cluster Tumble Dream Drop FAQ
What is the theme of Cluster Tumble Dream Drop?
The game takes place in a picturesque Himalayan wilderness. It spins tales of love and courage as our heroine rescues her beloved hubby. The graphics are vibrant, comical, and engaging, featuring symbols like mystical holy men, tropical flowers, and glittering jewels.
How does winning work in Cluster Tumble Dream Drop?
Wins occur when at least four matching symbols cluster together vertically or horizontally. Winning symbols vanish to make way for new ones tumbling into their places—offering multiple opportunities to hit the bull's eye.
What are RTP and Volatility of Cluster Tumble Dream Drop?
The game sports an RTP (return to player) rate of 96.40%, having high volatility. This means there will be fewer winning spins, but when you land a winner, it could be a biggie! A tantalizing jackpot bonus could give you up to 20,000 times your bet.
Can I play Cluster Tumble Dream Drop on my mobile?
Absolutely! Whether you're rocking an iPhone or Android device doesn't matter - the game is fully compatible with all smartphones and tablets.
What betting options does Cluster Tumble Dream Drop offer?
The wagering range starts from a budget-friendly 0.10 going up to 50.0 coins per spin, making it suitable for small-time punters and high rollers.
What special features does Cluster Tumble Dream Drop have?
Look out for Wild symbols that substitute for others, Lightning Wins that strike up winnings from anywhere on the board, and Fire Transforms that convert normal symbols into target matches during cascades.
How do free spins work in this game?
You'll start with five free spins initially. Every Scatter that falls during these rounds would gift one extra spin; bonuses are added as stone barriers are vanquished—the Multiplier jacks up thrice every time.
Is there a Demo option available?
Indeed! A free game version is available directly on the site without mandatory sign-up procedures—an excellent option for players to get familiar with before jumping into real action.
What is the "Bonus Buy" feature?
Bets can also get you into a Free Spins frenzy via the Buy Feature in this main game-only playground—with theoretical returns varying per type of Free Spins.
This Cluster Tumble Dream Drop review was authored by W.Bergstrom | Last updated on 02 July 2023.