Play Max Megaways by Evolution Gaming for Free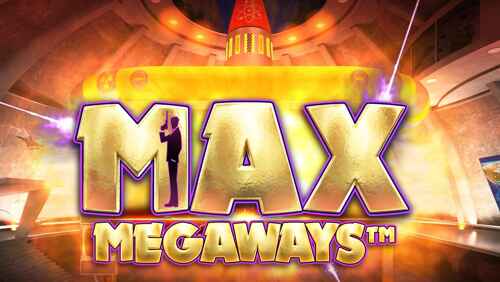 Max Megaways
Max Megaways by Big Time Gaming is an action-packed, spy-themed slot set on a secret island hideout with superb graphics and a catchy soundtrack.
The game stands out with high volatility and an above-average RTP of 96.37%, offering the potential for big wins and several dry spells. It employs the Megaways mechanic, offering up to 117,649 ways to win. Bets range from 0.2 to 20 credits per spin, aligning well with its volatile nature. Symbol payouts vary, with the purple gemstone being the most lucrative winnings-wise.
Game features include Reactions following wins, four base game modifiers including Maximum Megaways, two types of free spins, each with unique bonuses, and Bonus Buy and Win Exchange options. All these elements are wrapped in a mobile-compatible frame available even for free demo play before staking real money.
Max Megaways - base game

Max Megaways - pick Free Spins bonuses

Max Megaways - Free Spins round
Play Max Megaways at Licensed Online Casinos
Bitstarz Casino

100% up to €100 and up to 180 extra spins

Emojino Casino

100% up to €250

Tsars Casino

100% up to €300 and up to 100 extra spins

PlayFrank Casino

100% up to €100 + 50 Bonus Spins

GreenSpin Casino

100 Free Spins on Game of the Week

Vulkan Vegas Casino

100% up to €300 and 25 extra spins
Max Megaways Review
Theme and Graphics
This video slot delivered to us by Big Time Gaming is all set on a secret bad guys' island hideout nestled palm tree surrounded by a volcano - talk about an explosive setting! As you spin those wheels, feel the cool ocean breeze in your hair as blue skies and unruly waves frame this villainous den. They're throwing in an old-school jazzy soundtrack to seal the deal to get every spy-movie-loving bone in your body tapping along.
Slot symbols here are a mixed bag. The scorching-hot wild symbol is gold plated with "WILD" beaming out in bold letters - so there's no missing out on that! Then we have our scatter represented as this terrific silver-cased "BONUS," adding some intrigue and mystery. For the rest of the symbols, play with card royals from 9 through Ace, plus four sparkly lil' jewels, each dressed up differently as red, green, blue, and purple diamonds.
While graphically sound and vividly colored, don't anticipate high levels of detail or animation - it's more undemanding yet effective.
RTP and Volatility
So let's talk numbers now.....Max Megaways is one heck of a high-volatility game. Yep, hold onto your hats because wins can come hard n' heavy - but then brace yourself for those long dry spells where not much seems to happen. With an RTP (return to player) sat pretty at 96.37%, slightly nudging above the average for online slots; if you say toss in €100, on paper at least (and over time), you should see back something like €96.37.
Now here's where things get interesting....this slot has hopped aboard the heat-packing Megaways train, which shifts tracks literally every spin! We've got six vertical reels + an added horizontal reel chilling up top. You could find anywhere from two to seven bouncing symbols per reel except Mr. Horizontal, who sticks to his guns with four – always four! Crank things up to max power (where every reel sports seven symbols), and you've got a whopping potential of drumroll please.....117,649 different way-to-win!
But wait, there's even more: introducing "Reactions," where each triumphant winning combo is kicked off the board to make room for fresh glammed-up glamazons falling gracefully from above or sidling smoothly from the right side, making additional sweet wins now highly possible! Can you trigger off more Reactions until there aren't any wins left? Only one way to find out – get a spinning tiger!
Betting and Payouts
Throw in your chips at anywhere between 0.2 to hefty 20 credits a spin. Does that sound low to you? Remember, this is one volatile beast! Regarding RTP, you're looking at 96.37%, which exceeds the average.
Symbols? Aside from the WILD gold beacon and golden M Scatter shaking things up (hint: free spins!), expect standard card royals batting in lower returns while the four unique jewels bring in the bling.
Of note here are Max Megaways' payouts which play around depending on winning combo numbers tied to your bet size; landing six-in-a-row purple gemstones will multiply your bets five times over, while nine-spot stands as bottom-ranker paying out just at 0.3x for six of a similar kind.
Ever curious about complete paytable breakdowns? Click it open via the side menu button positioned left!
Features and Bonuses
Gadgetry Galore
Living up to the spy game's reputation, BTG has kitted Max Megaways with a hefty haul of juicy features that read like a secret agent's gadget stash. From Reactions to four explosive base game modifiers, two free spins boasting unique bonuses, a tempting bonus buy option, and a "Win Exchange," this slot game's all the widgets you could wish for.
Reactions
Whenever you strike gold with a winning combo, the contributing symbols are zapped out from the grid in true spy fashion, only to get replaced by fresh ones tumbling in from above or the right (in the case of our special Extra Reel) if these new faces form another paying line-up, voila! You've activated another Reaction.
Base Game Bonuses
The promise of wild modifiers lurks around every base spin you make or following any reaction:
Maximum Megaways – Offering maximum wins as reels harness their full payload of symbols. Vertical Wild – Say hello to wilds, replacing every symbol on one reel. Horizontal Wild – It's wild-west at the Extra Reel as all symbols flip into wilds. Wild Bomb – A highly anticipated Wild Bomb lands on the Extra Reel & after payline evals; watch everything except scatters or your precious Wild Bomb get annihilated & replaced by flashy newcomers.
Free Spins
Max Megaways plays host to two scatter species - classic Gold Scatters and Diamond-studded Mega-scatters. Bagging yourself three scatters ensures ten complimentary spins with two additional per extra scatter on view; landing a Mega Scatter guarantees enhanced Free Spins for those looking for extra frisson. In base play mode, normal scatters show up on reels 1-5 while their Mega comrade sets shop exclusively on reel six.
Kick off your free spins round by clicking doors open, revealing hidden free spin enhancers. Get two picks during regular spins while Enhanced ones hike it up by one more! Bonus treats in this exciting segment include:
Double Multiplier: Enjoy +2 win-multiplier increments post each reaction. Duplicating Wilds: Wild symbols reshuffle every symbol beneath them into wild cards. 2 Scatter Retrigger: Two or more scatters get you extra free rounds. Increased Ways: Five or more symbolic hauls guaranteed per the main reel. No Lower Symbols: The 9, 10, and Jack are ousted during these free spins.
Bonus Buy
Feeling adventurous? Click into Bonus Buy via this old-timey ticket stub button where stellar choices await between regular set valuing 75x your bet (with generous two bonus picks option) against big player Stacked Megascatter priced at 200x your bet (grants three worthy picks!). No need to fear - RTP stays stable at 96.37% across both deals.
Win Exchange
The Win Exchange also gives players choices in abundance! Smash beyond minimum threshold wins exceeding 100x your original wager allows an enticing exchange equivalent to 100x stakes for ten rip-roaring freebies! Not feeling so lucky today? Secure winnings between modest 25-100x wagers can select a gamble spin-off option based on a color-divided wheel rigged for possibly bagging ten gratis throws!
Mobile Compatibility
Hang on tight, tech lovers! Max Megaways won't disappoint you since it fits snugly into your digital world. Fully compatible with any device you fancy – from desktop orbs to sleek mobile smartphones, this slot smoothly adjusts to your screen size and orientation without a hitch. That means you can hit spin no matter where you're hanging! Expect dazzling graphic clarity and an ear-tickling immersive soundtrack that won't quit—got user-specific adjustments in mind? Go ahead and twiddle around with settings to dial down, boost the sound effects, or rev up into turbo mode. It's your game!
Free Demo
Want to dip your toes in the Megaways pool before plowing in full-on stakes? Perfectly understandable! Max Megaways gets you covered with its free demo version on our site. Get first-hand dirt on all features, bonuses, symbol spectrum, and potential payouts sans any risk to your bankroll. Consider it your playground to sharpen skills or spin wheels for sheer enjoyment.
Conclusion
We are thrilled after hours of twists n turns on Max Megaways. This intuitive creation is a testament to Big Time Gaming's capacity to shell out heart-racing slots via its highly addictive Megaways angle. Multi-level base game enhancers coupled with two-styled free spins options and not leaving behind funky bonus buy & wins exchange treats keep us on edge throughout playtime.
Leaning into high-volatility territory filled with pit stops of surprises and a respectable RTP peaking at 96.37%, daredevils could stand chances of hauling big-payouts rewards if lucky combos ring their way. Its stunning design, smoothened by a gripping secret spy theme, will slot you into an action saga like none other, although some of our high-roller mates might find the £/€20 max betting limit a slight buzzkill!
Nit-picks aside, Max Megaways brings forth a pack that mixes thrill-creeping adventure slices perfectly topped off by massive potential payouts! Ready for raw reel power-packed excitement? Don't wait up - give it a shot today!
Max Megaways FAQ
What is the setting of the Max Megaways slot game?
Max Megaways takes you to a secret bad guys' island hideout surrounded by palms and an active volcano. It's like being thrust into an exciting spy movie with blue skies, unruly waves for company, and an old-school jazzy soundtrack for ambiance.
I am not sure about RTP and Volatility? Can you explain these terms about Max Megaways?
Sure! RTP, or Return to Player, is a percentage predicting how much of the stakes placed would be returned over time; in this case, it's 96.37%. That means, hypothetically, if you toss in €100, you should see back around €96.37.
Volatility refers to the risk factor associated with a game and can affect your playtime, budget management, and winning strategy. In Max Megaways, volatility is high, meaning wins occur less frequently, but they tend to be more prominent when they do happen.
How many ways are there to win in Max Megaways?
Max Megaways offers a whopping 117,649 different way-to-win possibilities! This figure comes into play when all reels are filled with their maximum number of symbols.
What's the betting range in this game? How does it align with its high volatility nature?
You can bet between 0.2 to hefty 20 credits per spin. This may seem low but remember; it's tied to the fact that it's a high-volatility game. These games can eat your bankroll fast, so please go ahead and stick within comfortable parameters.
Could you tell me more about the symbol payout structure in Max Megaways?
Of course! Landing six-in-a-row purple gemstones multiplies your bet five times over while landing six nines pays out just 0.3x your bet amount. If you're curious about more detailed paytable breakdowns, please open the side menu button on the left!
What are some unique features offered in Max Megaways?
Well, buckle up because we're diving into serious spy shenanigans! Some of these include Reactions (following wins), four base game modifiers (like Maximum Megaways), two types of free spins, each boasting unique enhanced bonuses (like Duplicating Wilds), a tempting Bonus Buy option, and even a Win Exchange feature that'll keep things suspenseful!
How about mobile compatibility? Can I play this on my phone or tablet?
Absolutely, yes! The developers have done an excellent job making sure this slot adjusts smoothly to any device, from desktop screens to smartphones and tablets, without losing graphic clarity or immersive sound fx.
Does this slot have a free demo?
Yes, sirree! Big Time Gaming lets you test drive their creation via its free demo version before diving into any real-money gambling - pretty cool, huh?
Can one expect big payouts from playing this game? What would you say overall about its potential returns?
Sure thing! Since it leans towards high-volatility territory filled with surprises plus holding steady RTP peaking at a respectable 96.37%, daredevil punters stand chances of hitting those big-time rewards if Lady Luck graces them with winning combos.
Finally – always remember "potential" is not a guarantee; gambling should remain fun and never be considered a source of income!
This Max Megaways review was authored by W.Bergstrom | Last updated on 28 August 2023.