Play Wild Winner by Inspired for Free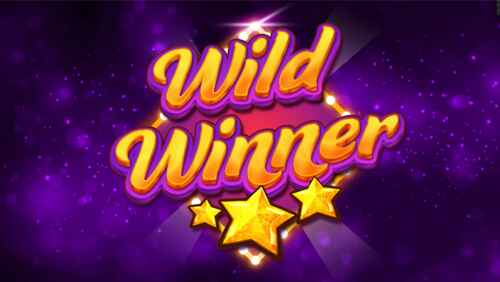 RTP

94.5%
Volatility

Mid/High
Provider:

Inspired

Rating:

4.11 / 5

Reels:

5

Paylines:

30

Minimum bet:

0.10

Maximum bet:

50.00

Maximum win:

500,000

Released:

04 May 2023
Wild Winner
If you're on the hunt for a game that'll have your pulse racing and your heart pounding, look no further than Wild Winner, a true gem from Inspired Entertainment that will transport you straight into the glitz and glamour of a real casino.
In this article, I'll explain the lowdown on this incredible game and why it's a must-try. Whether you're a newbie or a gambling veteran, there's something in Wild Winner to make your eyes sparkle. Let's get started!
Wild Winner Base Game

Wild Winner Gamble Feature

Wild Winner Free Spins Awarded

Wild Winner Free Spins Round
Play Wild Winner at Licensed Online Casinos
Wild Winner Review
Kicking It Off
Wild Winner is an online and mobile slot sensation featuring 5 reels, 4 rows, and 30 paylines. Boasting a timeless casino vibe with eye-catching symbols like cherries, lemons, bells, bars, and lucky sevens - this game's got it all! Not to mention wild symbols that can sub in for any other symbol (except the bonus scatter symbol), giving you even more chances to win big.
Speaking of bonus scatter symbols, that golden star can activate Wild Winner's Free Spins feature. With medium-to-high volatility and an RTP of 94.5%, you can bet on scoring frequent wins and pocketing some serious dough.
Theme Park: Graphics Galore
This suave and sophisticated game nails the essence of an authentic casino experience with its sleek design. The reels shine against a dark backdrop adorned with neon lights and twinkling sparkles. One thing's for sure: Wild Winner knocks it out of the park regarding theme and graphics.
As for the symbols? They're vivid and lively, bursting into animation when they line up for a winning combo. And don't even get me started on the sound effects – we're talking ultra-realistic coin clinks, bell chimes, and uproarious cheers from the crowd. Wild Winner will have you feeling like you've been whisked away to Sin City in no time.
RTP and Volatility: The Nitty-Gritty
Let's dive into another crucial Wild Winner aspect: RTP and volatility. For those new to the game, RTP stands for return to player – the percentage of cash a game dishes out to players over an extended period. Volatility, however, refers to the frequency and size of a game's payouts.
Now, Wild Winner boasts an RTP of 94.5%, which sits just below the average of 96% for online slots. But don't let that deter you – this game is still quite generous. With medium-to-high volatility, Wild Winner can dish out some massive moolah in no time flat. All you need is a bit of patience and some good ol' gambling instincts.
Placing Your Bets and Raking It In
With a minimum stake of 0.10 and a maximum stake of 50.0 per spin, there's fun to be had regardless of your budget. Plus, with 30 paylines that pay from left to right, you could win up to a staggering 500,000 in just one spin! Wild Winner's got your back, whether you're playing it safe or going all-in.
This game introduces an array of symbols with different payout potentials. On the lower end, you've got your classic card suits: clubs, diamonds, hearts, and spades. But things get exciting with high-paying symbols like casino icons: dice, chips, cards, and roulette wheels.
Watch for the ultimate prize – the Wild Winner logo – as landing five of them will multiply your stake by 500 times! The wild symbol grabs attention with the word WILD in glitzy gold letters and can sub in for any symbol besides the scatter. Regarding scatter symbols – watch for BONUS spelled out in red since it can trigger that coveted free spins feature.
Perks and Bonuses Galore
Wild Winner isn't just your run-of-the-mill slot game with basic spins. This game boasts impressive features and bonuses that can significantly enhance your winnings and overall gaming experience. Let's check out some of the juicy extras you can sink your teeth into:
Gamble to Spins
Feeling lucky? This feature lets you wager your base game wins for a shot at diving right into the free spins feature. Take a risk by gambling all or half of your win, and if Lady Luck is on your side, you'll spin the wheel of fortune to score up to 50 free spins! But remember, high stakes mean high risks – you could lose it all if you land on a losing segment.
Free Spins
Keep an eye out for those scatter symbols! Landing three or more anywhere on the reels will trigger this fantastic feature. The number of free spins you get depends on how many scatters turn up: three scatters equal 10 free spins, four scatters net you 15 free spins, and five scatters award a sweet 20 free spins.
During these bonus rounds, each scatter symbol that triggered the feature will flaunt a multiplier (2x to 10x) above its respective reel. These multipliers apply to any wild symbols that land on the same reel – and if more than one wild symbol appears on different reels, the multipliers combine for some seriously epic wins!
On-the-Go Gaming
If you're itching for a slot game that keeps pace with your busy lifestyle, Wild Winner's got you covered. Its mobile compatibility means you can enjoy this thrilling game on any device – from desktops to smartphones. The graphics, features, and gameplay remain top-notch even on smaller screens, so there's no need to worry about sacrificing quality or speed. Whether you're team iOS, Android, or Windows, Wild Winner's ready to roll wherever you are.
Give It a Whirl for Free
Before diving into Wild Winner with your hard-earned cash, why not take it risk-free? We've got a free demo on our website so that you can play to your heart's content. The demo mirrors the real-money version, making it the perfect way to get acquainted with the rules, symbols, and features without putting your wallet on the line. Experiment with different strategies and see how the game pays out – playing the free demo is an excellent way to blast while honing your skills before upping the ante.
The Final Verdict
Wild Winner is a slot game that will captivate those who adore classic casino themes and the thrill of chasing colossal wins. With its sleek design, vibrant colors, and symbols that scream excitement, this game brings the glitz and glamour of gambling right to your screen. Its exciting features include Free Spins with multipliers, Gamble to Spins mechanics, and the Bonus Buy option.
Sporting medium-to-high volatility and an RTP of 94.5%, Wild Winner promises some hefty payouts for those fortunate enough to trigger its bonus round. That being said, it's not all sunshine and rainbows – the game does have a few drawbacks, such as lower base game wins and a lack of originality in theme and gameplay.
So if you're searching for something groundbreaking or innovative, something other than Wild Winner might be your tea. But if a classic slot experience with some extra adrenaline-pumping action sounds like your jam, Wild Winner could be just the ticket! Give it a spin and see if Lady Luck is on your side today!
Wild Winner FAQ
How many reels and paylines does Wild Winner have?
Wild Winner has 5 reels, 4 rows, and 30 paylines that pay from left to right.
What is the RTP and volatility of Wild Winner?
The game has an RTP of 94.5% and medium-to-high volatility, which means you can expect frequent wins and potentially large payouts if you hit the bonus round.
Can I play Wild Winner on my mobile device?
Yes! Wild Winner is compatible with all major mobile devices, including iOS, Android, and Windows smartphones and tablets. You can enjoy the same high-quality graphics and gameplay on your mobile device as on a desktop.
Is there a free demo version of Wild Winner available?
Yes, a free demo version of Wild Winner is available on our website. You can try the game risk-free before playing with real money.
How do I trigger the Free Spins feature in Wild Winner?
To trigger the Free Spins feature in Wild Winner, you need to land three or more scatter symbols (the word BONUS in red letters) anywhere on the reels. The number of free spins awarded depends on how many scatters you land: three scatters give you 10 free spins, four scatters provide 15 free spins, and five scatters grant 20 free spins.
What are some other features of Wild Winner?
Aside from the Free Spins feature, Wild Winner also offers a Gamble to Spins mechanic, allowing you to wager your base game wins to enter the free spins feature directly. Additionally, there's a Bonus Buy option for those looking to dive straight into the action.
This Wild Winner review was authored by W.Bergstrom | Last updated on 06 May 2023.