Play Tiki Time Exotic Wilds by Armadillo Studios for Free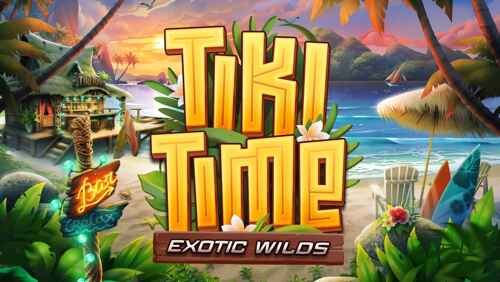 RTP

93.99%
Volatility

Medium
Provider:

Armadillo Studios

Rating:

3.94 / 5

Reels:

5

Paylines:

243

Minimum bet:

0.20

Maximum bet:

100.00

Maximum win:

8000x

Released:

15 August 2023
Tiki Time Exotic Wilds
Are you craving a virtual vacation with potential big wins? Check out Tiki Time Exotic Wilds. This slot game has an immersive Hawaiian theme with vibrant tiki masks, excellent cocktails, and relaxing ukulele music.
Its bankable return to player (RTP) ratio is 93.99%, and it offers flexible betting ranges from 0.20 to 100 per spin across 243 ways to win! Achieve nice paydays with Exotic Wilds, Free Spins, a Coin Collector feature, and even a Buy Bonus option to fast-track your way to Free Spin Land.
Eager but unsure? Take it easy first with a free demo version to test all the features without staking real cash. Remember though - the fun's real, but the winnings stay virtual.
Would you be ready to dive in deeper? Keep paddling through our full review below, and don't miss the chance to try our free demo!
Tiki Time Exotic Wilds - base game

Tiki Time Exotic Wilds - select free game mode

Tiki Time Exotic Wilds - the free spins round

Tiki Time Exotic Wilds - Mega Win
Tiki Time Exotic Wilds Review
Surfing the Hawaiian Graphics and Theme
Tiki Time Exotic Wilds bursts onto the scene by whisking you into a virtual Hawaiian getaway. Picture vibrant tiki masks, sultry flowers, fresh fruits, cocktail delights, and card symbols scattered across a 5x3 grid while a paradisiacal beach scene unfurls in the back. The air seems to sway to the cheerful rhythm of ukulele music and coastal sound effects.
Sporting beautifully detailed and varied features - each tiki mask almost feels alive with personality! Swirling in an ocean of bright hues and fluid animations, Tiki Time Exotic Wilds offers a game ambiance as relaxing and refreshing as an actual vacation.
Wading Through RTP and Volatility
The game's base RTP (Return To Player) is 93.99%, and the volatility is medium. However, please keep in mind that the effective RTP and volatility depend on the selected feature, as explained below.
Betting: The Lowdown
As flexible as a limbo stick at the beach party, betting ranges in Tiki Time Exotic Wilds encompass 0.20 to 100 per spin, catering to both cautious players and high-stakes gamblers alike. Sporting 243 ways to win, merely patch together matching symbols on neighboring reels from left to right to celebrate wins.
Paydays at Tiki Time Exotic Wilds swing between symbols and bet size - with the red-hot tiki mask raking in top bucks at 10x your wager with five on-screen simultaneously. Sadly, playing cards translate into bottom-of-the-pile wins at double your stake for five of a kind.
Power-packed special features that make things more attractive are:
Exotic Wilds: These three expanding wilds usually appear on reels 2 through 4. We're talking violets offering between 2x and 5x multiplier values, greens offering 3x through 7x multipliers, or blues delivering between 5x to 10x multipliers.
Free Spins: Reap these by landing three or more like-symbol spins scattering anywhere on the reels. Opt for the Multiplier Boost mode (10 free spins with heightened exotic wild multipliers), Extra Exotic (8 free spins with extra wild action), or Extreme Exotic (6 free spins combining higher exotic wild multipliers along with extra wildness).
Coin Collector: Trigger this by landing six plus coin symbols on any reels. Earn yourself three respins loaded with locked coins. Coins reveal random multiplier values or jackpot amounts (mini to grand). Secure all 15 coin positions for grand jackpot wins of 1,000 times your bet!
Buy Bonus: This straight buy-in option fast-tracks your access to free spin lands at a price that depends on your bet size – choosing your mode is included.
In conclusion, if you're hungry for bold color splashes amidst win potential wrapped up in an exciting Hawaiian vibe, let Tiki Time Exotic Wilds be your go-to escape! The roller coaster RTP values alongside larger-than-life payouts can land you handsome rewards if Lady Luck is on board! So prepare your sun cream, folks! Tiki Time Exotic Wilds is one excellent tropical ride you want to enjoy.
Features and Bonuses
The star attractions here are the three different tropical temptations - Exotic Wilds - each as vibrant and dynamic as their Hawaiian paradise: The Violet Tiki, Green Tiki, and Super Tiki.
Land a Green Tiki at the close of a spin and watch it blossom to fill an entire reel, boosting your payout with random multipliers ranging from 3x to 7x.
The Violet Tiki follows suit, spinning across your screen and amplifying your wins with multipliers between 2x and 5x.
When lucky stars align and infuse a Violet Tiki and a Green Tiki on the reels, the gods of fortune grant you a revered Super Tiki. This opens up random multipliers from exciting heights of 5x right up to colossal climbs of 50x. Remember: multiple exotic wilds on the same spin cranks up your win potential by adding all applicable exotic multipliers.
All Tikis act as substitutes for all symbols except the illustrious [Scatter]. Each Tiki-filled reel counts as one way to win.
Swing into Free Spins
Shake things up with three or more Scatter symbols during the base game, which casually triggers some free spin madness. Choose one of three Free Spin options for volatility that suits your risk preference – Multiplier Boost, Extra Exotic, or Extreme Exotic?
Expect tempestuous fun with Multiplier Boost. Start with twelve free spins for medium-volatility gameplay. Three scatters ramp up the excitement with twelve free spins while Special symbols on these spins increase all Exotic Wild multipliers!
For those seeking even more thrills, Extra Exotic pumps more excitement into your ten initial free spins through higher volatility. Keep an eye out for Green Tokens that have the power to convert ordinary symbols into Green Tikis.
Ready to feel wild? Extreme Exotic rewards you with eight high-intensity initial free spins. Here Green, Violet, and Super Tikis pay greatly increased multipliers! And remember: any multiple exotic wild landing means you're multiplying your win multipliers rather than adding them!
Cash in on Scatter Coin Prizes
Alongside crazy fun, multiplier rewards are coin scatter prizes that put a price on your prowess at spinning! The exact prize amounts announced when landing on reels, teasing you further, are some wilds offering rewarding multiplier ranges and a special coin background. If Fortuna lands her wheel here, all scatter coin prizes on the reel are yours!
Get ready to toast to Mini, Minor, Major, Mega, and Grand Prize pots ranging from 20x right up to an astonishing potential jackpot of 1000x in reward! Ready for incredible fun under the tropical sun? Then gear up for paradise in Tiki Time Exotic Wilds!
Take a Shortcut with the 'Buy Free Spins' Feature
Don't fancy waiting around for those elusive scatter symbols to land three times? No worries! Tiki Time Exotic Wilds has a nifty shortcut for all impatient explorers.
Hit the Buy Free Spins button and whisk yourself to the bonus confirmation screen. Here, choose your preferred stake for the bonus round, tap Buy, and just like that - you've triggered a cascade of free spins, no fuss!
Bear in mind, though, for each of the options you've got available - Multiplier Boost, Extra Exotic, or Extreme Exotic - you're looking at respective RTPs (Return to Player) of 94.17%, 94.01%, and 94.18%. That means your expected payout is slightly lower than in the base game, but who said shortcuts were always easy peasy?
And the 'Buy Free Spins' feature might not be available in all locations due to regional regulations.
Play on the Go with Mobile Compatibility
Life's a beach when you can take your gaming at Tiki Time Exotic Wilds wherever you go! Strap in for a thrilling ride as this slot game fits snuggly into your pocket, ready to be enjoyed on any mobile device or desktop. Thanks to its responsive design, it transitions seamlessly across different screen sizes and orientations - meaning you can hitch a ride to Hawaii whether you're an iOS, Android, or Windows user. The best part? You don't sacrifice any of those stunning visuals or captivating features that make the game such a joy on the desktop version.
Get into the Groove with a Free Demo
Before heading into this tropical paradise, we understand that our free demo comes if you want to dip your toes first! Experience all that Tiki Time Exotic Wilds has to offer without having to stake any real cash. Bask in the same immersive gameplay, from exploring the game's volatility to testing its unique bonus features and payouts. Just remember, while the fun is real, the winnings stay virtual.
Wrapping it up: Final Thoughts
Bringing an enchanting mix of vibrant colors and exotic vibes, Tiki Time Exotic Wilds catapults you straight into a sun-splashed beach party in paradise! Boasting 243 ways to claim victory, three distinctive wilds are itching to expand your wins and tantalizing multipliers that'll leave your head spinning faster than a whirling hula hoop. Step up the thrill by finetuning your risk levels in the free spins round – get grander multipliers, welcome more wilds, or invite over more outrageous wilds.
Also keeping things exciting is the coin collector feature – score big, and you bag a hefty prize pot bonus. Kudos must go out to Armadillo Studios, the brainchild behind this game gem. They are quickly gaining a reputation as game-changers in creative slots boasting impeccable designs and immersive sound effects.
Either way, whether you're coming in for some laid-back tropical gaming or seeking high-octane Hawaiian slot action - get ready for an explosive wave of fun with Tiki Time Exotic Wilds!
More Armadillo Studios Games
Tiki Time Exotic Wilds FAQ
What are the unique features of Tiki Time Exotic Wilds?
This tropical slot game boasts unique features like Exotic Wilds, Free Spins variations, a Coin Collector feature to bag heftier prize pots, and an enticing 'Buy Free Spins' option.
Is Tiki Time Exotic Wilds mobile-friendly?
Absolutely! The game uses a responsive design that tailors terrifically to any mobile device or desktop screen size. You can engage in the game anywhere, whether you're an iOS, Android, or Windows user.
How volatile is Tiki Time Exotic Wilds?
The base game of Tiki Time Exotic Wilds has medium volatility, but this can be adjusted according to your picked Free Spin option during gameplay.
What's the Return To Player (RTP) of Tiki Time Exotic Wilds?
The base RTP is set at 93.99%. However, this may differ when using certain features like the 'Buy Free Spins' option.
Can I play a free demo version before staking real cash?
Yes, indeed! You can try out the free demo version of Tiki Time Exotic Wilds at Gamblr to familiarize yourself with the game mechanics before diving in for real cash stakes.
Does the 'Buy Free Spins' feature improve my odds of winning?
While buying free spins immediately grants you into the Free Spin action, it doesn't necessarily increase your odds of winning. Also, kindly note that this feature slightly lowers the effective RTP and might not be accessible in all locations due to local regulations.
This Tiki Time Exotic Wilds review was authored by W.Bergstrom | Last updated on 19 August 2023.