Play Million Vegas by Red Rake Gaming for Free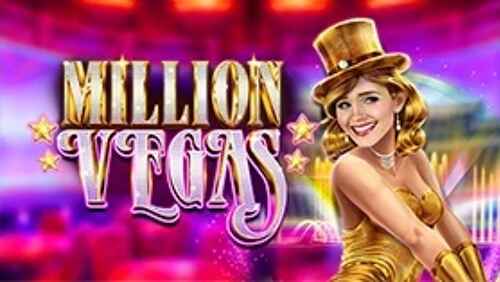 RTP

95.3%
Volatility

High
Provider:

Red Rake Gaming

Rating:

4.03 / 5

Reels:

6

Paylines:

1,000,000

Minimum bet:

0.20

Maximum bet:

15.00

Maximum win:

20,000x

Released:

31 August 2023
Million Vegas
Red Rake Gaming's Million Vegas brings the glitz of Sin City to your fingertips. The slot game features a stunning 6x10 grid with cascading reels, creating up to one million winlines. It's marked by high volatility and an RTP of 95.3%. With betting stakes ranging from 0.20 to 15 euros, it caters to players of all types.
Also, you can explore the intricacies in our full game review and try out the free demo to experience the fun firsthand!
Million Vagas base game - activate the minigame by accumulating Million Vegas symbols and multipliers.

Million Vegas minigame. Combine Lucky Goldie symbols to form larger symbols and earn bigger wins.

Million Vegas Free Spins - combine Lucky Goldie symbols to form larger symbols and earn bigger wins.
Play Million Vegas at Licensed Online Casinos
Vulkan Vegas Casino

100% up to €300 and 25 extra spins

JoyCasino

150% up to €300 and up to 200 extra spins

Trada Casino

100% up to €100 and 50 free spins

Stake7 Casino

100% up to €400

Casino-X

200% up to €50 + 200 extra spins
Million Vegas Review
Aesthetics and Visual Appeal
Venturing in search of a slot game that emulates the vivid atmosphere and dynamic vibe of the most illustrious Sin City? Then your quest ends with Red Rake Gaming's flagship slot phenomenon, Million Vegas. Transposing the heart and soul of this entertainment hub, players can immerse themselves in a vibrant collage of elements, including dazzling lights, captivating sounds, and immersive symbols.
Boasting a 6x10 lattice structure with cascading reels, Million Vegas proposes an astonishing one million winning pathways. Its symbol inventory comprises quintessential casino pictograms such as cards, dice, chips, roulette wheels, slot machines, and radiant neon signages, all rendered in sharp, full-color graphics for an authentic Vegas casino experience.
Accompanying the stunning visuals is an engaging soundtrack that blends seamlessly with the theme while augmenting the thrill factor. The auditory experience includes ambient sounds like crowd cheers, whirling slot machines, and clinking coins reverberating during gameplay. During bonus modes like the Lucky Goldie mini-game and free spins round, additional sound effects kick in to boost excitement levels further.
RTP and Volatility
Marked by its high volatility nature, Million Vegas offers substantial payoffs but poses simultaneous stretches of low or nil returns, catering to gaming enthusiasts who embrace risks and possess a generously high betting capacity.
Million Vegas touts an RTP (Return to Player) value of 95.3%, a figure marginally below the industry-wide average of 96%. In practice, this denotes that for each wager valued at 100 euros placed over time, calculated rewards roughly equate to around 95.3 euros - though individual results are subject to real-time playing conditions and pure chance.
Betting Structure and Payouts
Thanks to its broad-ranging betting span providing players complete control over their stakes per spin - ranging from a minuscule 0.20 euros to an extravagant 15 euros - Million Vegas is conducive for conservative bettors and high-rolling gamblers.
A prevalent max payoff comes into play at x20,000 your original stake during free spins rounds supplemented by fortunate multipliers. The exclusive Million Vegas logo is the loftiest paying symbol, which guarantees fiftyfold returns upon landing six similar symbols. Following it are other high-value symbols like a slot machine (x25), roulette wheel (x20), dice (x15), and chips (x10), promising comparable multiplication factors for six matching symbols.
Another feature worth noting is the Lucky Goldie mini-game accumulator triggered by collecting Million Vegas symbols and multipliers during the base game round. It allows players to merge Lucky Goldie symbols into more significant variants and potentially win up to x2,100 times their original bet size.
Gameplay & Special Features
A central draw of the Million Vegas slot experience is a fascinating feature: the Lucky Goldie's Fortune mini-game. It springs into action by amassing Million Vegas symbols and multipliers in the special accumulator meter found within the base game component. In this exclusive mini-game, players must merge smaller Lucky Goldie symbols into bigger ones to line their pockets with larger prizes. With increasing symbol size comes an escalating payout scale. This gameplay feature allows you to amplify your bet up to a whopping 2,100 times.
Moreover, Million Vegas also hosts a thrilling complimentary Free Spins round. Set off by linking five or more respins during a single spin, this bonus's bounty hinges on the number of accrued respins, stipulating between a minimum of 8 and a maximum of 16 free spins. Navigating through this round, you can keep collecting more respins, unlocking robust multipliers scaling up to x20,000 times your initial bet! Thus, fortunes abound for those fortunate enough to amass substantial respins and multipliers in this virtually rewarding feature.
Mobile Play
An appealing characteristic of the Million Vegas slot is its cross-device compatibility, making gaming on the go an effortless affair. Whether a smartphone addict or glued to your tablet, all mobile devices provide a seamless gaming experience courtesy of the game's HTML5 technology. This ensures adaptive optimization regardless of screen size orientations. Those who favor expansive visuals can also enjoy themselves via desktop computers.
Free Demo Play
For players seeking a safe try-before-you-buy option, we provide a cost-free demo version of Million Vegas on our website. Identical in structure to the real-currency version, it equips users with virtual credits, allowing them to navigate the game's features. The free trial is an invaluable tool to familiarize oneself with gameplay mechanics while enjoying the game without financial commitment.
Wrap-up
Million Vegas presents an enticingly visual bricolage that transports you into the lit-up entertainment epicenter- Las Vegas. Its core layout comprises a 6x10 matrix promising up to one million winning combinations, courtesy of the game's exclusive MillionWays™ feature. Further enhancing winning possibilities are cascading reels, replacing winning symbols with new ones for niche winning opportunities.
The game's principal selling points lie in its dual-feature proposition: Lucky Goldie's Fortune mini-game is activated by collecting Million Vegas symbols and multipliers and a free spins round triggered by accumulating five or more respins within one spin. Each grants players opportunities to garner substantial rewards through further respin and multiplier achievements.
Million Vegas emerges as an enticing bet for adventurous gamblers seeking thrilling gameplay teamed with potential high-paying rewards. Its high volatility nature, vibrant graphics, and immersive sound cues make it immensely entertaining, unjustifiable by its maximum win potential of x20,000 times your stake! Developed by industry stalwart Red Rake Gaming-known for their innovation-driven games since 2011 - Million Vegas assures reliability and quality.
After thoroughly engaging with Million Vegas ourselves, we encourage you to try it. Whether it's the compelling features beckoning significant wins, the thrill and charm intrinsic to Las Vegas life aptly captured by Lucky Goldie, or simply the love of novelty and risk, you'll find Million Vegas aligning with all your gaming preferences.
Million Vegas FAQ
Million Vegas is a slot game developed by Red Rake Gaming. It is designed to emulate the exciting atmosphere of Las Vegas, featuring stunning visuals and engaging soundtracks. The game uses a 6x10 grid structure with cascading reels, presenting up to one million winning routes.
What is the return to player (RTP) rate of Million Vegas?
The RTP for Million Vegas is 95.3%, just slightly below the industry average of 96%. This means that, in theory, for every €100 wagered over time, you could expect returns of around €95.3.
Can I play Million Vegas on mobile devices?
Absolutely! Million Vegas is compatible with all types of devices, including smartphones and tablets. Thanks to its adaptable HTML5 technology, the game optimizes across various device formats, ensuring a smooth gaming experience.
What are the standout features of Million Vegas?
Two standout features in Million Vegas include the Lucky Goldie's Fortune mini-game and a Free Spins round. In the mini-game, players attempt to merge smaller symbols into larger ones for bigger prizes; this feature can amplify your bet up to 2,100 times. The Free Spins round allows you to build huge wins with multipliers that scale up to x20,000 your initial bet.
Is there a free demo version of Million Vegas available?
Yes! Our site Gamblr, provides a free demo version of Million Vegas. This allows you to familiarize yourself with the gameplay and explore its unique features without financial commitment.
What is the betting range in Million Vegas?
Million Vegas caters to casual gamers and high-rollers, as it has a wide-ranging betting window from a minimum of €0.20 to a maximum of €15 per spin.
This Million Vegas review was authored by W.Bergstrom | Last updated on 08 September 2023.