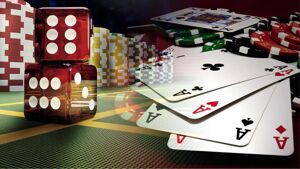 Luck & Strategy: A Beginner's Guide to Winning Casino Games
Hey there, fellow gamblers! Are you new to the casino world and wondering which games offer the best chances of winning big? Well, you're in luck because we've got just the guide for you! We all know that lady luck plays a significant role in gambling, but your odds of winning can improve with the right choice of games and a little strategy. So buckle up, and let's dive into some easy casino games for beginners, along with tips and techniques to help you improve your chances of keeping cash in your pocket.
Slot Machines: Jackpot Central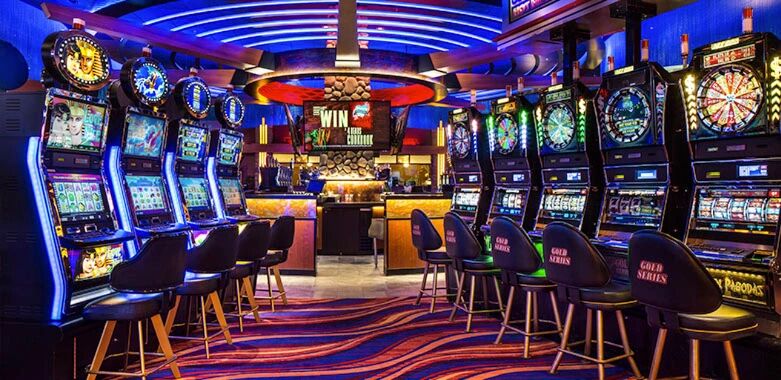 Newbies love slot machines for their ease of play, mesmerizing lights and sounds, and the chance to win big with just a button push. Slots don't require any particular skills or strategies - anyone can play! All it takes is a spin, and you might hit a jackpot! Plus, low house edges mean you have higher win percentages. Let's look at some popular slot game types you can try out.
Video Slots: These are modern slot games with captivating graphics, animations, and bonus features. They typically come with 5 reels and multiple paylines, offering more opportunities for players to make winning combinations. Some famous video slots include Starburst, Gonzo's Quest, and Mega Moolah.

Progressives: Progressive jackpot slots are perfect for those chasing life-changing wins! The jackpot increases every time the game is played but is only won once one lucky player hits the ultimate combination and takes the entire prize pool home. Must-try progressive slots include Mega Fortune, Hall of Gods, and Beach Life.

Multiple Payline Machines: You can bet on multiple paylines instead of just one line in these slot machines. More paylines mean more chances to form winning combinations on each spin! Popular multiple-payline slots include Twin Spin, Immortal Romance, and Thunderstruck II.

Three Reels Slots: Sometimes called "classic" or "fruit machines," these slots take you back in time with traditional symbols like cherries, lemons, and lucky sevens on three reels. They may have more straightforward gameplay than video slots or progressives, but classic enthusiasts still love them for their nostalgic feel. Check out games like Double Diamond, Couch Potato, and Break da Bank.

Single-Coin Machines: For those who want to keep their budget in check and extend their playing time without betting large amounts per spin, single-coin machines are perfect. You can still enjoy the spinning reels and chase small wins while minimizing your risk significantly.

Wild Play Machines: Wild features are common in modern slots, as wild symbols substitute for others on the reels to help form winning combinations. Some slot games even include "expanding" or "sticky" wilds to increase the excitement and improve payouts. Must-try wild play machines include Dead or Alive 2, Jungle Spirit, and Raging Rhino.
So dive into those flashy reels and chase some large jackpots in these exciting slot games! Remember that having a budget and playing responsibly is always good, so you can keep enjoying these fun games without breaking the bank.
Roulette: Spin Your Way to Riches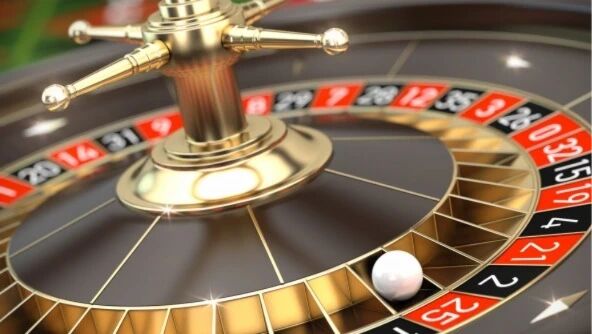 Get ready to experience roulette's timeless elegance and vibrant energy, a true classic in casino history! With its spinning wheel and tiny ball, you can unleash your inner fortune teller as you predict where the ball will land. Even though it's essentially a game of chance, there are some strategies you can use to enhance your gameplay and boost your winnings. Let's explore the beautiful world of roulette further:
American vs. European Roulette: Choose wisely between these two versions of roulette! The American version features an additional green slot with a double zero (00), which increases the house edge to 5.26%. On the other hand, European roulette has only one green zero slot (0), reducing the house edge to 2.7% - increasing your odds of winning.

Inside & Outside Bets: Get familiar with different types of bets in roulette. Inside bets are placed directly on numbers or specific groups of numbers, like Straight-up (single number bet), Split (betting on two adjacent numbers), and Corner (betting on four adjoining numbers). Outside bets, though offering lower payouts than inside bets, provide better odds since they cover larger groups of numbers like Red/Black, Odd/Even, Low/High, or Dozens.

Wide Range of Betting Options: Roulette is known for its vast array of betting options that cater to all preferences and budgets. Choose from various wagers like columns, streets, six lines, or even snake bets for added excitement! Just remember that each option comes with a different probability and payout ratio.

Parlay Your Wins: Consider using popular roulette strategies like the Martingale or the Fibonacci systems that involve increasing bet sizes following a loss (or resetting after a win). Remember that these systems don't guarantee success but may help manage your bankroll effectively, increasing chances to recover lost stakes and even gain slight profit increments.
High stakes, dazzling colors, and thrilling gameplay – roulette offers an unparalleled casino experience. But remember that it's still fundamentally a game of chance. Set a budget, play responsibly, and remember that the casino retains a long-term edge over players. So go ahead, place your bets, and spin your way to riches – and who knows, lady luck might be right by your side!
Blackjack: Get Strategic
Blackjack, also known as "21", is a crowd favorite in the casino world for its unique blend of skills, strategies, and luck. The game aims to get a hand with a higher value than the dealer without exceeding 21. While it may seem intimidating to beginners initially, mastering the basic strategy can earn you decent winnings as you navigate through thrilling gameplay. Let's delve deeper into this exciting card game and the strategies to boost your blackjack prowess:
Basic Strategy: By understanding the probability of each card dealt and memorizing various player actions based on specific dealer upcards, you can dramatically increase your chances of winning. Basic strategy charts are available online – an excellent resource for beginners learning optimal decision-making in different situations.

Card Counting: This is an advanced technique experienced players utilize to gain an edge over the house by tracking the ratio of high-value cards (10s, face cards) to low-value cards (2-6) remaining in the deck. It requires practice and focus, but card counting can lead to significant winnings when executed efficiently.

Side Bets: Blackjack tables often offer side bets like Perfect Pairs or Insurance that can add excitement and potentially increase winnings. However, these bets usually come with higher house edges - only use them occasionally for added fun without relying on them as a primary source of income.

Managing Your Bankroll: Set a limit and stick to it while playing blackjack; this allows you to minimize losses and extend your playing time wisely.

Table Etiquette: Familiarize yourself with proper table etiquette, such as handling chips, waiting for your turn to act, and signaling your intentions clearly through hand gestures.

Knowing When to Walk Away: Learning when to call it quits is crucial in long-term success at blackjack - always set win goals and loss limits before starting a session.
Ultimately, winning in blackjack requires a combination of skills, strategy, and some luck. As a beginner, start with mastering the basic strategy to increase your chances of making profitable decisions. Over time, explore advanced techniques such as card counting and side bets for more excitement and potentially higher rewards. And most importantly, always play responsibly and remember to enjoy the game!
Baccarat: Bank on Simplicity
A baccarat game evokes images of elegance, luxury, and thrilling high-stakes action often portrayed in movies. However, beneath the glitz lies an easy-to-understand game suited for all players seeking the perfect combination of simplicity and excitement. The primary objective is to wager on either the player hand, banker hand, or a tie, with the winning hand having a value closest to nine. Let's explore the reasons that make baccarat an appealing option for newcomers:
Easy Gameplay: One key advantage of this game is its straightforward rules and gameplay, which make it one of the best choices for new players looking to try their luck at table games. The dealer handles all cards and actions - so all you need to do is decide which hand you want to bet on.

No Skill Required: Unlike strategy-based games like blackjack or poker, no baccarat tools can give you an edge over the house. This lack of skill requirement allows you to enjoy the game without worrying about making costly errors – sit back, relax, and let lady luck do her magic!

Low House Edge: Baccarat boasts fewer house edges than other casino games, increasing your odds of winning more bets! Betting on the banker has a slim 1.06% edge, but remember that some casinos apply a commission on banker wins.

Betting Options: Choose from three primary betting options – player hand, banker's hand, or tie – each with different odds and payouts. While betting on a tie seems alluring with its hefty payout (8-to-1 or 9-to-1), it comes with a much higher house edge – around 14%.

Different Variants: Baccarat offers multiple variants that cater to diverse preferences while maintaining core gameplay elements. Popular versions include Mini Baccarat (a simplified and faster version), Chemin de Fer (played in Europe), Punto Banco (the most common variety), European Baccarat, and Baccarat Banque.
As a novice gambler, you can appreciate baccarat's delightful balance of simplicity and elegance. Start by understanding the basics, explore the different variants, and remember that it's still a game of chance - so always play responsibly and manage your bankroll carefully. Embrace the world of baccarat and see if the cards are in your favor – who knows, you might walk away with a royal win!
Video Poker: Machine vs. Player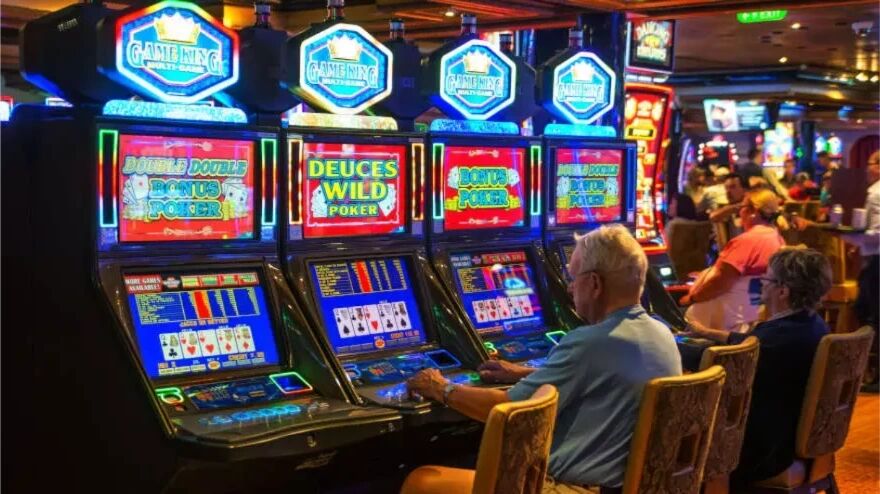 Video poker seamlessly combines traditional poker rules with the convenience of slot machines, creating a unique and easy-to-learn gaming experience perfect for beginners and seasoned players alike. The goal is to form the best possible 5-card hand, as ranked on the game's payout table. While facing off against a machine instead of live opponents, you can still apply some strategic decisions to influence your winnings. Here are some aspects of video poker that make it an attractive option for casino enthusiasts:
Easy Learning Curve: Video poker follows familiar poker hand rankings, such as pairs, three-of-a-kind, straights, flushes, and so on. Even if you're new to poker, understanding which hands are strong will come quickly.

Speed of Play: Unlike live poker games that involve multiple rounds of betting and can take hours to complete, video poker hands are dealt and resolved rapidly, which allows players to get in more action in a shorter period.

Game Variety: Video poker has many exciting variants with unique rule modifications and payout structures. Some popular versions include Jacks or Better (best starting point for beginners), Deuces Wild (twos act as wild cards), Joker's Wild (joker included as a wild card), Bonus Poker (higher payouts for select premium hands), and Double Bonus (extra rewards for specific four-of-a-kind hands).

Low House Edge: With the right strategy and game selection, video poker often has one of the lowest house edges among casino games. For example, full-pay Jacks or Better offers a player return of over 99% with optimal play.

Strategy Matters: Basic strategies exist for various video poker games to help increase potential returns and minimize losses – these often involve holding or discarding cards in certain situations based on probabilities.

Win Potential: Hitting premium hands like four-of-a-kind, straight flush, or the coveted royal flush can lead to massive payouts, making video poker a highly rewarding game for lucky players who play their cards right.
Whether you're a poker veteran or a newcomer looking for something beyond slots, video poker is the perfect blend of convenience and strategy. With an extensive range of variant options, low house edge potential, and incredible winning opportunities, it's no wonder that video poker continues to be a crowd-pleaser at online and land-based casinos. Study the essential strategies and try out different games - you might discover that video poker has become your go-to casino pastime! Remember to always play responsibly and manage your bankroll wisely. Good luck at those virtual tables!
Keno: Try Your Luck at the Lottery-Style Game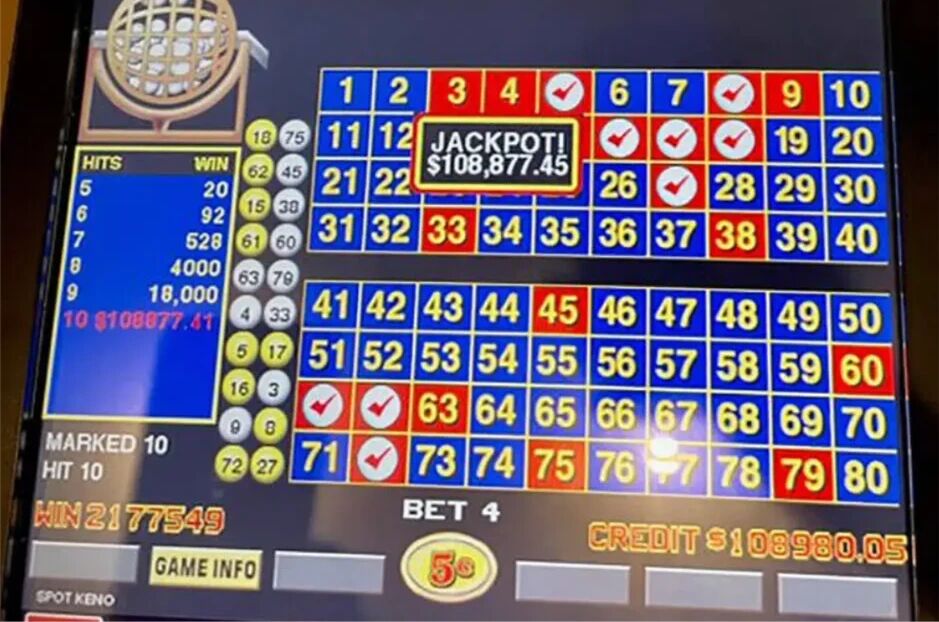 Keno, a staple in land-based and online casinos, might not share the spotlight with more popular games like slots or roulette. However, its unique lottery-style gameplay offers an exciting and relaxing alternative that is perfect for beginners looking to unwind. All you have to do is pick your lucky numbers and wait for the draw – it's that simple! Let's discover more about this lesser-known but enjoyable gambling pastime:
Simple Mechanics: Keno's simplicity makes it an ideal option for new players. Select a set of numbers (usually between 1 and 80) and watch as the game randomly draws 20. The more you match, the higher your reward! No need to worry about mastering complex strategies or rules.

Play at Your Own Pace: Keno allows players to take their time choosing numbers and selecting the number of rounds to play, making it an excellent option for those who prefer a relaxed gambling experience without rush or pressure.

Customizable Stakes: Most keno games enable you to adjust your bet size based on your bankroll and risk tolerance. This flexibility means novices can test their luck without making hefty wagers.

Varied Payouts: Keno prizes can range from modest wins for matching just a few numbers to massive rewards for matching all. Different casinos also offer unique payout variations, which keeps keno fresh and exciting.

Exciting Variations: To spice up the experience, several keno variants offer subtle twists to the gameplay while staying true to its core principles. Popular versions include Cleopatra Party (enjoy bonus multipliers), Power Keno (quadruple your winnings if you hit the last number drawn), Super Way Keno (wager on defined patterns), Super Keno (double payouts if the first drawn number matches yours), and Super Times Keno (random multipliers).

Online and Live Versions: You can enjoy keno anytime, anywhere – try digital versions at online casinos, or pick a live keno game in a real casino setting for the ultimate blend of excitement and anticipation.
Keno's straightforward, stress-free mechanics make it the perfect alternative to more skill-oriented or fast-paced gambling games. As with gambling, always play responsibly and set limits to ensure an enjoyable gaming experience. Don't be surprised if you are hooked after just a few rounds! So grab your digital crayons, pick those lucky numbers, and dive into the fascinating world of keno – who knows when fortune might shine your way?
Maximizing Your Winnings: Tips & Strategies
Even if you're starting out, there are ways to increase your winnings while minimizing losses. Here are some pointers:
Choose licensed gambling platforms for security and fair play.
Start small - don't risk too much money initially.
Remember that winning casino games relies on luck more than anything else.
Play for free before diving into real-money games.
Happy gambling, amigos! At the end of the day, playing casino games is meant to be a fun and relaxing pastime. As a beginner gambler, explore these easy-to-win casino games like slots, roulette, blackjack, baccarat, and keno. Practice with free versions before putting real money on the line - this will help you become familiar with different games while increasing your chances of winning. And lastly, always gamble responsibly by managing your bankroll and enjoying the experience rather than constantly striving to win big.